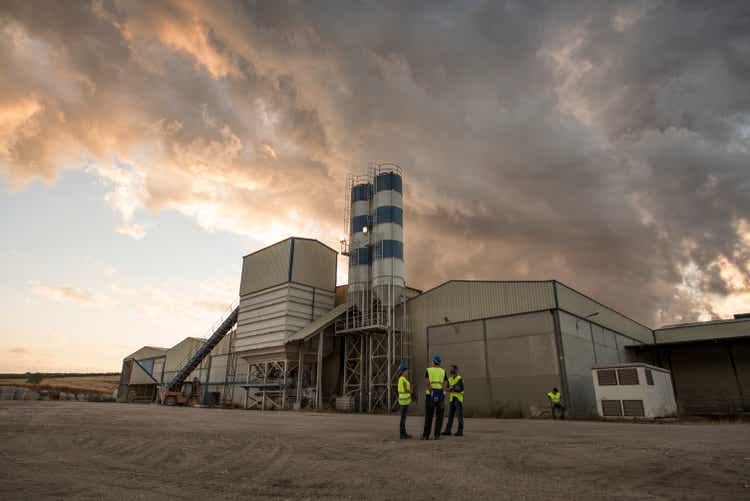 As today is my birthday, I decided to share one of my Second Wind Capital Archives pieces on Seeking Alpha's free site. Given the number of inquiries I have received from readers and due to the fact that I am close to this story, I decided to share my thoughts on Advanced Emissions Solutions' (NASDAQ:ADES) post Q2 FY 2021 earnings stock price slide. A few days after earnings, I did speak with Ryan Coleman, who is head of IR for ADES, a position he has held for a number of years, so he is very knowledgeable. And by the way, I have spoken with Ryan three times since I picked up the baton and started covering this relatively unknown and underfollowed micro-cap gem.
Before we dive in, let's quickly recap the setup here.
ADES has two segments: (Tinuum & Refined Coal ("RC") Highlights and Advanced Purification Technologies ("APT")).
RC Segment
The RC business had a significant equity ownership in a business that generated lucrative tax credits tied to a chemical process that eliminated many of the highly noxious and toxic by-products of coal fired emissions. These ten year tax credits are sunsetting at the end of this year, December 31, 2021. Per ADES' Q2 FY 2021 earnings, there is an estimated $30 million to $40 million (after tax dollars) of residual value left (ADES' portion) to be earned and ADES anticipates receiving these proceeds by year-end 2021.
As of June 30, 2021, ADES had $57.3 million of cash, including $10 million of restricted cash, and no financial debt, as its term loan was paid off in Q2 FY 2021. In July 2021, the company's PPP loan was forgiven.
So if we take $57.3 million of cash and add $30 million, we are talking about roughly $87.3 million of pro-forma cash at year end 2021. With roughly 19 million shares outstanding, this equates to $4.59 per share in cash. If the residual tax credits end up coming in at the high end, the $40 million instead of $30 million, then we are talking about $97.3 million or $5.12 per share in pro-forma year-end cash.
In Q2 FY 2021, and during the first half of FY 2021 for that matter, the RC business performed exactly as management forecasted.
Why The Stock Sold Off Post Q2 Earnings
Post tax credit sunsetting, the residual business is the APT segment and this consists of the Red River activated carbon plant in Louisiana. This activated carbon plant was built (green field) in 2009 by private equity, at a cost of approximately $400 million. It is my understanding that Japan's Kuraray recently made a major expansion at its Mississippi carbon activated plant, consisting of an $185 million investment and at cost of $4 per pound of incremental nameplate capacity. For perspective, Red River has 150 million pounds of annual capacity so the cost to build Red River was $2.67 per pound of nameplate capacity, back in 2008/2009.
To jog readers' memories, in December 2018, ADES purchased Red River from private equity for a cost of $75 million plus $5 million in banking fees. At that time, the plant was thought to be losing about $15 million per year in EBITDA, as the secular decline of coal fired generation and persistently low natural gas prices led to much lower volumes and capacity utilization.
Fast forward to today, and ADES has made significant strides increasing the capacity utilization and unit economics at Red River. This transformation, although still somewhat masked by current numbers, has been achieved by utilizing its existing coal fired generation relationships, notably its large 15 year Cabot supply agreement, and by diversifying the customer base away from coal fired generation to other applications such as water and industrial. And in fact, management is actively working on a new product that could be effective for soil (per the ADES' Q2 FY 2021 conference call).
So if you take a step back, it is very hard not to think that Red River isn't worth $100 million ($5.25 per share) all day and twice on Sunday. Going forward, Red River has much better capacity utilization, is anchored by the 15 year Cabot deal, and the ADES team has gotten end demand closer to 50% for non coal fired generation.
Why The Stock Got Dinged
At this point, I'm sure many readers are saying "get to the point, man". I want to make money, so tell me why the stock got dinged after the Q2 FY 2021 print.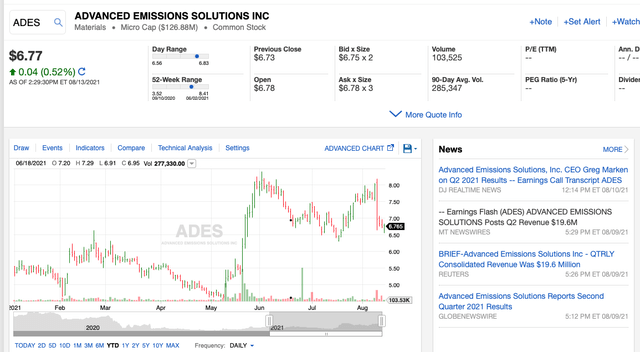 Source: Fidelity
Well, I'm glad you asked.
As there is an active strategic review ongoing, as ADES has put a 'for sale' sign up and is in discussions with interested parties regarding the potential sale of the company and Red River, the knee jerk reaction was that Q2 FY 2021 Adj. EBITDA of $0.3 million was a big disappointment, especially considering the strong coal fired generation this summer, with natural gas prices in the mid to high $3s, and even touching $4 MMBtu (and the curve and prices remain elevated given the strong LNG demand). As a quick aside, this week, the week of September 13, 2021, as I originally wrote this article in mid August 2021, front month natural gas prices hit a seven year high, piercing $5 MMBtu and the full year 2022 natural gas curve is averaging north of $4 MMBtu. So I would argue that hot money investors/ speculators (most likely a combination of hedge funds and retail) jumped to conclusions, and they are the marginal sellers in this case, concerned that the margins are too low and this might impact the inherent value of Red River, especially considering the nearly doubling of APT revenue, YoY, in Q2 FY 2021.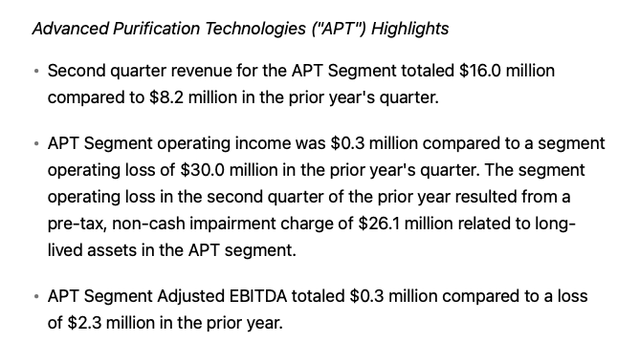 Source: ADES Q2 FY 2021 Earnings Release
However, if you are actually in the weeds and understand how to build the watch as opposed to asking what time it is, there are good reasons for the weak Q2 FY 2021 EBITDA margins.
There was a small fire, during Q2 FY 2021, that knocked production 100% offline for a period of 9 days.
Moreover, and this was planned and signaled well in advance, there was a 3 week turnaround that also took place at Red River, also during Q2 FY 2021.
So if you think about, production was offline for roughly 30 days out of 90 days during Q2 FY 2021. This will naturally lead to lower economies of scale and inflate the normalized cost per pound.
(This section is key - so pay close attention)
However, here are the other key nuances, and I worked this out on my own, using good old logic, and I confirmed this with ADES during my August 2021 phone call. Because ADES bought Red River at a very bad time, in 2018, ADES had to sign unfavorable contracts and inherited unfavorable contracts with poor economics to get capacity utilization up. Now, coal fired utility contracts are structured on a two to three year basis, whereas water and industrial contracts are shorter (1 to 2 years) and these contracts weren't ratable (meaning that weren't taken quarterly delivery of x number of units over the length of the agreement). Instead, these were take or pay contracts such that the coal fired utility would only take delivery when they needed the activated carbon, as they had up to three years to do so. Therefore, when natural gas was trading in the $2s, throughout much of 2019 and 2020, the utilities wouldn't be taking many deliveries of the product because their coal fired generation burn rates were very low. However, fast forward to the summer of 2021 and natural gas prices have gone nuts, and incremental dispatch power is generated at the best economics meaning that coal and natural gas compete, at the margins for market share. So ironically, the strong coal consumption did mean that there was more demand for ADES' activated carbon, but because of the unfavorable legacy take or pay contracts, contracts structured in the favor of the utilities, this coincided with ADES' 30 days where Red River was offline (for the fire and planned plant turnaround). So this meant that in order to meet the terms of the contract, because these are take or pay, ADES had to go out into the market, in some instances, and buy activated carbon to remain in compliance with the contracts!
So this is why ADES' management was cautious when discussing its EBITDA outlook for 2nd half 2021 for APT.
So if you think about it, the fast money hedge fund folks were perhaps in this trade at a cost basis of between $5.50 to $7, and once the Strategic Review didn't result in an immediate sale (even though ADES' management spelled out that this strategic review will be thoughtful, thorough, and deliberate, to maximize shareholder value) combined with the headline low Adj. EBITDA margins, at APT, in Q2 FY 2021, the 'fast money' hedgies punted it and moved onto green pastures. I guess it's too much to think that some hedge funds can wait another six months for possibility of getting say $10 to $12 per share (maybe a few bucks more) in a sale. Moreover, and it is scary how some of these purportedly sophisticated folks don't understand nuance or simply aren't in weeds, as it is my understanding that ADES can't have a change of control before the tax credits are earned, as they don't want to jeopardize losing them via some technicality. In other words, from a timing perspective, if a sale were to happen (and it may or may not), an acquirer would probably want to structure it for early 2022 to ensure the tax credits are in the bank.
How I Think About It Going Forward
The way I think about ADES, especially trading in the mid $6s per share, is I'm not overly concerned or focused on 2nd half FY 2021 Adj. EBITDA margins, given the nuances here. A strategic buyer is thinking about the value of the assets in three ways:
A normalized EBITDA perspective (post roll off of the low margin legacy contracts)
The replacement cost to build it
And what that market share is worth for a strategic buyer (someone rolling up this sector)
Moreover, ADES has already announced one or two price increases, however, they have to complete the legacy (unfavorable) take or pay deals, signed back when Red River had very low capacity utilization and natural gas prices were in the $2s, before the new pricing kicks in on those volumes. Again, once these contracts are completed (either the clock runs out or contracted volumes are delivered) the new contracts will be written more favorable to ADES from the perspective of end prices and contract structure.
Lastly, ADES' management has made the smart push into water and industrial applications, and is exploring the soil angle (see the excerpt from the Q2 FY 2021 conference call).
Through the first half of the year, our team has worked closely with an industry-leading channel partner within the growing soil and groundwater remediation market. I am pleased to share that our team has developed new activated carbon technologies, which we believe will allow us to differentiate our participation. We look forward to sharing more details regarding this growth initiative as we work closely with our channel partner to accelerate field demonstration of advanced product prototypes later this year.
Putting It All Together
In the mid $6s per share, ADES is super compelling. We have a company that should have roughly $4.50 to $5 per share in year end cash and that owns a valuable Red River plant. As I noted, this plant costs $400 million to build and ADES bought it, for a fire sale price, back in December 2018, when it was thought to be losing roughly $15 million per year in cash flow. Fast forward to today and capacity utilization is much healthier, ADES has the 15 year Cabot deal, and non coal fired generation mix (end demand) is close to 50% of revenue (and climbing). If Red River sells for $150 million, then this translates into an incremental $7.89 per share. If you want to be super conservative and say Red River is only worth $100 million (that is still $5.25 per share). So in the event of a sale, we are talking about $9.75 to $12.50 ish per share, depending on your assumptions. In terms of risks, the only major risk is that management can't find the right deal, at a fair price, and elects not to sell Red River. It is hard to handicap what the probability of that scenario would be, but I suppose anything is possible.
Lastly, if you look at the holders list, Alta Fundamental is the largest holder (owning just shy of 2 million shares) and a long time holder, and also on the board. I would argue that it is very much in Alta's interest to maximize shareholders' value. Either way, the risk/reward here is very skewed in favor of the longs, especially with shares trading in the mid $6s and I'm just patiently holding my 10% sized position.