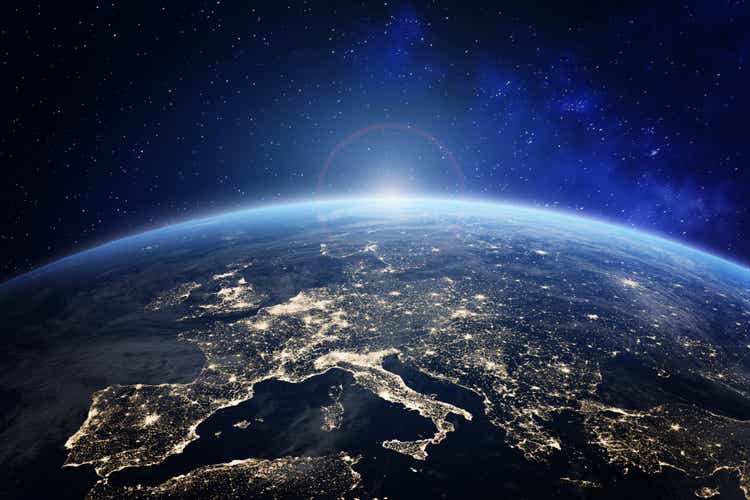 Introduction
Ok, ok - I know. We have all perhaps been there. The detractors of Cathie Wood - the queen of unconventional thematic ETFs, has consistently found herself in the media spotlight with bets on unloved equities, huge game-changing narratives, and outrageous forecasts.
Hitting positions out of the park has been commonplace for her, ever since proclaiming Tesla (TSLA) would reach $3,000/ share about 4 years ago. With that one swing, she blew her batting average to the moon.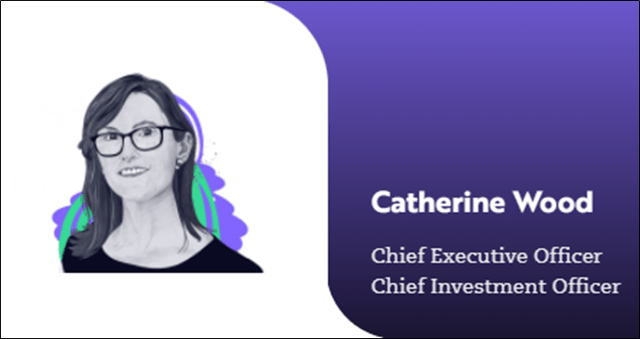 Source: ARK Investments
Yet she was made fun of, taunted by financial news media, and widely decried by her critics - who scoffed at her contentious projections and fly-by-the-seat-of-your-pants numbers. Little mattered - Cathie took money management to the moon, much earlier than she conceived the idea of an all-space ETF.
Finding a capital-markets tribe which could springboard her firm's development as it expanded was vital. Perhaps, she found that in the Teslarati - an expansive group of progressive, forward-thinking, retail-centric traders disenfranchised by Wall Street's run-of-the-mill conservatism.
More Reddit than Reuters, more Bitcoin than Bloomberg - this marginalized mob appears to be the future of unconventional money management, and possibly a key component of Cathie's customer base.
Boring themes don't make the grade in the exotic ETF world - not possible to have an ETF on traditional vanilla bonds providing little debate nor impetus for a never-heard-before narrative. Thematic ETFs captivate imaginations and entice investor funds concurrently.
Cathie has done exactly that - capture investor funds with Ark's AUM ballooning from $3B only a few years ago to around $60B today. Beast mode.
BATS:ARKX (ARK Space Exploration & Innovation ETF) - with its recognizable X in the same vein as Elon Musk's pioneering space venture - is not boring at all. Designed to win wild imaginations of a growing fan base, the fund is manifestly more Asimov than Ackman. Possibly in the liberal choice of stocks falling under the ETF umbrella too.
With hit picks like Netflix (NFLX) - I guess streaming on the way to Mars kills boredom - and Deere & Co (DE) - space farming anyone? - you would be hard faulted believing it had profusely crammed every hot stock in there. It appears that gravity does not impact the investable universe - at least for this package.
But will Cathie take this one to the moon?

Source: Market Chameleon
Product Synopsis
The ARK Space Exploration ETF is the firm's actively managed space themed ETF which prides itself on long-term capital growth. At the heart of the firm's modus operandi lies a conviction that investors should benefit from having ownership stakes in the most innovative companies of a lifetime.
Regarding ARKX, the fund designates "space exploration" as leading, enabling, or benefiting from tech-focused products used beyond the Earth's surface. Its perchance the innovation kicker, which has been added onto space exploration, which provides the fund's managers several degrees of freedom in asset selection.
The actively managed package aims to grow capital by targeted investments in both US and foreign equities with a focus on all things space. Shifts in space exploration, once the fiefdom of bloated bureaucracies and administrations, towards more competitive open markets has been crucial to the fund's inception.
Additionally, heavy technological advancements in artificial intelligence, sensors, mobile connectivity, and robotics (some of the other prominent ARK themes) have provided impetus for an unrelenting wave of rocket launches. No longer the 1960s' race for space spawned somewhat by the Cold War, space exploration has changed. ARKX tries to provide investors with a piece of it.
The fund is an active equity fund, managed directly by Cathie with assistance from analysts Sam Korus and Tasha Keeney. Since August 2018 when the fund was launched, it has prided itself on building a portfolio of 30-50 diverse holdings.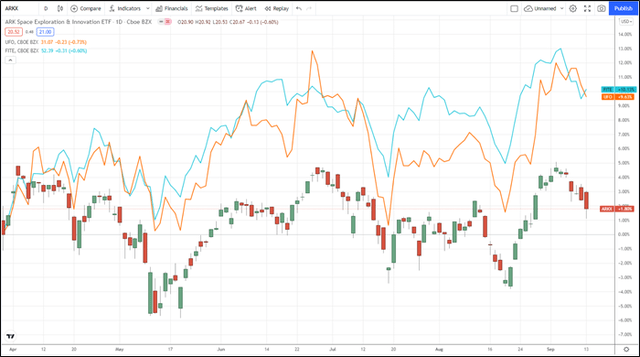 Total returns year-to-date ARKX v UFO v FITE
Source: Trading View
Price action year-to-date has not seen the fund launch into orbit, having solely delivered returns of +1.80%. Her competition has gained a relative lift-off with the SPDR S&P Kensho Future Security ETF (FITE) achieving +10.13% and the Procure Space ETF (UFO) +9.63% year-to-date. In any event, price action has tended sideways rather than launching unreservedly into orbit.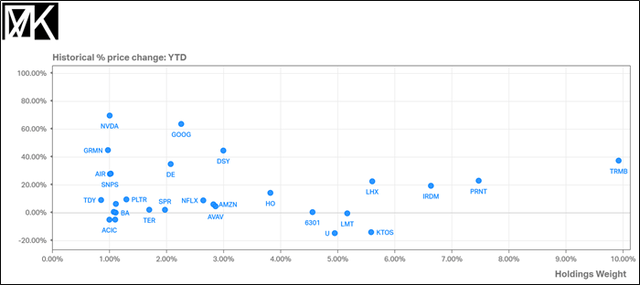 Scatter Diagram Historical % Price Change YTD v Holdings Weight (ARKX)
Source: Koyfin
As highlighted earlier, the investable universe seems broad, at least regarding which assets the fund stock pickers have been able to access. The ~40 securities are individually weighted with the top 10% making up around 58% of total fund value.
Trimble (TRMB) remains the heaviest weighting in the basket of securities, representing ~9.92%. Its +37.50% year-to-date return has buoyed the overall package, providing +359 bps to the funds aggregate value. The company provides location-based solutions using global positioning system (GPS), laser, optical and inertial technologies. To that effect, it does fit in nicely to the satellites in space criteria.
3D Printing ETF (PRNT), Ark Investments 3D printing themed fund, weighs in closely behind Trimble at ~7.46% of fund value. Hard faulting the fund's contributions to ARKX returns (Its +23.10% gains added 186 bps to ARK's space exploration fund) but it does leave me scratching my head.
With little to do with space, fund participants could always wave the "innovation" flag conveniently added to the end of the ETF's title to justify another ARK product's presence. But hard to figure out why ARK is buying their own funds save to provide additional liquidity or prop up an ailing fund with a fund superstar. The latter appears somewhat apparent here. Without PRNT's contribution, ARKX would have essentially delivered nothing in terms of risk adjusted return year-to-date.
By mixing its ETF laggards with its leaders, it manages to put lipstick on a fund while possibly generating fees on fees, with PRNT commanding a 0.66% expense fee and (ARKX) a 0.75% on an annual basis. A quest for liquidity? improved returns? or simply more fees? It remains anyone's guess.
Product Structure

Key ETF Leaders for (ARKX)
Source: Koyfin
As can be observed in the scatter diagrams, ARKX's stock leaders are a mixture of global mapping, satellite, defense, and technology firms - save of course ARK ETF Trust 3D Printing which appears placed in the fund rather strategically.

Key ETF Leaders for (ARKX)
Source: Koyfin
Kratos Defense & Security Solutions (KTOS) and Unity Software (U) have provided the biggest downside pressure on the aggregate value of the fund. The drone maker has traversed a turbulent period with the recent US withdrawal from Afghanistan pressuring defense stocks in general.
With the two laggards collectively shedding around -15% apiece, both firms - which weigh around ~5% each - have removed ~230 bps in returns. This is a sizable yet concentrated downside, counterbalanced by a military robotics market which could be ripe for technological upheaval.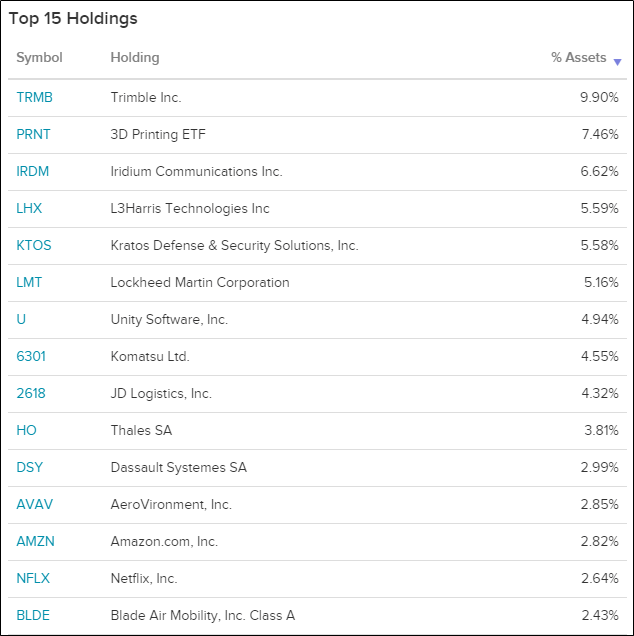 Top 15 holdings - (ARKX) ARK Space Exploration ETF
Source: Etfdb.com
Top holdings are weighted at the fund manager's discretion which provides flexibility to quickly take a certain side of the trade given specific market conditions. The top 15 holdings do continue to raise some questions about the relevance of certain stocks in space exploration.
A global position satellite firm? No problem. A renowned defense player? No problem. A drone manufacturer? Ok, call it space if you will. But Komatsu - a Japanese excavator and heavy equipment manufacturer founded in 1884? Netflix? An online streaming & entertainment stalwart? Or even JD Logistics? The Chinese logistics & warehouse behemoth?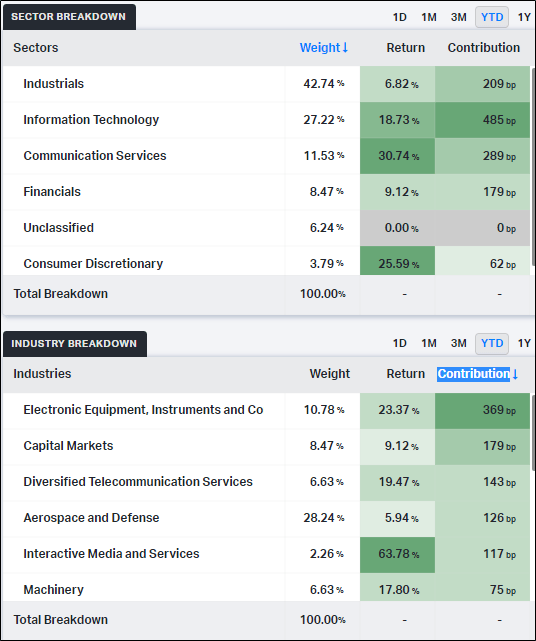 Sector & Industry Breakdown (ARKX)
Source: Koyfin
Finally, PRNT - ARK's 3D printing ETF - is heavily present in ARKX, underscoring some of the inconsistencies I mentioned earlier. Adding "innovation" to the ETF's title appears an attempt to include a huge universe of potentially selected stocks, when the heart of the fund essentially is space exploration.
The definition appears conveniently large - perhaps because the sector remains a pioneer with limited investable options. In any case, while 3D printing may be marginally linked to the space universe, it appears a little more difficult to justify other select names.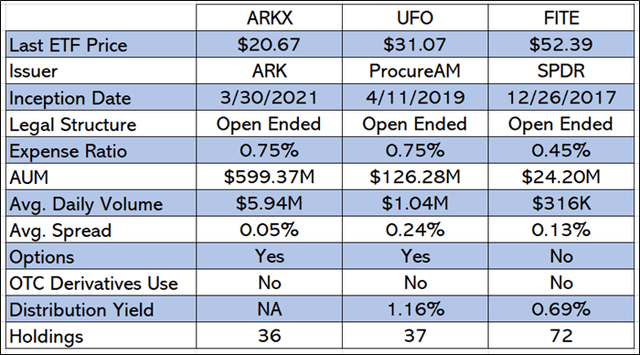 Comparative Analysis - ARKX v UFO v FITE
Source: Spreadsheet developed by author with inputs from ETF.com, Etfdb.com and Koyfin
A direct comparison of the small handful of thematic interstellar ETFs provides some interesting insights:
The sector remains a pioneer and as such, with the oldest fund only dating back 4 years. This possibly explains why the investable universe remains large.
Fees are on the high side with ARKX topping 75 basis points. This reflects the active management aspects of the fund, which often implies greater stock turnover and compensation for the active fund manager.
ARK's space themed ETF has the biggest assets under management, perhaps a knock-on effect from the success the fund manager has had with its other products.
Derivatives are not particularly commonplace in the makeup of any of the ETFs, despite an options market being readily available for both ARKX and UFO.
The number of holdings per ETF remain comparably constrained.
Key Takeaways
ARK investment management is a popular thematic ETF manager which markets actively managed products appealing to the more tech-savvy, innovation focused investor.
Its star manager, Catherine Wood, has made notable calls against consensus and got them right, big time. This has paved the way for her to build a following and grow assets under the firm's management.
ARKX is a pioneering space exploration ETF which aims to provide investors risk exposure to outer space. The fund embraces an innovation aspect too, linked to space exploration and providing the fund manager with some flexibility around the selectable universe of investable assets.
Returns year-to-date have been meager, with the fund being outpaced by its nearest rivals.
Question marks abound as to some of the fund's constituents - a Japanese tractor manufacturer, a US video streaming firm, and a Chinese logistics player all figure in what purists may deem not space-focused at all.
The fund's sizable investment in another ARK ETF (PRNT) also raises questions - firstly surrounding the central importance of 3D printing in space exploration, (is it that pivotal?) but moreover, is the weighting of 3D and the use of the company's own ETF not a tactic to boost liquidity, build fees upon fees or even shore-up ARKX by weighting it with some of PRNT, ARK's rockstar 3D ETF? It is anyone's guess, but it does seem rather odd.
There is no faulting Cathie Wood - her extraordinary stock picking performance has propelled her standing among the financial fraternity to the moon. And with good reason. A devout Christian, the 65-year-old founded ARK with the ambition of providing investors access to technology.
With ARKX, she provides investors the opportunity to gain exposure to outer space - and while the fund has not yet been taken to the moon - Cathie's quirky style, complete conviction, and unconventional against-the-grain money management ethos afford her every opportunity of doing so.