Editor's note: Seeking Alpha is proud to welcome Kevin Gause as a new contributor. It's easy to become a Seeking Alpha contributor and earn money for your best investment ideas. Active contributors also get free access to SA Premium. Click here to find out more »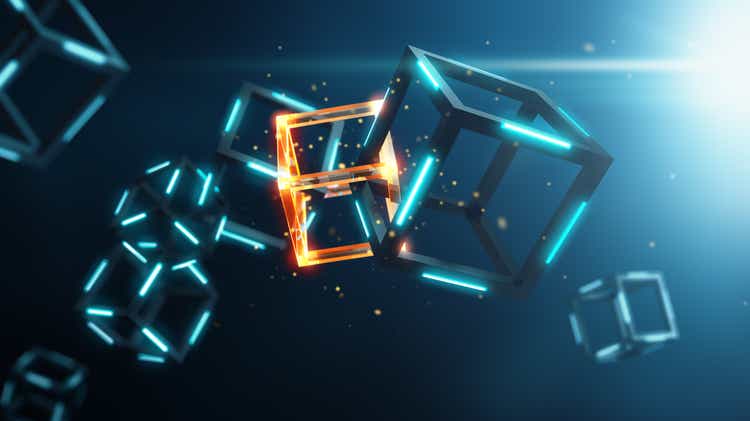 For most new investors in crypto, it is often easier to grasp the utility or value of top cryptos such as Bitcoin (BTC-USD) as a store of value, ETH (ETH-USD) as a blockchain, or even DOGE (DOGE-USD) as possessing a massive network effect of memetics in which it drives value. Polygon (MATIC-USD), on the other hand, is often overlooked as it aims to provide solutions to blockchain congestion problems which will be more prevalent in the future than they are today as crypto adoption grows. For this reason, most investors have yet to see its true value.
What is Polygon?
The Polygon Network was created in 2017 as a proof of stake network to solve Ethereum's growing congestion and inability to scale. The technology behind Polygon solves this by creating side chains to scale Ethereum and bridge the gap between blockchains horizontally. Instead of Ethereum constantly upgrading its code (ETH 2.0 expected to take over 2+ years since announced), Polygon can quickly deploy sidechains and effectively scale the network. Think of Polygon as a system of expanding local roads that run along the congested major highway that is Ethereum. The effectiveness of side chains has since been an industry disrupter and created a new layer 2 solution market.
I believe Polygon is severely undervalued. Many mistakingly take Polygon as a solution to a "temporary" hiccup for Ethereum as it tries to muster its own native solutions to its scaling issues. This is far from the truth; as we will see below, Polygon is poised to continue transforming the crypto space as it retakes its deserved place among the top 10 cryptos.
Investing in Polygon currently is an investment in the "Internet" of Ethereum, helping bridge the gap between hundreds of blockchain networks that are Ethereum compatible.
Polygon Value
Polygon derives its value from two main channels. One is the growth and adoption of the ETH network, and the limited success of its own native scaling solutions.
Most crypto users who are non-developers have paid Ethereum gas fees in the past while using a decentralized exchange. These fees often range from $40 all the way up to $120, and these are direct fees for using the ETH blockchain. On Aug. 5, Ethereum released EIP-1559 that had some analysts and developers predicting that the update would alleviate gas fees due to more governance around how gas fees were being paid. However, as seen in the chart below, gas fees have only risen since then. Granted, the long-term solution to gas fees has yet to come with the upcoming release of ETH 2.0 in the next 2 years. However, I still believe Ethereum's own native solution will not keep up with users' adoption of its blockchain, and Polygon will be the answer.
ETH Gas fees past 3 mo:

Source: created by author using ycharts.com
The other channel is a shift in business direction from an ETH-only solution to a partner for any crypto blockchain. The future outlook of Polygon is bright as it begins to pivot to an IAAS (infrastructure as a service) business model for not only the ETH blockchain, but for other blockchains as well. As more blockchains experience scaling issues, they will seek out layer 2 solutions to keep their users and developers happy and prevent them from leaving for faster blockchains.
Currently Undervalued
Despite the success of Polygon in helping ETH fend off its increasing gas fees and network congestion, the market has yet to realize the intrinsic value of Polygon, as we can see in the chart below.
MATIC-ETH is currently at a 180-day low:

Source: CoinGecko.com
Partnership with Google
Back in May 2021, Google (GOOG) partnered with Polygon to provide its Google Cloud Platform to help analyze the 6 million+ transactions on the Matic network. This will go a long way in helping the scaling issues of future blockchains and reducing gas fees.
Competition
When evaluating the competition, we must look at it from two different angles. One, other cryptocurrencies are trying to solve Ethereums scaling issues, and two, other cryptocurrencies focused on helping scaling issues in general outside of Ethereum.
When it comes to ETH layer 2 solutions, Polygon is the dominant player of that space with essentially no competition. The closest is OMG Network (OMG-USD), which currently has the 86th biggest market cap and has been lackluster in making partnerships and offering developer tools such as Matic did with Chainlink.
Expanding outside the Ethereum ecosystem will be a bigger challenge for Matic as they face well-established cryptos such as Cosmos and Polkadot. Polkadot is set out to improve the scalability of non-Ethereum blockchains by deploying parachains that are similar to Matic's sidechains. Their big advantage is founder Gavin Wood who is a co-founder and former CTO of Ethereum. Still, in the end, Polkadot lacks the decentralization of Matic, which is imperative when it comes to avoiding regulator risks.
Polygon vs. Cosmos vs. Polkador: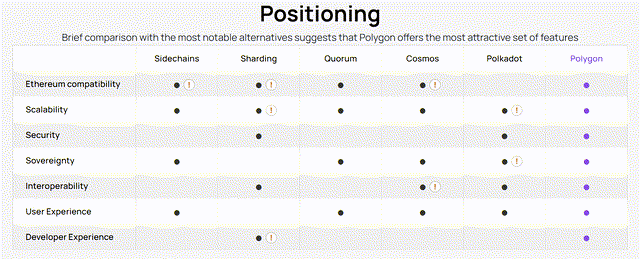 Source: coincentral.com
Future Growth and Catalysts
Polygon continues to expand its partnerships outside of Ethereum. It has since announced partnerships with Chainlink, MakerDAO, Thordchain, Decentraland, Mina, and OpenSea as a potential scaling solution. This year, Decentraland partnered with Polygon to solve similar network lag issues occurring on Ethereum. The IAAS model is still in its infancy, but will soon reward early investors in the project as we see more and more blockchains seek out the help of side-chains to cope with demand.
Polygon Dapps span multiple growing disruptive industries such as Decentralized Gaming, NFT's, Prediction Markets, Dexes. The network has recently committed over 100M in support of future development for decentralized games and NFT. This is a massive step in attracting outside developers to contribute to Polygon's development. In addition, the network has recently integrated Mina Protocol in its pursuit of increased security for users on the network. Soon after the announcement, Polygon reached a network record of 176,012 daily active users (DAUs).
Risks
Matic does have several risks that we should seriously consider. The coin was recently rebranded from Matic to Polygon to distance itself from an ETH-only solution and instead appeal as an IAAS solution for all crypto blockchains. There are currently few proof cases on Polygons success outside of the Ethereum network.
Ethereum also has its own native scaling solutions. With the release of ETH 2.0 in the next 18 months, the ETH network will attempt to reduce much of the problems that Polygon is already trying to solve. For example, predictions have ETH 2.0 raising its transactions per second from 45 to 100,000.
Final Thoughts
At the time of writing, Polygon has a price of $1.40 per token and a market cap of 14.1B, which is ~3% of ETH's market cap of 404B. I believe it is trading at a large discount considering ETH's reliance on Polygon to help scale its network and prevent Ethereum developers from leaving the blockchain altogether and for faster competitors such as BNB (BNB-USD) or Solana (SOL-USD).
I am convinced that Polygon deserves to be valued at a minimum of 5% ($3.50) of Ethereum's market cap, and depending on if they can deliver on their roadmap in becoming an IAAS for non-Ethereum blockchains and by obtaining more partnerships, I would raise my valuation to 10% ($7.00) of Ethereum's. Of course, these predictions are conservative as we are not factoring in the explosive growth that Ethereum will see over the next few years.