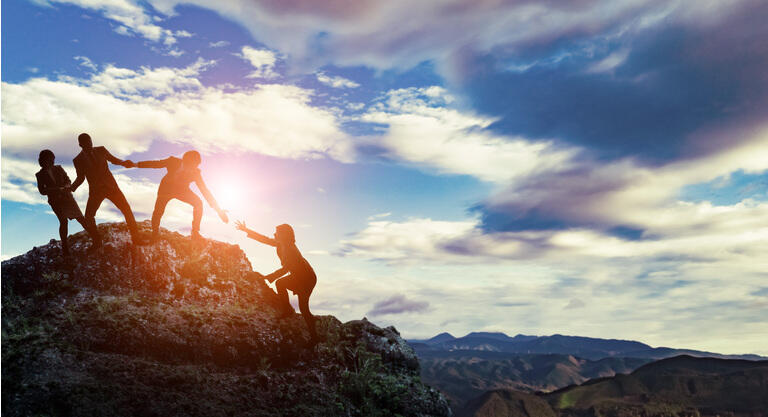 Editors' note: This article is meant to introduce the new Marketplace service from JR Research, Ultimate Growth Investing.
Introduction to Ultimate Growth Investing
We're delighted to announce the launch of our Marketplace service Ultimate Growth Investing.
Ultimate Growth Investing is a service specially designed for growth-oriented investors. We have carefully selected the best growth stocks across a wide spectrum of secular trends. Although we have covered more than 80 stocks on our free site, you will access our best ideas in the service. This also includes stocks that we didn't cover on our free site. We own the stocks that we selected for this service. You will have access to our detailed valuation models. We also will guide you on the specific buy levels for our timely top ideas.
Why This Service?
We wanted to help demystify the opportunities and challenges investors face with growth investing.
We noticed that growth investing had been a popular trend among investors. Investors look to growth stocks for higher potential returns to boost their portfolios. While these stocks provide exciting potential for multi-bagger returns, they're also fraught with multiple challenges. Many of the companies in this category are still emerging leaders in their fields. However, many of them are still growing at the expense of profits and cash flow. While some may end up as future leaders, many might end up as "wasteful opportunities" for investors.
We aim to help investors navigate the challenging landscape in identifying the true leaders. Many of these companies also are affected by huge volatility swings. We use our keen understanding of volatility metrics and our proprietary price action framework to help investors pick lower-risk entry points. Our framework will help you to navigate the volatility with confidence. It also will help you to keep your emotions in check when investing in growth stocks.
What Do You Get In Our Service?
We would like to highlight that none of these features are available on the Premium site. These are features exclusive only to the subscribers of Ultimate Growth Investing.
Feature

Frequency

Notes

Model Growth Portfolio Tracker and Bi-weekly portfolio update

Real-time, Bi-weekly

We classify the portfolio into Predictable Growth, High Growth, and Speculative/Disruptive Growth stocks.

Proprietary Risk Rating Methodology

Updated Bi-weekly

We use objective risk rating assessment criteria for our growth portfolio. It considers correlation, implied volatility, and beta value.

We also will guide you to beta-weight your portfolio. This will help you to understand your portfolio risk or delta exposure better.

Buy/Sell/Hedge Alert

Ad-hoc

Real-time alerts are delivered through our chat room.

Tactical Market Analysis

Daily

Our daily market analysis provides you with a high level of market awareness. It helps you to focus only on objective indicators and data sets.

Macro Market Overview

Weekly (Start of the week)

We give you a strategic weekly overview of our analysis of the market. It allows you to focus on the key opportunities that lie ahead.

Top Stock Idea Deep Dive

Weekly

We will share our timely top idea weekly. This is our "Must Buy Now" idea.

Top Recent Earnings Deep Dive

Weekly

We provide our key earnings analysis of the salient points for the stocks in our Model Growth Portfolio. Importantly, we will also highlight whether there are actionable post-earnings opportunities.

Summary of Interesting Ideas for the Week

Ad-hoc

These are stocks that are worth watching but are not in our Model Growth Portfolio.
Does Picking Entry Points Work?
We often get this. First, there's no guarantee of success to any technique or methodology. Second, for our technique to work, you need to have patience. Now, let us give you some useful examples.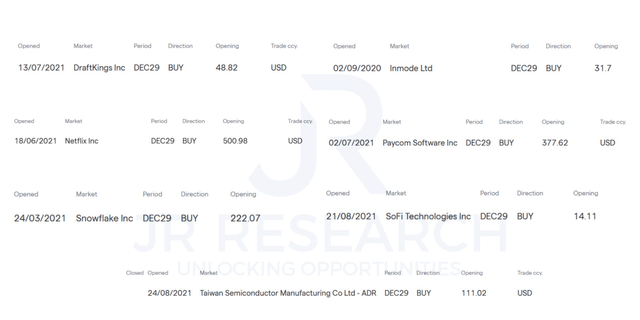 Author's Compilation of some recent purchases. Source: Author's broker
| | | | | |
| --- | --- | --- | --- | --- |
| Name & Symbol | Date of Purchase | Buy Point in $ | Current Price as of 9 Sep 21 in $ | Return in % |
| DraftKings (DKNG) | 13 Jul 21 | 48.8 | 64 | 31.1% |
| InMode (INMD) | 2 Sep 20 | 31.7 | 140.77 | 344% |
| Snowflake (SNOW) | 24 Mar 21 | 222.07 | Sold at 280 as a swing trading set-up | 26.1% |
| Paycom (PAYC) | 2 Jul 21 | 377.6 | 481.14 | 27.4% |
| Netflix (NFLX) | 18 Jun 21 | 500.98 | 601.07 | 20% |
| SoFi (SOFI) | 21 Aug 21 | 14.11 | 15.6 | 10.6% |
| Taiwan Semiconductor (TSM) | 24 Aug 21 | 111.02 | 122.68 | 10.5% |
Based on the buy points, the table above shows the returns to date as of 9 Sep 21.
These are some of the stocks that we purchased recently. We're very selective with our entry points and are never in a hurry to jump on the bandwagon. We want to make sure that we have a reasonable margin of safety. They also must fulfill our price action criteria. You will get real-time alerts to the stocks we are buying for our Model Growth Portfolio in our service. In addition, you also will know the specific buy levels that we are targeting, in case you missed our alerts.
Why Join Us Now?
We are providing our introductory offer only to the first 20 subscribers. They will get a 20% discount on the annual subscription price of $399, paying just $319 for the lifetime of the service.
That's correct. The first 20 subscribers will get to lock in their 20% discount for the lifetime of the service. We can assure you that this is our lowest possible price. Therefore, once we reach our first 20 subscribers, this offer will no longer be available.
You also can choose to pay $49 per month. There will be no additional discount for the monthly.
Please remember that you have absolutely no risk in trying out our service. Every subscriber has a 14-day free trial that comes with an unconditional guarantee from Seeking Alpha.
If you think we have done a great job, stay with us. However, if you think we have not met your expectations, you can cancel anytime within the 14-day free trial. We will ask no questions, whatsoever.
Moreover, the billing only starts after the free trial. The onus is on us to retain your membership. Therefore, we strongly encourage you to take full advantage of these perks.
If You're Still Wondering...
We know. Sometimes, you may need more time to think. We're investors too. We know how you feel as we have subscribed to many services for our research.
But we would like to remind you that we will only launch our service once. Therefore, you will never get a lower price again to try out our service. Moreover, if you are among the first 20 subscribers, the annual subscription price of $319 is locked in for the lifetime of the service. It's an amazing offer, to say the least.
If you are a self-directed investor and have been very happy spending multiple hours daily doing your own research, please continue to do so. Stay in touch with us through our free site.
You can certainly choose to spend hours daily trying to do what we have been doing. We also spend thousands of dollars every month to gather our insights. We're full-time investors and traders. We do this for a living. This is not a part-time job for us. We spend our whole day at it. We have dedicated many years to our craft.
So you can either try to spend the same amount of time and money as we did. Or, you can save yourself the trouble and the time by joining Ultimate Growth Investing. Then, take full advantage of the absolutely risk-free two-week free trial.
You will gain immediate access to our portfolio, all of our research, and a community of growth investors. You also will have personal access to us through the service.
Please remember that only the first 20 subscribers will get to enjoy the 20% discount for the lifetime of the service.
Are you ready to take action now? Click here.
We hope to see you soon in Ultimate Growth Investing. Thank you for giving us this wonderful opportunity to be of service to you!
About JR Research
We're full-time investors and traders. We already have been spending a lot of time researching our own investments. This is not a part-time endeavor for us, nor do we consider it a mundane job. We're living our passion every day, focusing our time on research, investing, and trading. We love it. We depend on it for a living, and we're absolutely serious about what we do.
Now, we want to take this opportunity to share our research and knowledge with you. We also hope to share our passion for investing with you. We're hopeful that we can exchange great insights as fellow investors.
Jere, our principal analyst, has previously worked in financial services for more than 15 years. He earned several important promotions and last held the Executive Director position in a global financial services company. He left the company in pursuit of personal development opportunities a few years ago. Since then, he has been investing and trading full time. Leveraging what he learned and accumulated over the years on the job, he no longer sees the need to work for someone else.
Please feel free to ask anything about our service in the "Comments" section. We look forward to seeing you in Ultimate Growth Investing soon!
If you're reading this via Seeking Alpha's mobile app, to try this service right now go to seekingalpha.com and enter my name in the site search to visit my Marketplace Service checkout page.