The latest data from Solarbuzz suggests that global PV installations reached a blistering 27.4 GW in 2011 - up 40% from 2010. Previous estimates had put that number closer to a still impressive 26 GW.
However, it appears that second half demand was boosted by an acceleration of activity ahead of a range of cuts to solar incentives across a number of countries.
Major PV Country Markets (GW)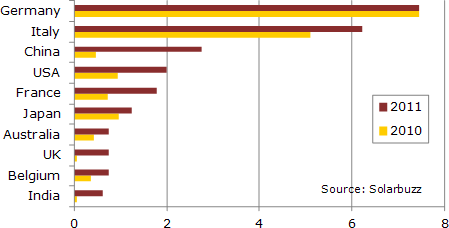 Source: NPD Solarbuzz 2012 Marketbuzz
Overall, the PV industry generated some $93bn in global revenues in 2011 - up 12% from the previous year. The industry also raised more than $8bn in corporate equity and debt according to the survey.
In terms of geographical performance the major growth market was China, where new installations grew some 470% to over 2.5 GW. Reports have of course suggested that demand in China will continue to build, with expectations that the country could become a 5 GW market this year.
As the chart above shows, the major markets in outright size remain Germany and Italy. European countries as a whole accounted for 18.7 GW or 68% of global demand.
With further subsidy cuts in Europe on the way, the major question for the markets is the extent to which that story will change. Demand out of Europe is certainly expected to drop back - with China, the US, Japan and India taking up the slack.
For solar stocks, the disappointment has been that despite the relentless rise in demand for PV product, a dramatic excess of capacity and consequent over-supply has crushed prices and margins in the industry.
According to Craig Stevens, President of NPD Solarbuzz, this difficult environment is likely to continue:
"Cutbacks in polysilicon, wafer and cell production plans before mid-year will be required to avoid further damaging margin declines. Meanwhile, it is significant that polysilicon manufacturing capacity - long the most constrained and profitable part of the PV chain - now has the highest capacity in the PV chain".
My own view is similarly cautious for now. Long-term, the current price erosion in the industry will drive the major players towards Grid Parity and a prosperous future once higher cost players have been eliminated and the industry consolidates. From that point of view, the overall Guggenheim Global Solar ETF (NYSEARCA:TAN) will no doubt eventually recover at some point. However, the likely winners will be the Chinese tier one players - Suntech Power (NYSE:STP) , Trina (NYSE:TSL), Yingli (NYSE:YGE) and Canadian Solar (NASDAQ:CSIQ).
Nevertheless, for the time being the current difficult environment of over-supply continues to force the weaker players to attempt to raise cash for operations by dumping product on the market at uneconomic prices. This continues to drive down average selling prices for all players. In this environment it seems a reasonable probability that another final flush down in solar stock prices is likely before a buying opportunity emerges once again. As a result, it seems best to stay uninvested for now.
You can read a more detailed discussion of the issues in play and the outlook for solar stocks here.
Disclosure: I have no positions in any stocks mentioned, and no plans to initiate any positions within the next 72 hours.