Fossil, Inc. (NASDAQ:FOSL) is a global Winner. It is advantageously positioned in international markets. Fossil has strong international brands, and has made large capital investments in the emerging markets which will show their value in quarters to come. I expect Fossil to beat expectations in the first quarter of 2012 and continue the stock's price expansion.
A strong signal of financial strength and continued growth is opening stores. Opening new stores means a company is putting their money where their mouth is, and Fossil is doing just that. Kosta Kartotis, Fossil CEO, stated about the upcoming year:
"In 2012, we will continue to focus on increasing on the productivity of our existing stores while we also accelerate our store openings. We currently expect to open 70 to 75 new stores with equal distribution between United States and international markets, while closing approximately 18 doors."
Let me repeat that, Fossil is opening 70 - 75 new stores internationally and only closing 18.
FOSL has gained 61.67% YTD. FOSL reached its 52-week low of $ 69.57 on Aug. 7th 2011, just three days after the Fed announced there would be no QE3. The stock is now worth $ 128.64.
1-Year chart: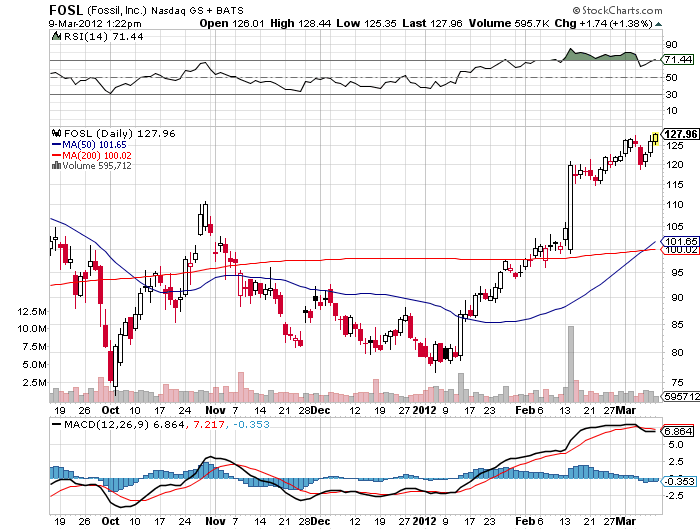 Large investment funds are limited to owning 5% of any company to prevent price manipulation in the markets. This limits the investment choices of fund managers to very large cap stocks. These managers are all very intellegent guys, they know that growth is going to come from cutting edge sectors such as technology, emerging markets, and energy industry leaders such as AAPL, XOM, MCD, and are large enough and safe enough for institutional investors to get on board. The high level of institutional investment in Fossil is a strong buy signal for the stock. That signal is why I am not worried about Fossil's P/E ratio of 27.2. Yes it is very high compared to the market average, however; Fossil is one of the few companies which allow large funds access to emerging market growth. This means that the P/E ratio is inflated when compared to current fundamentals, but it does not mean that the stock price is to high at the current time.
The fourth quarter was a huge success for Fossil. They experienced double-digit sales gains across all of their business segments, and the company is not done yet. Fossil's CEO Kosta Kartosotis, stated at Q4 announcement:
"We believe we are in the early stages of this process and that there is a significant global opportunity in front of us as the Fossil brand becomes even clear and more aspirational. The brand is strong in both men's and women's side of the business and works all over the world. As we expand around the globe, our positioning as an accessories-based lifestyle brand gives us huge advantages as these categories carry higher margins, have shorter lead times and have less Obsolescence along the categories. It is a much simpler business to operator especially on a global scale. "
So Fossil's current success is just a sign of things to come. Skeptics may argue that the future growth of Fossil is already priced into the stock. Not so! At 27.2 P/E the market assumes that Fossil will grow at 27.2 % a year. To the value investor that number seems astronomical, but the value investor strictly looks at current fundamentals. They do not take into account the future value of a corporation's franchise expansion. Here is what Kartosotis said about the future of the Fossil brand:
"Our multi-brand watch business grew to over $1.8 billion with both Michael Kors and the Armani brands exceeding $300 million and we made significant inroads into establishing a much larger infrastructure in Asia that will serve as our base for growth in that region."
Fossil is a company that is here to stay. Their products gaining market share in the fastest growing markets. The institutional investors are invested heavily in Fossil for good reasons, and so should you.
I suggests a Long Stock position, a Long Call position, or a combination of the two.
Disclosure: I am long FOSL.