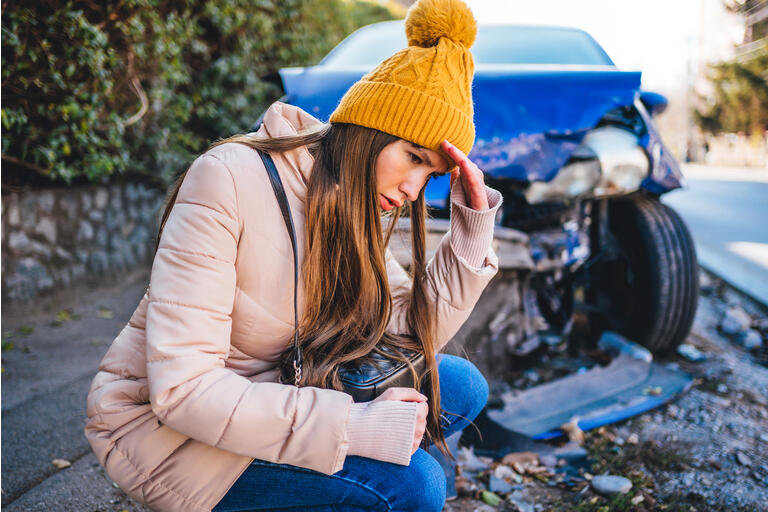 Investment Thesis
Copart (NASDAQ:CPRT) is a leading provider of online auctions and vehicle remarketing services in 11 different countries. Through their patented platform, their site auctions used cars that are salvage titled, damaged, or rebuilt. I believe CPRT presents a great investment opportunity because:
Unique business model provides great profitability with an economic moat.
CPRT shows strong revenue growth and a bright future outlook
Their management team shows a track record of financial discipline
Very profitable and unique business model
CPRT has a very unique business model with two approaches for listing vehicles. They may directly purchase cars damaged by accidents or natural disasters and then sell the vehicle through the platform. Alternatively, they provide auction services for insurance companies, financial institutions or individuals to sell vehicles on their behalf. On the purchasing side, most buyers are licensed vehicle dismantlers, rebuilders, repair licensees, or used car dealers. CPRT has indirect competitors such as eBay Motors (EBAY), KAR Global (KAR), or CarMax (KMX), but CPRT is literally one of its kind. There are no direct competitors who focus exclusively on damaged cars. This is a unique business model, and being one of the largest online auction sites provides a great economic moat for CPRT. I believe the market is undervaluing this economic moat. A snapshot of the company website and vehicle inventory is shown below.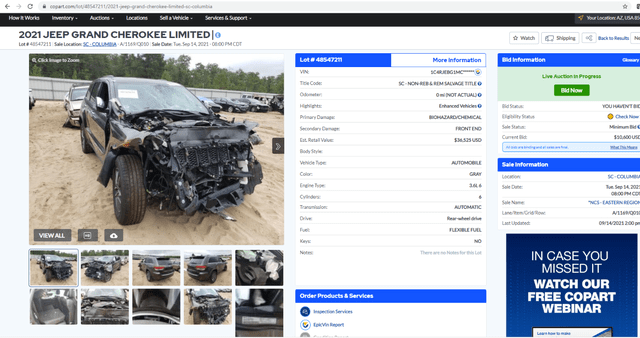 Source: Image captured from the inventory section of their website
Profitability is outstanding across the board. Gross profit margin (53.63%), EBITDA margin (46.74%), and net income margin (34.78%) far exceed sector median. Furthermore, profitability has been steadily increasing over the past five years as demonstrated by historical EBITDA Margin in the graph. I choose eBay, Car Max, and KAR Auction Services for comparison, as these also offer online car purchases/auctions. However, as already mentioned, there is really no direct competitor.

Source: Graph generated by author using data from Seeking Alpha
Strong revenue growth and a bright outlook
CPRT's revenue has been growing at an impressive rate of 14.61% on average in the past 5 years, and last quarter's YoY revenue growth number came in at 22.08%. All other growth metrics (YoY EBITDA growth at 38.73%, YoY EBIT growth at 38.25%, and YoY growth at 33.11%) are strong as well. The following graph shows the impressive revenue growth of CPRT over the past 5 years.

Source: Graph generated by author using data from Seeking Alpha
I believe this revenue growth will continue into the foreseeable future and possibly accelerate because of the 1) increasing technological complexity of new cars, 2) increasing labor costs, and 3) auto part shortages are causing insurance companies to designate cars as totaled with greater frequency. As I mentioned before, the insurance companies are the primary supplier of cars to CPRT, so this will create a plentiful supply of cars and push CPRT revenue/earnings upward. Therefore, I adjust the revenue growth expectation to 20-25% YoY in line with that of the most recent quarter, instead of the historical level of 15%. Demand drivers for salvaged cars are shown below.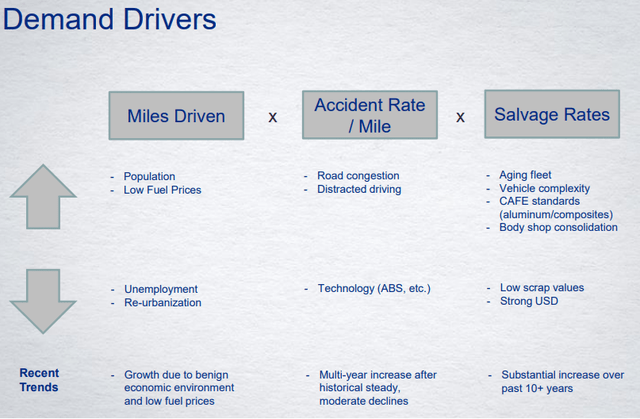 Source: Slide from CPRT investor presentation
Strong balance sheet and track-record of financial discipline
CPRT is sitting on a pile of cash at this point. CPRT's net debt has been steadily decreasing since 2016, to its current level of -$530.2 M, which means they have more cash & equivalents than total debt. Not surprisingly, their current ratio is at 3.8 (industry average: 1.5), and quick ratio is at 3.7 (industry average: 1.4). These strong balance sheet and the consistent year-over-year improvement demonstrate the 1) cash generation ability of the business, 2) quality of the management, and 3) economic moat surrounding CPRT's business model. With this strong balance sheet and a pile of cash, CPRT has a comfortable cushion to acquire key business investments, develop or improve their platform, and assist them through an economic downturn. The graph shown below demonstrate Net Debt and Cash & Equivalent trends since 2016.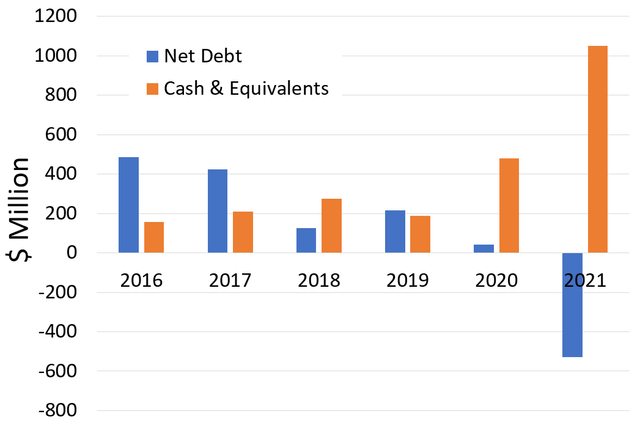 Source: Image created by author with data from Seeking Alpha
Intrinsic Value Estimation
I used DCF model to estimate the intrinsic value of CPRT. For the estimation, I utilized EBITDA ($1.26 B) as a cash flow proxy and current WACC of 7.9% as the discount rate. For the base case, I assumed EBITDA growth of 20% (current seeking alpha estimate) for the next 5 years (zero-growth for the terminal value). For the bullish case and very bullish case, I assumed EBITDA growth of 30% and 35%, respectively. I believe the EBITDA growth of 30% or 35% are certainly achievable given the increasing auto repair costs and higher frequency of insurance company to designate the car as totaled. I believe the international expansion of CPRT (current serving 11 countries) will also positively impact the revenue/earnings growth trends.
The estimation revealed that the intrinsic value of CPRT for the bullish and very bullish cases are $187.99 (23% upside) and $223.24 (47% upside), respectively. If they execute the international expansion plan successfully and maintain strong relationships with insurance companies, I believe this number is very reachable. Given their strong balance sheet, they shouldn't have any problem executing the expansion plan or cultivating business relations in new markets.
| | | |
| --- | --- | --- |
| | Price Target | Upside |
| Base Case | $131.45 | -14% |
| Bullish Case | $187.99 | 23% |
| Very Bullish Case | $223.24 | 47% |
The assumptions and data used for the price target estimation are summarized below:
WACC: 7.9%
EBITDA Growth Rate: 20% (base case), 30% (bullish case), 35% (very bullish case)
Current EBITDA: $1.26 B
Current Stock Price: $152.3 (09/16/2021)
Tax rate: 20%
Risks
The current home office trend may reduce the driving rate, which may translate into lower CPRT revenue due to fewer accidents and lower auto repair costs. However, monthly vehicle mileage has been trending upward since early 2021, and is now within 5% of the pre-pandemic peak (292,856 miles in 2019). It is not clear what long term impact the shift towards working from home will have on driving. Remote work means less commuting, but also allows relocation from urban to rural centers where driving is a necessity.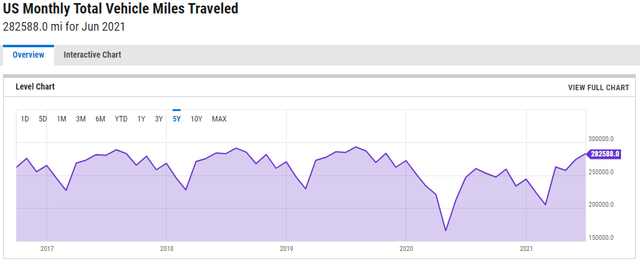 Source: Image created by author using data from YCharts
Technological development (e.g. ABS, collision warnings, and lane assistance) may decrease accident rates, which may challenge the business model in the long term. However, as I mentioned before, as cars include more sophisticated technology, repair costs dramatically increase. We expect technological development to decrease the accident rates on the road, but increase repair costs when an accident does occur. CPRT may still see a net benefit in revenue as insurance companies are less willing to cover expensive repair costs.
Conclusion
I believe that CPRT presents an interesting and great investment opportunity for the growth oriented investor. Its unique business model provides an economic moat for the company, and the revenue growth and profitability that CPRT has achieved are truly impressive. I believe their revenue growth will continue or accelerate in the near future, and this presents an upside of 20-40% from the current price level. While the pandemic temporarily decreased driving mileage, driving rates have been increasing towards pre-pandemic levels. I believe it will continue to do so. As car manufacturers incorporate increasingly sophisticated sensor technology, this will have two opposing effects on CPRT revenue. The technology should reduce the number of accidents, but this will be offset by an increase in repair costs for damaged cars. In the near term, I believe the higher repair costs will benefit CPRT.