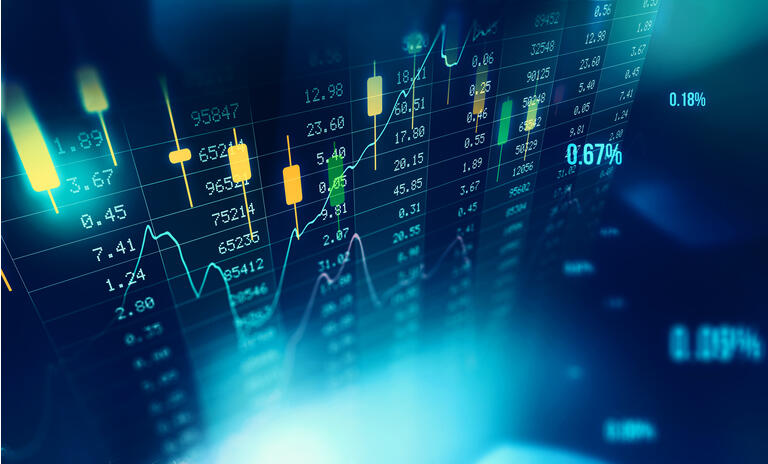 This article was first released to Systematic Income subscribers and free trials on 12 September.
Welcome to another installment of our CEF Market Weekly Review where we discuss CEF market activity from both the bottom-up - highlighting individual fund news and events - as well as top-down - providing an overview of the broader market. We also try to provide some historical context as well as the relevant themes that look to be driving markets or that investors ought to be mindful of. This update covers the period through the second full week of September.
Market Overview
The second week of September was a reversal of some of the previous weeks in that we saw mostly lower NAVs cross CEF sectors due to lower stocks and Treasuries but tighter discounts, resulting in overall flattish returns.
On a month-to-date basis, there is some movement in individual sectors like the underperforming munis, preferreds and multi-sector funds (largely an artifact of the sell-off in the PIMCO funds due to recent cuts) and outperforming MLPs and converts, however in aggregate there is not a ton of movement.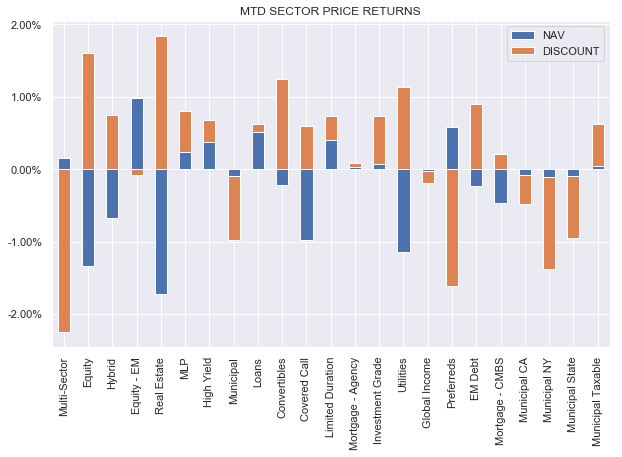 Source: Systematic Income
We can see this more clearly if we look at the following chart which breaks down average CEF sector returns across NAVs and discounts. We can see that the small September rally in discounts has been offset by an equally small sell-off in NAVs. The chart also clearly shows that the size of monthly moves has fallen. This pattern makes a lot of sense - even though risk sentiment has been supportive, high valuations across stocks, risk-free rates, credit spreads and discounts make it harder for CEFs to outperform their underlying yields. This is a pattern we expect to continue and the next large move in the CEF space will have to be lower, though timing is, of course, impossible to gauge.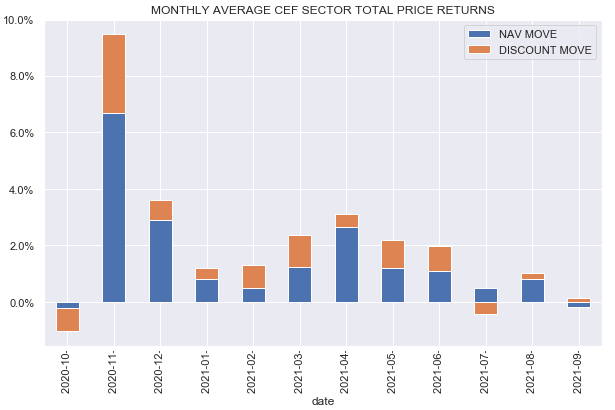 Source: Systematic Income
Market Themes
The CEF market can often upend expectations of different types of investors - for more tactical investors who closely follow the daily gyrations of discount valuations as well as for low-turnover investors who only make occasional tweaks to their portfolios and simply want to hold a "solid" fund in a given sector.
The key issue is that certain fund features or risk tilts can make a significant difference to fund NAV returns which can swamp valuation considerations or cause apparently "solid" funds to significantly underperform.
As an example let's take a look at the year-to-date total NAV returns in the preferreds CEF sector shown below. One would think that returns would be more-or-less the same for funds that allocate to the same sector, however the range for YTD NAV returns is nearly 10% - from 6% to almost 16%. And this is all in the context of credit markets which have not moved a whole lot since the start of the year - high-yield corporate bond yields have moved just 0.30% over the last 9 months.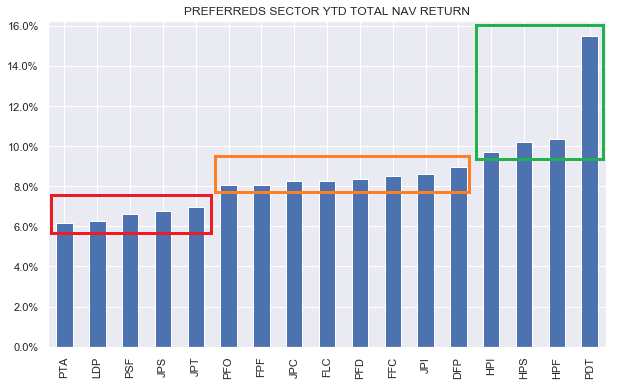 Source: Systematic Income
For illustrative purposes we divide the chart into three areas - orange for the majority of funds in the sweet spot of returns of about 8-9%, underperforming funds with returns below 7.5% and outperforming funds with returns around 10% and above.
In our view, the following allocation stances across the sector drove the performance dispersion this year. We can't prove this is actually the case but it makes sense to us.
To sum up - the key fund features or allocation tilts to keep in mind for investors are leverage levels, interest rate hedges, sector allocation, credit-quality profile and asset class tilts.
There are three key points here. The first is that investors should understand not only what individual allocation profile or risk tilts a given fund has but also how it compares to the rest of the sector. By selecting an individual CEF an investor is implicitly adopting the allocation choices and risk tilts of the fund, whether they are aware of it or not. And because different funds make different choices, there is no single "best" fund that will perform best in all market environments. This doesn't mean investors have to chase every move in markets by tweaking their portfolios but it does mean that each fund allocation carries with it an implicit market stance.
This leads to the second point which is that it is a rare CEF that can outperform in all market environments. This means that a "solid" choice in any given sector is a largely meaningless concept. Individual CEFs have outperformed historically for, typically, contingent reasons such as they were overweight duration in a falling rate regime or they were overweight lower quality holdings in a supportive macro environment or they held assets that had a one-off revaluation which is not to be repeated such as bank preferreds or legacy non-agency RMBS after the GFC. Investors should try to look through to the fund's key differentiating factors to guide their allocations.
A third point is that we don't want to imply that investors who held underperforming funds made the wrong decision and investors who held the outperforming funds made the right decision. The issue isn't what funds investors held but the reasons why they held those funds. Specifically, investors who held JPT because, as a term CEF, it offered a measure of discount control and lower drawdown potential - the decision to hold it was entirely sound. And investors who held PDT because they were attracted by its high distribution rate (despite its poor coverage) in the sector simply lucked out because stocks had a huge run-up.
Market Commentary
The RiverNorth Specialty Finance Corporation (RSF) - a hybrid (i.e. equity and debt) CEF came up on the service. Last time we checked the numbers RSF had a 9.3% distribution rate with latest coverage of something like 190%. In addition, the fund is trading at a discount and its NAV has been holding up well – a sign it's "covering" the distribution from capital gains and income. The obvious question – is this a diamond in the rough with a 17% NII yield, some sort of magical high-yielding fund in an environment when high-yield bonds are trading at a 4% yield?
The right answer is, of course, no. There are many different ways you can approach this one which is good because they all point in the same direction. The first, is by glancing at the holdings – about a third SPACs/BDCs, 30% small business whole loans, 31% BDC bonds, 7% CEFs, rest in ABS and cash. The fund has something like a 35% leverage so roughly 150% of total assets versus 100% of net assets.
BDCs do have fairly high yields of 8-10% or so, SPACs aren't income vehicles, whole loan distributions are unclear but they probably max out below the BDC level as they are unleveraged, CEFs will have distribution rates on the order of 6-7% though portfolio yields are closer to 5%. BDC bonds tend to yield something like 2-5%. When you put it all together you can't get anywhere close to 17%. A back of the envelope calculation with the fund's very high management fees (higher than the highest PIMCO CEFs) and a crazy high leverage cost (the fund sources most of its leverage via the RMPL preferred that has an interest rate just shy of 6%) then we get to a leveraged portfolio yield estimate of around 5%.
If that's true how can the NAV move higher if the fund is overdistributing? Well, the NAV has been moving higher because the fund owns BDCs, common stocks, BDC bonds and CEFs. The first two have benefited from a strong stock market, bonds have benefited from the drop in interest rates and CEFs have benefited from tighter discounts. These moves are mostly non-repeatable.
Another way to think about it is that the fund has a low NAV volatility of just 4.3% which is at the higher end of the PIMCO CEFs which run at much higher leverage and 3 of them have just cut distributions. RSF does hold non-traded securities which probably just sit there at the same price but it's not a huge part of the portfolio. In other words, the fund's middling NAV volatility means that it is simply not taking the kind of risk that would drive a double digit yield.
Finally, the usual intuition of CEFs operating in a competitive market ecology roughly ensures that a small team like RiverNorth have not actually found a strategy to deliver twice the yield of what PIMCO can.
When we last checked the fund, the last coverage info we had was from December. To give you an idea: the fund earned $3.12 for the year to June-18, $2.69 for the year to June-19, $1.56 for the year to June-20. And then it managed to earn $1.71 for six months to Dec-20. In other words, the fund earned more in the six months of the last shareholder report than it earned for the whole previous year. This doesn't make any sense.
We checked SEC filings again the other day and, fortuitously, there was a new shareholder report. The fund earned $1.32 for the year ended June-21. That comes out to a NAV NII yield of 6.5%. Keep in mind this number overstates the fund's portfolio yield. For example, the average BDC baby bond stripped yield is 5.9% but the average YTW is 2.2%. By wrapping these securities in a CEF and failing to disclose the portfolio yield-to-call, the fund makes it seem like it is driving a sustainable yield that is well above reality.
In summary, RiverNorth tend to play their games with high distribution rates, especially with their Muni funds. And that's fine – that's the strategy some managers pursue. Overall, having hybrid exposure in a CEF wrapper probably makes sense for many investors given how low yields are as a way to support the NAV but it's clear the fund is bound by the basic laws of finance and it hasn't actually found a "free energy" yield device that allows it to drive a double-digit yield at a low volatility and rising NAV.