Editors' Note: This is the transcript version of the podcast we posted on September 10. Please note that due to time and audio constraints, transcription may not be perfect. We encourage you to listen to the podcast, embedded below, if you need any clarification. We hope you enjoy!

Listen on the go! Subscribe to The Cannabis Investing Podcast on Apple Podcasts, Google Podcasts, Spotify, and Stitcher.
Rena Sherbill: It's really a thrill and an honor of mine to present today's special episode with InterCure (NASDAQ:INCR) Chairman, former Israeli Prime Minister, Ehud Barak and CEO, Alex Rabinovitch. InterCure is the most profitable cannabis company outside of North America.
And Mr. Barak and Mr. Rabinovitch share with us today InterCure's story, how they started, the financials, the importance of the fundamentals when it comes to valuations and building the trust and the exposure to the analyst and the investor communities, and what InterCure is trying to bring to the international cannabis market; a really fantastic conversation. We're off two weeks after this. Enjoy this one.
Before we begin, a brief disclaimer. Nothing on this podcast should be taken as investment advice of any sort. I'm long Trulieve, Khiron, Isracann Biosciences, The Parent Company, Ayr Wellness and the ETF MSOS. You can subscribe to us on Libsyn, Apple Podcast, Spotify, Google Play and Stitcher.
Mr. Barak, Mr. Rabinovitch, welcome to Seeking Alpha. It's a tremendous pleasure and an honor to have you. Thanks for joining us.
Ehud Barak: Thank you for having us.
RS: It's a pleasure. So InterCure, the most profitable cannabis company outside of North America, the fastest growing, a lot of other big accolades to say about it, and you just went public on NASDAQ. A lot of excitement about it. I know it started more as a medically-focused company. Can you talk to us about the kind of evolution of the company and how you got to where you are today to be publicly traded on the NASDAQ?
EB: He started before me, so let Alex speak for…
Alex Rabinovitch: Yeah, so InterCure was founded a decade ago, and as a life science company. And three years ago we completed the merger with Canndoc, one of the original licensed producers, founded in 2008, to become the first Israeli cannabis company that went public. The evolution actually started with the first regulation to manufacture and sell cannabis to patients in Israel, started as an ultra-medical regulation. And we started treating basically indications of cancer and slowly indications went up. And now we have about 16 indications that we are treating.
Along the way, of course Israel has adopted the GMP standard that both the medical cannabis and the pharmaceutical space use. With this Israel is one of the pioneers in the world. And since cannabis was introduced into the pharmaceutical space, cannabis has become a prescribed product. And we are seeing a tremendous growth of the market sequentially, to where it's now. It's become the most prescribed product out of pocket in the pharmaceutical space.
EB: So I was approached by Alex and a lawyer friend of mine who deals with high tech about joining this medical cannabis company. As a prerequisite they sent me a booklet of some 250 pages. Without my background in science, I would not cross the first 15 pages. But I immediately dived into the science of the cannabis and I was fascinated. It ended up that the science of cannabis started here in Israel.
A professor named Raphael Mechoulam, in Hebrew University some 50 years ago started. Until now only 2.5 molecules were investigated, CBD, THC and probably another variation of CBD. But there are hundreds of cannabinoid molecules in the product and another several hundreds of flavonoids and terpenes. And so no one even understands fully scientifically the end products. And even the molecules of cannabinoids are not fully understood. So there's a huge potential there, and fascinating. And I saw the opportunity.
It was a time that with the hype after the legalization in Canada, the hopes were that it will emerge immediately, but it took more time than predicted. But now we are moving in. I joined. I was curious about this whole product. Usually I invest, I'm involved in cyber companies, in public safety companies, even medical devices. But I think cannabis is something that ended up to be fascinating, very interesting. People, good people replace the old people in standing on the top, focused and energetic.
And we grew along the last three years from a traditional good quality company with a lot of access to medical information, data of people, from only 10,000 people were treated to probably half a million of doses and we had certain kinds of information. But it gave a huge push. We modernized the installations. We have now the biggest installation in Israel and we are trying to penetrate the market.
Alex will describe we're penetrating vertically all along the chain, from seeds to sale or in fact to the -- into the lips of the patient. And we want to be there at every place and I think that is really good, very good conditions. Very good climate, very good scientific background but also we have very good conditions to develop precision agriculture. We've got good people, Israel excels in sciences and startups. It's a kind of science. It should be treated in a very careful manner in order to get the reputation of products that are aimed ultimately at the medical products market.
RS: Let me ask you, because now we're in 2021 and there's a number of former politicians, even heads of state that have gotten into cannabis. But you were one of the first. Was it something that was frowned upon when you got into it or like from the security side were you, wait this isn't something that I want to get into, was it a struggle?
EB: I was just a -- I was curious. I somehow kept my curiosity about this thing. It's not something ordinary. And I was stimulated by it. And probably they enjoyed a little bit my access to the world, my acquaintance with people around the world. So we go to Davos, so we can meet the right people, go to health -- the health conference of JPMorgan once in a year for its products. So I have a little bit better access than usual, normal citizens but beyond this it's about chemistry between people.
I found Alex, you can see him that he's very colorful, very active. But very effective, focused, focused. It's all about focus and tenacity. It's not -- none of us is a genius, except for his son, which is a genius in surfing waves, at the age of 12, is much more handsome than Alex but also keeps his balance better. So the rest of us are normal people but we focus on something. So when you focus and want to be the best you will -- you have chances to become one.
RS: And was the goal in bringing Canndoc into InterCure, was that reliance, because of that, exactly what you're saying like the pharma grade, the GMP certification, is that what helped them stand out?
EB: I think that InterCure was originally focused on -- in the beginning, it was biological products but aimed at the medical market, the top edge or top end or high end of medical products. And so for us it was the vehicle that Alex led even before I joined. And it was easier to manage, to navigate in the Israeli Stock Exchange.
Later on, we joined the Toronto, because Canada is the biggest player and we have very good relationships with several of the Canadian leading companies, including Tilray (TLRY). We were in some relationship before Aphria, before they merged. We have very good relations with OrganiGram (OGI), which is a major player in indoor product, top end or high end indoor product. And we have now Alex probably, if you could see him on the TV here, he has even a Cookies T-shirt, probably Charlotte Web (OTCQX:CWBHF) underwear, but he has all the products of the companies we have relationships with. And I found that Americans, they know about Europe, but feel that Israelis understand the European market a little bit better. It's a little smaller scale, and more kind of small business like.
And Americans they are very good in running those huge North American corporations. So I see that some of them feel much more comfortable when they have to spread into Europe, to use these Israelis. Our origins are from all European countries. And when it comes to Central Europe or Eastern Europe it's much better than any American [company] but even in the EU, Western Europe countries, we are very good. We work there effectively. In fact many of them were behind us in developing the standard for GMP. And some of them even almost just translated the Israeli codes for a pharma grade product and made it their own with all these small, small changes.
And so I see a great horizon, and great opportunity to grow, to become really one of the leaders of these medical products. We do not compete as of now in the recreational product, but to be the leaders here and with the Israeli positioning as a hub for rest of the world to cooperate with big North American companies.
Supply chain - Southern Cultivation Site (the largest, most advanced in Israel)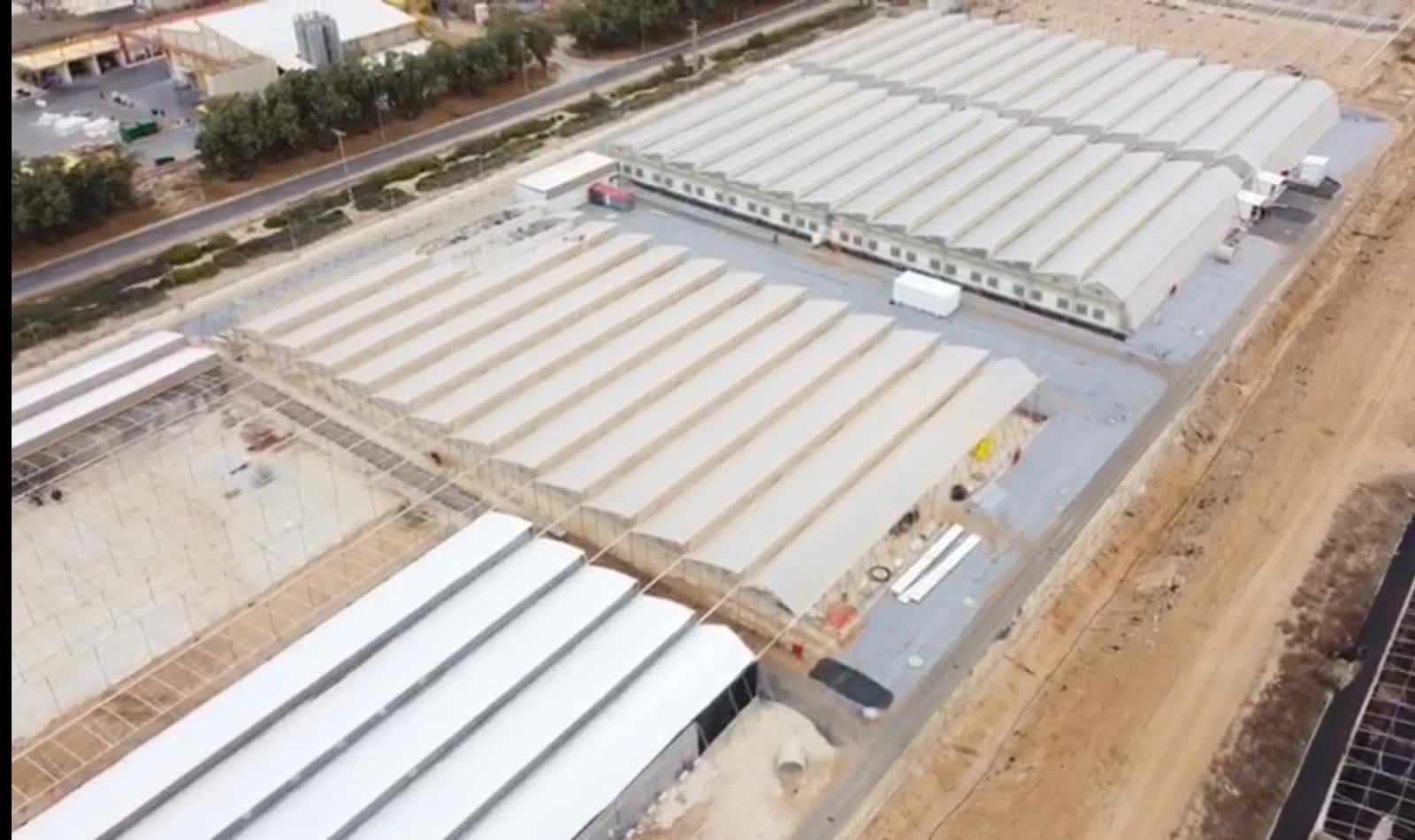 RS: So talk to us -- you talked about these big North American operations, but you are building a very big international operation. And you just went public on the NASDAQ, but in the 24 hours since then, I already saw a new deal that you guys have done. You mentioned some of the partnerships that you have. We had Saul Kaye, who I think maybe both of you know, on the podcast and he was saying how you guys are schooling everybody in Israel. Everybody's looking to you as an example of what to do.
Would you say that it's an aggressiveness towards the market, like you guys want to own kind of all the major parts of the market? Would you say it's your partnerships, your connections? How would you describe what you're trying to bring to the Israeli and also the international market?
AR: Yeah, so yeah, basically, we are focused on the profitable growth and this is what really separates us, I think, from a lot of the companies. But basically, it's all the factors together. It's basically focus on the highest grade, which has brought us to where we are. It's the infrastructure we've built during the years and the real pioneer spirit we have in the pharmaceutical grade cannabis, which is evolving in the rest of the world and spreading fast. And it is of course, the infrastructure and the relationship with our strategic partners, like Tilray for example.
Again, I would mention Tilray is the leading company in cannabis in Canada, one of the top companies in the world. We have relations -- we have strategic relationships with Tilray and with Aphria before they merged. And then this is of course strengthening our position globally. Yeah together with the Israeli position, Israel positioned as a leader in cannabis because the research of cannabis really started here and is well ahead of the world. So yeah, basically all factors together.
RS: Some things that Israel has kind of suffered from are these confusing laws, these back and forth laws around not just cannabis legalization, but also importing, exporting. Some of that is being worked out. I believe that you guys have been able to kind of restart those partnerships with importing and exporting. Do you want to -- I'm interested how you feel like from a perspective of the regulations, what do you think's going to happen, how do you see it playing out over the next year or so?
Cannabis imports landing in Israel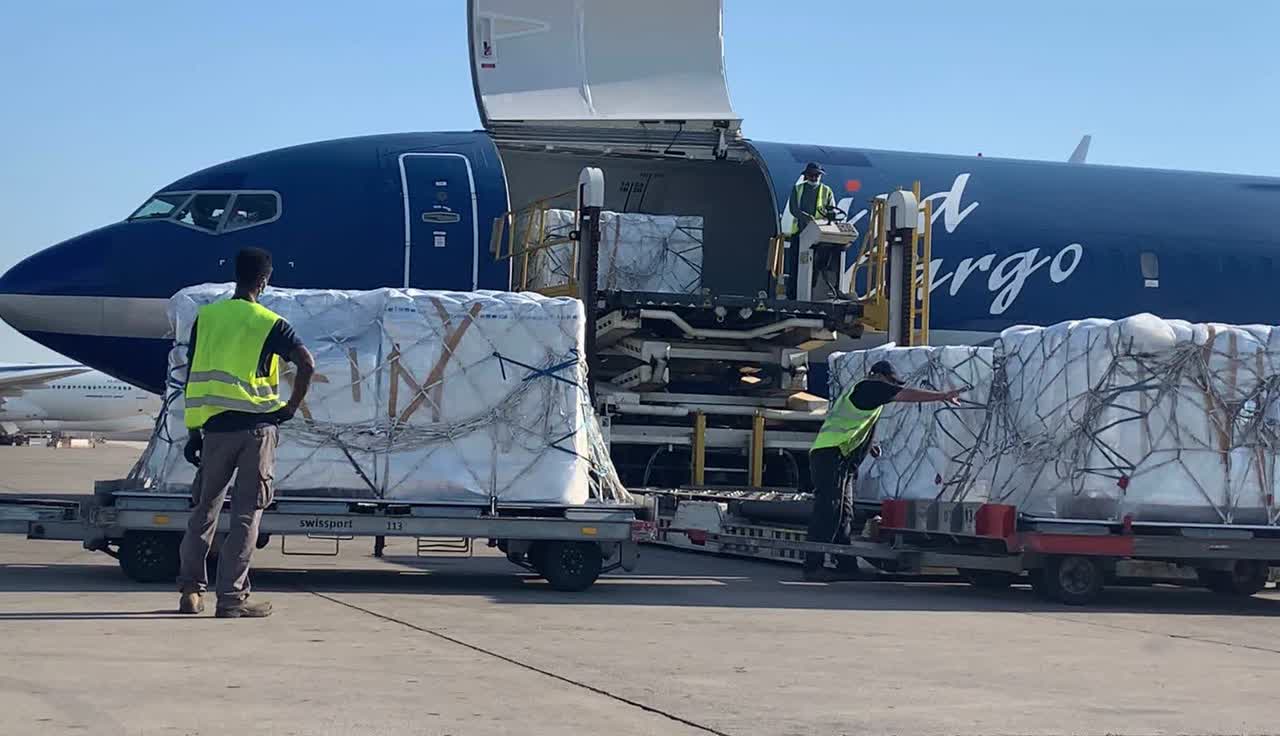 EB: We are quite ahead of the wave. Here in Israel already, the Knesset approved a law to let us export cannabis from Israel. We can easily become a major world hub for cannabis. And then the government approved it. But it had to nominate the person who will write the actual text, the standard operational procedure, the accurate regulations. And we had to take a few months but then we caught into first of all this crisis, political crisis. They managed to have four different election campaigns within two years. And then came Corona. It slowed things down a little bit.
So I expect that with the new government, which is much more open minded, I dare to assess that some of the members of the government even have some direct experience with cannabis, which I don't have. I never inhaled. I never, I could hardly identify the smell of it only because I visited some of the places where it is held. But there is an open mind here about legalization, full legalization for recreation as well, and for sure the exports.
And it's good. We export software-as-a-service, we export fintech, we export R&D for the most advanced process owners, every big company that you have out of the Fortune 500 or the leading five, you find an Israeli product at the center. So we can be ahead of the wave in cannabis as well.
And it's waiting. I feel that in America, I feel I smell the winds there. I think that probably within five years, we will have legalization on a federal level, the use of cannabis for recreational purposes not just for medical reasons and that will open the rest of the world.
So I see that in a few places you see such a huge potential for something to be developed and because of the different individual tastes, individual ways that people respond to it, it's a much wider distribution than the response is for drugs. It has the tendency once it's legalized for recreation to be like tobacco, good cigars or cognacs.
There are some brand contracts that for whatever reason become branded. And you can go through South of France, the same place on both sides of an unpaved road, two wineries, one sells its product for $100 per bottle, the other one for several $1,000s. And I believe the -- or not to mention the good Cuban cigars. Some of them become a brand on its own, a class of its own. So basically I believe that something like the alcohol will develop as well, where premium products will be in the recreational arena as well as beverages, food, whatever edibles whatever, but in the medical arena as well, there will be developments in at least two directions.
One is specific indications. More and more indications that research and clinical trials show that they have a kind of significant impact. But the best and widest probably plan to... the best kind of consumers might be people of a certain age where if you wake up in the morning and nothing aches you, you for a moment think that you're on the other side already.
And people won't have a limit for what they will be ready to pay for the kind of certain genetic, certain bizarre name of cannabis, that makes them feel better. It will be a huge, now especially with the opiatic scandal and all other painkillers showing some signs of being not exactly harmless.
Basically cannabis is harmless. It was all legend, the very putting of it into the Schedule 1 of like a poison, or like a hard drug it was a mistake to start with, and now it gets relieved, the unshackling the barriers.
RS: So let me ask you because, it's something that we've talked a lot about on the podcast is exactly how much Israelis love their cannabis. From a medical perspective, from a recreational perspective, Israelis love cannabis. But it seems to me also that there's like a certain resistance. It seems a lot of people are for it. But then there's also some people that are not for it. Do you feel like, as a former prime minister, as a former decorated officer in the army, do you feel like it has anything to do with the military service, with the fact that teenagers have to go into the army, do you think that is preventing any kind of legalization?
EB: I think we are such a vibrant and heterogenus society of Jews, not to mention the Arabs and Bedouins and Circassians. High variation, probably the best place for wide scale trials, clinical trials. So we are a good lab for it and we are a vibrant society. You cannot - it has its disadvantages, but in this regard, as well as in startups and in everything which needs creativity, we're doing well. Sometimes we have to be more organized or more disciplined, but there is no shortage of new ideas and curiosity and readiness to test. And even a kind of feeling that to fail, if something failed doesn't make you have to carry with your guilt or something. It's just another opportunity to do better the next time. This culture helps us. It helps us a lot.
But I'm an avid reader of history from the Bible on, so I realized that this was probably the first place where cannabis was used. When you read into our old prophets, and ask where did they bring all these visions of the great picture that they had in mind, when they kind of worked against the authority, against the kings and against the autocratic ruler? Or even this young Jewish guy who didn't know how to swim and tried to walk on the water and succeeded. There are all these miracles in the Galilee. He probably also was a user of cannabis. So we started it. We consumed it long before others and now we come back to our roots and deliver good cannabis for the rest of the world.
AR: Yeah, I totally agree with Ehud. But seriously, like the last government stated, under the Bill to legalize cannabis, they stated that 27% of adult population is using cannabis frequently. This is probably the highest usage in the world. And yeah, because 80% of parliament members are in favor. And I mean, we think it's kind of a question of when, not a question of if. So I don't think like this thing can be slowed or removed from the agenda. It's a big agenda. And it's the first time it's a part of the coalition agreement.
RS: So the other thing that I wanted to ask about that, and this is in one of your filings about the risks that you have to the company, that if adult use, if the recreational part goes legal that it might take away from the medical side. Can you kind of talk about, unpack what that would mean if the rec side went legal?
EB: I said before the response of every individual is so uniquely his that, in order to make it effective as a medical [product], you know, you cannot reach the level of accuracy of the drug industry where you're accurate to one, to the 10 to the minus six or one in a million or one in a billion pills, it's slightly different.
Here it's not that, but we make a huge effort to make it an accurate product. But it costs more. And once you make it recreational, and even a doctor when he gives you medical treatment, he has to have this trial and error way to work with you, to give you certain types with certain amount, start and gradually build it. You have to train the doctors how to deal with it, you have to have the patience to be patient about the time that it takes.
Now there come people, there is a variety of genetics. They try, and they find something that fits them, which is part of the legalized free market. It costs probably two-thirds. I said, well, it's probably not the -- they're not maximizing, they're not optimizing; satisfying. It's good enough for me. I don't feel the chronic ache anymore. So I don't need better. I don't want to pay for better.
So I feel because of the -- when you have such a parallel running market, people especially here are always testing, always checking. They're manipulating something better than their neighbor's greener grass. So there will be such a variation of ways and we are ready to be there in the -- the moment it's legal, we will be there as well. We already -- we have at the center of process have already started consolidation.
There'll be not so many. Some of the generals and former politicians started already to leave the company, because they feel that they are not reaching, it's not enough to have a General. You have to have soldiers. And we have both a Captain and colonels and soldiers. And if you don't have them you are over in the air and crash at the end.
So we have better terms to be center, one of the center, probably three or four centers of consolidation, bigger -- a company with a bigger market share, bigger access to any part of the vertical, better grip of any part of the vertical chain and better ways to develop horizontally. And it will be more efficient you know, the overheads are the same and you save a lot of money by being bigger.
And we feel that we are ready to be there when it's open and be everywhere in every product, if edibles or cosmetics or whatever, improved dreams or whatever - it will be provided by cannabis in a reliable way, we will be there.
AR: Yeah, so any regulation change may be kind of challenging for a company but again, I think for us it's a big upside. Basically, we are well positioned to lead the space also. Basically, recreational cannabis will be only -- will be only cultivated locally. So and again because we are high quality cultivators and we have all the brands and the access, I mean there is no reason we won't lead the space also. And as Ehud says, we are getting ready for recreational business also.
So I mean for us it's also a big upside for the company and basically like everywhere, regulations starts with very tight medicalization, then it goes to medical then, after a couple of years when the stigma is already eased, we will see recreational not only in Israel. We will see it also go in Europe soon. And basically we want to be in every market that will have a solid regulation for leading players.
RS: So talking about that, the kind of developing the recreational side, there's a lot of talk in -- there's a lot of talk in the States about multi-state operators, about companies that are in multiple states. In the European, Israeli, maybe Canadian model, it's known more as a multi-country operators because you're operating across a number of countries.
How do you see it playing out in terms of, there's also a lot of talk in the States, if there -- when there's federal legalization, will there be interstate commerce? How do you think about inter-country commerce? How do you think about cross border commerce?
AR: Okay, so yeah, with this, I have to say, again, we are one of the real pioneers of inter-commerce. Basically, we did the first importation of bulk products into Israel. And really opened up the gates for international trades. Now Israel is importing something like 30 tons, up since we started this process, and we also started the export process. So we had like a pilot export from Israel about six months ago. And we are exporting by the highest standards.
Basically, international trade of cannabis is part of the future we see in the medical space. It won't be allowed in recreational. So recreational it will have to be cultivated locally. And yeah, Europe, this side of the world is really different from North America. I'm not sure that everybody really understands that, besides the Canada and in the States, the rest of the world has adopted much more strict, and much more high standards of…
EB: Gradual, gradual and restricted approach.
AR: Much more high standards with cannabis and actually brought cannabis into the pharmaceutical world. We have to cultivate and manufacture our products by pharmaceutical standards and then distribute it only on pharmaceutical hubs. And eventually, it's a prescribed product to be sold only in pharmacies. So it's a total different approach.
EB: But was deep in some markets like Germany, for example, which is the biggest market in Europe, it will be reimbursed by the government. There will be very solid margins for those who have a grip on the whole chain because of the final prices, somehow backed by the government in order to enable people to join it. It's done in a way which is totally unAmerican, you know like 22,000 pharmacies, they get very few providers, and everything in Germany, all the new markets... everything is controlled by the government to make sure that no patient when he gets something financed by the government will get something which is raw, which is chained. So it will be a very sticky market. Once you get in Germany, certain pharmacies, certain doctors or certain patients, you have to let the grower pass away before they will change something. So it's against the American instinct of everyone competing with everyone, every moment. It's a different market.
RS: I was also going to ask how do you see kind of the European market growing. I mean, what you said about Germany being the biggest market in Europe? I think a lot of people have been excited for a long time about what's going to happen in Germany and it hasn't yet happened. What do you see as the timeline there for Europe?
AR: So yeah, basically, we have to look at the reason why Israel has become like the heart and the center of the market at the moment. And why is it the fastest growing? Basically, it's because of regulation. And I think regulation for medical cannabis that was implemented in Israel is one step ahead of the world. Basically doctors can prescribe for a group of products and not for a specific product where most of them don't really learn about medical cannabis in their medical schools.
And because it's a new industry, I think this approach will add to the growth of the market. Germany is growing slowly. It's growing but it's growing slowly. Part of the reason is again, regulation. The regulations are very, very tight. Doctors have to prescribe specific products. And basically we believe that once regulations will change in every market, and the market say in Germany, in the UK, in Spain and in France, also Australia are looking into the successful adoption of the Israeli market. So I think regulation change is the key factor for the growth of the German market.
RS: And the fact that you guys are even allowed to be on NASDAQ is because it's legal medically where you're operating. Is that correct?
EB: Yeah, yeah. And because we are very careful to follow the American rules, not to find ourselves in contradiction with American Federal Law, because of relationships with providers of cannabis in certain states. So it needs certain advice, and we got some leading law firms to make sure that we are doing it cautiously and accurately and carefully.
AR: We only work by federal laws. And we are basically, we have huge demand for our products coming from a lot of countries, basically also coming from the States. But we will not operate under any territory that does not…
EB: We're not approved federally. We're not stepping in the American market in any -- which is not fully, fully completely regulated and allowed by the federal authority.
AR: And we are seeing a tremendous strength of adoption of medical cannabis outside of North America. At the moment, there are more than 40 countries that are adopting now, in the early stages of adopting. Some of them have already adopted those regulations. And any country that will adopt this regulation we can be leaders, very similar to where we are positioned now.
RS: So do you feel down the line when America goes federally legal is that a market that you would look at?
EB: For sure. When it's approved. It might take several years. It's easier probably to prohibit something through the FDA, then to bring back something that was announced decades ago as a Schedule 1 kind of almost poison or whatever. So it might take some time and certain decision making by the FDA.
But there is a growing pressure from the other states which already approved it on a state level and very tight constraints on moving not just the products, but even the money that was created by the product cannot be easily moved from state to state. And several important Canadian players lost their opportunity to develop on a federal level once it's allowed by being not cautious enough in making short term achievements, connected with certain operations in several states, and losing the opportunity that might come later down the stream to operate on a nationwide level in the United States.
AR: Basically, once cannabis will be federally legalized, I mean, this is where medical cannabis for sure will adopt some high standards. And you could find medical products of cannabis in pharmacies. We already showed that the value is huge for those products. And yeah, once federally legal, we will be one of the leading players in pharmacies in the States.
RS: Okay, so the fact that as America keeps developing, they say one of the big things that is really going to push it over the edge is going to be uplisting to a major exchange, which you guys have already benefited from. And it's already opened up kind of new analyst coverage. Canaccord came out and gave you a rating, higher price target. How do you think about what NASDAQ brings, what that uplisting brings?
EB: I can answer it probably, you know, it's the biggest stock exchange on earth for this kind of product. We jumped at the last moment based on our results in the last quarter, which was continued as a force, a consequence, a quarter that showed kind of that we are really at an inflection point in terms of revenues and profits and even profitability. So where we would like to enjoy the access to American capital based on performance not of stories or legends and we think that we can we can do it.
So beyond that of course we have to educate the -- we have some contacts in last year, even before we joined the Canadian market. We have relationships with some of the leading analysts on cannabis. But for sure the very listing on NASDAQ will open the door. We know the good places to have a cocktail after trading hours, we are not going to intervene with the actual trading and we -- I like, all my life I worked with younger people because I was in the army where always there is a new cohort coming of 18 years old boys and girls and young officers and young people. It keeps you a little bit more alert than dealing with your own cohort.
And I think that we can -- we are always friendly, we are always friendly to analysts, even to critics. We've can suffer certain criticism because it encourages interest and when you can prove that you are on the right way through results, it becomes even more convincing than just telling stories or hiding things.
So I see great opportunities, NASDAQ is a great place for moving into real markets and in pools of real capital.
AR: Yeah, I just want to add, like, basically, in our space, there is less than 10 companies that are traded on NASDAQ. Of course, it's an honor to be part of this group. But again, in terms of growth and profitability, I think like we've showed that we ought to be there. We have a huge prospect of growth. And basically, I think like it's an honor to be shoulder to shoulder with those companies.
And then as we are focused in the market, also in North America, I think this market really represents at the moment basically one of the highest potentials in cannabis. And yeah, of course as leaders, I mean, we want to tell a story we want people to know also, it's the biggest stage in the world. And then we got like a very warm welcome from NASDAQ. We are part of global markets. And they -- I mean for us, it's a really huge opportunity to tell our story, show our execution and, bring value not only to soldiers but also to patient communities around the world.
RS: A big question about a cannabis company, especially one as big as InterCure and that's going to so many different regions is the supply chain, is where you're sourcing your cannabis and all of that. All that's included in that, especially with COVID. I mean, maybe less so now but you know, disruptions in the supply chain. How do you go about thinking that and how do you kind of focus on the cannabis that you're growing and distributing?
AR: So through the years we've established a global supply chain, building through partnerships and building our own cultivation site. As Ehud mentioned, we operate two sites in Israel, one in Kibbutz Beit Emeq in the north, very close to the Lebanon border and the other one is in the south, close to Gaza Strip. This site is the biggest and the most advanced site in Israel. We have 1.7 million square feet of perimeter, out of it 300,000 square feet is totally operational.
And besides that, we have a strategic relationship with toptier cultivators. I mentioned Tilray, one of the highest rated and leading players of the industry, together with OrganiGram, Fotmer, and a very good relationship we have with Cookies, strategic relationship which brought us both genetics and know how, but also branding awareness. I think, like we are ready to take over the market outside North America.
Cookies branded Givol pharmacy in Tel Aviv (photos courtesy InterCure)
RS: Well, I will say that as a resident of Tel Aviv, looking at that Cookies Pharmacy is really, really fun. And really it feels like every time I pass, I'm like yeah, it's a sign that things are changing things. The branding, the kind of -- exactly, exactly. Alex is wearing a Cookies T-shirt. He's looking very fresh. So yeah, it's really exciting to think about all the branding that's happening and kind of like the movements forward. And that's as a non-podcast host. That's just as a simple citizen speaking.
The other question that I wanted to touch on what do you feel like investors should be paying attention to? And we'll kind of end with this. What do you feel like investors should be focused on in terms of InterCure? And what do you feel like needs to be told about the story that maybe we haven't covered or that you feel like needs to be emphasized?
EB: I think data -- and data and news for the company. We will try to work on the substance, better products, better kind of marketing, on better results in terms of revenue, EBITDA, profit, and profit, and hope that results will make the difference. We don't need the kind of abstract adoration, we need people to invest, to look at the data and became convinced that that's a better place to invest in cannabis.
And we try to keep this momentum, it can't work forever. At certain place every kind of physical phenomena tries to create an S-curve, but we are down there with the first, the first probably one-third of the curve, where you still can make a lot of moves upside not just in nominal results, but also in the first derivative, moving faster forward.
AR: Yeah, I think that basically valuations in the market, in the space are going towards fundamentals. This is what Ehud mentioned. Yeah, fundamentals are a key part of the sector. And this is where our strength is. I mean, we are focused on profitable growth.
EB: And of course, branding. We understand branding.
AR: So yeah, investors should think like, really focus on regulation change. Basically, we are only started on this side of the world. I mean, this side of the world is in the first steps of implementing what happened in the States. So lots of territories are still lagging behind and they all will convert eventually to -- first to medical and then basically also to recreational. The story is regulation change, branding, and of course, the fundamentals of profitable growth will be a key part of future valuations.
RS: So thank you both very much for coming on Seeking Alpha. It was really a pleasure and an honor.
EB: We were seeking alpha for a long time before we knew that you are there.
RS: There you go, and we put a name to it. We put a face and a name to it. Yeah.
EB: You got a good name.
RS: Thank you. Well, it was a pleasure. It was an honor. I hope this is the first of many conversations. Welcome to the public markets, and it was great talking to you and catching up.
EB: Thank you.
Thanks so much for listening to The Cannabis Investing Podcast. Subscribe or follow us on Seeking Alpha, Libsyn, Apple Podcast, Spotify, Google Play or Stitcher, and we'd really appreciate it if you would leave us a review on Apple podcasts. It helps other investors find our show and makes us feel fantastic. If you have feedback or questions, we'd love to hear from you at Rena+canpod@seekingalpha.com. Thanks so much for listening and see you next time.
Editor's Note: This article discusses one or more securities that do not trade on a major U.S. exchange. Please be aware of the risks associated with these stocks.