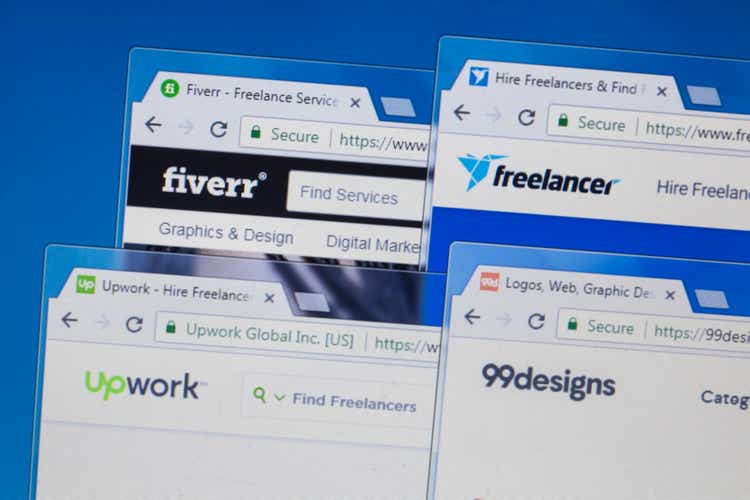 Fiverr (NYSE:FVRR) continues to remain one of the leading platforms for freelance workers to connect with buyers. The company has been successful in growing their active user base to 4 million and have demonstrated the ability to continue to grow the average spend per buyer. With the global pandemic causing the freelance and gig economy to significantly grow over the past two years, I believe that as consumers return to their pre-pandemic lifestyle of not constantly staying inside, the stock's long-term growth trajectory could become more moderate.
Strong growth opportunities remain for the company including continue to sell up market in addition to international expansion. Also, Fiverr has developed a solid platform of buyers and consumers, which is quite valuable for possible future ventures. LinkedIn (MSFT), for example, has built a massive network for connecting with peers in a professional setting, and Fiverr has developed a similar platform aimed more at the gig economy.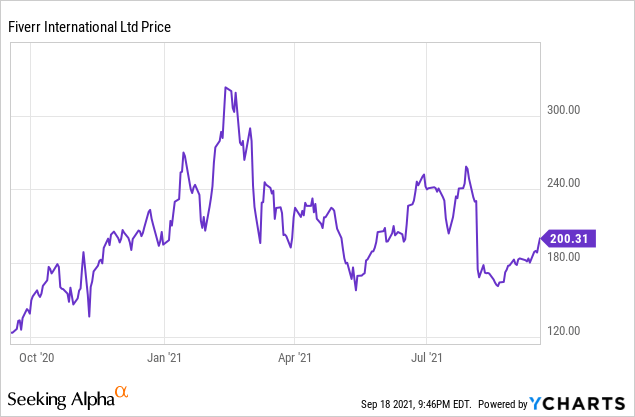 However, the stock's current valuation seems to already be pricing in strong growth trajectory for the next few years. After management cut their full-year guidance during the most recent quarter, the stock fell around 30% at the low point, though this has recovered quite a bit in the past two weeks.
The stock currently trades at over 25x forward revenue and even using my aggressive growth assumptions, as further described below, investors are paying around 11.5x 2023 revenue. Given the potential volatility in revenue as consumer behavior potentially shifts back to pre-pandemic normalcy and the law of large numbers naturally comes into effect, I believe there continues to remain more downside in the stock than upside reward.
For now, I remain on the sidelines and will continue to wait for a pullback before becoming more bullish around the name.
Financial Review
While the company reported Q2 earnings a little over a month ago, trends were pretty strong. Revenue for the quarter came in at $75.3 million, which was around $0.5 million above consensus expectations and grew nearly 60% yoy. Not surprisingly, gross margin continued to remain strong at 84.4% and adjusted EBITDA margins continue to expand closer towards 10%. The better-than-expected revenue and margins led to non-GAAP EPS of $0.19, which was above expectations for $0.14.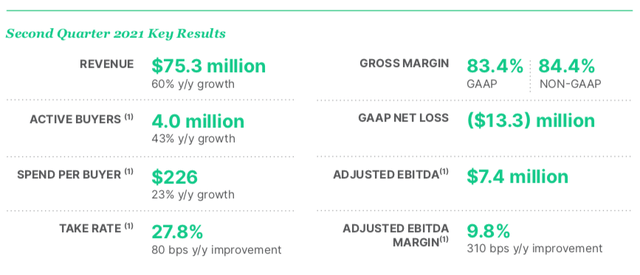 Source: Company Presentation
The number of active buyers during the quarter came in at 4 million and while this showed impressive growth from the year-ago quarter, it does signal slower sequential growth than in previous quarters. Yes, it becomes incrementally difficult to grow the buyer base as the company scales, but the deceleration in sequential growth starts to raise some concern.
I believe the company has continued growth opportunities in both going up the market as well as expanding internationally, however, investors will continue to look at the network expansion over time. In addition, Fiverr continues to focus on buyers with larger budgets, which can help expand the customer lifetime value.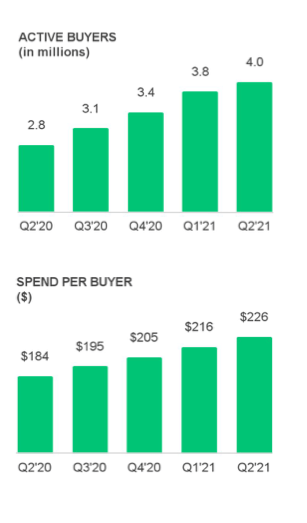 Source: Company Presentation
Average spend per buyer continues to increase, and grew 23% compared to the prior-year quarter to $226. While a majority of revenue growth during the quarter was driven by an increase in the number of active buyers, seeing spend per buyer continue to increase over 20% is a positive sign of further growth. My biggest concern is about the company's take-rate.
For the quarter, take-rate came in at 27.8%, which was up from 27% in the year-ago period. While it does not represent significant growth, I do worry about the future take-rate. Given increased competition in the marketplace, investors should start to question how much pricing Fiverr can continue to take, as more competition tends to drive lower pricing over time.
Why I Continue To Be Neutral
The biggest disappointment during the quarter was the company's reduced guidance. While the company has some strong growth drivers as described above, management's commentary about the current market conditions reaffirms my neutral position in this name.

Source: Company Presentation
Revenue guidance for the year was reduced to $280-288 million, which represents growth of 48-52%, down from the previous guidance range of 59-63% growth. Adjusted EBITDA is now expected to be $12-14 million, which represents around 4.5% margin at the midpoint, reduced from the previous guidance of 7.2% margin at the midpoint. Regarding the lowered guidance, management noted the following:
When COVID restrictions were lifted in the U.S. and Europe around the second half of May, people were in desperate need to get out of home and have some off-screen time. Coinciding with the summer and school holidays, people are taking vacations, which is a really healthy thing to do, and that translates to less time spent online. To be prudent, we are adjusting guidance for the fiscal year 2021 based on these incremental trends over the past few weeks. I would like to highlight that our fundamentals continue to be very strong, far stronger than pre-pandemic, but the reduced online activity translates into more modest new customer cohorts and less activity for those who are taking vacation.
Further dissecting the reasoning for lowered guidance, management noted that as consumers started to resume their pre-pandemic tendencies to travel and get outside the house there was less time spent online, which ultimately impacted their visibility.
These comments validated my prior thesis that as countries and economies continue to open up, consumers are going to leave their house more and spend less time online looking for gig-related work. In fact, one could argue that as people continue to return to work, there will be less of a demand for the gig economy.
One counterpoint to this thesis is that Fiverr has established a relatively strong network of buyers and suppliers (consumers), which can help transform their business model over time. Fiverr could start to compete more with LinkedIn for job connections and acting as a social media outlet. However, LinkedIn already has a dominant market position in a competitive market, thus, my neutral thesis on Fiverr remains in place for now.
Valuation
While the stock has dropped quite significantly from their pre-earnings high of nearly $260 to around $200 now, Fiverr has seen some strong outperformance in recent weeks.
Part of this strength was driven by management's commentary at the Citi conference where they noted some optimism in Fiverr's outlook as the negative trends noted during the Q2 earnings call has become more moderate. Also, management talked about take rate continuing to increase on a sequential basis, though I remain a little skeptical given increased market competition tends to lead to lower pricing over time.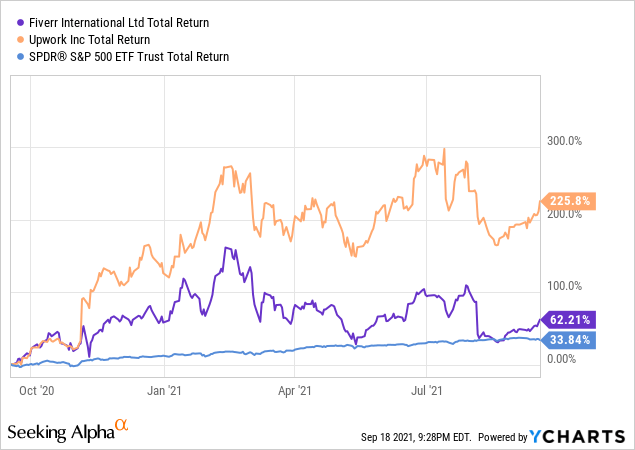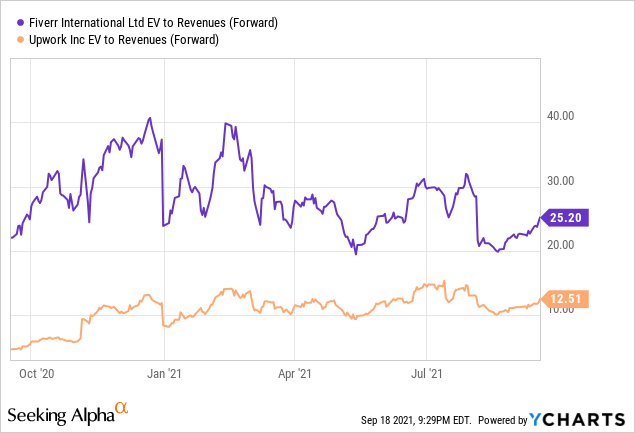 Even though Fiverr has nearly doubled the market's performance over the past year, Upwork (UPWK) has outperformed Fiverr by 3.5x. Nevertheless, Fiverr continues to trade at a higher forward valuation, which can partially be justified by faster growth and higher margins. With the stock trading at over 25x forward revenue, I believe there continues to be more downside risk remaining in the name relative to upside potential.
The stock currently has a market cap of $7.3 billion and with around a neutral net cash position, enterprise value is also around $7.3 billion. Since we are already closing in on the end of Q3, investors should start to look out to 2022 and 2023 revenue potential for valuation purposes.
Revenue for the current year is expected to be $280-288 million, which represents growth of 48-52%. While the updated guidance may end up proving to be a bit conservative, let's assume revenue for the year ends up around $290 million. Even if we assume another year of 50% growth in 2022 and then another 45% growth in 2023, this could mean Fiverr ends up with revenue around $630 million. This would imply a current 2023 revenue multiple of around 11.5x.
Yes, that doesn't sound overly aggressive relative to some software stocks in the market, but investors should also note two main differentiators.
First, I used rather aggressive growth assumptions for 2022 and 2023. If we were to moderate my growth assumptions to 45% in 2022 and 35% in 2023, this would result in a 2023 revenue multiple of around 13x.
Second, the other premium software stocks in the market that trade at 15x or higher forward revenue multiple have more recurring and visible revenue streams. Fiverr just lowered their guidance by 7% after the halfway point of the year. Typical software stocks at premium valuations continue to demonstrate beat and raise quarters, in addition to many of them having annual margins well above 10%.
Ultimately, I believe investors have not fully discounted the risks of Fiverr and valuation remains excessive. Fiverr continues to face increased competition from both Upwork and LinkedIn and their growth could potentially continue to moderate as consumers revert to their pre-pandemic lifestyles.
While I do believe Fiverr has a good business model and could continue to demonstrate strong growth over the coming years, current valuation already prices in significant growth and margin expansion. With the stock currently trading around $200, I will continue to remain patient for a bigger pullback before becoming more aggressive with this name.