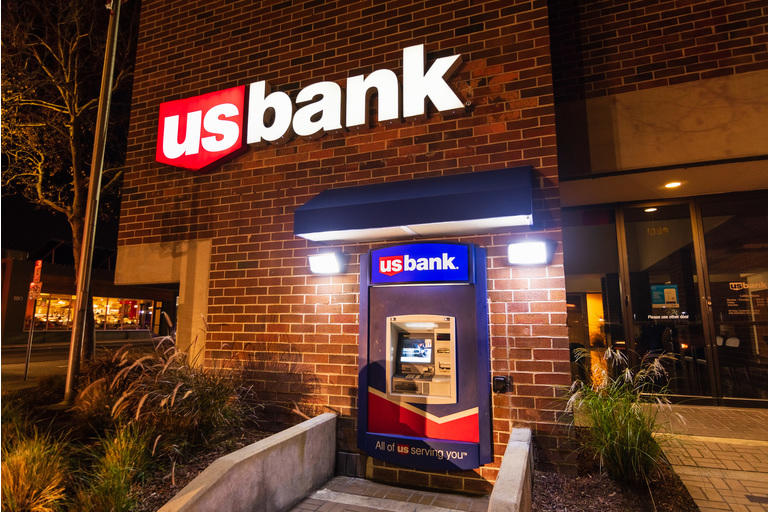 We monitor dividend announcements for stocks in Dividend Radar, a spreadsheet of stocks with dividend streaks of five years or more. Readers are invited to download the spreadsheet for free. The Dividend Radar spreadsheet separates stocks into categories three categories: Champions (with increase streaks of 25+ years), Contenders (10-24 years), and Challengers (5-9 years).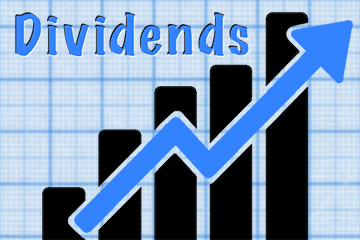 Source: Created by the author
This past week, thirteen companies in Dividend Radar announced dividend increases, including five of the stocks I hold in my portfolio. Note there were no dividend cuts or suspensions announced for Dividend Radar stocks during this period.
The following table provides a summary of the dividend increases. The table is sorted into sections for Champions, Contenders, and Challengers, and then by the percentage increase, (%Incr). Dividends are annualized and in US$, unless otherwise indicated. Yield is the new dividend yield for a recent price and Yrs are years of consecutive dividend increases.
Source: Created by the authors from data in Dividend Radar.
The following dividend increase data are sorted alphabetically by ticker.
Company descriptions are the author's summary of company descriptions sourced from Finviz.
American Tower Corporation (REIT) (AMT)
AMT is a real estate investment trust that owns, develops, and operates multi-tenant communications sites across the globe. Customers include wireless service providers, radio and television broadcast companies, wireless data and data providers, government agencies, and municipalities. AMT was founded in 1995 and is headquartered in Boston, Massachusetts.
Fifth Third Bancorp (FITB)
FITB operates as a diversified financial services company in Ohio, Kentucky, Indiana, Michigan, Illinois, Florida, Tennessee, West Virginia, Georgia, and North Carolina. The company operates in four segments: Commercial Banking, Branch Banking, Consumer Lending, and Wealth & Asset Management. FITB was founded in 1858 and is headquartered in Cincinnati, Ohio.
Farmers & Merchants Bancorp, Inc. (FMAO)
FMAO operates as the bank holding company for The Farmers & Merchants State Bank that provides commercial banking, retail banking, and other financial products and services to individuals and small businesses in northwest Ohio and northeast Indiana. FMAO was founded in 1897 and is based in Archbold, Ohio.
Great Southern Bancorp, Inc. (GSBC)
GSBC operates as a bank holding company for Great Southern Bank that offers a range of financial services in the United States. The company provides various deposit, loan, and insurance products. The company has operations in Missouri, Iowa, Minnesota, Kansas, Nebraska, Oklahoma, and Arkansas. GSBC was founded in 1923 and is headquartered in Springfield, Missouri.
Independent Bank Corp. (INDB)
INDB is a bank holding company for Rockland Trust Company, a full-service commercial bank headquartered in Rockland, Massachusetts. The company offers a wide range of banking, investment, and insurance services to businesses and individuals through retail branches and lending centers located in Eastern Massachusetts and Rhode Island. INDB was founded in 1907.
Microsoft Corporation (MSFT)
Founded in 1975 and based in Redmond, Washington, MSFT is a technology company with worldwide operations. The company's products include operating systems, cross-device productivity applications, server applications, productivity and business solutions applications, software development tools, video games, and online advertising. MSFT also designs, manufactures, and sells several hardware devices.
National Fuel Gas Company (NFG)
Founded in 1902 and based in Williamsville, New York, NFG is engaged in the production, gathering, transportation, distribution, and marketing of natural gas. It also develops and produces oil reserves, primarily in California. As of September 30, 2020, NFG owned approximately 95,000 acres of timber property and managed an additional 2,500 acres of timber cutting rights.
Realty Income Corporation (O)
Known as The Monthly Dividend Company®, O is an equity REIT that invests in commercial real estate markets in the United States. The company earns income from more than 5,000 properties under long-term lease agreements with commercial tenants. O was founded in 1969 and is headquartered in San Diego, California.
Philip Morris International Inc. (PM)
Incorporated in 1987 and based in New York, New York, PM manufactures and sells cigarettes, other tobacco products, and other nicotine-containing products in more than 180 markets outside the United States. PM owns 7 of the world's top 15 international cigarette brands, including Marlboro, the number one cigarette brand worldwide.
STORE Capital Corporation (STOR)
STOR is an internally managed net-lease real estate investment trust focusing on the acquisition, investment, and management of Single Tenant Operational Real Estate in the United States. STOR is one of the largest and fastest-growing net-lease REITs and owns a large and diversified portfolio consisting of investments in more than 2,000 properties.
Texas Instruments Incorporated (TXN)
TXN designs, manufactures, and sells semiconductors to electronics designers and manufacturers globally. The company operates in two segments, Analog and Embedded Processing. It markets and sells semiconductor products through a direct sales force and through distributors, as well as through its website. TXN was founded in 1930 and is headquartered in Dallas, Texas.
U.S. Bancorp (USB)
Minneapolis-based USB is a financial services holding company that provides a wide range of financial services to consumers, businesses, and institutions in the United States. Its services are available through a network of more than 3,000 banking offices and a network of about 5,000 ATMs. USB was founded in 1863.
W. P. Carey Inc. (WPC)
With an enterprise value of approximately $17 billion, WPC ranks among the largest diversified net lease REITs. The company invests in high-quality, single-tenant industrial, warehouse, office, and retail properties subject to long-term leases with built-in rent escalators. Its properties are located primarily in the U.S. and Northern and Western Europe
Please note that we're not recommending any of these stocks. Readers should do their own research on these companies before buying shares.
Dividend Cuts and Suspensions
Following requests from readers, we've added this section to our weekly article series. Please note that we're only covering dividend cuts and suspensions announced by companies in Dividend Radar's spreadsheet.
There were no dividend cuts or suspensions announced for stocks in Dividend Radar during this period.
An Interesting Candidate
In this section, we highlight one of the stocks that announced a dividend increase. We provide a quality assessment and present performance, earnings, and valuation charts.
Our objective is to identify high-quality dividend growth [DG] stocks trading at reasonable valuations. That's a tough task, though, as high-quality DG stocks often trade at premium valuations. If we can't find a worthy candidate, we'll suggest a stock to add to your watchlist and a suitable target price.
To start, we use DVK Quality Snapshots to do a quick quality assessment, screening our list of DG stocks based on quality scores. Below is a shortlist of stocks with quality scores in the range 19-25:

Source: Created by the authors from data in Dividend Radar
Three stocks made the shortlist. We've focused on MSFT and TXN before, so let's look at Dividend Contender U.S. Bancorp (USB) this week.
USB yields 3.23% at $57.01 per share and has a strong 5-year DGR of 10.5%.
USB is rated Fair (quality score: 19-22):

Over the past ten years, USB has underperformed the SPDR S&P 500 ETF (SPY), an ETF designed to track the 500 companies in the S&P 500 index: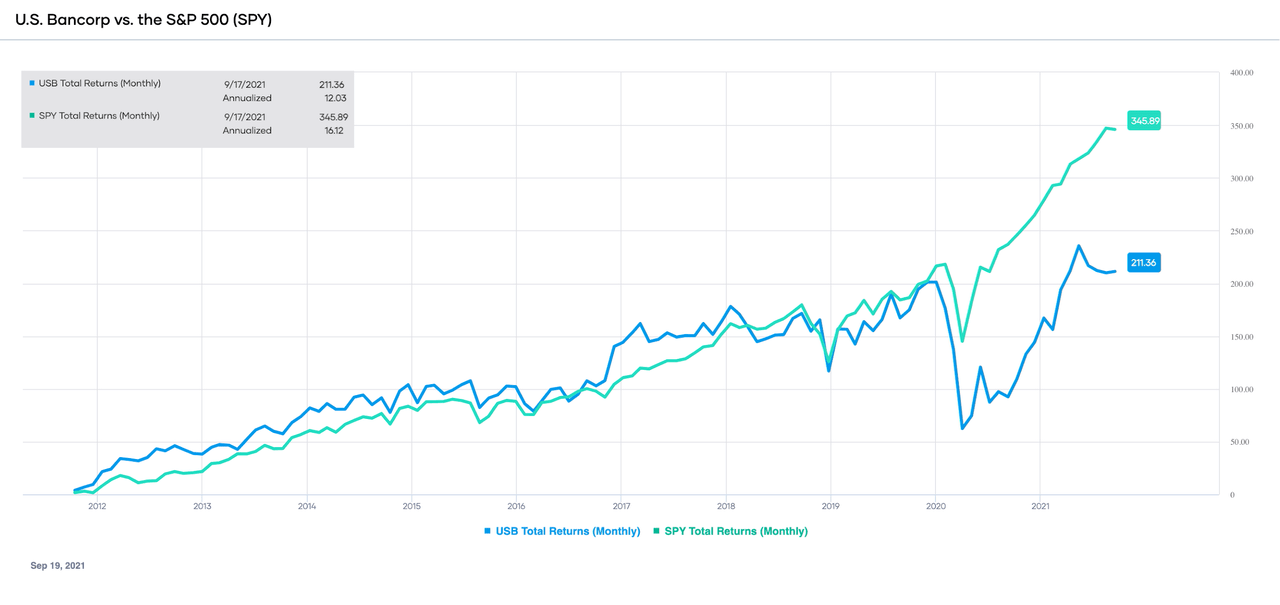 Source: Portfolio-Insight.com
Over this time frame, USB delivered total returns of 211% versus SPY's 346%, a margin of 0.69-to-1.
If we extend the period of comparison to the past twenty years, USB underperformed SPY by a margin of 0.72-to-1, with total returns of 388% versus SPY's 538%.
USB's dividend growth is steady and quite impressive: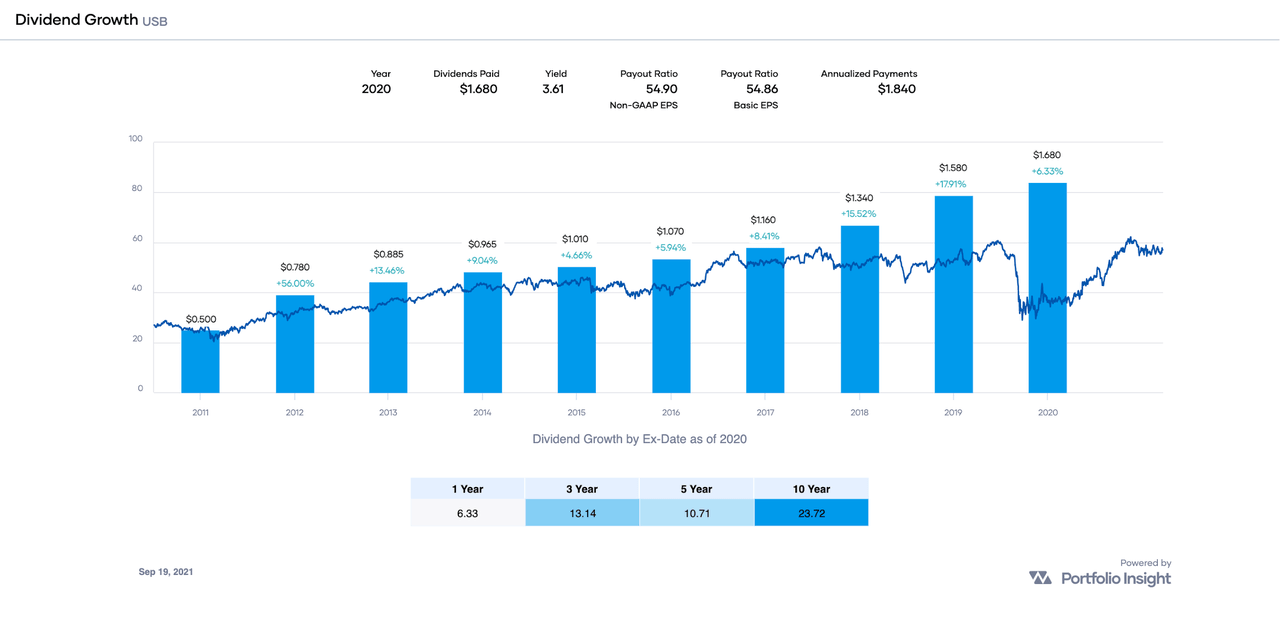 Likewise, USB's EPS growth is steady, though the bank took a bit of a hit in FY 2020: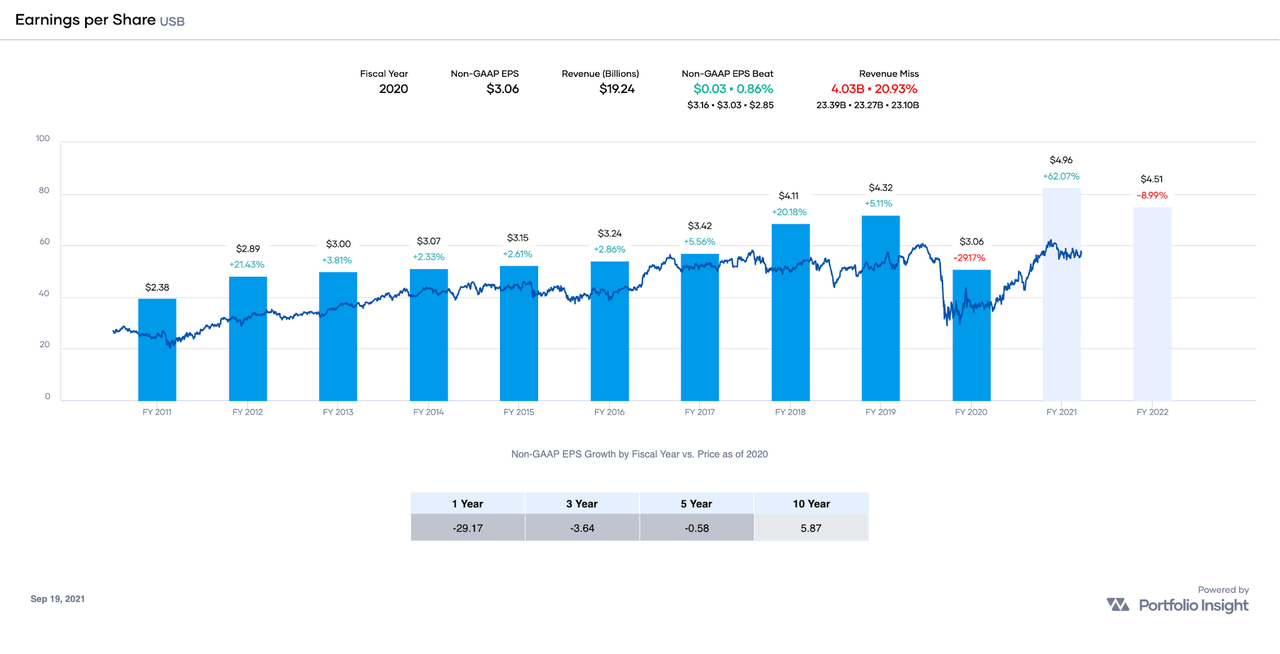 Fortunately, it looks like EPS will recover nicely in FY 2021.
At 36%, USB's earnings payout ratio is "low for banks", according to Simply Safe Dividends: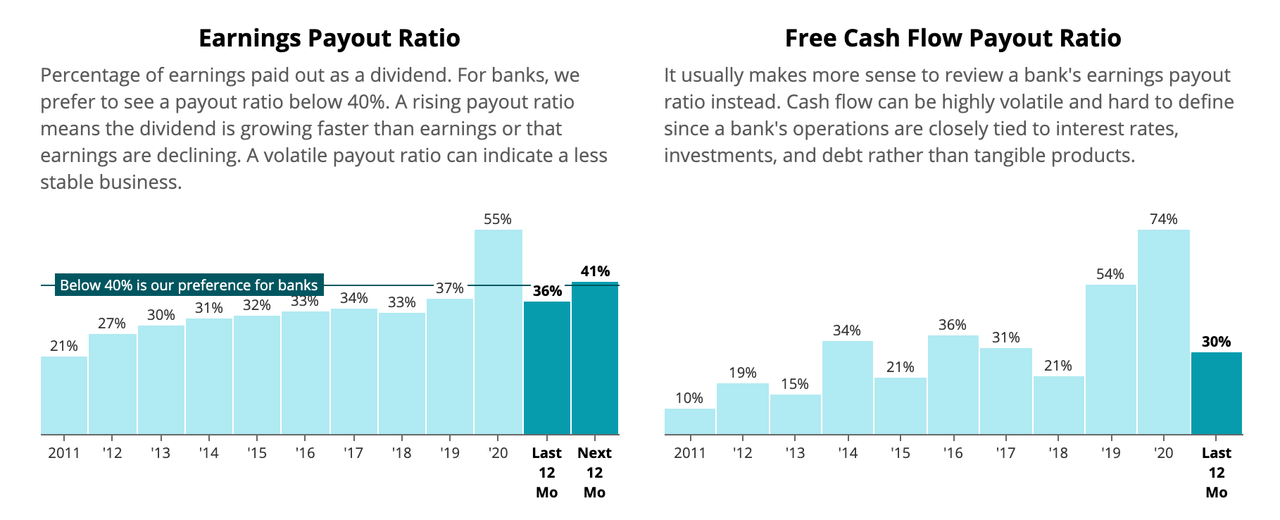 This means USB has plenty of room to continue increasing its dividend.
Let's now consider USB's valuation. We could estimate fair value by dividing the stock's annualized dividend ($1.84) by its 5-year average yield (2.92%). That results in a fair value [FV] estimate of $63. Given USB's current price of $57.01, the stock is trading at a discount to its past dividend yield history.
For reference, CFRA's FV is $55, Morningstar's FV is $55, and Finbox.com's FV is $77, and Simply Wall St's FV is $87. The average of these fair value estimates is $69, confirming that USB may be discounted.
My own FV estimate of USB is $70, so I believe the stock is trading at a discounted valuation of about 19%.
Conclusion
USB is a high-quality DG stock trading at a discounted valuation.
Please note that we're not recommending USB or any of the stocks listed in this article. Readers should do their own research on these companies before buying shares.
Thanks for reading and happy investing!