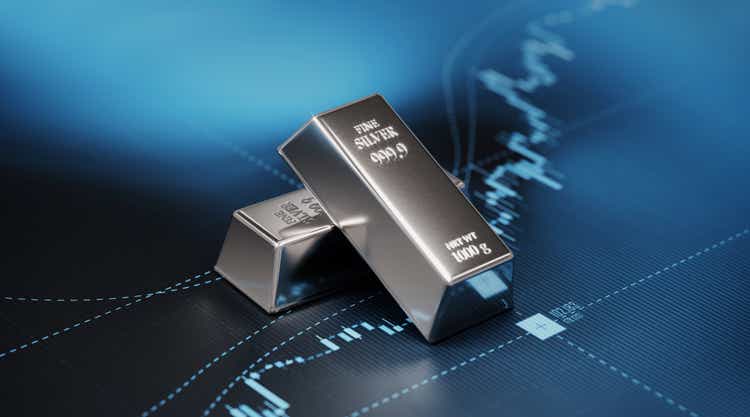 The weakness in silver over the past few weeks has occurred despite relative stability in the price of gold and the broader commodity complex. This is noteworthy because over the past 40 years the price of silver has shown an incredibly tight correlation with the performance of a 50:50 basket of the Bloomberg commodity index and gold prices, due to silver's use as both an industrial commodity and a store of wealth.
As a result of silver's recent underperformance, the metal is now trading around 25% below the level that would be expected based on this long-term correlation. Either this is a great time to buy silver as the commodity bull market remains intact, as was the case in the early-2000s and the March 2020 crash, or the recent weakness is a precursor to a recession-led commodity price crash as was the case in 2008. Such an event would likely further strengthen silver's long-term outlook as policymakers drive down real bond yields even further, supporting monetary demand for the metal.
A Rare Degree Of Silver Undervaluation
The following chart shows the long-term correlation between the spot silver price and the performance of a 50:50 basket of gold and the Bloomberg commodity index going back to 1981, just after the bursting of the 1980 silver bubble. Based on this long-term trend, which has shown an r-squared of 0.9, silver should be trading around USD30/oz. The current spot price is around 25% below this measure of fair value, a level that has only been seen on a small number of previous occasions.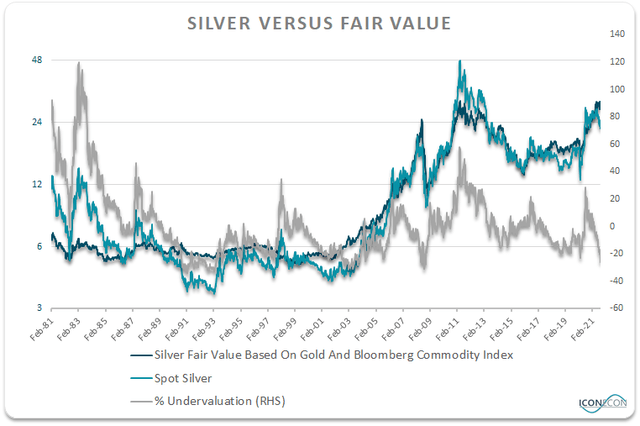 Source: Bloomberg, Author's calculations
Periods where silver has traded more than 20% below fair value are highlighted on the chart below. On almost all occasions, such weakness has been quickly followed by a strong rally in the metal. The most recent example was the height of the March 2020 Covid crash, which led to a doubling of silver prices over the next 6 months.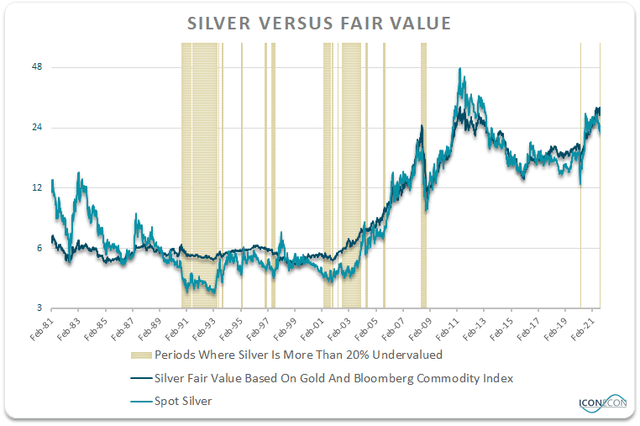 Source: Bloomberg, Author's calculations
A similar thing happened in September 2005, June 2004, as well as several other periods in the early-2000s and mid-1990s. The average 12-month return for silver following periods where the metal has been 20% undervalued or more has been 18.3%, compared to a 6.0% 12-month return in all periods and a 3.5% return during all other periods.
Performance of Silver Over The Following 12 Months, 1981-Present
| | | |
| --- | --- | --- |
| | When Silver Is More Than 20% Undervalued | All Other Times |
| Total Number of Occurrences | 285 | 1781 |
| Total Number of Gains | 219 | 750 |
| Total Number of Losses | 66 | 1031 |
| Largest Gain, % | 108% | 159% |
| Largest Loss, % | -33% | -48% |
| Win Rate | 77% | 42% |
| Average 12-Month Return | 18.3% | 3.5% |
Source: Bloomberg, Author's calculations
A Recession Would Likely Undermine Silver Short Term But Strengthen Its Long-Term Outlook
The risk, however, is that we see a repeat of 2008, when silver was deeply undervalued relative to gold and the commodity complex, but the correlation was restored by a commodity price crash. 1991 provides another example of where silver undervaluation failed to prevent further declines as both gold and the commodity complex fell.
What 1991 and 2008 had in common is that they were both recession years, which strongly suggests that if we see another broad-based commodity crash it will be the result of a contraction in the economy. While such an event may keep silver depressed for a while longer by undermining industrial use, it would also likely further improve the long-term outlook for the metal as a store of value by further depressing real interest rates. Policymakers are highly likely to react to a recession by increasing bond purchases and transfer payments, driving a further wedge between interest rates and inflation expectations, which have a proven track record of supporting gold prices.
Buying silver today, at these deeply depressed prices, offers an incredibly strong risk-reward opportunity. If recession is avoided, silver should benefit from continued demand for the metal as an industrial input, while if it is not, we can expect policymakers to further raise silver's fair value by driving up gold prices. It should be noted that anyone who bought silver in 1991 and 2008 on the basis of the metal being undervalued still went on to see strong multi-year gains, dramatically outperforming both the Bloomberg commodity complex and gold, even though they first had to swallow large losses.