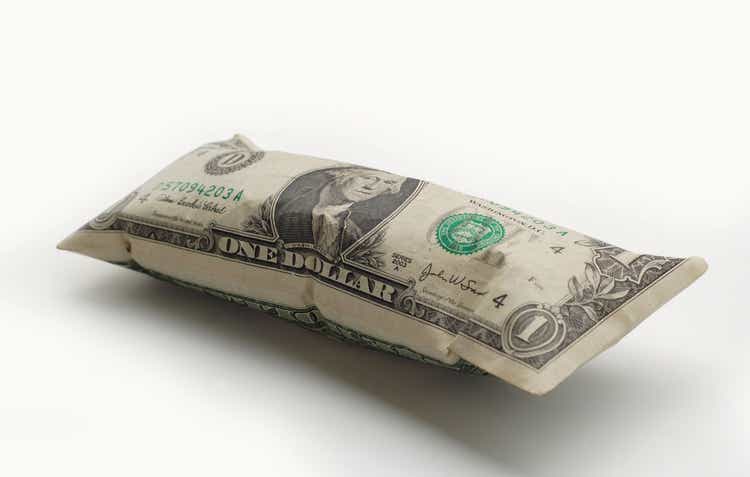 This report is foundational to my market outlook and investment direction. It's important that readers understand how inflation will affect their investments for the coming years. While the thesis remains unchanged from the original June publication to subscribers of High Dividend Opportunities, some content has been updated on Sept. 20, 2021 to reflect current events and data.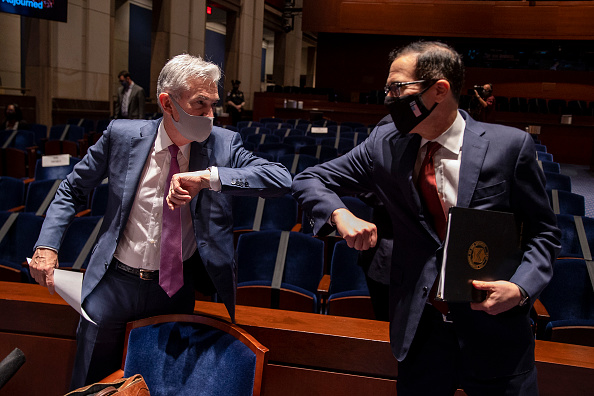 Source: Getty
Market Outlook: The Great Inflation Lie
- Your Blueprint for Thriving During an Economic Upheaval
Inflation is soaring. Prices that producers get for final demand goods and services surged - the producer index surged 8.3% YoY, the biggest annual increase in a decade.
The latest report published on Sept. 14, 2021 shows that inflation hit 5.3% for the 12 months ended August 2021.
As you may recall, on May 4, 2021, Janet Yellen had a slip of the tongue and said that "interest rates may have to rise to keep the economy from overheating." But she quickly retracted her statement on the same day and said there's no need for a rate hike. It seems very humorous to me. Apparently, she came under fire from other Fed and government officials for trying to tell the truth. I will explain why later in this report.
The Fed Keeps Downplaying Inflation Risks
Despite the "slip" of Ms. Yellen back in May, the Fed, including Fed Chairman Jerome Powell, have kept playing down inflation fears as temporary or a "short-term phenomenon." The reason they keep giving is that after pent-up demand following COVID, inflation should come back down in the next two years. Yet, commodity prices are telling us a totally different story. Crude oil, natural gas, copper, aluminum, and steel have surged year-to-date. These price hikes will soon drive up the cost of items that use these materials. If you look at house prices, they keep hitting all-time highs each month, up by an annual 16% in July (and likely to go up further as fewer people are putting their houses on the market). The historically volatile food and energy sectors are also on the price upswing, with oil prices already at or above their pre-pandemic levels and food prices likely to keep rising.
As our economy comes roaring back, we've seen some price increases."
Consumers are Feeling the Pinch
According to a July report from CNBC, prices of many commodities and used cars have soared year-on-year:
Gasoline is up 60%.
Public Transportation (including airfare) - up 17%
Used car and truck prices, which are seen as a key inflation indicator, surged 45%.
Grocery prices are up tremendously. Beef prices have risen 14% YoY while pork prices have jumped 12.1%, and poultry prices are higher by 6.6%. These price increases have been passed on to the customers. Management at Cincinnati-based Kroger (KR) believes that inflation is heading higher in the coming months.
Inflation is running hotter than management previously anticipated and that expectations are now for prices to rise 2% to 3% over the second half of this year." - Fox Business News
Major fast-food chains are raising their menu prices.
These figures are scary for someone whose wages have been stagnant for the past few years - mainly retirees.
Not Everyone is Buying the Fed's Story
If you have doubts about the risks of inflation, please take a look at some of the words from the transcript of the Berkshire Hathaway annual shareholders meeting on May 1, 2021, when billionaire investor Warren Buffett has raised a red flag:
We are raising prices. People are raising prices to us, and it's being accepted." - Warren Buffett
Four months later, inflation burns hotter and hotter while the Fed continues to tell us it is transitory and under control.
An overheating economy has imposed a costly "inflation tax" on every middle- and working-class American. At $28.7 trillion and growing, the nation's debt has reached record levels. Over the past 18 months, we've spent more than $5 trillion responding to the coronavirus pandemic. Now Democratic congressional leaders propose to pass the largest single spending bill in history with no regard to rising inflation, crippling debt or the inevitability of future crises." - Sen. Joe Manchin
The Fed projects a high degree of confidence in its ability to control inflation at a moment's notice, but history shows otherwise.
The Fed has had almost no success gently bringing down inflation once an economy has started to overheat. If you look at the significant disinflation as we have seen whether it's the three recessions in the 1950s, whether it's the slowdown at the end of the 1960s, whether it's 1975, whether it's the events of 1980 and 1982 – they all involved an economy turning to recession." - Larry Summers, former U.S. Treasury secretary
Leading banks in the U.S. are preparing for higher interest rates as a result of persistent inflation.
We have a lot of cash and capability and we're going to be very patient, because I think you have a very good chance inflation will be more than transitory." - Jamie Dimon, CEO, JPMorgan
In a Duke University survey, about one in four CFOs expect elevated costs to last through most of 2022. The vast majority of executives in the Duke survey indicate they have passed along cost hikes to customers.
At High Dividend Opportunities, I raised the red flag about inflation as far back as June 2020 stating:
Ignoring the shorter-term demand and supply factors which generally resolve soon, we have seen the setup for inflation via a very high growth of money supply. On the flip side, consumers don't want to borrow, and financial institutions are reluctant to lend. Until that fact changes, the potential inflationary cycle will remain in hibernation. However, there is definitely a storm brewing under the surface, and the potential for serious inflation is very high... Higher inflation is not a matter of "if," but rather a matter of "when."
Excess Liquidity in the System
Households are flush with cash with high levels of wealth and benefiting from low borrowing costs. With CDs and savings rates being near zero, consumers are pursuing other investments. Any asset class you can think of has soared over the past year.
Virtual Currencies: Data from The Harris Poll shows that nearly 1 in 10 Americans invested in cryptocurrencies using their stimulus checks, driving the prices of these assets up to record levels - Bitcoin is up 315% over the past year.
The stock market: Popular U.S. indices continue to make new highs. The S&P 500 and the Nasdaq are up YTD 20% and 48%, respectively. The financial markets have seen unprecedented cash inflows. A Bank of America report says that $576 billion was placed into equity funds between December and April 2021, beating the combined $452 billion inflows seen in the last 12 years.
Real estate: With mortgage rates at record low levels, Americans are eager to fulfill their dream of owning a home. Consumers have been aggressively deploying their excess cash to make down payments on homes. As a result, the median house price in the U.S. is $375,000, up 16% YoY after several years of being relatively flat.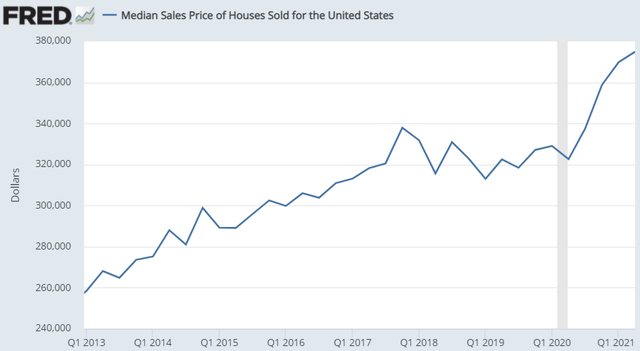 Source: fred.stlouisfed.org
Inflation Risks are Very High
Chair Powell and most FOMC members have been conditioning the public and financial markets to expect PCEPI inflation (the measure that the Fed uses which excludes food and energy) to rise temporarily to 3.4% in 2021, and easing to 2.1% in 2022 and 2023.
As stated above, inflation has just hit 5.3% on a 12-month basis. Let us play with some numbers:
Let us assume that inflation does not rise further in 2021, remaining at 5.3%, which is 56% higher than the PCEPI inflation being forecast by the Fed.
In 2022 and 2023, we will be conservative and assume inflation to be 50% above PCEPI instead of double. That would put inflation at 3% for each of 2022 and 2023.
That's a roughly 11% increase in inflation over a period of three years. Would salaries and wages be able to catch up over that period? If you're retired, would your retirement funds be able to play "catch up" if you are withdrawing for your retirement expenses that are growing at such a high fast pace?
Why is the Fed Not Telling You the "Truth"?
The Fed faces many problems today. First, the Fed has very few tools to fight inflation and rising interest rates. I will explain why in the next paragraph. However, the biggest tool they have is to fight "inflation expectations." In fact, inflation expectations can be the biggest driver for inflation itself.
Inflation expectations reflect the rate at which consumers, businesses, and investors expect prices to rise in the future. They matter because actual inflation will depend very much on what people expect it to be. If everyone expects prices to rise, say, by 3% the next year, businesses will want to raise their prices by at least 3%. Workers and employees will expect similar wage/salary raises. All things being equal, for each 1% increase in inflation expectation, actual inflation will tend to increase by 1% as well.
Therefore, the Fed is actually using its most powerful tool by "not telling the truth" about inflation. If the Fed can successfully convince people that inflation is not a problem, or at least not a "big problem," then it has won half of the inflation battle. It's one of the Fed's most powerful tools and also one that comes at no financial cost – a "free" tool that it can use. The Fed is actually doing its job perfectly well by "not telling you the full story."
And this is exactly why Ms. Yellen came under fire when back in May she hinted about increasing interest rates because she was almost giving up the Fed's most powerful "free" tool to fight inflation.
The Fed has Very Limited Tools to Fight Inflation
There are several reasons why the Fed has very limited tools to fight inflation and related rising interest rates:
Recession and Market Risk: The Fed has very little room to hike interest rates before causing a recession.
Political and fiscal deficit risk: It has very little room to hike interest rates without further ballooning the fiscal deficit and facing strong opposition by politicians.
Lost battle: Fighting inflation is likely to be a lost battle anyways in the face of a weakening dollar and rising commodity prices. In fact, we are likely heading to a commodity supercycle or at least a mini supercycle.
I will go into the details of each of these arguments.
1- Recession and Market Risk
One of the main reasons why the Fed is not willing to raise interest rates is because it knows that it does not have many "bullets" in its gun. The way things are looking today, there's going to be a rate hike next year, probably by 0.25% or possibly by 0.5%.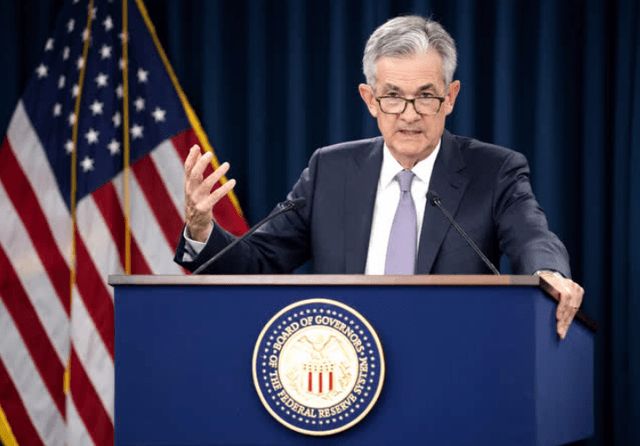 Source: Alamy
Why not hike it now? If you recall, the last time that the Fed started to significantly increase rates was back in 2017 from 0.5% to 2.3% in late 2018. This is when the equity markets had enough and crashed by 20%, threatening to derail the economy and throw it into a recession. The Fed quickly reversed course in 2019 and started to reduce interest rates.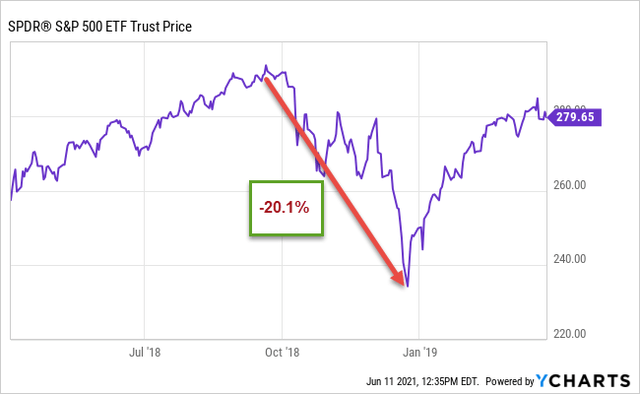 Today, the situation is even more critical. We are just out of a recession with the economy more fragile than in the past decade. Any false move by the Fed or premature hike would throw the economy back into a recession. Furthermore, the Fed has learned the economy can no longer withstand an increase in Fed Fund rates of more than probably 2%. We are no longer in the golden years where the economy can withstand Fed rates of 5% or more.
The main, and interrelated, reasons:
An ever-weakening economy due to declining population growth.
A Fed that's re-setting interest rates lower each time there is a market crash.
1A) An Ever-Weakening Economy due to Declining Population Growth
We have been witnessing a secular declining population growth rate in the United States since the 1980s. This has resulted in a more fragile economy that is prone to more recessions.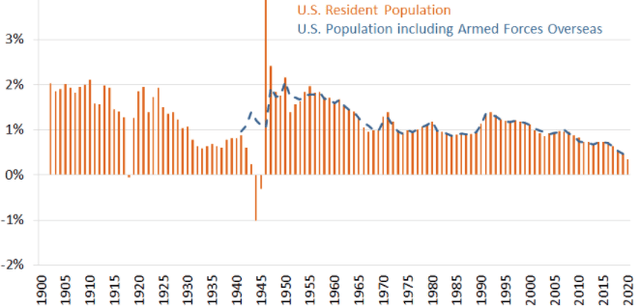 Source: St. Louis FED
In fact, during the past decade, the US population grew at the slowest rate since the 1930s (which coincided with the Great Depression), as reported by the Census Bureau in April 2021. It's expected that the U.S. population will grow in 2021 at a rate of only 0.58%. This is about half of the growth rate of the year 2000, which is quite alarming.
A growing population is one of the biggest drivers of economic growth. In fact, economic activity is dependent on the number of people available to make things and/or provide services, multiplied by how productive those people are. This means that slower population growth will directly equate to slower economic growth. Lower population growth also will mean lower consumption, and the United States is a consumer-driven economy. Once the economy loses that, it loses its biggest driver and becomes vulnerable to all kinds of small economic shocks.
When we look back on the economic expansion from 2009 through the onset of the pandemic, we see that U.S. GDP growth averaged just +2.1%. This is much lower than the historical long-term average of +3.2%. Note that this long-term average includes the 1929–38 Great Depression, and the 1945 demobilization from World War II depression, which would otherwise have resulted in a much higher GDP average.
As we have learned during the past 15 years, the Fed has come to the rescue each time the market crashed. This is because each market crash could throw the economy into a recession, something that would not have happened if population growth was healthy. The more fragile the economy is, the less it can withstand interest rate hikes.
Finally, lower GDP growth means fewer investment opportunities, which by itself results in lower interest rates. If you have fewer growth opportunities, then people are willing to accept a lower return on investments and lower yields on Treasuries, for example.
1B) Reason: Re-Setting Lower Interest Rates at Each Market Crash
As a result of a "weaker economy," following almost each "bear market," the Fed came to the rescue and bailed out both the markets and the economy by using its "tools." One of its tools is lowering its interest rates to encourage investors and market participants to put cash to work and reignite the economy. As these events keep recurring, the Fed's "re-sets" have resulted in a permanent decline in Fed Fund rates since the 1980s.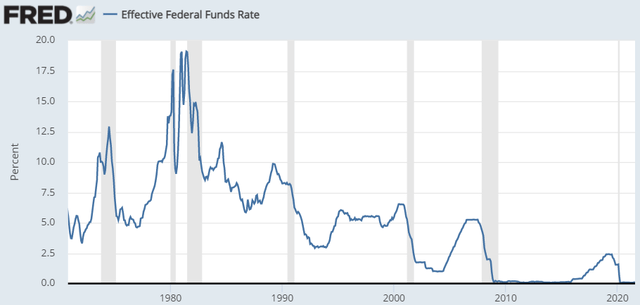 Source: St. Louis FED
These low-interest rates are now anchored and cannot rise anymore without having economic consequences that are damaging to the economy.
The bottom line is that the Fed is not willing to risk derailing the economy and risk having another recession which will be extremely costly to "resolve," and probably more costly than the COVID crisis. I think this is out of the question for the Fed right now. This will tie the Fed's hands about how much they will be willing to increase the Fed Funds rate. This will also go against what President Biden's policy is all about – "Build America Again."
2- Political and Fiscal Deficit
Even if the Fed becomes very hawkish and willing to hike rates, it's going to face very tough opposition from politicians from both parties. Remember that the fiscal deficit following COVID has ballooned to its worst level since World War II.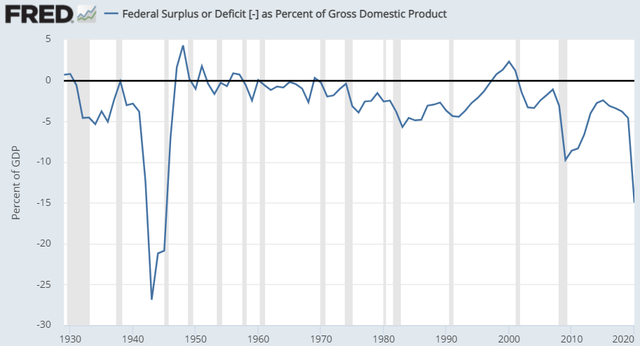 Source: St. Louis FED
Any small increase in Fed rates is going to cost the government a fortune in interest payments to repay. The government is likely to be willing to settle for more inflation and less "Federal Deficit" in case they are faced with having to raise rates aggressively.
Here, we come to the conclusion on why the Fed's hands are tied as they're unable or unwilling to hike rates by too much and have few tools to fight inflation or "runaway inflation."
3- Commodity Supercycle
Commodity prices are rising not only because of "temporary" pent-up demand issues we shared in a comprehensive report to HDO members - Are We Entering A Commodity Supercycle? This report described several factors that indicate the start of a "commodity supercycle" or at least a "mini" supercycle, among which are:
Demand from emerging economies
Underinvestment precedes a commodities cycle
Weakening of the U.S. Dollar
China is now exporting inflation
Impact of climate change on agriculture
Commodities are currently cheap
The most notable item from this report is that the demand for commodities is based on "real demand" from emerging markets. In our report, we wrote:
China and India are 38% more populated than they were in the early 90s.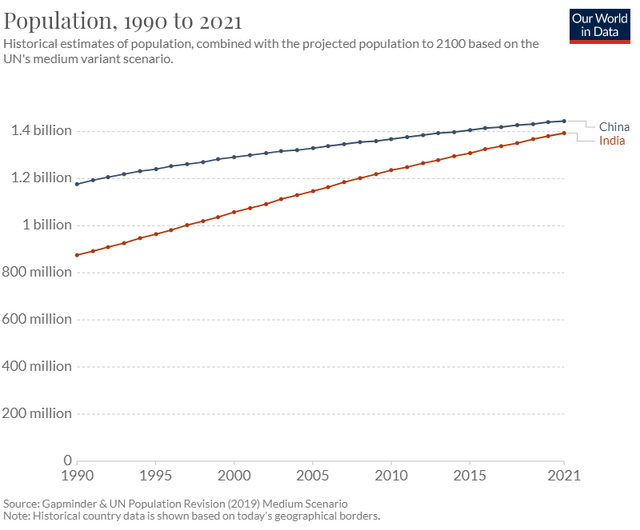 Source: visualcapitalist.com
I quote in my report:
In China, the government as well as industries imported record volumes of crude oil, copper, iron ore, and coal in 2020, a year when the global economy was frozen by the coronavirus outbreak.

India, with a reasonably large percentage of its population well-educated, has all the foundations to pursue substantial economic growth. While the country is currently facing challenges due to the pandemic, it is expected to overtake the U.K. to become the 5th largest economy by 2025 and stay on track to the 3rd spot by 2030.

Heavy demand for natural resources is expected in the decade ahead as these emerging economies continue to grow rapidly."
These demand pressures, including demand for oil, have little to do with the effect of the pandemic or pent-up demand. These are "real increases" in the cost of living today and the future cost of living. Neither the "Core Inflation Index" (or CPI) nor the PCEPI inflation (Personal Consumption Expenditures Price Index) includes the cost of food or energy. Also, the cost of purchasing a new home is excluded from both the CPI and the PCEPI and accounted for as investments rather than inflation. Therefore, if you want to have an accurate figure of what inflation really looks like today, it's more likely the headline number of inflation which already has hit 5% rather than the much lower CPI or PCEPI that the Fed likes to use.
What I'm trying to say is that inflation is real. It's not transitory. It has translated into higher prices for food, apparel, and travel, among others. This is because transportation and storage costs account for a big part of their prices, and these two costs are a function of commodity prices.
China is Now Exporting Inflation
Another factor contributing to rising commodity prices and global inflation pressures is that China is now exporting inflation rather than exporting deflation. China reported factory-gate prices rose 9% YoY in May, the highest in more than a decade. Soaring shipping costs and a stronger Yuan are together pushing up the price of China-made goods. Like every other country in the world, China is dealing with all kinds of commodity shortages including copper, coal, steel, and iron ore, chicken, lumber, etc. China has its own supply problems and rising prices. While China hopes this is temporary, its economy has developed enough in recent decades, and workforce wages have risen enough, that the days when they can supply goods at "lower prices" to keep inflation at bay are over.
For decades, China was able to mock and profit from global inflation pressures by pumping deflation into the world. It was able to do so when needed to keep stagnant wages and manipulate its currency through low interest rates. China is now set to be exporting inflation to the world. Given that China is facing high internal demand from its own population and that the earning power of its citizens is increasing, it's becoming virtually impossible to pressure its workforce to accept the "old cheap" wages that it used to pay its labor. Devaluing their currencies is no longer a viable option they can use as an indirect way to lower their labor purchasing power. It all comes down to "scarcity of natural resources." No wonder why prices of all kinds of commodities are rising.
Biden is on a Spending Spree
President Biden is currently on a spending spree at a time when there are so many economic accelerators. There are fiscal accelerators running at full force, there are monetary accelerators running at full force, the markets are at all-time highs, and the financial sector is willing to lend and create margin debt and asset bubbles. America is doing just great. The economy is moving in the right direction, unemployment is at 5.2% and the Fed did not expect that to happen till the end of 2022. There's no need to further push on the "accelerator" and risk an economic crash.
The aggressive fiscal stimulus including the upcoming $2-3 trillion infrastructure bill, accommodated by money printing, is fueling demand without commensurate supply.
Spending more increases the chances of even higher inflation tomorrow. The big irony here is that President Biden has a goal to fight inequality between the rich and the poor, and his policies are just going to do the opposite. Inflation is an indirect tax that will impact all of us, but it's one that mostly robs the poor, the middle-class and minorities, and quickly reduces their purchasing power. It's because it's a "flat tax" that hits all equally and will result in even more wealth inequality.
Labor Market - The Great Resignation
The labor market is showing a very interesting and unprecedented trend. During years after the great financial crisis, workers were eager to rush back to work and earn wages to support their families. As pandemic life recedes in the U.S., people are leaving their jobs in search of more money, more flexibility, and most importantly - more happiness. Employees are reevaluating their priorities and thinking about how much their work means to them and their employer, examining how they're valued, and how they spend their time. This is leading to a dramatic increase in resignations, also known as "The Great Resignation." According to the Labor Department, a record 11.5 million people quit their jobs in Q2 2021. The leisure and hospitality industry (includes hotels, bars and restaurants, theme parks and other entertainment venues) saw the biggest workforce exodus. Thanks to government stimulus packages, Americans have sufficient savings to last a few months. Hence, they are using the time to sharpen their skills, improve their resume and look for better jobs.
Top executives are worried. In the recent Duke University CFO survey, more than 70% of small firm respondents and 80% from large firms said they were having a tough time filling open roles. This sentiment is reflected in the record-high number of job openings reported in the latest government statistics.
The Fed isn't Really Fighting this Inflation
The Fed continues to pump liquidity into the system and maintain a 0% target rate even as inflation pressures continue to mount. They continue to ignore their own preferred metrics.
Despite signs that inflation is higher than expected, the Federal Reserve reiterated recently that it will "hold the line." Voting to maintain the target rate at 0-0.25% while also continuing to buy Treasuries and agency MBS (mortgage-backed securities).
In fact, I would argue today that the Fed and the government are happy that inflation is running high. Why? Because today, if you add the government debt, corporate debt, and consumer debt, the United States is more indebted than it has ever been historically. The total non-financial debt/GDP ratio is nearly 300%. This massive level of debt is a financial time bomb that could explode anytime. When it does, it would collapse the economy into a major recession with widespread defaults, causing the financial and the housing markets to crash, and setting up for major bank failures.
Therefore, a high level of inflation seems to have become a policy goal to alleviate indebtedness. It's quite simple. If you own a mortgage of $100,000 on a $200,000 home, and inflation drives the value of your home to $400,000, then your debt level is reduced immediately from 50% to 25%, which makes it more manageable. At the same time, GDP goes up, because the value of new construction has gone up. So you have an immediate reduction in the debt/GDP ratio.
In this case, the Federal Reserve is not only unwilling to act on inflation but is actually very happy with it. Inflation reduces the risks of a hard economic landing by making the mountain of national debt less significant, even though it comes at the cost of eroding your buying power.
What this Means for Investors
The short to medium-term impact is that interest rate spreads would significantly widen. Inflation expectations would result in higher long-term interest rates while short-term rates will remain low. I would expect that the 10-year Treasury yields to be 2.5% or more over the next 12 months while Fed Fund rates (short-term rates) would be at or below 0.5%. The gap will widen over the following years. Investments that benefit from the steepening of the yield curve will be great beneficiaries.
Furthermore, investors are best served by taking positions in inflation-resilient and inflation-beneficiary type of investments. If you are well prepared to face inflation, not only you can protect yourself but it's an opportunity to make a lot of money if you know when and how to play it.
Conclusion
Ultimately, inflation expectations have been unleashed by a combination of excessive fiscal and monetary laxity. The Fed has lost its first tool to manage inflation expectations by stating that "inflation is transitory." The Fed also has lost its credibility as inflation expectations are now anchored at 4.7%, which indicates that it will likely be running close to 5% next year. It has very little ammunition to use and is facing a losing battle. High inflation is real and will rise further, but to what magnitude? When will we hit runaway inflation?
To answer this question, we have to look at the GDP figures released from the St. Louis Fed showing the debt/GDP ratio of the United States.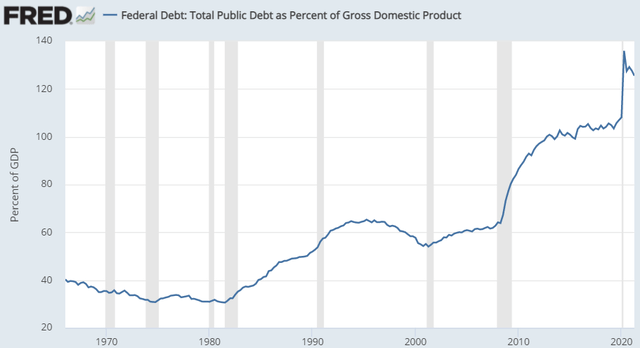 Source: St. Louis FED
It currently stands at 126% making the U.S. one of the most indebted nations in the world.
Furthermore, the latest projections from the Congressional Budget Office are now available. Not only is the federal debt in public hands now at its highest level relative to GDP since World War II but it's also projected to double by the year 2050.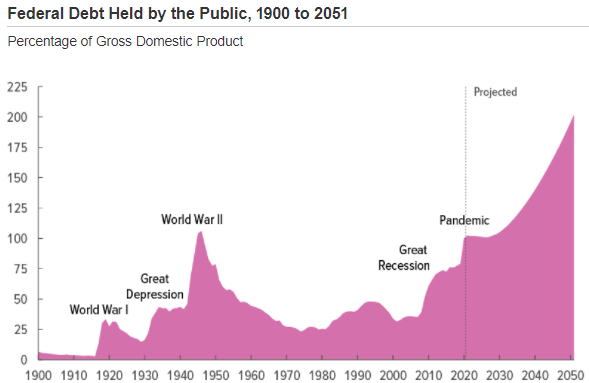 Source: CBO
Runaway inflation and/or hyperinflation is inevitable and is all a function of the ability of the U.S. to keep issuing debt and printing money, and at the same time, keeping the status of the U.S. dollar as a "safe haven" one. This status took generations to build, but that would take just a fraction of that time to destroy. Unfortunately, the current path of policy is unsustainable, and the confidence in the U.S. dollar has already started to deteriorate. Something has to give way. Following COVID, we could very well be at the inflection point, and it could be disastrous.