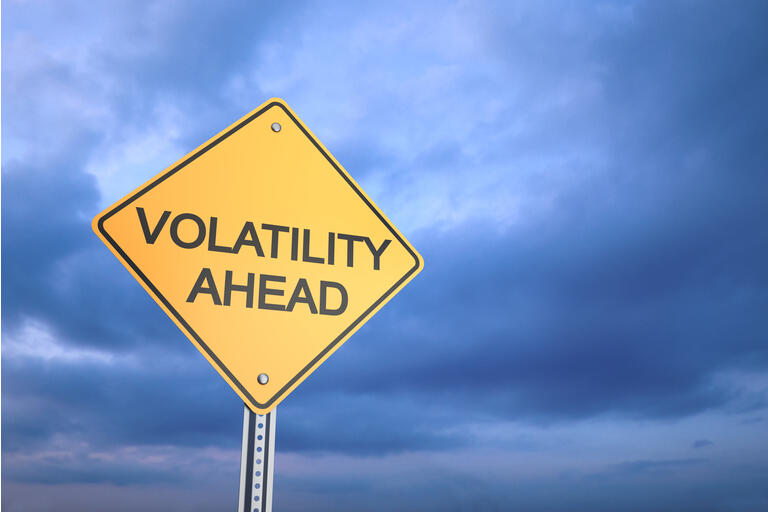 The risk outlook for this week is especially interesting due to one key factor event. The U.S. Federal Reserve will hold its September monetary policy meeting with its decision and statement set for 2:00 PM EDT release Wednesday, and with the Chairman's press conference to follow at 2:30 PM. As a result, option premiums have fattened fast this week in the iPath S&P 500 VIX Short-Term Futures ETN (BATS:VXX). The VXX itself should display an upward bias into Wednesday. What happens to markets and to the VXX after the Fed event will depend greatly on how markets behaved heading into the event and on the information that comes out of the event itself.
Despite the Fed's best efforts to temper investor angst about its expected near-term tapering of extraordinary quantitative easing measures, the market will remain concerned about a possible Fed miscalculation. I believe this was one of two key reasons why volatility picked up last week (the other being the threat of tax increases), and why markets began to show weakness. It is entirely possible that we could see a significant upward move in the VXX this week (+50%); one like the spike we saw in May. An even greater spike is possible if a market correction is catalyzed.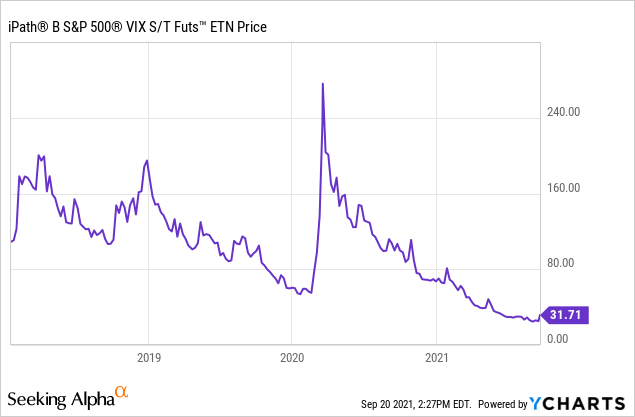 A long-term chart of the VXX security clearly illustrates that this is not a security to be bought and held long-term. Rather, it is probably best employed as a short-term hedge to broad portfolio risk when deemed appropriate by sophisticated portfolio managers. Aggressive investors or "risk lovers" may find speculative appeal in these securities at moments of market misbehavior.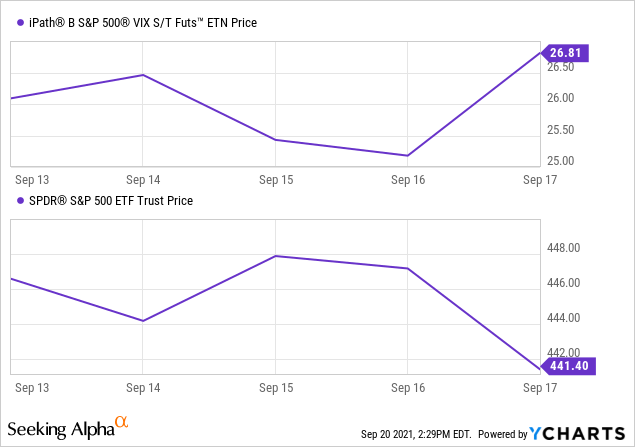 Last week's charts of the VXX security and the SPDR S&P 500 Trust (SPY) reveal that something was up. Volatility gained investor attention and stocks lost some favor. I believe that last week gave us a taste of what we are seeing in full display this week.
The Fed Trigger
The catalyst is clear with regard to what is driving investor angst. We have a Fed policy meeting this week. In his Kansas City Fed Symposium address, normally held in, and known as, the Jackson Hole meeting, Federal Reserve Chairman Powell did his best to quell investor concern about the forthcoming "tapering" of the Fed's extraordinary policy measures. Specifically, the Fed Chairman wanted to alter market perception, I believe from the point of view that tapering is just the first step, to be followed by hikes of the Fed funds rate. The Chairman conveyed that any future consideration to raise rates would be based on a more critical standard. He basically implied that the idea of rate hikes was not anywhere near the decision table just yet.
That said, the market is a savvy character and knows very well that the Fed is simply doing its best to not cause a stock market correction. Normalizing monetary policy and the Fed funds rate would be prudent as the economy normalizes. If the economy starts to overheat coming out of the pandemic, the Fed could need to abruptly raise rates.
Nonetheless, rising rates presents the risk or likelihood of higher discount rates against which the forward forecast cash flows of corporations will be measured. Greater discount rates, in isolation and absolution, translate to lower business and stock values. Nothing should be only considered in isolation, but the simplification of problems is common to human nature. And then there is the risk of Fed policy error. If the Fed is acting prematurely, it could catalyze a recession.
So, market angst is justified, and the sharp rise in volatility instruments like the VXX, understandable. Long or long hedge positions (against market risk exposure) in the VXX security should prove profitable at least into Wednesday, but they could reverse sharply as early as Wednesday. However, if the Fed statement justifies or raises market angst, say with the start of tapering, which is unexpected for this meeting, then a full-fledged market correction could ensue. In that case, the VXX could mark over a 100% gain, in my view, and stocks could drop 10% to 20%.
This is a short-term perspective. I generally view market corrections as buying opportunities and would look to short volatility and VXX post these instances, depending on specific circumstances. If this week's FOMC policy meeting provides another dovish taper message, and stocks enjoy a relief rally, thereafter, look for volatility to be revisited in early November and/or mid-December around those Fed meetings, depending on developments. I will update my followers of my view for the markets and volatility as events demand.