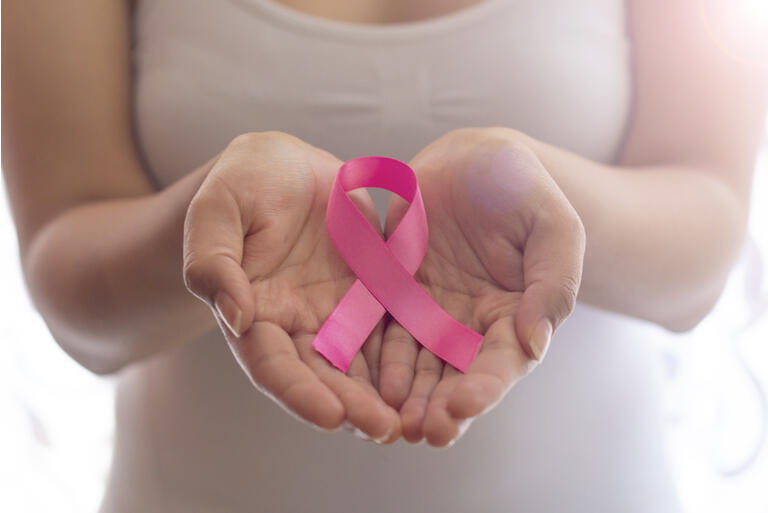 The stock of Atossa Therapeutics (NASDAQ: NASDAQ:ATOS), a clinical-stage play focused on breast cancer and COVID-19, had risen by more than 700% as of June this year before starting its descent. It is now below the $3.5 mark and warrants a fresh look in light of some recent clinical developments and the coronavirus mutating into different variants.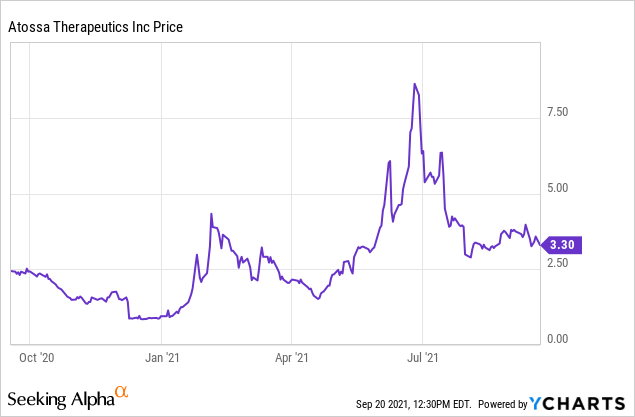 I start with AT-301, the biotech's proprietary drug candidate intended for nasal administration in patients immediately following the diagnosis of COVID-19, but who have not yet exhibited symptoms severe enough to require hospitalization.
COVID-19 nasal spray as preventive
Final results from the clinical trial evaluating AT-301 indicated that there were no serious adverse events, with the exception of one subject out of 32. Following input from the FDA, progress is ongoing as the company seeks complete studies of its drug candidate.
Looking across the medical spectrum, oral medication represents a practical alternative to vaccines in view of the persistence of the coronavirus. Also, nasal sprays are easier to use and can be stored at room temperature.
Looking in the rear mirror, polio was only eradicated following its use in oral form back in 1962, nine years after it had been developed as an injection.
Getting further support from academia, Professor Ylä-Herttuala, who is also the Chairman of a spin-off created by the University of Helsinki and Eastern Finland to develop a nasal cure for COVID, says that:
Nasal delivery was chosen as the new vaccine's method of administration because the virus is also naturally transmitted through the airways. Indeed, nasal administration seems to induce a wider immune response than intramuscular administration."
According to him, in the same way as intramuscularly injected vaccines produce IgG antibodies in the bloodstream, nasal sprays also produce an IgA response that protects mucous membranes.
Exploring further, there are other biotechs that are currently working on nasal vaccines, two of which are Altimmune (NASDAQ: ALT), and Avalon GloboCare (AVCO). The latter has a strategic partnership with the University of Natural Resources and Life Sciences in Austria to develop a vaccine that can be administered by an intranasal or oral route. As per its SEC filings dated August 16, the company is working on its AVA-Trap therapeutic program.
As for Altimmune, it announced an end concerning further developments of its AdCOVID COVID-19 vaccine development program on June 29, and will instead focus its resources on ongoing obesity and liver programs. This announcement caused a sell-off in the shares with the stock falling by nearly 40%. There seems to have been some contagion effect impacting Atossa too, whose stock suffered from a 12-13% downside on that day.
This shows one of the risks in investing in clinical-stage biotechs which do not have commercialized therapies, where drug revenues provide some cushion against volatility.
COVID-19 long-haul treatment
However, Atossa's stock downside was subsequently cushioned after the company received regulatory approval from the Australian authorities to open a Phase 1/2a clinical study of AT-H201. This is being developed as an inhalation therapy for moderately to severely ill hospitalized COVID-19 patients.
Now, AT-H201 is a proprietary combination of two drugs previously approved by the FDA to treat other diseases and through other administration routes. In May 2020, Atossa had completed in vitro (outside the human body) testing, which showed that its drug candidate inhibits SARS-CoV-2 infection of Vero cells. These are standard cell types being used to study the infectivity of the coronavirus. The company also mentions that AT-H201 components were found to be at least four times more potent than Gilead Sciences' (NASDAQ: GILD) Remdesivir, and at least 20 times more potent than Hydroxychloroquine used for Malaria treatment.
Discussing further, the idea of a nebulized AT-H201 came at the height of the first wave and its goal was to improve lung function in patients with active disease, thereby reducing the requirement for ventilators. With time, doctors have noticed the emergence of "long-haul" patients, who have residual pulmonary function damage. These concerns up to about 42% of patients who exhibit abnormal lung function 60 days after COVID-19 onset. For these people, nebulizers, which are portable and routinely used for other chronic lung diseases, allows for treatment at home.
Now, in addition to COVID, Atossa is also involved in MBD, an emerging public health issue affecting more than 10 million women in the United States and many more worldwide.
Breast cancer research
Atossa recently received Swedish Authorities' approval to begin a Phase 2 clinical study of oral Endoxifen for the reduction of mammographic breast density ("MBD").
Now, studies conducted by other organizations have shown that MBD reduces the ability of mammograms to detect cancer and according to cancer.org, women who have dense breast tissue have a higher risk of developing breast cancer. Pursuing further, studies show a correlation between reducing MBD and a reduction in the incidence of breast cancer in high-risk subjects.
Pursuing on a cautionary note, while MDB could play a key role by serving as a marker of breast cancer development and a measurable endpoint of treatment response, breast cancer arises from other biological pathways unrelated to and completely independent of, MBD.
Still, Atossa has a long-term presence in the development of therapeutics to address breast health conditions, as evidenced by clinical studies.

Source: clinicaltrials.gov
The company had also announced some positive final data from its Phase 2 clinical study of oral Endoxifen in June, with the primary endpoint having been met through a reduction in Ki-67, a common measure of tumor cell activity. The next step is a clinical study in the neoadjuvant setting, or as a first step to shrink a tumor before the main treatment (usually surgery).
Now, there are several FDA-approved neoadjuvant therapies for breast cancers, but these are NOT estrogen receptor-positive (ER+) or do not work by blocking the estrogen receptor. On the other hand, Endoxifen, which is the active byproduct of tamoxifen, long-standing hormone therapy for breast cancer works by blocking the estrogen receptor, which is present in about 78% of breast cancers. Consequently, Atossa's Endoxifen in breast cancer represents a significant unmet need.
Valuations and key takeaways
Now, the breast cancer therapeutics market size is projected to reach $55.27 billion by 2027, up from $21.58 billion in 2019, exhibiting a CAGR of 13.1% during the forecast period. Several renowned companies like Ely Lilly (LLY) and Pfizer (PFE) are constantly launching new breast cancer therapeutics.
Furthermore, certain severe reactions can emerge while testing novel types of cancer therapeutics. Patients can suffer from nausea, fatigue, rashes, gastrointestinal problems, or high blood pressure. Here, one positive for Atossa's drug candidate, is that it met secondary endpoints of safety and tolerability as all adverse events were mild and considered related to the study drug. No adverse events led to the discontinuation of the study.
Looking at financial capacity to carry out further clinical studies, the company had $142.4 million as of June, $100 million more than at the end of December last year. This may seem a big amount in view of the quarterly expenses of only 7 million dollars, but expect R&D expenses to go on increasing into 2021 as the company either initiate new or progresses with existing clinical studies.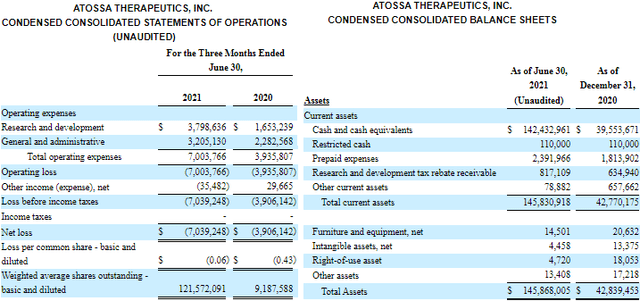 Source: SEC filings on Seeking Alpha
As for valuations, the price per book ratio of 2.88 is on the low side when compared to the healthcare sector, by 22%. Adjusting accordingly, I obtain a target of $3.9 - 4.0, or (3.24x1.22) based on the current share price of $3.24. In this respect, I have adopted some moderation in view of past volatility. For this purpose, the stock fluctuates a lot following news-inducing momentum, like on July 30, when the company announced a special meeting of stockholders seeking approval for an amendment to the certificate of incorporation. This was in relation to increase the number of the authorized common stock by 100 million.
However, I am bullish after giving consideration to Atossa's proprietary drug candidates for cancer and COVID. Additionally, the company became a part of Russell 2000 and Russell 3000 Indexes on June 28, with the event representing an important opportunity for further expanding Atossa's awareness among a broader group of investors.
Moreover, some catalysts, like for example, an announcement pertaining to AT-H201 (COVID nasal spray) could trigger an upside. Here, the currently ongoing vaccination programs do not eliminate the need for new therapies, as new variants are expected to cause new waves of infection. More importantly, there are currently no FDA-approved drugs to treat COVID-19 at home. Along the same lines, AT-301 (inhalation therapy) is intended for at-home use to reduce COVID-19 symptoms.
Finally, till COVID is not eradicated just like polio or the protection conferred by vaccines lasts only for a limited period, there should always be scope for alternative therapy developers. In the case of Atossa, its cure also makes possible better distribution and administration, especially in countries that lack large-scale continuous vaccination capabilities.