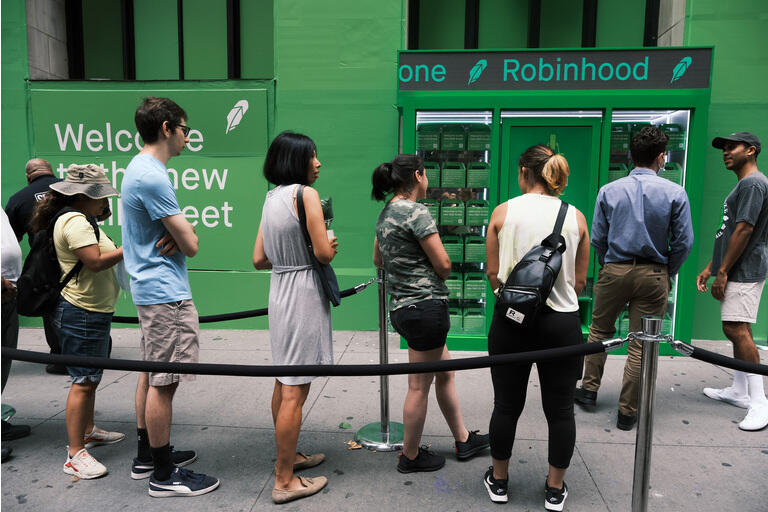 Robinhood (NASDAQ:HOOD) has quickly become one of the go-to trading platforms for many younger investors. Given the rapid rise in meme stocks and interest in cryptocurrencies, it's no surprise Robinhood's user-friendly platform has quickly gained a massive following.
However, I believe there continues to be more risk in the name, which presents a continued downside to the stock. The gamification of trading stocks, stimulus-driven benefits, rapid rise in cryptocurrencies, and potential regulatory actions around payments for order flow lead me to a bearish stance on the name.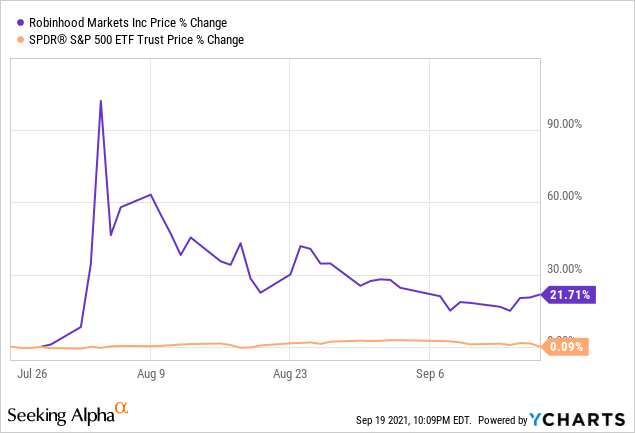 Since going public at $38/share, Robinhood saw their stock rapidly rise to over $70. However, investors have quickly pulled back as heightened fears around the business model continue to be discussed in the news. The stock currently trades at 12.6x 2022 revenue, which seems to be very aggressive considering the multiple risks and volatile revenue stream.
With over 75% of the revenue coming from transaction-based PFOF, and a majority of this coming from cryptocurrencies, I believe a large portion of Robinhood's business has higher implied risk than what is currently priced in the stock.
Robinhood also benefitted from multiple stimulus packages giving millions of consumers extra money. This money, which could have ultimately helped fuel to rise in meme stocks, will continue to fade away and could cause a deceleration in Robinhood's future growth prospects.
Given the operating risks that Robinhood continues to face, including the SEC placing this practice under review, I believe there continues to be more downside ahead. In addition, the psychological level of the $38 IPO price could start to come into play as the stock slowly retracts. I believe if the stock were to breach their IPO level, this could trigger accelerated selling as investors may not want to own a broken IPO.
Financial Review
During the company's Q2, they reported an impressive revenue growth of 131% to $565 million, including transaction-based revenue growth of 141% to $451 million. I am impressed with the company's ability to generate consistent profitability, with adjusted EBITDA during the quarter coming in at $90 million, up from $63 million in the year-ago quarter.
However, as we look further under the hood, it appears trends may not be as favorable as they appear at face value.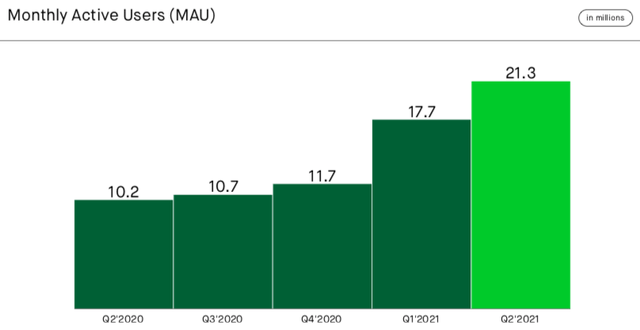 Source: Company Presentation
While the number of monthly active users continues to expand, with Q2 ending at 21.3 million MAUs, investors should be thinking about how many of these accounts were driven by either stimulus funds fueling the desire to play in the stock market or the rise in meme stocks/cryptocurrency. Yes, some of these users will likely end up being long-term Robinhood users, though I believe a portion of these MAUs will fall off over time.
Another point of note, over 90% of Robinhood's user base has an average age below 35 and typically has less than $10k invested. While these figures could imply that Robinhood has a young customer base that could stick with the platform for many years to come, I believe there could be some risks to a younger cohort.
First, if the stock market experiences a big correction, younger investors may be more inclined to pull their funds out of the market, compared to more experienced investors who have been through bull and bear markets. And second, these younger investors may ultimately move their funds to a larger platform with more optionality and better client service, such as a bigger bank or trading platform. Fees across the industry have been significantly reduced over the years, so offering "no fees" or "free trades" is starting to become table stakes for an investment platform.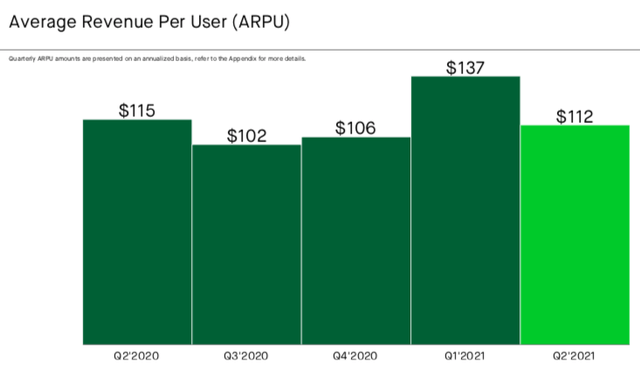 Source: Company Presentation
One other sign of concern is the company's average revenue per user. Q1 was abnormally strong given the increased transactions that occurred in the quarter, but Q2 actually came in at a lower ARPU than the year-ago period. Again, if market trading activity slows down, the company could be at risk of much slower revenue growth and a declining ARPU.
Further digging into the company's revenue, cryptocurrency appears to be the biggest contributor while equities are the smallest piece. While the company does earn some revenue from net interest and other sources, transaction-based revenue typically represents 75%+ of total revenue.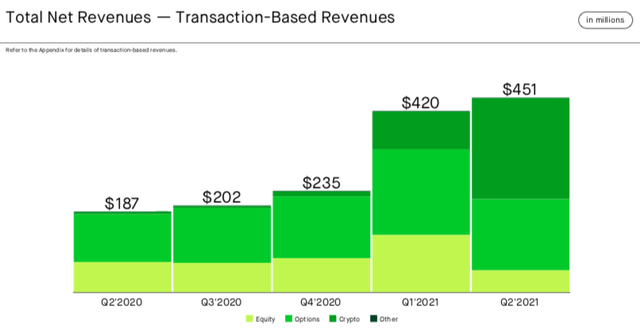 Source: Company Presentation
Further breaking down their transaction-based revenue, cryptocurrency generated over 50% of Q2 revenue, with options generated 37% of transaction-based revenue and equities just 12%. Yes, more revenue is better than less revenue, but their crypto-based revenue is at a higher risk of volatility than options and equity. During the Q2 earnings call, management noted:
And DARTs for crypto set a record as 63% of funded accounts traded crypto, up from 11% in the same quarter last year. Notably, 62% of crypto trading volume was in Dogecoin in Q2, which compares to 34% in Q1.
Without providing my insight into cryptocurrency, the crypto-markets have seen a lot of volatility over the past year and also faced increased regulatory scrutiny compared to the more established equity and options market. The fact that 62% of their already-volatile cryptocurrency revenue came from Dogecoin should be a bit of a concern. If cryptocurrencies declined in value and/or lost interest in the market, Robinhood could be faced with over half of their transaction-based revenue significantly declining.
Recent News and Concerns
In recent news, Robinhood will focus some of their marketing efforts on college campuses, aiming to attract more young investors to their platform. According to one Wall Street Journal news report, Robinhood will give students who sign up for a brokerage account with their school email $15 to trade and they will receive a chance to win $20k.
Investing in the stock market has turned into sort of a "game" for many younger investors who are hopeful to catch the tail of the next meme stock. So marketing directly to college students should be a good idea, right? I don't think so. These young investors typically have far less capital to invest and typically do not trade as much volume as other customer cohorts.
In addition, college-aged students have benefitted from multiple stimulus packages as well as having more time spent online, considering the country has been in some form of a lockdown/restriction for the great part of the past 18 months. As life begins to normalize and stimulus wears down, college-aged consumers might be more inclined to spend $50 at the bar rather than gambling on the next meme stock.
Earlier in June, Robinhood was fined $70 million from FINRA over the company's outages and failure to exercise due diligence before allowing customers to place options trades. These issues are likely on a path towards remediation, though they highlight what could be considered weak internal controls on Robinhood's trading platform. While I am not saying the company is acting ill-willed, I believe the trading platform may be placed under heightened regulatory scrutiny given the gamification in stock trading and rise in cryptocurrencies.
Risks surrounding the potential regulation of payments for order flow have also been called into question. With PFOF, market makers pay brokers (such as Robinhood) to execute their customer orders. PFOF has historically represented a majority of the company's (transaction-based revenue), so if this were to become more regulated, this would surely become a massive risk to the company's business model. Management was asked about potential PFOF regulation on the Q2 earnings call, and below was their response.
So what I'd tell you is that payment for order flow is regulated already. It's been primarily focused on disclosures, and we do provide all the required disclosures, and we do our best to explain how we make money and what payment for order flow is. It's an often misunderstood component of our business. And so I appreciate the question. What I'd tell you is that, over the long term, our intention is to be the single money app. That implies more products, more features and innovation, as Vlad was talking about, not just on the existing products that we have but certainly on new products. We want to be the single place that our customers go to for all things money. And that will lead naturally to diversification in our revenue streams over time.
So while management acknowledged that PFOF is already regulated, it's primarily focused around disclosures. However, Robinhood has heightened the awareness of PFOF and such trading practice is banned in the United Kingdom and Canada, among other countries. With the SEC placing this practice under review, investors should be very cautious about potential changes and regulations to Robinhood's business model.
Valuation
Given the many variables in the company's operations, valuation is a little difficult to gauge. The company has been experiencing strong revenue growth and has built up a massive MAU base of over 20 million. While these trends likely benefitted from both stimulus payments and the gamification of the stock market (combined with cryptocurrency-craze), it's difficult to argue that Robinhood has not been a "hot commodity" in recent quarters.
However, with potential regulatory risks remaining an overhang on the stock in addition to a majority of their transaction-based revenue now being tied to cryptocurrency, there appears to be an under-appreciated inherent risk in the business model.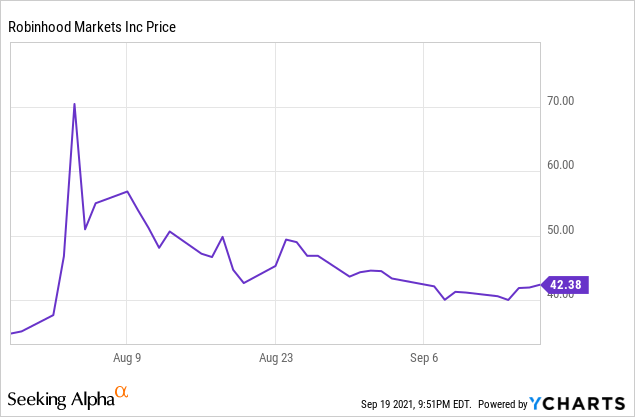 The company has a current market cap of $36.25 billion, and with $1.4 billion of net cash, Robinhood has a current enterprise value of $34.85 billion. Per Yahoo Finance estimates, consensus is expecting 2022 revenue of $2.75 billion, which implies a current revenue multiple of 12.7x.
While it's a little difficult to know where revenue could end up given the volatility in the market, the company's revenue multiple appears pretty aggressive. Given the many risks in their operating model around regulatory concerns and PFOF, investors don't seem to be placing enough of a discount to account for these risks.
Also, there are many other software stocks in the market that have strong, consistent revenue growth above 20% with significant margin expansion opportunity that are trading at similar revenue multiples. The biggest difference? Robinhood's revenue is much more volatile while these other software names have highly recurring business models (90%+ recurring revenue).
For now, I remain on the sidelines and think there could be continued downside to Robinhood. With an initial IPO price of $38, the stock is slowly retracting back to those levels, and if the stock were to fall below the IPO price, we could see this psychological level accelerate the downside.
Risks to my bearish thesis include the continued gamification of stock trading and strong consumer demand. If Robinhood users continue to utilize the platform even after stimulus benefits fully come to an end, this could cause upside to my revenue estimates. Also, if investors continue to be willing to place premium forward revenue multiples on software companies, the stock may continue to outperform.