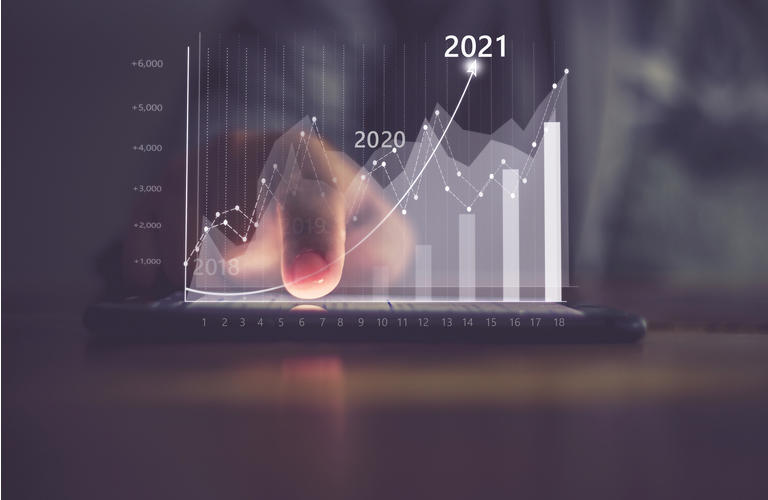 Over the past month, the market has proven abundantly clear that corrections are going to be short-lived. Sometimes sharp, but definitely short corrections are quickly followed by recovery rallies, and the market is directionless: Most Wall Street research is calling for a 5%-10% correction through the end of the year, but the market seems resilient enough. The net here is that we're probably going to be looking at sideways action for a while.
My favorite stocks during sideways markets are those that are relatively undiscovered and uncrowded trades - though companies that have the rare balance of producing strong results alongside still trading at good value. Model N (NYSE:MODN), one of the smallest market-cap companies in the enterprise software sector, is a chief example of such a stock that I consider to be in the "sweet spot."
Shares of Model N have traded sideways too this year, underperforming the S&P 500 by roughly 20 points. But supported by strong fundamentals and what I consider to be the optionality of being acquired, I think there's plenty of room for a rebound rally here: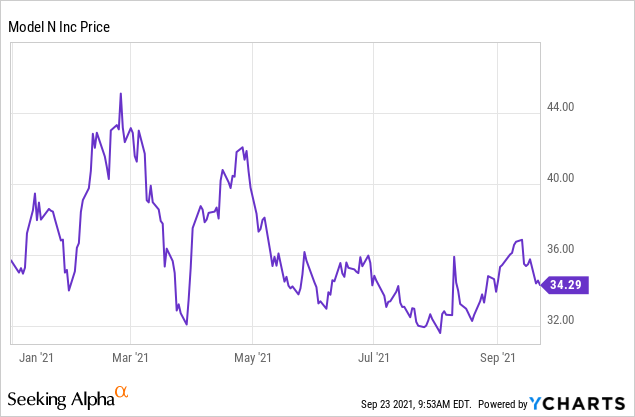 Diving into the bullish thesis for Model N
Chances are, you've never heard of this stock, and that's OK - the non-obvious plays are where investors can make the best contrarian bets. Model N is an end-to-end revenue management system for companies in two industries: Life sciences and technology, the latter specifically focused on the semiconductor sub-sector. In this way, Model N functions as both a top-end CRM system (tracking customers, pricing deals, and submitting bids), while also operating a backend ERP (compliance, recording, reporting, etc.), and its thesis is that companies in these two high-growth industries require specialized, tight solutions to aid the complex nature of their business.
You may not have heard of Model N - but you've certainly heard of a handful of its customers. As shown in the chart below, Model N's growing base of enterprise clients includes global heavyweights like Pfizer (PFE), Intel (INTC), Johnson & Johnson (JNJ), and others:
Figure 1. Model N customers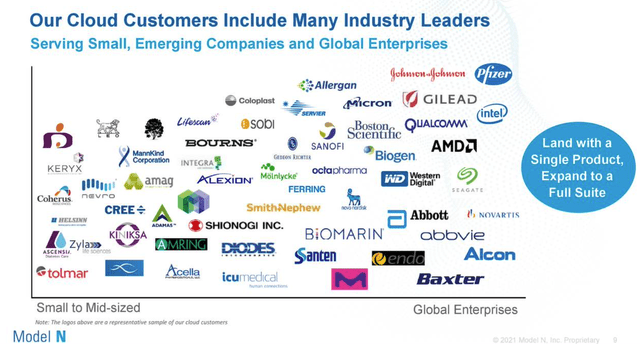 Source: Model N Q3 investor presentation
To me, here are the key drivers of the bullish thesis for Model N:
More and more software companies are adopting a vertical playbook. Large portfolio software companies (the largest two are Salesforce.com (CRM) and Oracle (ORCL)) have adopted a strategy of building or acquiring vertical-specific clouds in recent years to distinguish themselves from competitors. Companies in the life sciences and semiconductor sectors have specific requirements, and Model N's mindshare in that space gives it an edge over more generic software products.
The interest in verticalized software may lead to an M&A exit for Model N. Sitting at such a small market cap, Model N is the perfect bolt-on acquisition for a larger software company looking to gain an edge in its industries. For example, a few years back Salesforce bought a company called Steelbrick for $360 million to increase its footprint in heavy manufacturing clients. These types of acquisitions make sense for a company like Salesforce because it can lead new prospects with the vertical-specific product, and later on, cross-sell something else from its vast portfolio.
Building up a subscription base. Model N is becoming a more reliable, SaaS-driven business. In its most recent quarter, Model N achieved 26% year-over-year growth in subscription revenue.
Large-cap client focus. Despite being little known to the average person, Model N's client base includes some of the most recognizable companies in the industries it serves.
At the same time, the company still trades at a very modest valuation. At current share prices near $34, Model N has a market cap of $1.23 billion. After netting off the $153.8 million of cash and $121.7 million of debt on Model N's most recent balance sheet, the company's resulting enterprise value is $1.20 billion.
For the current fiscal year, Model N has guided to $192.5 - $193.0 million in revenue. For next year, FY22, meanwhile, Wall Street analysts are projecting 12% y/y growth to $215.7 million (considering the company's most recent quarter saw growth at 2x that pace, this estimate may prove very conservative). Taking these revenue estimates at face value, however, Model N trades at a valuation of:
6.2x EV/FY21 revenue
5.6x EV/FY22 revenue
For a low-20s / mid-teens revenue grower that already has noted a positive adjusted EBITDA margin profile, I'd say Model N is still a steal. Stay long here and take advantage of the stock's frequent dips as buying opportunities.
Q3 download
Let's now go through Model N's most recent fiscal third quarter earnings results in greater detail. The Q3 earnings summary is shown below:
Figure 2. Model N Q3 results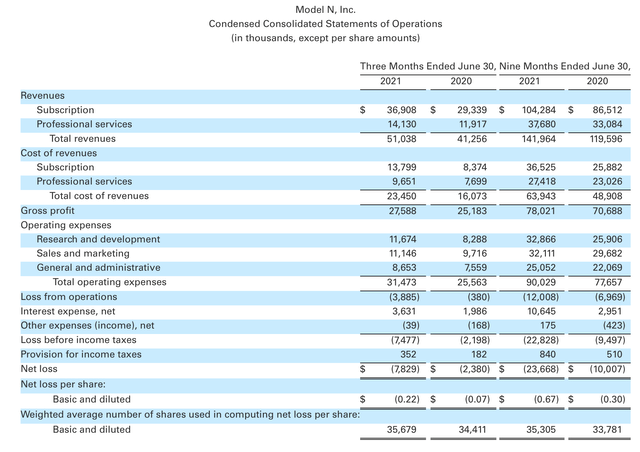 Source: Model N Q3 investor presentation
Model N achieved 24% y/y revenue growth in Q2, notching revenue of $51.0 million compared to Wall Street consensus of $48.9 million (+19% y/y) by a respectable five-point margin. And note that while part of the growth pickup is owing to a slightly easier compare vs. the immediate onset of the pandemic last year, as well as the consolidation of the Deloitte Business Services acquisition (starting in Q2), Model N's three-point acceleration in revenue growth versus 21% y/y in Q1 is still notable.
In fact, if you look at the chart below, you will see that Model N's revenue growth has picked up quite substantially over the past two years. The company went from generating low-teens/sub-10% growth (even in fiscal Q1 of last year, which was completely pandemic-free) to mid-20s now:
Figure 3. Model N revenue growth trends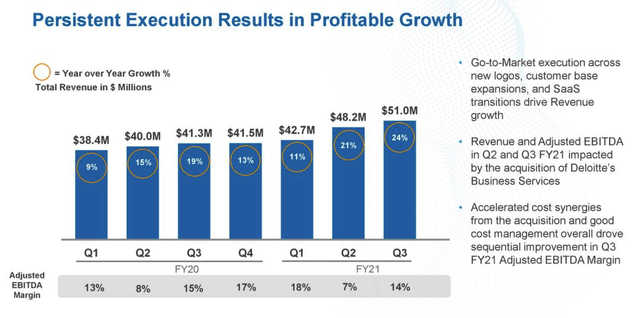 Source: Model N Q3 investor presentation
The company also has done this without sacrificing on its adjusted EBITDA margin profile which is also sitting in the mid-teens.
Here's some helpful anecdotal commentary from Model N CEO Jason Blessing's prepared remarks on the Q3 earnings call on how go-to-market performance is trending, and how customers are responding to Model N:
Turning to the business; our success this quarter was driven by a healthy contribution all of our growth levers. We signed five new logos, four SaaS transitions including one of the world's largest pharma companies, numerous customer-base expansions, and we also enjoyed strong renewals across the board. This quarter was also one of the best total deal counts for us with contributions from Life Sciences and High Tech. In recent quarters, we've talked about a strong pipeline and an increase in sales activity and it's encouraging this quarter to see that trend continue and result in a high number of closed deals.

On our last call, I shared that we were accelerating the integration of Deloitte Business Services into our sales and delivery teams so that we could capture both economies of scale and go-to-market synergies. In particular, we felt that enabling our entire sales organization to sell business services would allow us to better capitalize on the TAM expansion that this acquisition gives us. Combining teams also allows us to sell the best revenue management solution depending on a customer-specific requirements. I'm pleased to report that this approach is in fact allowing us to realize the value of this acquisition ahead of plan. We are capturing cost synergies sooner than expected, particularly on hosting costs and contractors spend, which helped to drive sequential gross margin improvement in Q3. But more importantly, this combination is proving its strategic value by helping us to secure new customer wins."
The one potential red flag in the quarter was that Model N's pro forma gross margins fell four points to 60%, down from 64% in the prior-year Q3:
Figure 4. Model N gross margin trends

Source: Model N Q3 investor presentation
But there's an explanation for this. The company had a record number of go-lives in Q3 (plus a successful quarter for new customer wins), which increased the proportion of professional services/implementation revenue vs. subscription. The near-term margin compression, in other words, is a symptom of strong customer adds. Over the near term, we should expect to see margins return to normal.
Key takeaways
Robust and consistent growth, an enviable portfolio of well-recognized life sciences and technology clients, and a mid-teens adjusted EBITDA margin profile - these are the key strengths that make Model N's ~6x revenue multiple look very modest. Stay long here.