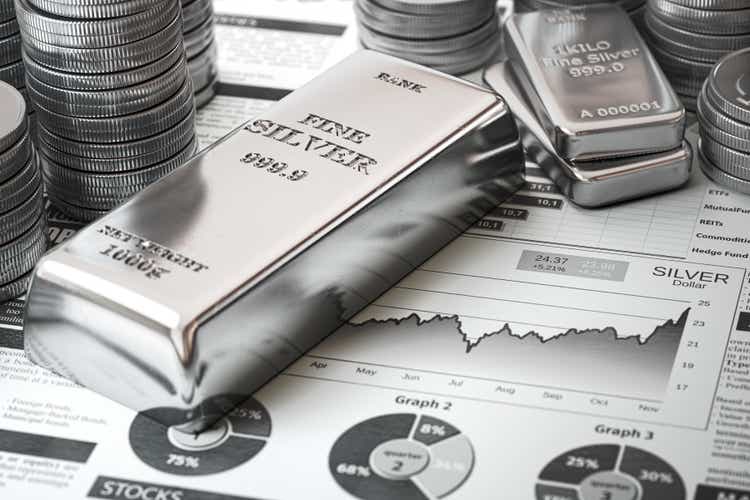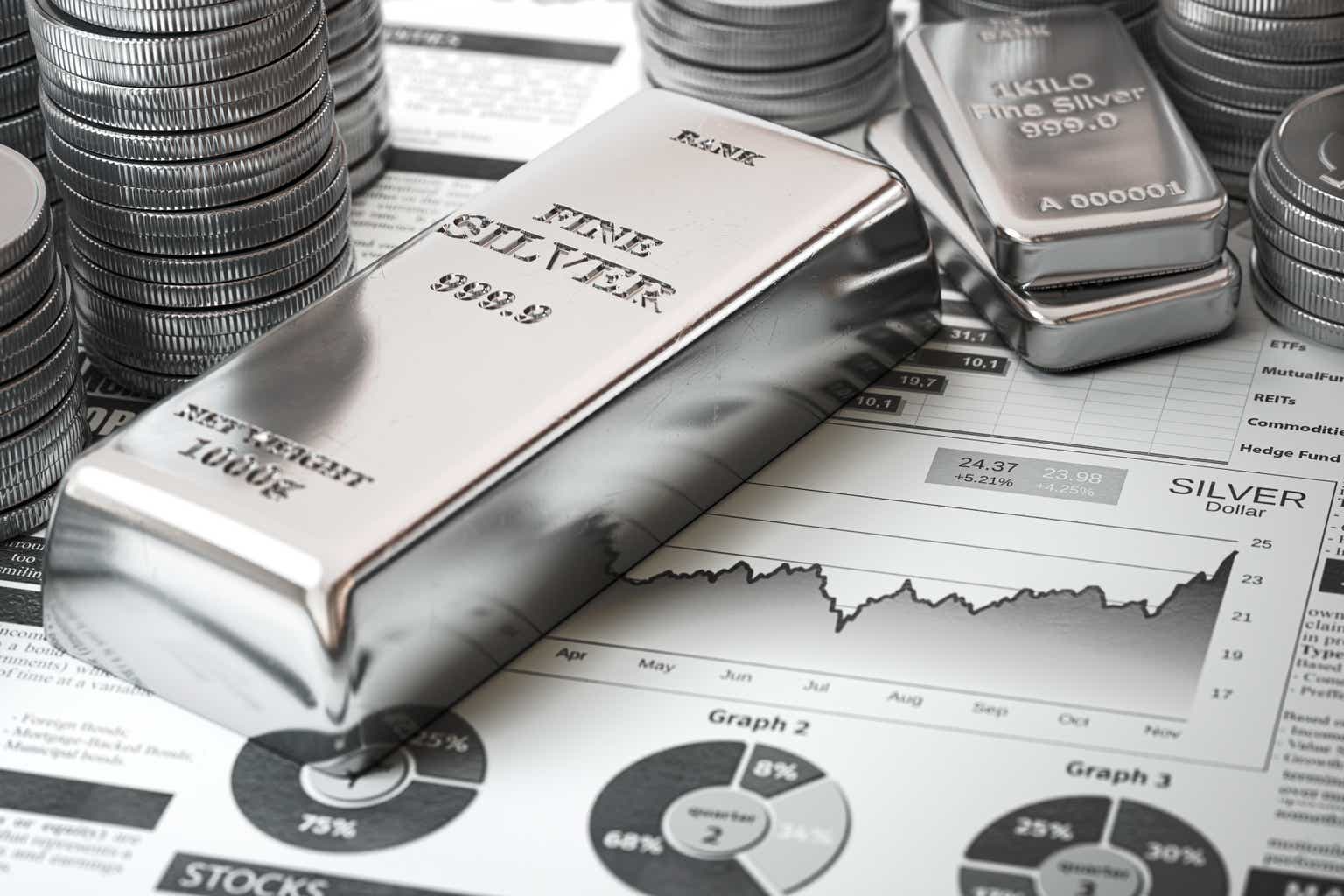 Behind every silver lining, there's a cloud. – Glenn Gould
The iShares Silver Trust ETF (NYSEARCA:SLV) invests in physical silver and offers exposure to the commodity's daily prices – at an expense ratio of 0.50%. As of September 22, 2021, the ETF held about 547 million ounces of silver in trust.
SLV has had an eventful year lately. In February 2021, Redditors ganged up to squeeze silver shorters, an event that resulted in the price of the commodity zooming to $30/oz. Well, that event has passed and we are back to normal times. Aside from this spike, which largely helped traders and some investors rake in the cash, SLV has had an uneventful year. In the last 12 months, the ETF has depreciated by 9.5%, which is bad news for its loyal investors.
SLV's prospects depend on how the demand and supply for the commodity will pan out going forward. Let us check if the ETF is investable.
Silver Demand and Supply Scenario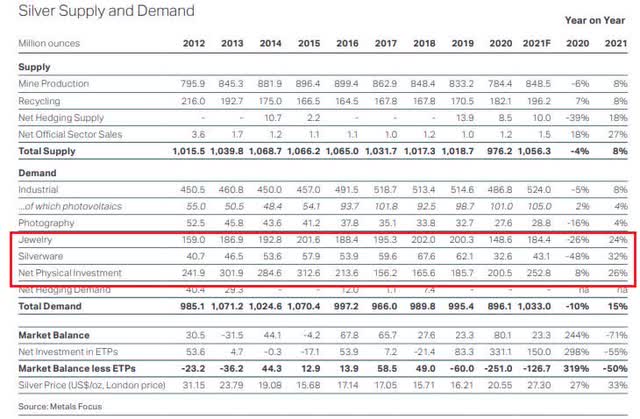 Image Source: Silver Institute
As per the Silver Institute, silver's demand fell by 10% and its supply too fell by 4% in 2020.
In 2021, the Institute estimates that the commodity's demand will rise by 15% and supply too will rise by 4%. The demand is likely to be driven by jewelry, silverware, and physical investment. Plus, the use of silver in solar power and EVs too will help increase the demand.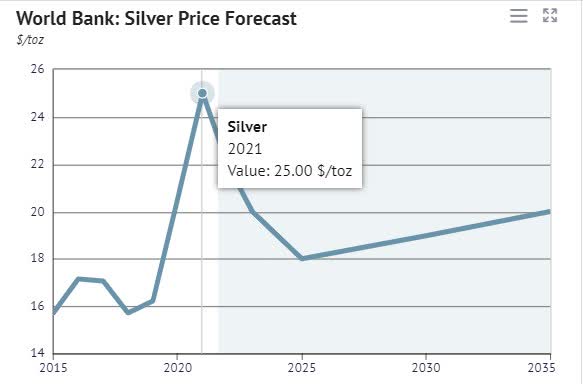 Image Source: Knoema.com
The World Bank estimates that after spiking in 2021, silver's price will stabilize and remain restricted in a narrow band during the period 2022–2035.
The Silver Institute estimates that silver production from mining will remain strong in the long term. It expects that Pan American Silver's Escobal mine will restart production, an event that will dramatically increase the global output.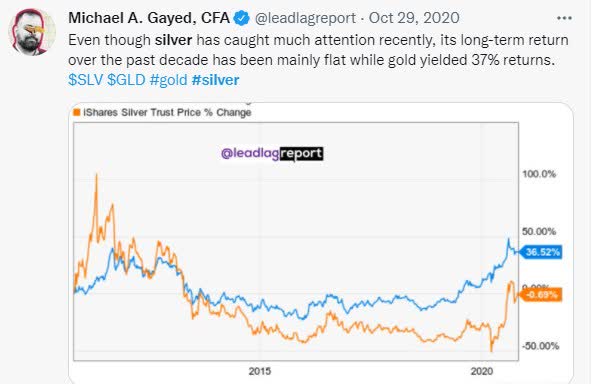 Image Source: My Tweet/The Lead-Lag Report
In the last decade in the pre-COVID-19 era, SLV remained in flat territory and ended up disappointing its loyal investors. The action in precious metals picked up after COVID-19 smashed into the economy. However, current economic developments, especially in the developed economies, suggest that global economies are crawling back to normal times.
Therefore, I estimate that SLV's long-term price momentum is likely to remain flat going forward unless a black swan lands up.
Government Debt & Redditors: The Jokers in the Pack

Image Source: IMF
As per the IMF, the gross government debt of advanced economies will rise until the end of 2021, and then remain static until 2026. If the economic recovery does not keep pace with the ballooned debt, investors may start hoarding gold and silver.
Also, Redditors can gang up when short positions develop in the commodity and squeeze the shorters.
These two events can be wildcards in an otherwise predictable price momentum of silver.
Summing Up
Based on SLV's price momentum in the pre-COVID-19 era, the Silver Institute's demand and supply forecast, and the World Bank's price forecast, I am not bullish on SLV as a medium- to long-term investment.
However, SLV does make the cut as a trading play or a short-term investment at times when any of the following events occur:
Redditors start chatting about trapping silver shorters.
Geopolitical tensions rise.
Fiscal deficits in the advanced economies keep growing.
The ETF's monthly RSI crosses above 60 (currently at about 52). For those who are new to charts, check how the ETF has performed when its monthly RSI has crossed 60 in the past: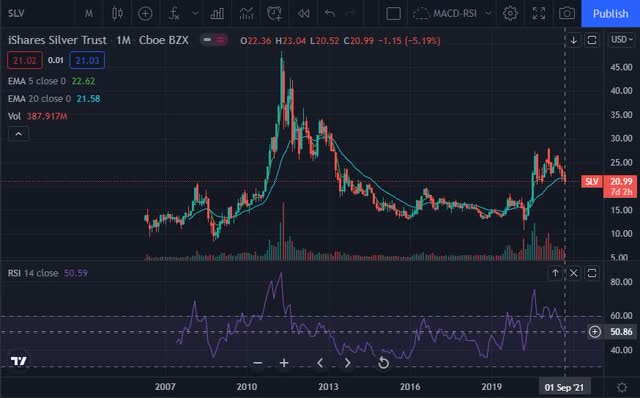 Image Source: TradingView
To conclude: If you are a long-term investor, stay away from SLV. But if you are a short-term investor or trader, watch out for the signs above and trade the hell out of it.

Anticipate Crashes, Corrections, and Bear Markets
Sometimes, you might not realize your biggest portfolio risks until it's too late.
That's why it's important to pay attention to the right market data, analysis, and insights on a daily basis. Being a passive investor puts you at unnecessary risk. When you stay informed on key signals and indicators, you'll take control of your financial future.
My award-winning market research gives you everything you need to know each day, so you can be ready to act when it matters most.
Click here to gain access and try the Lead-Lag Report FREE for 14 days.