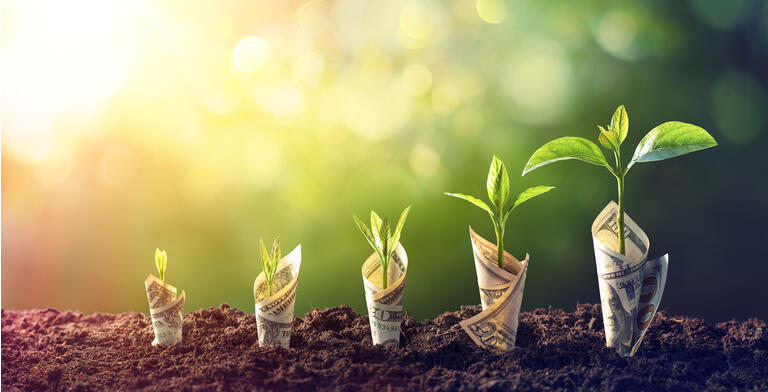 Written by Nick Ackerman, co-produced by Stanford Chemist
BlackRock Health Sciences (NYSE:BME) is a fund that I consider a "core" type holding. One position that I don't plan on selling unless something drastically changes. Of course, they could do a rights offering that their sister fund executed earlier this year, BlackRock Science & Technology Trust (BST). That required some maneuvering to take advantage of the situation.
However, for the most part, I view it as a buy-and-hold position that can fit in almost any investor's portfolio. However, a primary risk is that it's a sector-focused fund in the healthcare field, so some added risks are there. Oftentimes the healthcare industry can come under siege from political rhetoric during campaign speeches. With 2022 being a midterm election year, we could see this crop up. Despite these frequent threats to the healthcare status quo, nothing meaningful has really slowed down their earnings power.
Otherwise, under the current valuation, BME is looking relatively attractive. Not a lot of closed-end funds at the moment have negative z-scores, but BME does. That's even while the fund is trading at a slight premium at the moment. The reason for this is because BME typically trades at an even higher premium regularly. At least, a regular premium going back to around 2010.
BME's investment objective is "total return through a combination of income, current gains and long-term capital appreciation." They will attempt to achieve this by a pretty simple investment policy - "under normal market conditions, at least 80% of its assets in equity securities of companies engaged in the health sciences and related industries and equity derivatives with exposure to the health sciences industry." They will then implement a covered call writing strategy against positions in their portfolio.
Currently, they reported that the portfolio was overwritten by 32.71% with their covered call strategy. That's on the lower end of their 30% to 40% range that they target. With a lower portion of their portfolio overwritten, that could indicate a more bullish stance. The reason being is that having a smaller portion of their portfolio overwritten would mean less of their portfolio potentially being called away.
The fund is fairly large, with more than $625 million in total managed assets. This would typically provide for sufficient volume. That being said, perhaps because of its specialty in the healthcare field, or "low yield" relative to other CEFs out there, average volume can be on the lower side with an average of just 27k daily. The fund's expense ratio comes to 1.10%. This is in line with most other peer BlackRock funds but on the lower end for a CEF.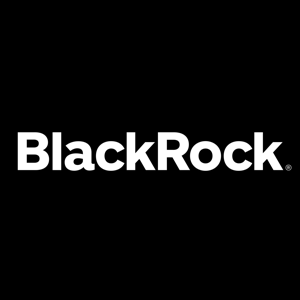 (Source)
Performance - Delivering Results
This fund has been a consistent performer. Since 2009, the fund has only recorded a total return loss in one year, that was 2016. That has significantly helped its annualized returns over the years. Going back even further, since 2006, the fund has only ever shown a loss in two years. Even including this year, we're looking at positive total returns.
The S&P 500, for context as it isn't an appropriate benchmark for BME, shows three years showing losses in that same period. Overall, we've been extremely spoiled as investors for the most part. Though the declines in 2020 and 2008 were massive, declines were quite rare.
With all this being said, as of the end of July 31, 2021, BME's annualized returns have been quite impressive.

(Source - Fund Website)
The fund currently is trading at a slight premium of 1.30%. This is on the lower end of its average. Highlighted by the one-year average z-score coming in at -0.73. Additionally, the three- and five-year average premiums come to 2.60% and 2.39%, respectively.
The fund has enjoyed over a decade now with trading at pretty much constant premiums. However, there are some sporadic periods of shallow discounts that have emerged but quickly reversed. Previous to 2010, the fund had traded at some large discounts. I believe this is primarily due to the fund launching in 2005, then shortly after dealing with 2008's financial crisis.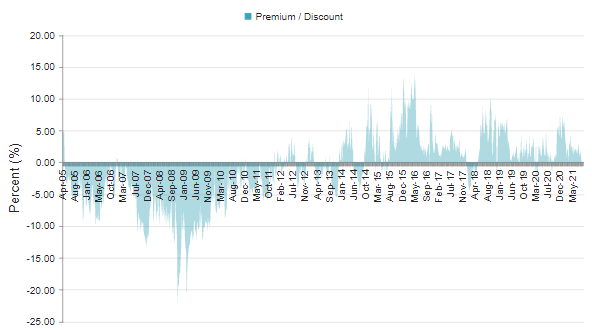 (Source - CEFConnect)
Distribution - Consistent And Attractive
The fund currently pays a monthly $0.20 distribution that works out to a 4.97% distribution yield. On a NAV basis, that works out to 5.04%. Slightly higher due to the fact the fund is trading at a premium. This same distribution goes back to 2015. Previous to that was a monthly $0.1650 distribution. That came about as the fund switched from a quarterly distribution to a more appealing monthly frequency.
This is one of the few funds that has only increased its distribution since its inception, which also was launched pre-2008. Post-2008, many funds launched and have maintained their distributions, so that isn't as impressive.
Though the 2020 pandemic was another challenging time for these funds to navigate, the big difference is the swift rebound and unprecedented support by both the Fed and Congress. In 2008, the market downturn was deeper and longer.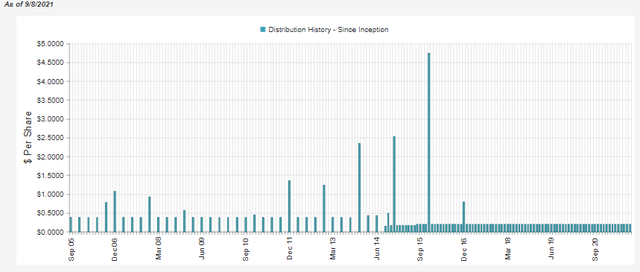 (Source - CEFConnect)
Despite the stable nature of the underlying holdings, the fund doesn't collect that much in dividends. Not nearly enough to support the fund, not even close. Thus, this fund will rely significantly on the capital gains of its portfolio to fund its distribution. It has easily been able to do this, as evidenced by its strong historical performance. However, that might be why they are more reluctant to increase their distribution at this time.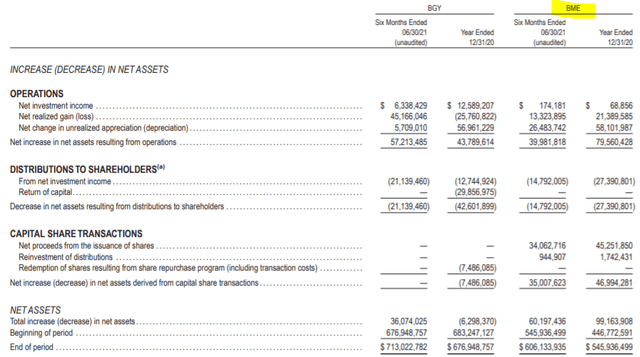 (Source - Semi-Annual Report)
We can see above that net investment income [NII] would only cover about 1.17% of the distribution. This is incredibly low, even for an equity fund.
This fund also has another way that it has been growing considerably. Since the fund trades at a regular premium, it can issue shares through an at-the-market offering. These are sold throughout the trading day and no one knows exactly when the shares are sold. The only stipulation is it must be done so when they believe the fund is trading at a premium. That isn't usually a problem until periods like now, where the premium might be quite shallow.
With that, the fund for the first 6-months raised over $34 million through their ATM and another almost $950k through dividend reinvestments. Interestingly, that was more than enough to "cover" the distributions paid out. Of course, it also means more distributions going out in the future too.
Combining the ATM, DRIP, and the fact that the fund has been performing, we can see that in 2016 the fund had $270 million in net assets to manage. Today that comes to the $625 million mentioned above. A full 131% larger now than it was just five years ago.
For the official tax breakdown, we see what we would suspect. Long-term capital gains will be the bulk of the characterization. This can benefit a taxable account as capital gains are currently taxed at a cheaper rate than ordinary income.

(Source - Annual Report)
This is important to watch because while this fund is what we expect, some funds don't classify distributions even remotely close to the "earnings" composition of the fund.
Holdings - Large-Cap Healthcare
The portfolio of BME can be considered quite boring. It's dominated by large-cap healthcare names that are financially stable. They continue to operate no matter the economic situation. More interesting about BME's portfolio is that they report a fairly active turnover rate of 15% for the last six months. Though it had been as high as 59% in 2016. 2020 showed the lowest turnover at 28%.
Despite that turnover, the largest positions frequently stay the same. This is a bit to be expected because there are only so many large-cap healthcare names globally. Nearly 90% of BME's portfolio is constructed with large-cap names, and more than 90% of their portfolio is in U.S. companies. Mid and small-cap make up 6.56% and 4.23% of the fund's allocations, respectively.
Most of these top names will be known by most investors. At least you will have heard of them before. Dividend growth investors will know several of these names too.

(Source - Fund Website)
For example, Abbott Laboratories (ABT) will before too long become a "dividend king." That's a stock that has increased its dividend for 50-plus years. They just passed over the 49th consecutive annual increase with June's dividend increase announcement. Plus, they also boast that they've been paying a dividend going back to 1924.
This marks the 390th consecutive quarterly dividend to be paid by Abbott since 1924. The cash dividend is payable Aug. 16, 2021, to shareholders of record at the close of business on July 15, 2021.

Abbott has increased its dividend payout for 49 consecutive years and is a member of the S&P 500 Dividend Aristocrats Index, which tracks companies that have increased dividends annually for at least 25 consecutive years.
That wasn't just a small increase. It was a 25% jump in the quarterly dividend. This is a track record that they are proud of. I suspect they will have no problem increasing their dividend again next year to be put on that coveted list. Plus, they have more than enough room to increase as well. The payout ratio comes to 40.60%, despite that 25% boost. Over the last five years, annualized dividend growth was 10.89%.
ABT is just one of their long-term dividend growth positions, though. We also have Johnson & Johnson (JNJ). They're a dividend king after increasing their dividend for 59 years. They come to a dividend payout ratio of 43.84%, so quite similar to ABT. This means they have plenty of room left to continue to grow even if earnings slip up for a year or two.
On the other hand, JNJ hasn't been increasing the dividend as aggressively. In the last five years, they have been showing a growth rate of 5.96%. The last increase was a 5% increase in April this year. Still, that is quite respectable.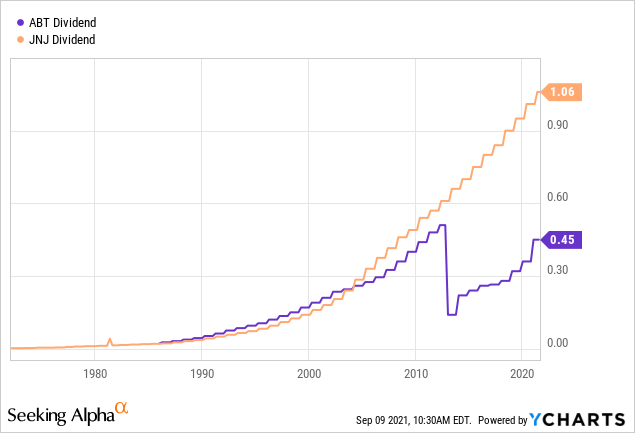 ABT spun off AbbVie (ABBV) in 2013. That's what the chart above reflects as it was adjusted. ABBV has been a dividend grower itself, maintaining the dividend aristocrat status that some would still apply to it.

(Source - Seeking Alpha)
Conclusion
BME is a strong fund that operates its portfolio in the healthcare space. I believe it's a buy-and-hold type investment. For some investors, participating in the DRIP could be beneficial as well. They offer reinvestment at NAV or up to a 5% discount when participating. As the fund typically trades at a premium, this has helped the fund raise assets. This can be beneficial to shareholders in an accretive manner if done so above NAV. With an ATM, it can only be done above NAV.