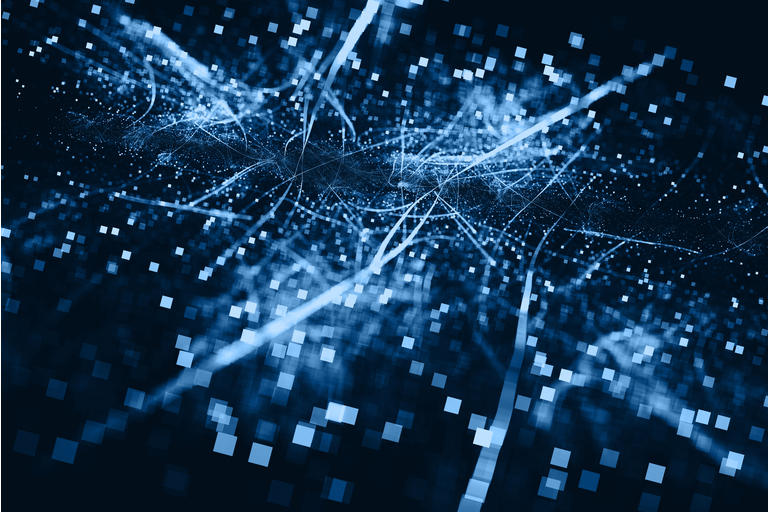 Written by Nick Ackerman, co-produced by Stanford Chemist
Technology evolves, and BlackRock Science and Technology Trust (NYSE:BST) benefits from an actively managed portfolio. This is a fund that is continuing to remain discounted off the back of its rights offering earlier. This is one of the rare values in the closed-end fund space at this time. BST can deliver both an attractive distribution and growth potential over time. A long-term investor can benefit from both of these characteristics.
BST is mostly focused on large-cap and mega-cap tech companies. They own the likes of Microsoft (MSFT), Apple (AAPL) and Alphabet (GOOG), to name a few of their largest holdings. At the same time, as an actively managed portfolio, they aren't restricted to investing only in these dominant tech names. In fact, they've been including some of the mid and small-cap names that we typically see in BlackRock Science and Technology Trust II (BSTZ).
At the same time, I believe there is enough difference between the two that it is worth owning both at the same time. Actually, if you wanted a slimmed-down portfolio, I believe that both of these names alone could cover your tech exposure.
This is how BST invests:
Under normal market conditions, the Trust will invest at least 80% of its total assets in equity securities issued by U.S. and non-U.S. science and technology companies in any market capitalization range, selected for their rapid and sustainable growth potential from the development, advancement and use of science and/or technology (high growth science and technology stocks), and/or potential to generate current income from advantageous dividend yields (cyclical science and technology stocks).

(Source)
The fund has grown quite a bit larger after raising capital from its rights offering; total managed assets come to around $1.826 billion. However, it was already a fairly large fund due to appreciation of the underlying portfolio. The RO saw about $359 million added. The fund's expense ratio comes to just 1.09%. This is on the low end for CEFs.
Performance - Strong Track Record
This fund launched in 2014 and hasn't seen a down year in terms of total return. That is on a share or NAV basis; 2018 came with a slim 0.23% total NAV return gain. Otherwise, it has all been up - up quite a healthy amount as well. This has resulted in annualized returns being amongst the best in the CEF space.

(Source - Fund Website)
In fact, the fund ranks number 1 on a total NAV return basis over the last 3 and 5 years. Over the last year, it has ranked 3rd among its "peers."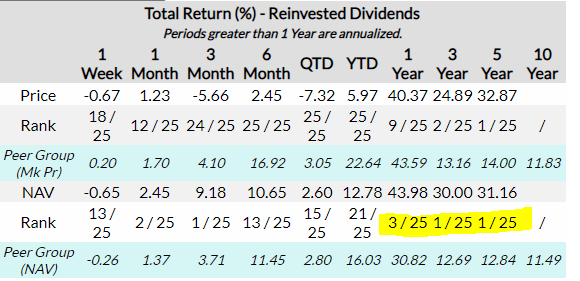 (Source - CEFData)
I hesitate to call them peers because, with CEFs, you can get such a niche that the term peers get a bit stretched. For example, some of the peers include funds such as; Eaton Vance Tax-Managed Global Diversified Equity Income Fund (EXG) and BlackRock Enhanced Equity Dividend Trust (BDJ). Both EXG and BDJ are diversified funds as opposed to BST's nearly 100% tech exposure. BDJ actually has its largest exposure to financials.
Tech is exactly what has helped BST deliver such results above too. Tech has been the top-performing sector over the last 3 of the last 4 years.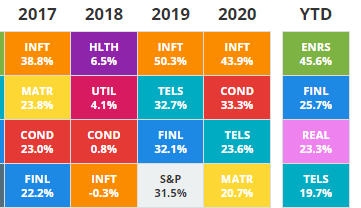 (Source - NovelInvestor)
One of the headwinds for tech is increased interest rates. Higher interest rates could be coming in the next couple of years. If inflation continues to be stickier than the Fed originally had thought, it could mean higher rates even sooner.
One of the biggest reasons for the weakness is quite simple; it is the fact that basically, all investments compete against each other. If rates rise, the lower risk investments options available such as bonds, become more attractive. This is because they don't have the same volatility that equity investments will. At the same time, if rates are rising, bond yields will rise as well. Tech stocks tend to be even more volatile and often riskier too. So it is one of the first areas that investors would sell off to invest elsewhere.
While this is a headwind, I don't think rates will rise out of control. I also don't believe that means no returns for tech stocks at all. They will still have earnings growth that should be relatively strong compared to other sectors. It once again becomes a strength that BST is actively managed as managers can invest where they see the best potential in the space. They aren't stuck in a passive index. Additionally, BST has the covered call writing strategy as well. A sideways market can still see BST delivering results.
The fund is currently trading at a discount of 5.01%. This might look slim relative to some other names out there, but for BST, it is a bit rarer going back to 2018. Over the last 3 years, the fund has averaged a premium of 2.46%. Over the last 5 years, the average premium came about flat at 0.20%.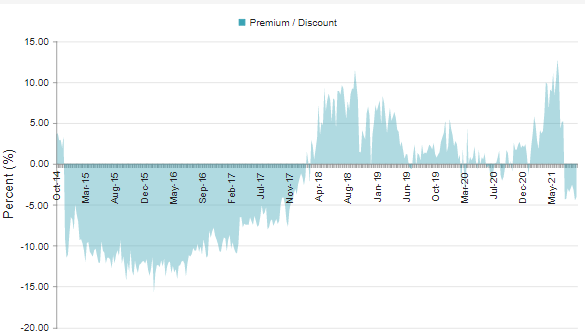 (Source - CEFConnect)
The fund was discounted previous to this period, but that can tend to happen with new CEFs anyway. I personally believe this fund deserves to trade at least at NAV. Though I believe even at a small premium could be worth buying.
Distribution - 5.02% Distribution Yield From Tech
The fund's distribution yield comes to 5.02% currently, with a 4.76% NAV yield. This was raised earlier this year when the fund increased the monthly payout to $0.226 from $0.187. This was also on the back of an increase later last year as well.
In fact, this fund has raised its distribution 7 times.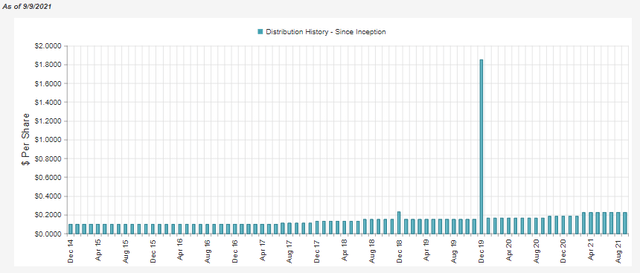 (Source - CEFConnect)
Just as I thought in my previous BSTZ article, at this time, BST might have more to deliver as well. Whether this might be in the form of a special or another increase isn't clear.
It is important to understand BST produces no net investment income [NII]. That figure comes to a negative or a loss. This happens because NII is calculated as the dividends and interest minus the expenses. In this case, BST's expenses are higher than the dividends the portfolio collects. For a tech-heavy portfolio, this isn't unusual either. So, the distribution will be funded entirely from appreciation if the portfolio can provide it. Historically, that hasn't even been close to a problem for BST.
Additionally, it isn't guaranteed to see an increase either. This is just based on the current earnings for the fund that they reported in their Semi-Annual Report.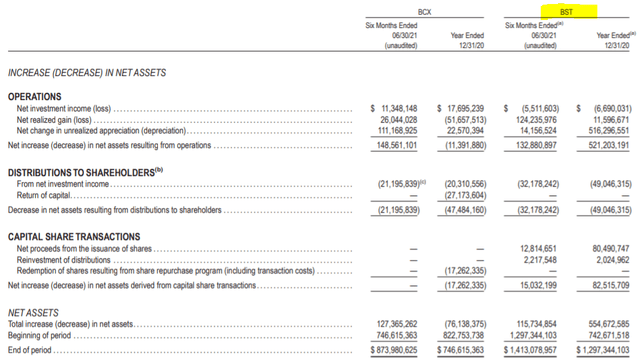 (Source - Semi-Annual Report)
What we see here is the NII loss that we discussed above. However, we also see that the fund has realized over $124 million in realized gains. At the same time, they've paid out around $32.178 million so far this year.
This isn't a perfect calculation, but they should pay approximately $87 million annually based on the new increased distribution and the total number of shares outstanding after the rights offering. Of course, this year will be less due to only being increased mid-year, and they had fewer shares outstanding.
What could increase this is if the fund goes back to a premium. They could turn their at-the-market offering back on. As we can see, that accounted for $12.8 million+ earlier this year. That is also in addition to the fund's reinvestment plan that shareholders are offered. That can also increase the number of outstanding shares.
Registered investment companies are required to pay out almost all of their realized gains and income annually. That is why BST could be on the hook for a special or another boost, at least based on these figures. The first half of the year saw just $32.178 million paid out. The second half could see around $43.5 million paid out. The end result should be approximately $75.7 million. That is well shy of the amount realized by the fund.
Of course, the fund could also realize losses throughout the second half of the year. That would offset those gains in the first half. Thus, they would be free from any obligation of paying out anything further.
For tax purposes, BST classified all distributions in 2020 and 2019 as long-term capital gains. This can be beneficial for taxable accounts due to the current tax code allowing for a reduced rate relative to ordinary income.

(Source - Annual Report)
Holdings - Some Shifting To Cash
As we touched on previously, the fund has been shifting a bit more into some smaller-cap names. It has only been a couple of months since we looked at the top holdings previously, but there was already some more shifting in the portfolio. Previously, we were looking at holdings for the end of June; now, we are looking at holdings for the end of August. While they have increased their portfolio exposure to smaller and private investments, they've also had an interesting increase in their cash allocation.
For one, U.S. exposure in the portfolio has declined a few percentage points. Additionally, China's position relative to its allocation previously was utterly slashed. At 1.66% currently, we last saw this at 4.75%. This is likely on the back of a challenging environment with new government crackdowns from the Chinese.
So both U.S. and China exposure has been cut. Where those allocations have gone doesn't seem to be any place in particular. There were only small changes in the other allocations and nothing that really jumped out on this shortlist.
However, if you expand this, you can see that cash is currently over 9%. That is quite high for a CEF as they are traditionally invested at most points. It would seem that they have taken down the exposure, and at least with that latest reporting period, haven't really put it to work yet.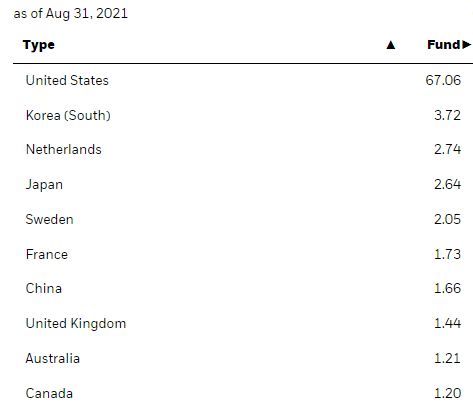 (Source - Fund Website)
Previously, cash was a -1.57% allocation. How they get a negative without being a leveraged fund is through derivatives.

(Source - Fund Website)
Large-cap exposure had declined materially from nearly 80% to the ~70% listed above. Mid-cap exposure had a small uptick, but small-cap was also reduced. Again, these allocations have just shifted to the cash exposure of the fund.
The names in the top holdings themselves haven't changed all that much over the last 2 months. Mostly this was just changes in allocations based on typical price changes.

(Source - Fund Website)
Conclusion
BST still seems to be punished for the rights offering they conducted earlier this year. That is a bit of what I was worried about with the RO because they couldn't utilize their ATM offering that is accretive to NAV. That being said, I believe this fund is still a strong consideration for most investors that need tech exposure. I believe that this fund can continue to deliver appreciation and a strong distribution to investors. In fact, I believe they could increase the distribution again or require a year-end special at this time.