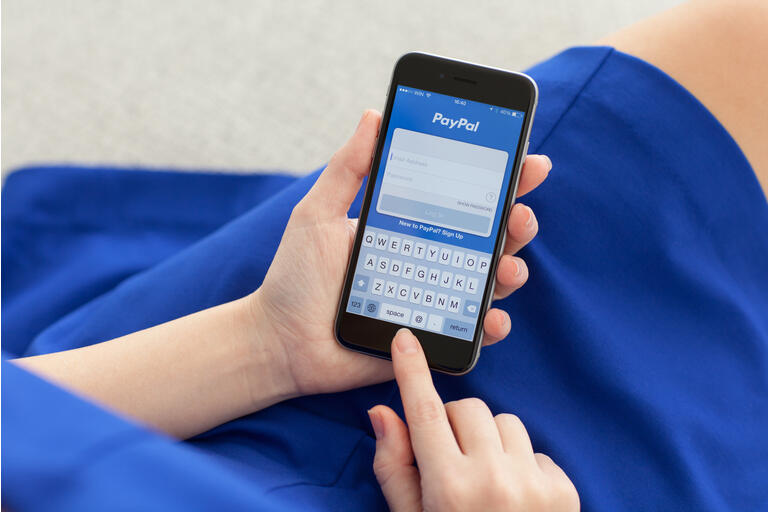 By Callum Turcan
PayPal Holdings, Inc. (NASDAQ:PYPL) is a stellar enterprise, and we view the fintech company's capital appreciation upside potential quite favorably. Shares of PYPL have been on a steady upward climb of late, and investors continue to warm up to the name.
Expansive Offerings Create Sizable Synergies
PayPal put up stellar performance during the first half of 2021. Its number of active accounts rose to 403 million at the end of June 2021 from 377 million at the end of December 2020, while its payment transactions per active account (over the past 12 months) rose to 43.5 from 40.9 during this period.
A growing active user base that is utilizing PayPal's payment solutions more frequently has enabled the company to grow its number of payment transactions over 7% from the quarter ended December 2020 to the quarter ended June 2021; its total payment volumes ('TPVs') grew by 12% during this period. PayPal has maintained its impressive growth trajectory even after putting up a banner performance in 2020, and we see ample room for the company to maintain its momentum going forward.
The installment payment space is experiencing a surge in popularity. In August 2020, PayPal announced the launch of its 'Pay in 4' installment plan in the US as part of its broader strategy to roll out installment payment services worldwide. A year later, PayPal announced in August 2021 that there would be no late fees for its installment plans globally (for new purchases starting October 1), including its Pay in 4 program in the US, 'Pay in 3' program in the UK and 'Pay in 4X' program in France (similar services PayPal offers in Germany and Australia already did not charge late fees).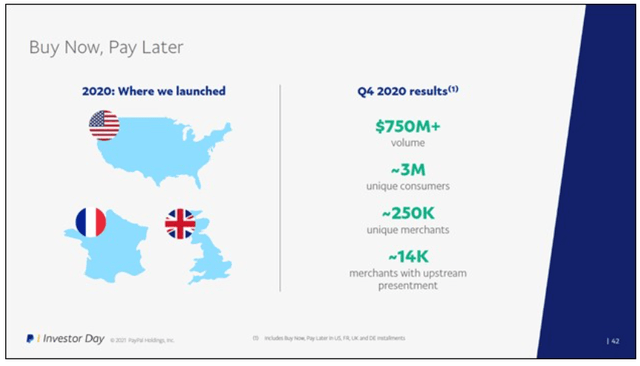 Image Shown: A look at PayPal's payment installment business as of the final quarter of 2020, a business that has expanded considerably since then. Image Source: PayPal – 2021 Investor Day Presentation
Competition in the payment installment space is heating up and PayPal wants to remain competitive. The 'buy now, pay later' ('BNPL') company Afterpay (OTCPK:AFTPY) is getting acquired by Square, Inc. (SQ) as the fintech giant seeks to push deeper into this space, with ambitious plans to link BNPL services within Square's popular Cash App. PayPal offers its BNPL services across its suite of platforms including PayPal and Venmo (its popular peer-to-peer money transfer app), and its BNPL business has been growing at a brisk pace of late. Like Square, PayPal is utilizing acquisitions to beef up its presence in the BNPL space. In September 2021, PayPal announced it was acquiring Japan's Paidy, which offers BNPL services, for ~$2.7 billion in cash.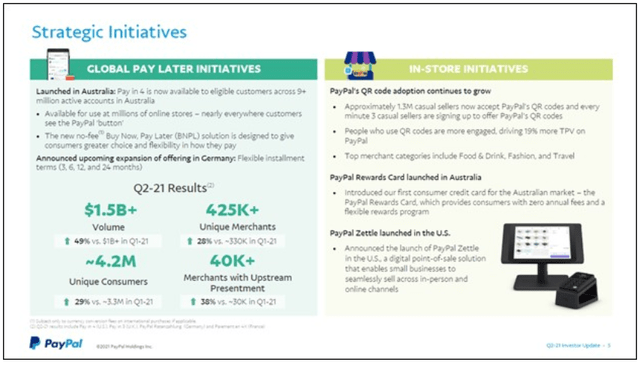 Image Shown: A look at the performance of PayPal's BNPL business during the second quarter of 2021 along with an update on some of its other initiatives. Image Source: PayPal – Second Quarter of 2021 IR Earnings Presentation
Other realms PayPal has been expanding into include cryptocurrency, specifically providing crypto wallets, and trading and transfer services. In October 2020, PayPal announced that its namesake platform would allow its customers in the US to buy, sell, and hold cryptocurrencies along with plans to make it easier for merchants to accept payments in crypto. PayPal later expanded crypto services to Venmo and in August 2021, PayPal announced that it was expanding these types of services to the UK.
While the direct revenue generated from these activities (BNPL and crypto wallet offerings) is incremental to PayPal's core payment processing and payment solutions businesses, please note that what makes these offerings important is the type of synergies they can create across the company's entire business. During PayPal's 2021 Investor Day event, the company noted that over half of its users holding cryptocurrency log into PayPal every day. Furthermore, the company experienced an increase in transactions and TPVs from users that took advantage of PayPal's BNPL offerings (generally speaking). Higher transaction volumes and TPVs, aided by strong user engagement, support the growth trajectory of PayPal's core payment processing and payment solutions businesses.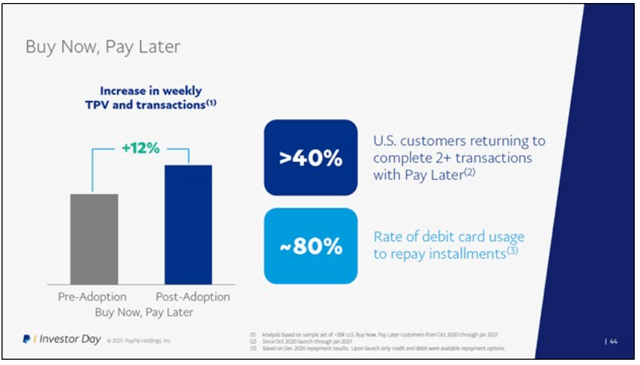 Image Shown: PayPal's BNPL option is helping drive up transaction volumes and TPVs which supports the company's growth outlook over the long haul. The synergies PayPal can generate by expanding its slate of financial and related services is impressive. Image Source: PayPal – 2021 Investor Day Presentation
By offering a comprehensive slate of services that continues to expand each year, PayPal aims to build a "Super App" or a platform that meets all the financial services needs of its user base (and then some). There is ample room for upside, as PayPal can also provide services to merchants that leverage its vast user base and the associated troves of data (when legally permissible), a process enhanced by its acquisition of Honey Science Corporation in January 2020.
Additionally, PayPal could move into the business of recommending certain products and services that its user base might like; again, a process aided by its acquisition of Honey Science. The upside is limitless, and we appreciate the expansive nature of PayPal's slate of solutions. Recently, CNBC reported that PayPal was considering launching its own online brokerage service, a realm that its peer Square has already pushed into via its Cash App. We would view the move by PayPal favorably should it decide to proceed.
PayPal is also expanding its QR code services to strengthen its in-store presence. The company noted during its second-quarter 2021 update that "approximately 1.3 million casual sellers now accept PayPal's QR code" and that users who take advantage of its QR code payment options tend to be "more engaged," though we will stress that this remains a small part of PayPal's operations.
The "Super App"
PayPal's management team is incredibly excited about the potential the company's pending Super App could generate and had this to say on the issue during the firm's second quarter 2021 earnings call (emphasis added):
I'm pleased to report that the initial version of our new consumer wallet, Super App, is code complete and we are now beginning to slowly ramp. In the next several months, we plan to be fully ramped in the U.S. with a host of products and services across payments, basic consumer financial services and commerce and shopping tools launching every quarter.

New features will include high-yield savings, early access to direct deposit funds, new and improved Bill Pay functionality, messaging capabilities outside of P2P to enable family and friend communications, as well as additional crypto capabilities and customized deals and offers. Each wallet will be unique, driven by our advanced AI and machine learning capabilities in order to enhance each customer's experiences and opportunities. - Dan Schulman, President and CEO of PayPal
We are keeping a close eye on the pending rollout of PayPal's Super App and are intrigued by its upside potential.
Financial Update
During the first half of 2021, PayPal generated $2.6 billion in free cash flow and spent $1.5 billion buying back its stock. We view PayPal's share repurchases quite favorably as shares of PYPL have been trading well below their intrinsic value for some time. Our fair value estimate for PayPal under our "base case" scenario sits at $304 per share, as you can see in the upcoming top graphic down below. However, under our "bull case" scenario, the top end of our fair value estimate range for PayPal sits at $365 per share, as one can see in the upcoming bottom graphic down below. Shares of PayPal are trading hands at ~$274 at the time of this writing.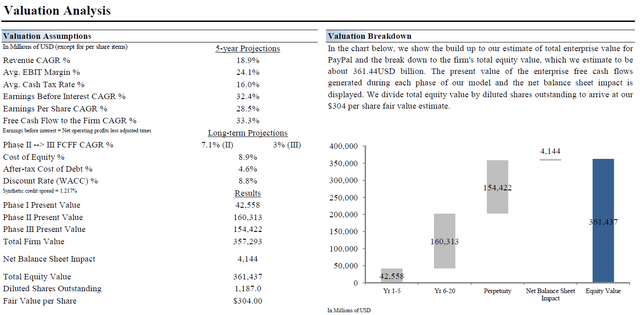 Image Shown: An overview of the key valuation assumptions used in our discounted cash flow models covering PayPal to obtain its fair value estimate under our "base case" scenario. Please note there is upside to this fair value estimate. Image Source: Valuentum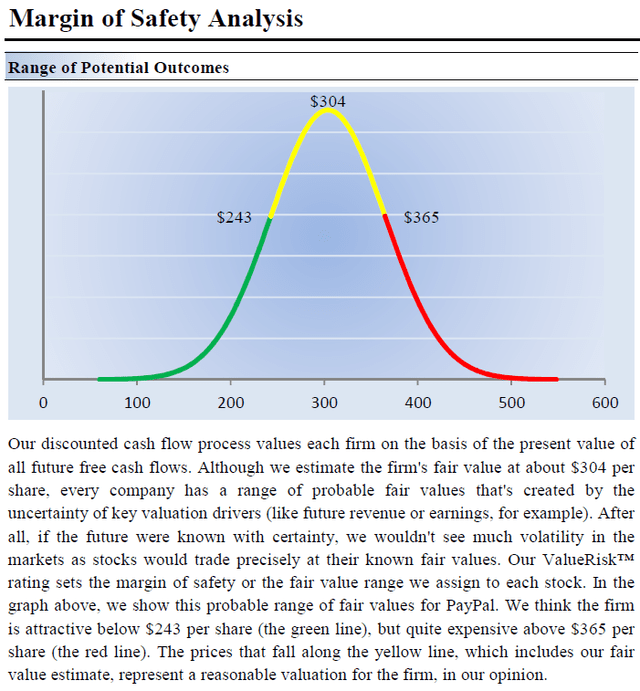 Image Shown: The top end of our fair value estimate range sits at $365 per share of PayPal. Image Source: Valuentum
PayPal's GAAP net revenues grew by 24% year over year and its GAAP operating income grew by 61% year over year during the first half of 2021, aided by the ongoing proliferation of e-commerce, its ever-expanding suite of services, and economies of scale.
The company exited June 2021 with a net cash position of $3.5 billion with no short-term debt on the books, though that figure does not include the $7.0 billion in 'long-term investments' PayPal had on hand at the end of this period. Within that long-term investments line-item, $3.8 billion is represented by time deposits and available-for-sale securities which are cash-like holdings, while the remainder is represented by strategic assets (as of the end of June 2021). Please note that PayPal's net cash position is larger than it first appears.
PayPal is a tremendous free cash flow generator with a promising growth story and a pristine balance sheet. The company has a lot going for it, as the firm aims to generate $50+ billion in annual revenue and $10+ billion in annual free cash flow by 2025 - goals laid out during its 2021 Investor Day event. A combination of forecasted active user base growth and potential operating margin expansion is expected to help PayPal achieve those goals. PayPal has also increased some of its prices of late, highlighting its pricing strength, which should enable the firm to navigate any potential inflationary headwinds going forward.
Here, we will note that PayPal's growing installment payment program business does create financial risks for the company, particularly in the event its user base cannot pay PayPal back in a timely manner. Given PayPal's immense financial strength, we view its modest exposure on this front as manageable. The company's ability to adeptly manage its credit losses during the worst of the coronavirus ('COVID-19') pandemic speaks favorably towards PayPal's ability to manage its credit exposure going forward.
During the second quarter of 2021, PayPal raised its full-year TPV guidance for 2021 on the back of its stellar performance of late. Please note that PayPal also raised its full-year guidance for this year during its first-quarter 2021 earnings update (which included an increase in its expected GAAP EPS and revenue growth versus guidance laid out during its fourth quarter of 2020 earnings update). We are big fans of companies that are consistently raising guidance, especially when that guidance is off a high base (as was the case with PayPal's various guidance boosts of late).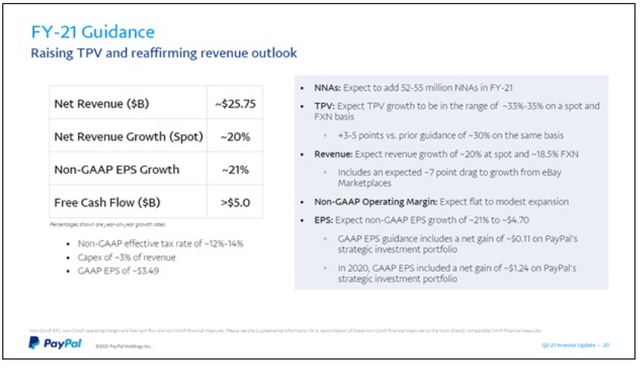 Image Shown: An overview of PayPal's promising full-year guidance for 2021 as of the second quarter of this year. Image Source: PayPal – Second Quarter of 2021 IR Earnings Presentation
Concluding Thoughts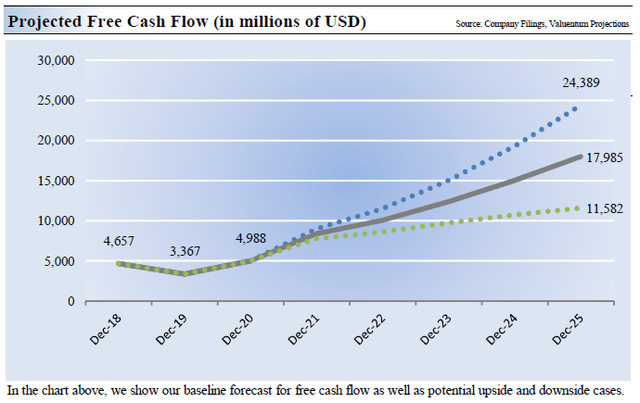 Image Shown: We forecast that PayPal's free cash flows will swell higher over the coming years. Image Source: Valuentum
PayPal is a stellar enterprise with rock-solid financials. The company is incredibly free cash flow positive and carries a pristine balance sheet while also sporting tremendous pricing power. PayPal's growth outlook is incredibly bright, and we forecast the company's free cash flows will swell higher over the years and decades to come. Management noted during the firm's 2021 Investor Day event that the goal is to allocate 30%-40% of PayPal's future free cash flows towards share repurchases over the medium term. We view PayPal's capital appreciation upside quite favorably.