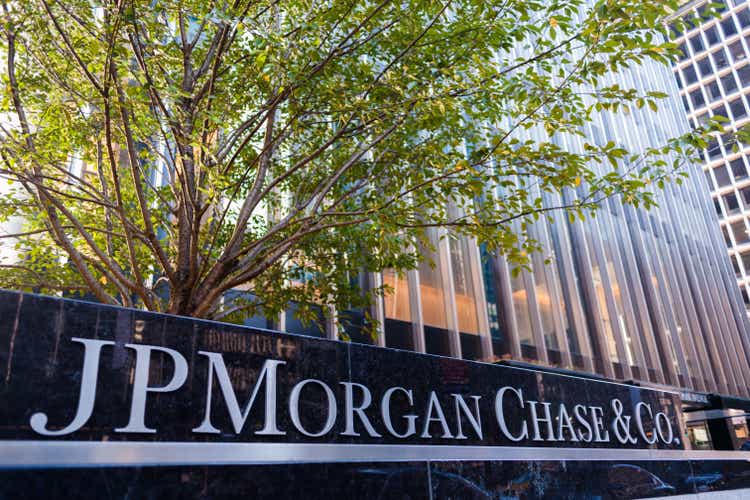 We monitor dividend announcements for stocks in Dividend Radar, a spreadsheet we update and publish for free every Friday. The spreadsheet provides key data of stocks with dividend streaks of five years or more. The Dividend Radar spreadsheet separates stocks into categories three categories: Champions (with increase streaks of 25+ years), Contenders (10-24 years), and Challengers (5-9 years).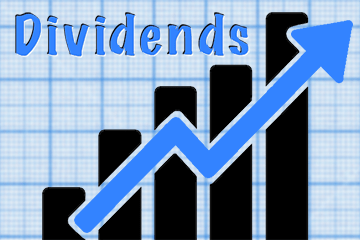 Source: Created by the author
This past week, eight companies in Dividend Radar announced dividend increases, including four of the stocks I hold in my portfolio. Note there were no dividend cuts or suspensions announced for Dividend Radar stocks during this period.
The table below presents a summary of the dividend increases. The table is sorted into sections for Champions, Contenders, and Challengers, and then by the percentage increase, (%Incr). Dividends are annualized and in US$, unless otherwise indicated. Yield is the new dividend yield for a recent price and Yrs are years of consecutive dividend increases.
Source: Created by the authors from data in Dividend Radar.
The following dividend increase data are sorted alphabetically by ticker.
Company descriptions are the author's summary of company descriptions sourced from Finviz.
Accenture plc (ACN)
Founded in 1989 and is based in Dublin, Ireland, ACN provides management and technology consulting services to clients in various industries and geographic regions, including North America, Europe, and Growth Markets. ACN's operating segments are Communications, Media & Technology; Financial Services; Health and Public Service; Products; and Resources.
Artesian Resources Corporation (ARTNA)
ARTNA provides water, wastewater, and other services on the Delmarva Peninsula. The company distributes and sells water to residential, commercial, industrial, governmental, municipal, and utility customers, as well as for public and private fire protection. It also offers wastewater services. ARTNA was founded in 1905 and is headquartered in Newark, Delaware.
The First of Long Island Corporation (FLIC)
FLIC operates as the holding company for The First National Bank of Long Island that provides financial services to small and medium-sized businesses, professionals, consumers, public bodies, and other organizations in New York. FLIC was founded in 1927 and is headquartered in Glen Head, New York.
Horizon Bancorp, Inc. (HBNC)
HBNC operates as the bank holding company for Horizon Bank that provides commercial and retail banking services in Northern and Central Indiana, as well as in Southern, Central, and the Great Lakes bay regions of Michigan. HBNC was founded in 1873 and is headquartered in Michigan City, Indiana.
Ingredion Incorporated (INGR)
INGR manufactures and sells sweeteners, starches, nutrition ingredients, and biomaterials from the wet milling and processing of corn and other starch-based materials. The company provides its products to a range of industries, both domestically and internationally. INGR was founded in 1906 and is headquartered in Westchester, Illinois.
JPMorgan Chase & Co. (JPM)
JPM is a financial holding company providing investment banking, financial services, commercial banking, financial transaction processing, and asset management. With assets of about $2.6 trillion, the company serves many prominent corporate, institutional, and government clients around the world. JPM was founded in 1799 and is headquartered in New York, New York.
Lockheed Martin Corporation (LMT)
Founded in 1909 and headquartered in Bethesda, Maryland, LMT is a global security and aerospace company engaged in the research, design, development, manufacture, integration and sustainment of advanced technology systems. LMT operates through four segments, Aeronautics, Missiles and Fire Control, Rotary and Mission Systems, and Space Systems.
McDonald's Corporation (MCD)
MCD operates and franchises restaurants that serve locally relevant menus of food and drink in more than 100 countries worldwide. The company operates primarily as a franchiser, owning the land and building for both franchised and company-operated restaurant sites. MCD was founded in 1940 and is based in Oak Brook, Illinois.
Please note that we're not recommending any of these stocks. Readers should do their own research on these companies before buying shares.
Dividend Cuts and Suspensions
Following requests from readers, we've added this section to our weekly article series. Please note that we're only covering dividend cuts and suspensions announced by companies in Dividend Radar's spreadsheet.
There were no dividend cuts or suspensions announced for stocks in Dividend Radar during this period.
An Interesting Candidate
In this section, we highlight one of the stocks that announced a dividend increase. We provide a quality assessment and present performance, earnings, and valuation charts.
Our objective is to identify high-quality dividend growth [DG] stocks trading at reasonable valuations. That's a tough task, though, as high-quality DG stocks often trade at premium valuations. If we can't find a worthy candidate, we'll suggest a stock to add to your watchlist and a suitable target price.
To start, we use DVK Quality Snapshots to do a quick quality assessment, screening our list of DG stocks based on quality scores. Below is a shortlist of stocks with quality scores in the range 19-25:

Source: Created by the authors from data in Dividend Radar
Four stocks made the shortlist this week. We've focused on ACN and LMT before, so the choice is between MCD and JPM. Given its higher yield and 5-year DGR, let's look at Dividend Contender JPMorgan Chase (JPM) this week.
JPM yields 2.40% at $166.98 per share and has an impressive 5-year DGR of 15.4%.
JPM is rated Fine (quality score: 19-22):

Over the past ten years, JPM has outperformed the SPDR S&P 500 ETF (SPY), an ETF designed to track the 500 companies in the S&P 500 index: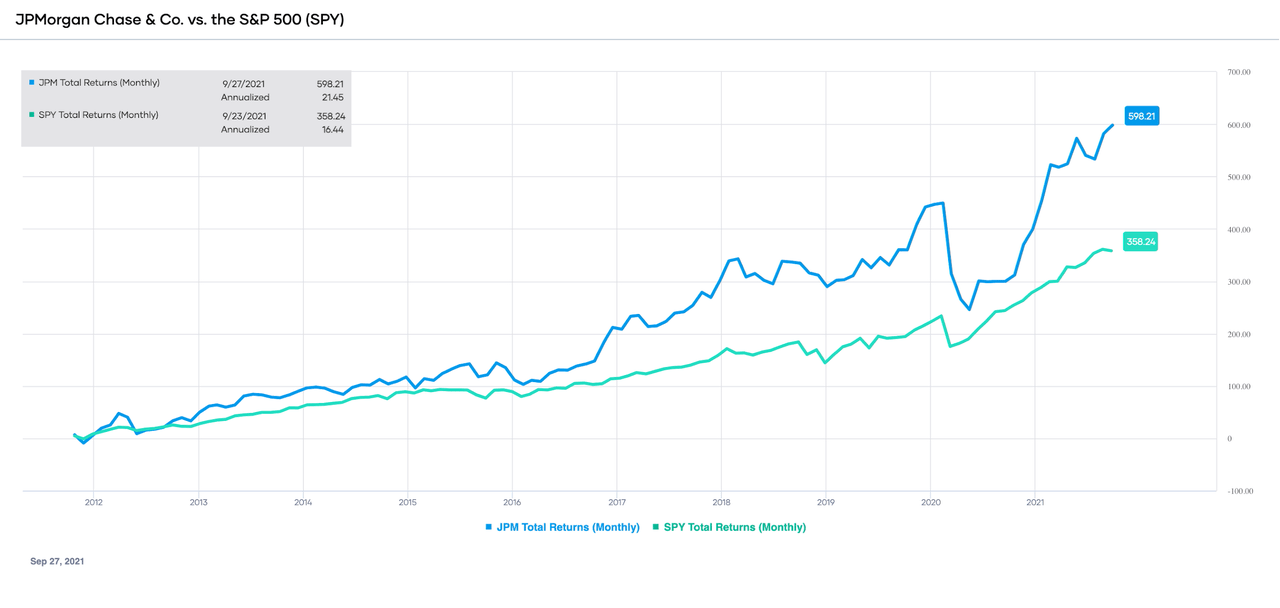 Source: Portfolio-Insight.com
Over this time frame, JPM delivered total returns of 598% versus SPY's 358%, a margin of 1.67-to-1.
If we extend the period of comparison to the past twenty years, JPM outperformed SPY by a margin of 1.50-to-1, with total returns of 806% versus SPY's 536%.
JPM's dividend growth is steady and quite impressive, with double-digit or near double-digit percentage increases over the past ten years: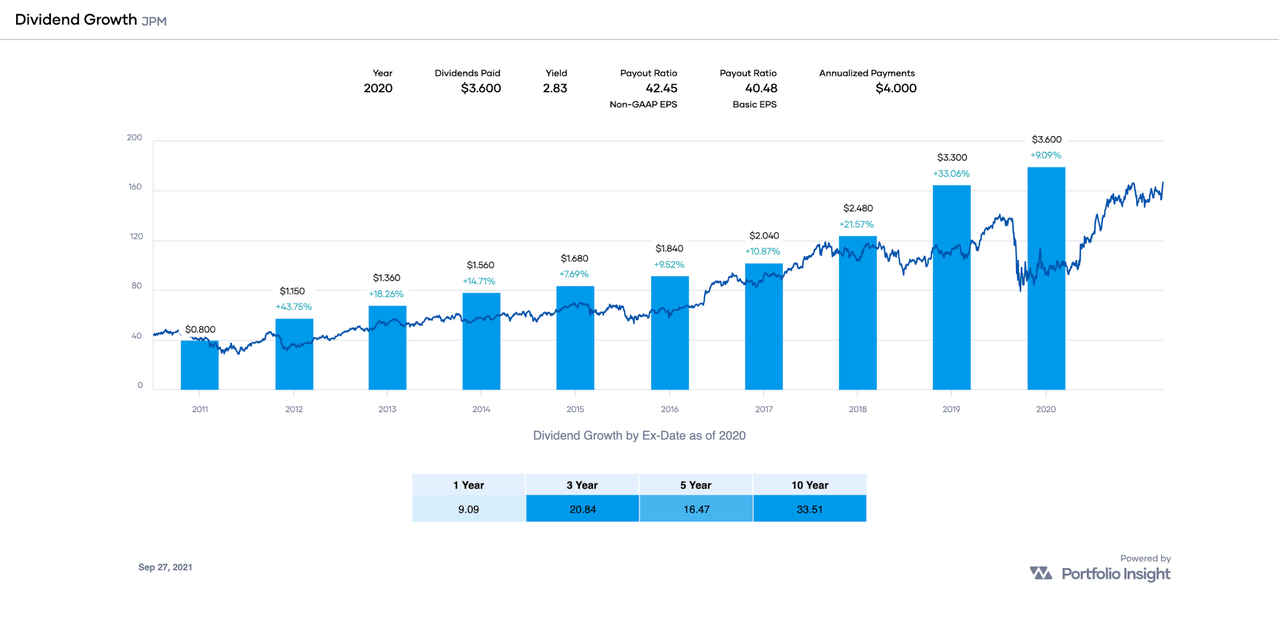 Likewise, JPM's EPS growth is steady, though the bank took a bit of a hit in FY 2020: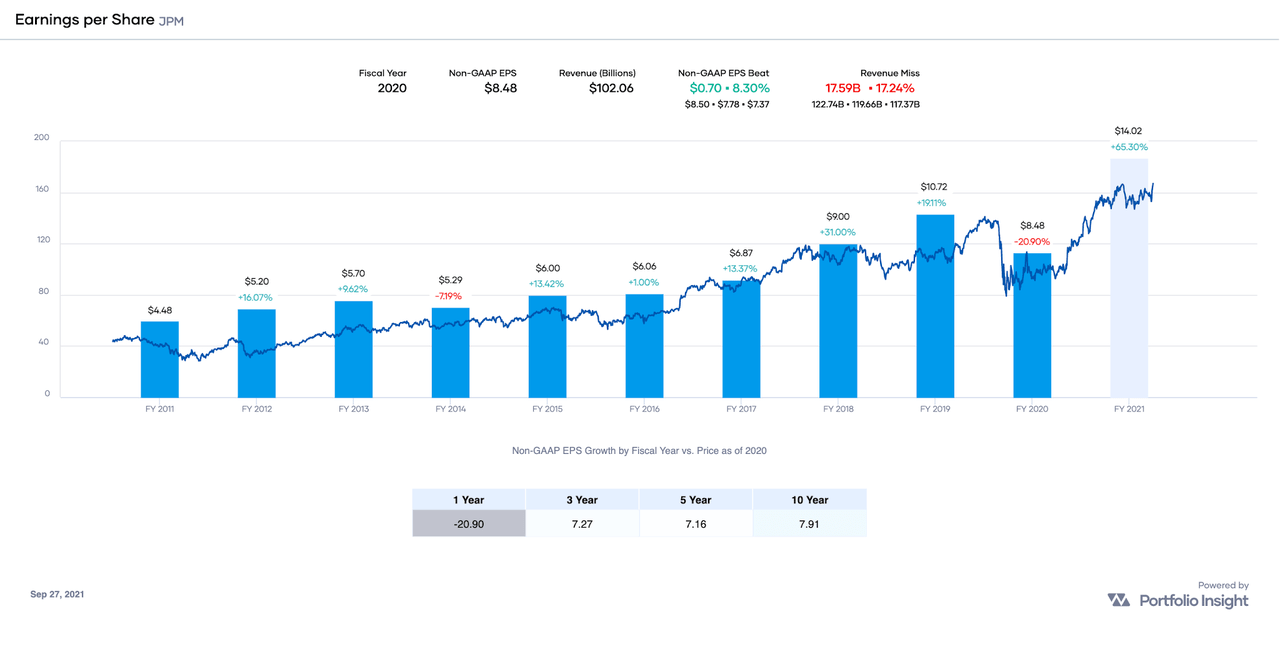 Fortunately, it looks like EPS will recover nicely in FY 2021.
At 34%, JPM's earnings payout ratio is "low for banks", according to Simply Safe Dividends: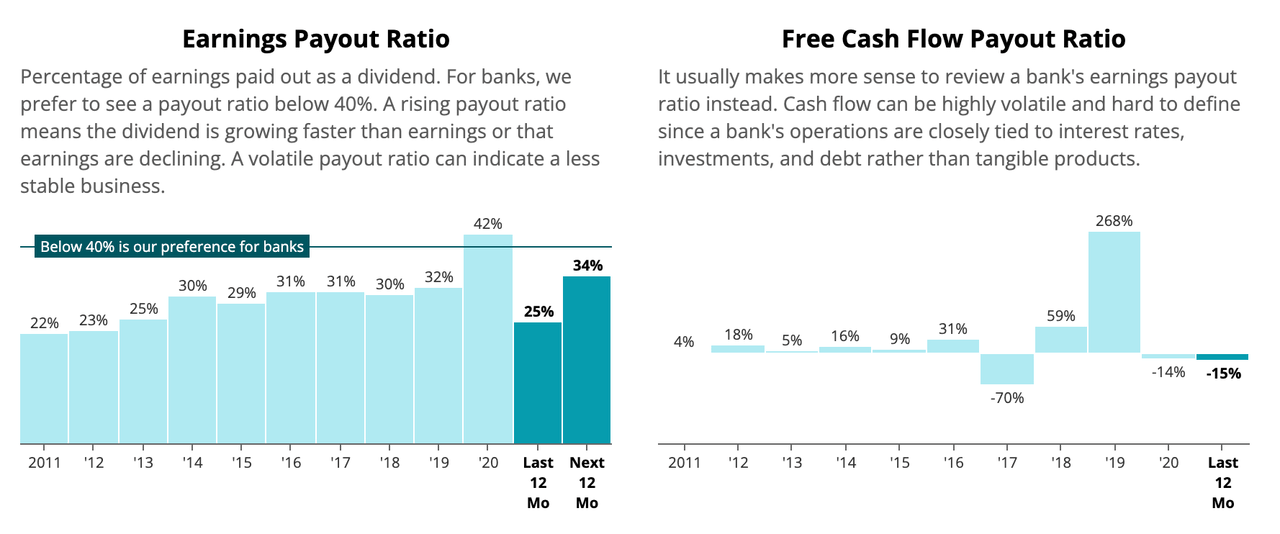 This means JPM has plenty of room to continue increasing its dividend.
Let's now consider JPM's valuation. We could estimate fair value by dividing the stock's annualized dividend ($4.00) by its 5-year average yield (2.59%). That results in a fair value [FV] estimate of $154. Given JPM's current price of $166.98, the stock is trading at a premium to its past dividend yield history.
For reference, Morningstar's FV is $143, CFRA's FV is $175, Simply Wall St's FV is $191, and Finbox.com's FV is $207. The average of these fair value estimates is $179, indicating that JPM may be discounted.
My own FV estimate of JPM is $170, so I believe the stock is trading at a discounted valuation of about 2%.
Here are the most recent Seeking Alpha articles covering JPM:
Conclusion
JPM is a high-quality DG stock trading at a discounted valuation. For stocks rated Fine, I'm willing to pay up to my FV estimate for shares. Therefore, my Buy Below price for JPM is $170. For conservative investors, a price below $153 is more appropriate.
Please note that we're not recommending JPM or any of the stocks listed in this article. Readers should do their own research on these companies before buying shares.
Thanks for reading and happy investing!