Launching Timely Trader: Building Your Wealth Through Discipline
Summary
Timely Trader offers buy and sell alerts on various securities to help you build your wealth by being in the right place at the right time.
Members get access to my best ideas, which are the culmination of my personal research.
Specific buy and sell criteria help keep you in winners, while avoiding losers.
I built the service to include a collegial community of like-minded investors who help provide and vet ideas.
The first 25 annual subscribers get a lifetime discount, so act quickly!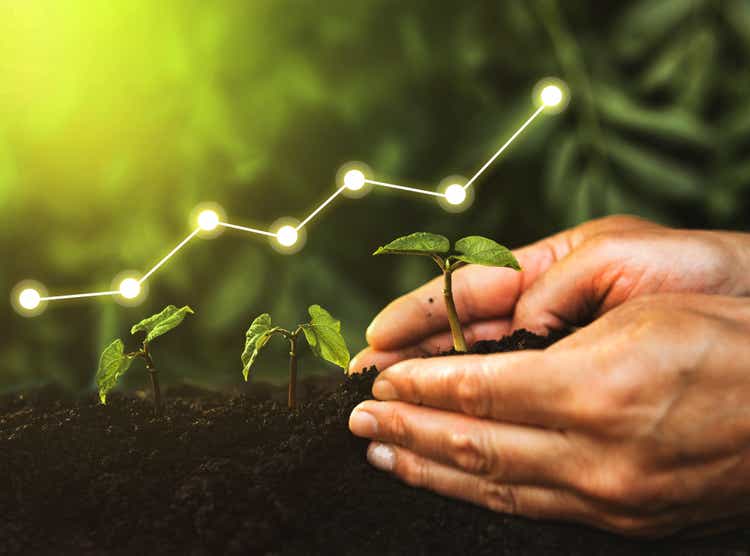 Editors' note: This article is meant to introduce the new Marketplace service from Josh Arnold, Timely Trader.
Introduction to Timely Trader
Timely Trader is a service that's designed for those with the goal of capital appreciation and using their capital in the right place at the right time. The idea is simple - each investing dollar you have can only be in one place at one time. Therefore, why not find the best place for each dollar? Timely Trader helps you find asymmetrical risk/reward scenarios based upon a combination of technical, fundamental, and macro analysis. This gives you an edge in finding the best assets for your money, while also, crucially, helping to keep you out of losers. Timely Trader provides specific buy recommendations and sell points, as well as a model portfolio of my best ideas to help you do this.
Why have I chosen to launch Timely Trader? My reasoning is quite simple: After years of frustrating results using traditional fundamental analysis alone, I turned to technical analysis as a way to find stocks that were in uptrends or downtrends, set favorable entries and exits, and generally setting risk parameters for each position. In doing so, it became clear that you can time the market, and that in doing so properly and in a disciplined fashion you can generate strong returns. That's the value proposition of Timely Trader. I do the research for you and present you with my ideas. All you have to do is select the ones you like and take action as you see fit.
Users who will get the most out of Timely Trader are those who are active market participants and want to be nimble with their capital. Being timely means active engagement, not buy and hold. If years-long holding periods are your thing, that's totally fine, but you may not find a lot of value in the service. But if your aim is to generate market-beating return on capital, give the service a try with a free, no-obligation 14-day free trial period.
Why Timely Trader?
The idea behind Timely Trader is to provide members with a menu of great trading candidates from the thousands of securities that trade in the US each day. In other words, I do the screening and sifting and provide the ideas for your consideration. This makes it easier for someone with limited time to do their own research to find great places to put their money.
Timely Trader finds stocks and other assets that are either about to break out, are reaching price support, have some sort of fundamental catalyst, or some other reason I think it's a good buy. By having a system in place that relies upon technical analysis, Timely Trader takes the emotion and guesswork out of investing. If a setup works out in our favor, we can ride it until an appropriate sell point. If not, we get out early and don't become obsessed with making each and every trade a winner. That's just not realistic. By following my rules, I help you recognize when a trade is going against you and help you understand when the best time to sell is to maximize the return on your capital.
Education is a big part of the service as well as you get access to the reasoning behind each trade, including all the variables of the setup, and why I think that particular opportunity is a good one. This helps arm you with the tools you need to improve your results over time.
What Do You Get With Timely Trader?
The core service is a continuous feed of buy and sell alerts on stocks and other assets I think are set up for asymmetrical risk/reward, either to the upside or downside. This means that securities should have a favorable combination of forecast growth, decent valuations, and catalysts for near-term moves to warrant a buy recommendation. Combined with technical analysis that gives us risk parameters for each trade, Timely Trader provides a list of trade ideas that you can then pare down to the ones that best fit your risk tolerances and goals.
On top of that, my macro analysis of the major indices in the US – the S&P 500, the Nasdaq 100, and the Russell 2000 – helps keep us grounded in terms of whether we should frame our analysis in a bullish or bearish light at any given time.
In practice, this means you get the following interaction with the service:
Real-time alerts on stocks to be avoided or accumulated each market day
Direct access to the chat room, and me personally, each morning the market is open
In-depth analysis on my best ideas at least weekly
A model portfolio with securities I think are future winners, updated at least monthly
The service thrives when you participate in the chat, helping the community to generate and vet ideas. By pooling the community's collective thoughts, we can generate even better returns.
Timely Trader favors investors who are not afraid to actively manage their investment capital. The service will never recommend a years-long buy-and-hold because your investment dollars deserve better than that. I seek to find the best places for your money at any given time, so the entire universe of investments is fair game. That also means that once a trade works out and we reach a sell point, it's time to move on to the next one.
The important thing to remember is that this system works in up, down, or sideways markets. That's why we don't just buy-and-hold blindly. If the market is heading into a weak period, we don't want to own stocks just to own them. In addition, I may recommend short candidates from time to time, which I recognize isn't for everyone. But if it's something you're comfortable with, all the better.
Timely Trader may recommend any kind of security that's readily accessible to individual investors, including stocks, exchange-traded products, cryptocurrencies, etc. The service will not recommend anything you cannot buy or sell with a standard brokerage account, making it accessible to anyone.
Does the System Work?
Of course, as with anything in investing, nothing works all the time. That will be true of any system anyone uses to pick which securities to buy, and that will never change. However, what you get with my service is a system that pinpoints buy and sell points, which helps take the emotion out of trading. Many investors become emotional with trading and that rarely works out well. It's just human nature. By exhibiting discipline, I'll help you take the emotional swings out of the equation and focus instead on making money.
Here are some examples of recent picks that I shared on my public Seeking Alpha account:
Freeport-McMoRan (FCX) – Recommended selling/shorting based upon weak price action in copper, the stock is down 12% in September
The list goes on, but the idea is that these stocks all had very specific criteria that said they should go up (or down) in the near future. They all did, and that's the sort of thing I look for to provide members within the service.
As I mentioned, nothing works all the time, and setups don't always materialize the way I think they will. That's OK, because when something goes against us, we get out quickly and move on. So long as our losers are very small, and winners are much larger, we'll do quite well together.
I provide alerts in the service on stocks I think fit a setup worthy of action on your part, and you can decide if each setup is for you. Again, I do the work, you pick the ones you like and take action.
What you do not get with Timely Trader is long-term, buy-and-hold picks. No stock is worthy of a buy at all times over a period of years, so why should your capital be tied up? I'm looking for maximum return on capital, not a hands-off, hope-for-the-best approach.
The disciplined approach I take for selecting winners and losers helps you find the best place for your money at any given time, and that helps you stay in winners and avoid losers, irrespective of the macro climate.
Why Join Me Now?
The value proposition here is sizable, given that the annual fee can quite easily be covered by the gains from one successful trade. But if that's not enough, I'm offering a special introductory rate of $295 annually for the first 25 annual subscribers. That's a discount from the normal rate of $395 annually, and that discounted rate stays with you for the lifetime of the service. After the first 25 subscribers, the rate will revert back to the $395 annually, so there is a distinct advantage for the first movers.
I'm also offering a month-to-month subscription price of $45 monthly, but there's no discount on the monthly subscription. You must sign up for an annual membership to receive the introductory discount.
It's important to remember that you have absolutely no risk in trying out my service. Every subscriber has a 14-day free trial that comes with an unconditional guarantee from Seeking Alpha.
I think you'll love the service, the community, and the money we can make together. But if not, you can cancel at any time within the 14-day free trial period. That means you can make sure the service is right for you before committing, so there's no reason not to give it a try.
I'll do everything I can to make the service valuable for you, meaning it's my job to make it so that the choice to stay with the service is easy for you. With the community of investors, direct access to me, the model portfolio, and frequent trade alerts, I think you'll find substantial value.
Still Thinking?
I get it: I've subscribed to services in the past, and making the commitment can be daunting upfront. But what you get for your membership is access to the results of my research that I spend my hours doing so that you don't have to. The goal is to provide you with actionable ideas at the right time so that you can make informed decisions without having to spend hours a day sifting through the various opportunities that present themselves.
In that context, the annual fee should be quite easily covered by even one successful trade that you get through my service. The rest is additional value provided.
As a reminder, the first 25 annual subscribers will receive a $100 discount on the annual subscription price, and that price is locked in as long as you are a member of the service. After the first 25, pricing will revert to the $395 full annual rate. There's a monthly option as well, which is $45.
You have to ask yourself whether spending hours per day pouring over investment news, charts, earnings reports, etc., is worth saving the $295 (or $395) per year. For most people, it would be pretty easy to make the case it isn't. That's the value I provide - I give you the best results from my research, and you go about your day doing something else.
I hope to see you soon at Timely Trader, and I appreciate you taking the time to read about my new service.
About Josh Arnold, the Timely Trader
I'm an independent trader that has been covering financial markets for nearly a decade, all of which I've spent here at Seeking Alpha. I've penned about 3,200 articles on various topics over the years, and my style has transformed over that period.
I used to look for "cheap" stocks with low valuations or big yields but had little success in doing so. In the past couple of years, I switched to a more disciplined system of selecting buy and sell points using a combination of fundamental and technical analysis. This takes the emotion out of my own trading. I believe it will for you as well.
While valuation matters, there are several ways to find securities that are about to bounce, or top and decline. That's what my system offers to you and is the value proposition of Timely Trader. I hope to see you in the service, reaping the benefits of my research.
Feel free to ask anything about my service in the "Comments" section, and I look forward to seeing you again soon!
If you're reading this via Seeking Alpha's mobile app, to try this service right now, go to seekingalpha.com and enter my name in the site search to visit my Marketplace Service checkout page.
This article was written by
Josh Arnold has been covering financial markets for a decade, utilizing a combination of technical and fundamental analysis to identify potential winners early on in their growth cycles. Josh's focus is mainly on growth stocks. His goal is efficient and profitable use of capital, which overly rigid buy-and-hold strategies do not allow.
Josh is the leader of the investing group
Timely Trader
where he focuses on limiting risk and maximizing potential reward. Features of Timely Trader include: real-time alerts, a model portfolio, technical charts, sentiment indicators, and sector analysis to find the best trading opportunities.
Learn more.
Analyst's Disclosure: I/we have a beneficial long position in the shares of GOOG, AAPL either through stock ownership, options, or other derivatives. I wrote this article myself, and it expresses my own opinions. I am not receiving compensation for it (other than from Seeking Alpha). I have no business relationship with any company whose stock is mentioned in this article.
Seeking Alpha's Disclosure: Past performance is no guarantee of future results. No recommendation or advice is being given as to whether any investment is suitable for a particular investor. Any views or opinions expressed above may not reflect those of Seeking Alpha as a whole. Seeking Alpha is not a licensed securities dealer, broker or US investment adviser or investment bank. Our analysts are third party authors that include both professional investors and individual investors who may not be licensed or certified by any institute or regulatory body.