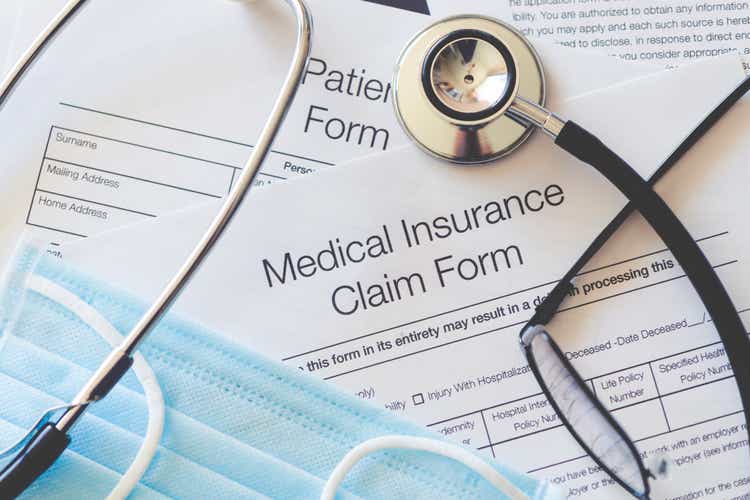 There are crimes of passion and crimes of logic. The boundary between them is not clearly defined."― Albert Camus
Today, we take a look at a concern that came public earlier this year but is already deep in 'Busted IPO' territory. However, the stock has seen some recent insider buying and the equity basically trades for the cash on its balance sheet. A full investment analysis and recommendation follow below.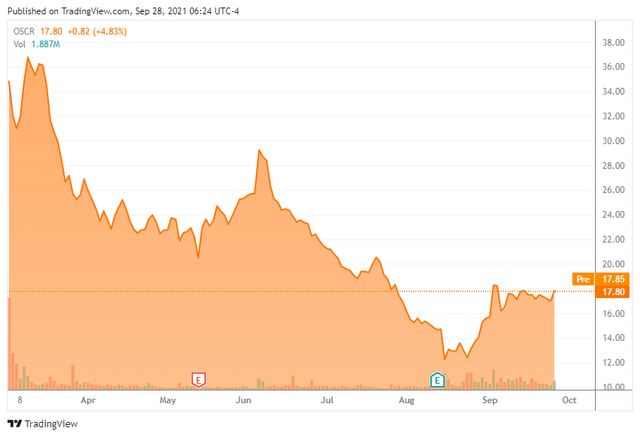 Company Overview:
Oscar Health, Inc. (NYSE:OSCR) is a New York City-based provider of primarily individual and small group health insurance plans to over 563,000 Americans in 19 states and is the third-largest for-profit national insurer for the individual market in the U.S. Its differentiating feature is that its business is the only one built around a full-stack technology platform. The company was formed as Mulberry Health in 2012, rebranded as Oscar in January 2021, and went public in March 2021, raising net proceeds of $1.3 billion at $39 a share. Oscar currently trades just under $18.00 a share, translating to a market cap just north of $3.5 billion.
The company, which was founded by the brother of Donald Trump's son-in-law Jared Kushner (Joshua) and two of his Harvard Business School classmates, has two classes of common stock. The publicly traded 172.6 million Class A shares bestow one vote per share, while the non-publicly traded Class B shares, which are convertible into Class A shares, entitle the holder to 20 votes per share. Owing to this arrangement, Kushner's Thrive Capital and his fellow co-founders own ~19% of the shares outstanding but control ~82% of the voting power at Oscar.
Full-stack technology provides the end customer with a complete product or service, handling the entire value chain of its activity. The endgame of Oscar's platform is to provide its members with deeper engagement, lower health insurance costs, and better healthcare outcomes. Considering total U.S. healthcare spend reached $4 trillion in 2020, with three-quarters of that through to insurance companies – it is a huge market.
Oscar's full-stack platform is extensible to new products and plans, which allows it to open new markets. It is further supported by Care Teams, which consist of five Oscar 'care guides' and a registered nurse case manager, who are assigned to a member for the lifetime of his or her membership. The company began with a focus on individual and family plans, spreading its model to the small group market – defined as (depending on the state) as 50 or less employees or 100 or less employees – in 2017. In 2020, it further expanded into the small group market by offering Cigna + Oscar co-branded plans. Oscar also used 2020 as an opportunity to launch Medicare Advantage offerings. These markets (individual, small group, and Medicare Advantage) represent a $450 billion total market opportunity.
So far, from a member perspective, Oscar's approach appears to have merit. The company has attained a net promotor score – a market research metric with a scale between -100 and +100 – of +40 versus an industry average of +3. Eighty-nine percent of members interact with Oscar digitally, 47% are monthly active users, and 68% trust the company to provide advice. These metrics suggest that its pursuit of deeper member engagement is paying off. This engagement appears to be generating better health outcomes with (for example) a 55% reduction in 30-day ER readmissions versus industry average – which should also bode well for Oscar's medical loss ratio. Additionally, members who see doctors recommended by Oscar save ~7% on out-of-pocket costs versus what they would have spent elsewhere.
As it onboards more members (at an average premium of ~$515 per member per month), the unit economics improve, pushing Oscar towards profitability. In the past four years (2017-2020), the company has experienced an impressive 59% CAGR in membership. This metric is a function of the company's expansion into 19 states in 2021 as compared to three (California, Texas, and New York) in 2017. On individual plans, Oscar currently commands an average share of 10% in its markets, which then typically expands to ~15% by year three. As a result of this robust growth, Oscar has seen its administration expense ratio improve from 50% to 26% from 2017 to 2020. During the same period, its medical loss ratio has dropped from 97% to 85%. However, those metrics still add to a money-losing 111%.
The company generated insurance premiums of $1.7 billion in 2020 and exited that year with 402,044 members, the preponderance of which were on individual and small group plans. However, owing to its money-losing ratios, Oscar generated FY20 Adj. EBITDA of negative $404.4 million.
2Q21 Results & Outlook:
These dynamics were at play when the company announced 2Q21 earnings on August 12, 2021. On a GAAP basis, Oscar lost $0.35 a share and generated negative Adj. EBITDA of $50.4 million on policy premiums of $723.9 million as compared to a loss of $1.42 a share and negative Adj. EBITDA of $28.8 million on premiums of $393.5 million. Its bottom line beat Street estimates by $0.13 a share; however, the premiums earned line (total premiums minus those ceded to reinsurance) – even though it represented a 366% increase over the prior-year period – was $60.7 million shy of expectations.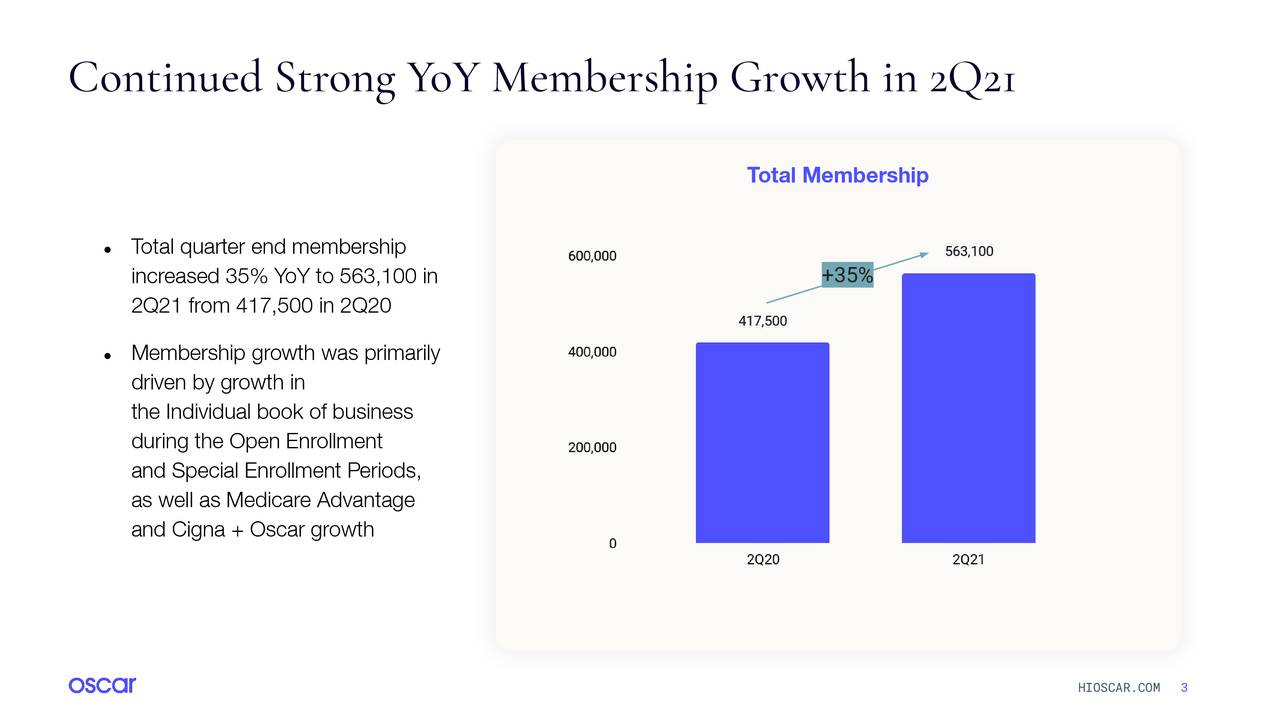 Source: August Company Presentation
Membership increased 35% year-over-year to 563,114. Unfortunately, the company's combined ratio was an unprofitable 102%, as the medical loss ratio of 82% showed a sharp rise over the same period in 2020 as fewer members were utilizing its services during the pandemic and a bit of catch up was taking place. The surge in premiums continues to improve the administrative expense ratio, now at 20%, reflecting a 3% decrease versus 2Q20.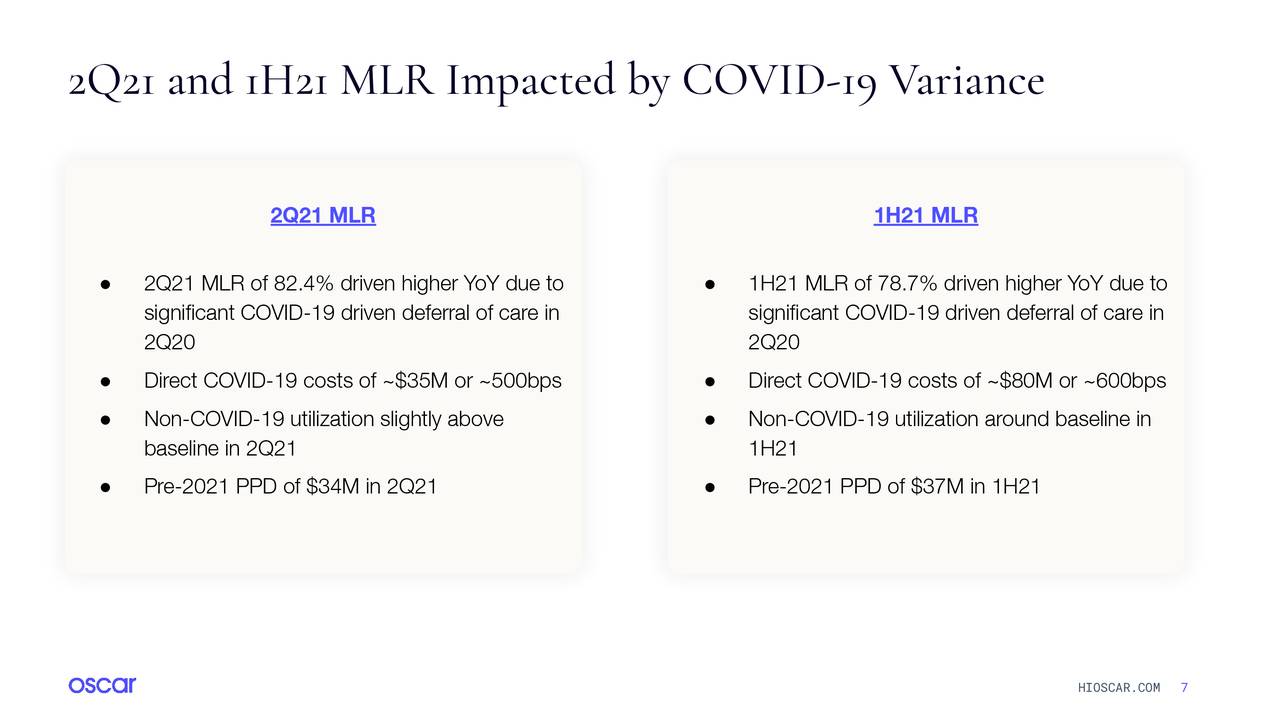 Source: August Company Presentation
Oscar tweaked its FY21 outlook, expecting to generate premiums of $3.25 billion (up from $3.13 billion), resulting in negative Adj. EBITDA of $365 million (unchanged), owing to a medical loss ratio of 86% (up from 85%) and an administrative expense ratio of 21.5% (down from 23%) for a combined ratio of 107.5%. These estimates are all based on range midpoints. The company also plans on expanding into three more states (Nebraska, Arkansas, and Illinois) beginning in 2022.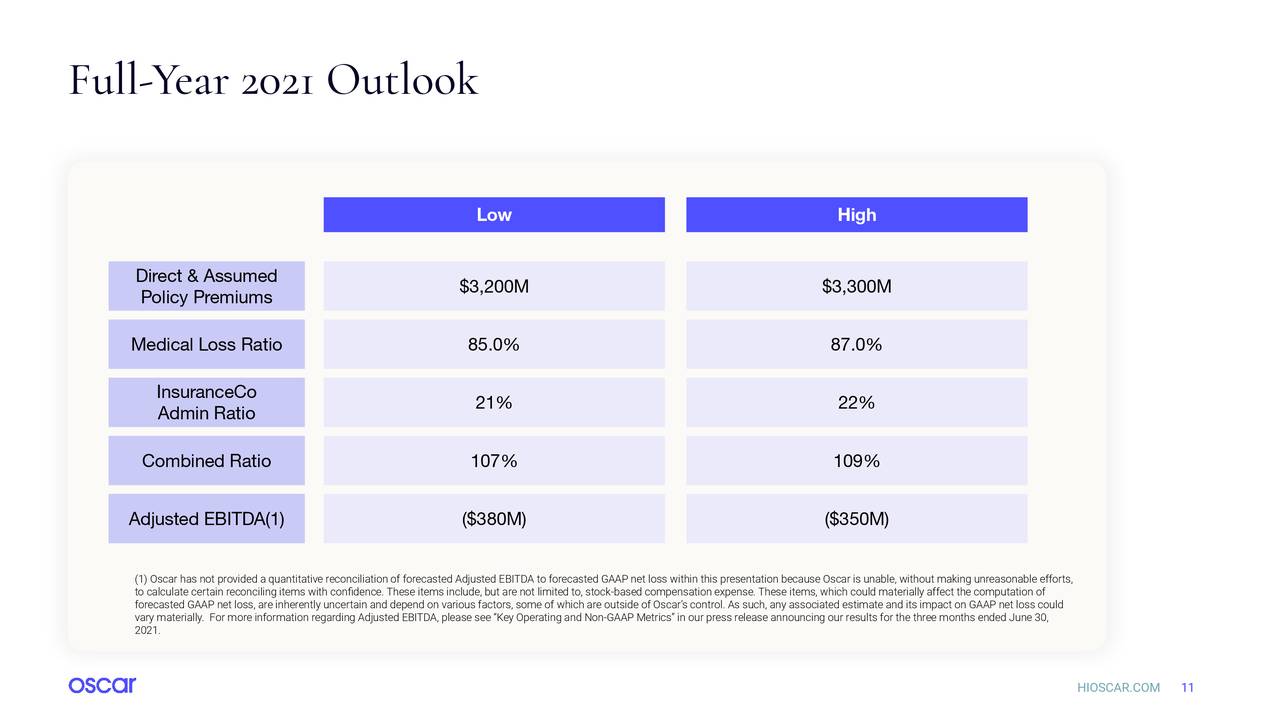 Balance Sheet & Analyst Commentary:
With the story essentially surrounding Oscar's ability to grow its way to profitability, cash on hand is a key balance sheet item, which it has in spades. As of June 30, 2021, the company held cash, short-term, and long-term investments of $3.1 billion, significant considering the company's current market valuation of $2.9 billion. Oscar has no debt.
Not surprisingly, six of the bankers on the IPO have initiated coverage on Oscar since going public. Two buys, three outperforms, and one hold comprise their recommendations. Price targets proffered range between $15 and $44 a share.
Vice Chairman Kushner is a raging bull at these low-teen levels, purchasing a total of 1.7 million shares in mid-August for his personal and Thrive Capital accounts and approximately 2.5 million more shares so far here in September.
Verdict:
The approximate 60% fall in Oscar's stock price since its March IPO is due to skepticism regarding its ability to profitably grow market share in the healthcare insurance marketplace and to a certain extent the uniqueness of its fully-stack offering in a couple of years. Growing the top line should not be an issue as it can acquire members in existing markets, geographically expand into another 31 states, introduce new products, and create new partnerships like its one with Cigna (CI). It can also market its software to regional health plans. With ~$15 a share in cash and investments, it is poised to make a go of it. Oscar will burn through cash, but its stock should not trade below it, providing a currently high floor and an opportunity to play a bounce in its stock price.
Note: Options on this name are very liquid, so accumulating via covered call orders is a viable strategy. Currently, the April $17.50 call strikes are trading just under $4.00 a share.
A mind all logic is like a knife all blade. It makes the hand bleed that uses it."― Rabindranath Tagore
Bret Jensen is the Founder of and authors articles for the Biotech Forum, Busted IPO Forum, and Insiders Forum