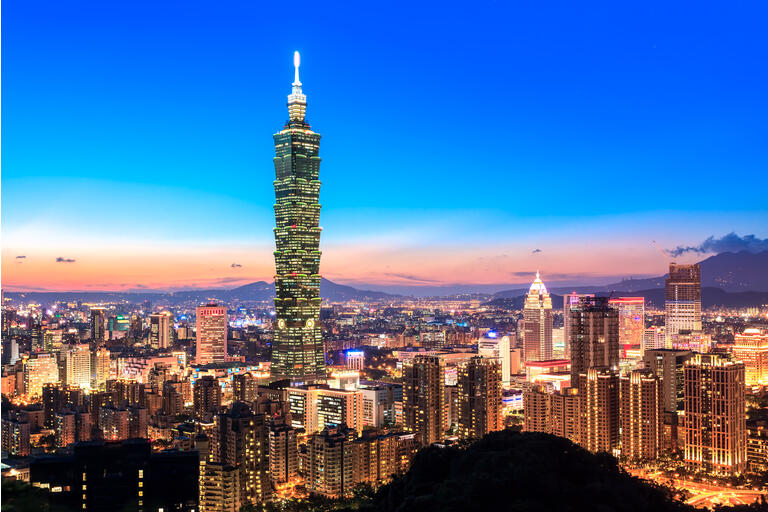 Corrina Xiao, Portfolio Manager and Christian McCormick, Director and Senior Product Specialist, both with Allianz Global Investors and the Closed-End Fund Association discuss the technology sector, the critical role of Taiwanese companies in the global supply chain and the outlook for the equity market in Taiwan.
CEFA:
Welcome to CEF Insights, your source for closed-end fund information and education brought to you by the Closed-End Fund Association. Today, we are joined by Christian McCormick, Director and Senior Product Specialist, and Corrina Xiao, Portfolio Manager, both with Allianz Global Investors and experts on Asia markets, particularly Taiwan. We are happy to have both of you with us today.
Corrina Xiao:
Hello everyone. I'm happy to be here with you today to discuss the outlook for Taiwan Fund, Inc.
Christian McCormick:
Thank you so much. It's great to be here.
CEFA:
Christian, the global economy has had a challenging 15 to 18 months with the pandemic induced lockdowns and unprecedented fiscal and monetary stimulus. Many parts of the world have generally opened up their economies, but the new virus variants have generated a spike in cases. Can you update us on how the Taiwan economy has done so far in 2021 and how you see it positioned going forward?
Christian McCormick:
Taiwan's economy is doing quite well in 2021 after a strong post-COVID rebound in 2020. Economies around the world are seeing unusually large growth numbers due to the base effects from COVID; but Taiwan should finish 2021 at a healthy 5% to 6% GDP growth range and exceed its 10 year historical average of roughly 2.93% over the next few years. In addition to that, unemployment is low and exports continue to be strong, given supply chain issues and global demand for electronics and other hard tech of which Taiwan is a big supplier. But most importantly, although COVID cases are remarkably low in Taiwan, it has a zero COVID policy and there have been restrictions in place after a recent Delta-driven surge. Therefore, we also would expect the private consumption side to start to be a better contributor and rebound in the second half of 2021.
CEFA:
The continued rise of China and recent developments in Hong Kong raise the issue of the potential for political challenges for Taiwan. How do you see this likely playing out over the next few years?
Christian McCormick:
It is important to remember that there has always been tension between China and Taiwan and the relationship is very fluid. Ironically, Beijing's recent actions in Hong Kong have probably increased opposition to China within Taiwan itself. However, from an investor perspective, Taiwan is strategically important to China's economy, especially on the technology side. Therefore, the probability of any near-term military action or aggressive steps is probably small, but there will always be that risk there.
CEFA:
Christian, the Taiwan fund symbol, NYSE:TWN, is a closed-end fund for US investors. This fund is unique among closed-end funds with its focus on Taiwanese equities. What are the key characteristics of the Taiwan equity market?
Christian McCormick:
As many investors would expect, the Taiwanese equity market is heavily tilted towards technology-related stocks at approximately 60% of the market, which includes Taiwan Semiconductor, one of the world's largest companies and at the leading edge of advanced semiconductor manufacturing. Although there are investment opportunities in the remaining 40%, the key to Taiwanese equities is being able to navigate the tech-heavy landscape.
CEFA:
Corrina, what is your approach in constructing the portfolio for TWN?
Corrina Xiao:
Taiwan's market structure is unusually tech-heavy in terms of a market capitalization. Fully 28% is made up by TSMC (TSM). This mega-cap company offers a window into global tech demand. It dominates the global foundry business. In the recent TSMC second quarter results meeting, management emphasized that demand is intact across the four major segments of the high performance computing (HPC), 5G SoC/infrastructure, automotive, and accelerating IoT. As long as the tech demand outlook is robust, we tend to remain overweight within the sector, usually via stocks other than TSMC itself. We seek to distinguish ourselves by stock picking and finding those names that might be overshadowed by TSMC.
CEFA:
Taiwan is a critical supplier of computer chips and we have seen struggles with current supply levels. How do you see the chip shortage playing out? And what is the impact on the Taiwanese chip industry?
Corrina Xiao:
Well, we all know the COVID has disrupted chip supply chains quite dramatically. However, the chip market is made up of very different segments with unrelated supply and demand dynamics. The market for high-end chips for smartphones has very different dynamics to the chips used in the automotive industry. A few developments have driven the supply shortages in the auto industry. It is also important to understand that automakers use 28 nanometer chips, which are now considered old technology. The auto sector prefers to use reliable, mature technologies due to their focus on safety and cost control. Since 28 nanometer technology is now a decade old, capacity has been gradually reduced as large investments in news fabs were focused on more advanced tech nodes. However, due to the surprise increase in demand from automakers, larger players, such as TSMC, are now investing in new 28 nanometer capacity, for example, in China and Japan.
Nonetheless, this new capacity will not be online until later in 2022 or even 2023. This is independent of the supply chain issues that COVID-19 continues to bring to the market. In the long run, the auto sector will learn from this painful lesson and they will likely move away from Just-In-Time to Just-In-Case inventory management models. The chip business has one of the most complex supply chains on the planet, therefore, major outbreaks of COVID in any of the countries involved in the industry can severely disrupt the global supplies.
For example, even if TSMC in Taiwan is fully operational, the chip testing and the packaging facilities located in Malaysia may be disrupted by an outbreak. It is easy to see that until COVID is effectively controlled, there is scope for ongoing shocks to the supply chain. One solution could be to relocate back-end processes and services to factories based in Taiwan. Taiwan has maintained a very strong record of managing COVID, so it might make sense to shift many of the major steps in chip processing to a single, more secure location. This would of course benefit Taiwanese firms.
CEFA:
Christian, US equity markets have had a great run and some would consider valuations to be at high levels compared to historical averages. How do valuations of Taiwanese equities compare to those of US equity markets?
Christian McCormick:
Well despite the strong performance in the equity markets for Taiwan in 2020 and year to date in 2021, at least through July, the Taiwanese markets are still trading at lower valuations than the US market and they are roughly in line with China. So the markets do trade at an elevated valuation, although it's not that large versus the rest of emerging markets. But importantly, it's are you being compensated for that higher valuation, but we believe this is reflective of higher earnings growth potential within the Taiwanese market and other elements such as a higher dividend yield.
CEFA:
Corrina, are there particular sectors where you see the best opportunities going forward?
Corrina Xiao:
Well, yes, of course, still the semiconductors. Taiwan has a large stake in the global semiconductor industry, apart from the four segments that TSMC mentioned in second quarter results meeting. Now, we see China and many other major nations are competing to develop their own national chip manufacturers. For example, the ambitious plans to expand China's domestic foundry capacity will require a supply of silicon wafer. This is an area in which Taiwanese and the Japanese firms hold effectively a duopoly. There are many other examples of Taiwanese firms whose products and services will be needed to support the new industrial priorities of mainland China.
CEFA:
Corrina, Allianz is an active investment manager. For a market like Taiwan, what advantages do you see for an active manager with respect to managing risk and adding to performance?
Corrina Xiao:
We actively trade the various product cycles that are important in Taiwan, such as in the iPhone. In addition, we may hedge some market downside risk to protect the portfolio in more unsettled market environments by holding higher cash positions for a short period of time. Furthermore, Taiwan is a complex market for overseas investors to analyze, in the sense that there are unique and significant barriers to foreign investors gathering, monitoring, and verifying market information. This means there are many hidden opportunities which we are skilled at identifying. Also, especially in Taiwan, passive trackers tend to have a large cap bias. This bias is made worse because the market is dominated by TSMC. This makes indices such as the MSCI hold over-sized investments in TSMC stock. If a foreign investor wants to replicate the performance of an ETF tracking the MSCI Taiwan, in many cases, they might as well just buy the ADRs traded on TSMC in New York, but we seek to do better than that for our investors.
CEFA:
Christian, US investors are increasingly looking to global markets for opportunities. How do you see a financial advisor or investor best positioning an allocation to Asian markets and particularly Taiwanese equities within an investor's diversified portfolio?
Christian McCormick:
Traditionally, for US investors, equity investing has consisted of the US, an EAFE allocation, which is really developed markets outside the US, and emerging markets broadly. However, the availability of more vehicles such as the Taiwan Fund and a better understanding that within emerging markets, there is a significant dispersion across countries and regions, investors take a more targeted approach. Taiwan currently benefits from a strong economy, democratic institutions, and has a key role in the global market and supply chain for technology in particular, in addition to other strong, up and coming companies. The Taiwanese government and people have been smart and practical regarding COVID and have kept it largely at bay. Therefore, investors should consider an overweight to Taiwan with a dedicated allocation within their emerging markets portfolio, overseen by a strong local manager. As otherwise, you are left with just a naïve play on the technology sector.
CEFA:
Christian and Corrina, thank you so much for taking the time to join us today.
Corrina Xiao:
Thank you. It has been a pleasure.
Christian McCormick:
Thank you so much for having us.
CEFA:
And we want to thank you for tuning into another CEF Insights podcast.