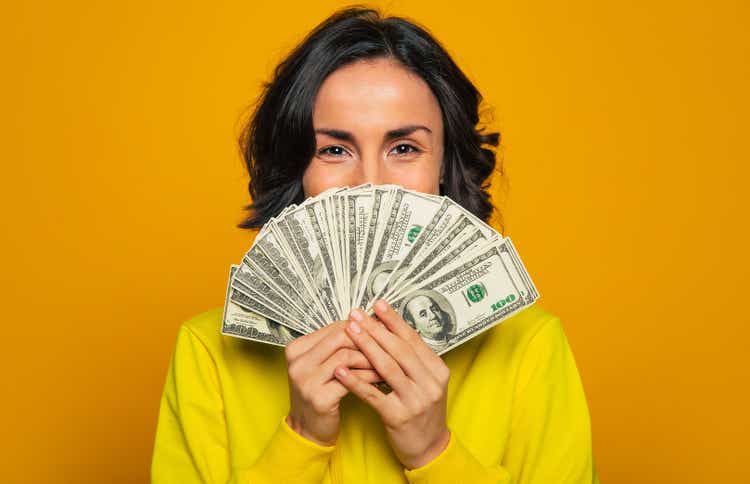 Living in America comes with many advantages, not least of which is our friendly neighbor to the north, Canada. Besides its natural beauty, Canada is also home to a host of well-run companies that are governed by many similar business practices as what U.S. investors are accustomed to.
This brings me to BCE Inc. (NYSE:BCE), which has a moat-worthy presence as one of the largest telecoms in Canada. Its share price hasn't really budged since my last bullish take on it in July of this year, moving up by just 1.1% since then. In this article, I highlight what makes BCE a continued Buy for durable income and growth, so let's get started.
Why BCE Is A Buy
BCE is Canada's largest communications company, sitting ahead of Rogers Communications (RCI) and Shaw Communications (SJR). It was formed back in 1983, through the integration of Bell Canada, Northern Telecom, and other related subsidiaries.
Beyond broadband internet/TV, Wireless, and Wireline, BCE also has a robust Media arm, which consists of Canada's top media brands, including CTV, V, TSN, and RDS. It also licenses the Canadian rights to the popular American premium channels, HBO, Showtime, and Starz. In many ways, BCE's media assets are generally viewed as being superior to that of Rogers, the only other Canadian telecom with media exposure.
One of the things that makes BCE a worthy holding is the low volatility nature of the stock. As seasoned investors know, not every stock in a portfolio has to be a high-flying growth name, as those names tend to introduce more stomach-churning volatility. BCE displays quite the opposite, and can serve a role as a portfolio anchor. This is reflected by BCE's low beta score. As seen below, BCE's beta has generally trended below 0.75 over the past 12 months, making it less volatile than the market average.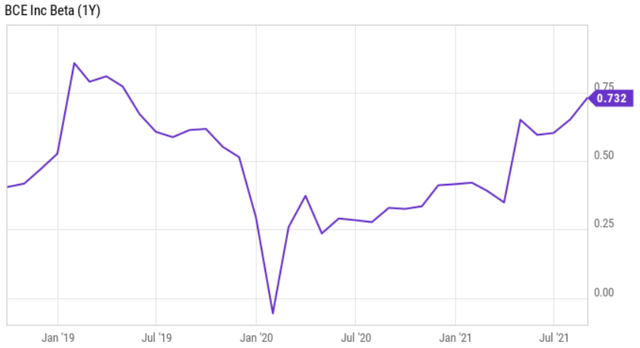 (Source: StockCharts)
BCE continues to demonstrate strong business fundamentals, with both revenue and adjusted EBITDA growing by 6.4% and 6.2% YoY, respectively, during the second quarter. This was driven by industry-leading ABPU (average billings per user) growth of 3.3% YoY, 44K postpaid mobile phone net adds, comparing favorably to 1K net less during Q2'20, and 27K retail residential Internet net adds in its FTTH (fiber to the home) footprint.
Meanwhile, BCE maintains industry-leading profitability. BCE produces a robust 35.5% EBITDA Margin, comparing favorably to the 21% sector median, and delivers a 15% levered FCF margin, comparing favorably to the 11.4% sector median. These drivers result in a Profitability grade of 'A' from Seeking Alpha, as seen below.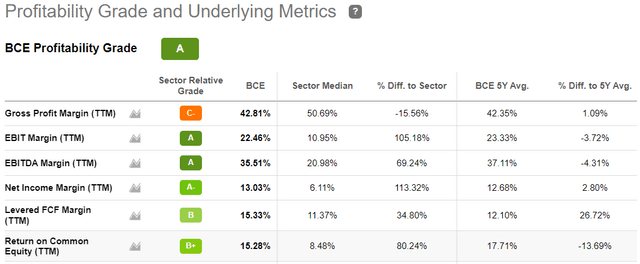 (Source: Seeking Alpha)
Looking forward, BCE is well-positioned for top- and bottom-line growth, driven in part by its investments in FTTH. Morningstar expects that FTTH will meaningfully reduce operating costs, thereby allowing BCE to offer speeds comparable to or better than competitors, and charge higher prices.
In addition, BCE possesses 37% of the 50 MHz total spectrum that is available to Canada's wireless providers. This gives BCE the capacity to pursue an aggressive 5G rollout across Canada, as noted during the recent conference call:
With significant high capacity 3.5 GHz spectrum at our disposal, we have the mid-band spectrum necessary to drive the rollout of 5G across Canada and extend our leadership position. Since the beginning of the year, we've launched service in more than 80 new markets nationally, including the first 5G service in Newfoundland and Labrador, introduced Canada's first 5G roaming for the U.S. and entered into new 5G strategic partnerships. Our 5G footprint coverage is now above 40% and remains on track to reach 70% of the Canadian population by year-end.
Balance Sheet, Dividends and Valuation
BCE maintains a strong BBB+ rated balance sheet, with C$5.3 billion of available liquidity. It also has a net debt to EBITDA ratio of 3.1x, which is reasonably low due to the capital-intensive nature of telecoms. Meanwhile, its 5.6% dividend yield remains covered. Using the more conservative levered free cash flow (as opposed to unlevered FCF), BCE currently has a dividend to levered FCF payout ratio of 89%.
While BCE is not necessarily cheap at the current price of $50, with a forward PE of 19.6, I see value in BCE due to its moat-worthy wireline business, high-quality media assets, and forward prospects around the 5G rollout in its wireless segment. Analysts have a consensus Buy rating, with the expectation of 5-6% annual EPS growth over the next 2 years, and Morningstar has a $53 fair value estimate.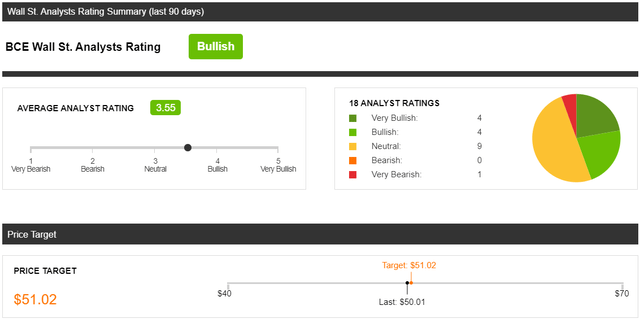 (Source: Seeking Alpha)
Of course, no investment is risk-free, and the following points should be considered:
Competitive pressures and cord-cutting may negatively impact BCE's top-line growth and margins.
BCE's dividend paid to U.S. investors is subject to currency fluctuations.
Renewed COVID-19 risks could impact the prepaid business due to travel restrictions.
Investor Takeaway
BCE is a moat-worthy Canadian telecom with strong wireless/wireline assets, and has a stable of high-quality media assets. While its share price has remained stagnant, its business fundamentals have shown respectable growth. Looking forward, BCE should be able to expand its moat with its FTTH buildout, and 5G could be another growth driver. I continue to see value in BCE for long-term income and growth.