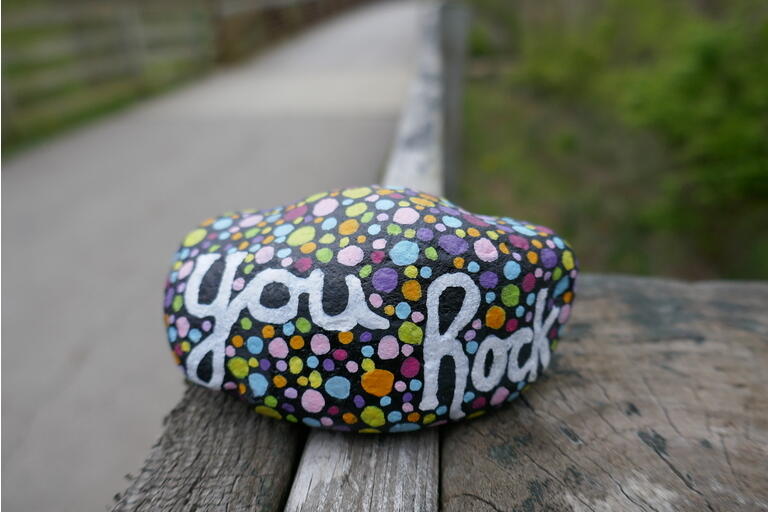 That's the thing about rocks – they don't break easily. When I held them, I wanted to be like them – strong and steady, weathered but not broken. – Ellen Dreyer
The SPDR Wells Fargo Preferred Stock ETF (NYSEARCA:PSK) is designed for income investors. The ETF invests in non-convertible preferred securities that have a par value of $25 and are rated as investment-grade by Moody's or S&P Financial Services. Its gross expense ratio is 0.45%. The ETF tracks the performance of the ICE Exchange-Listed Fixed & Adjustable Rate Preferred Securities Index.
The first takeaway for all income investors is the ETF's price action: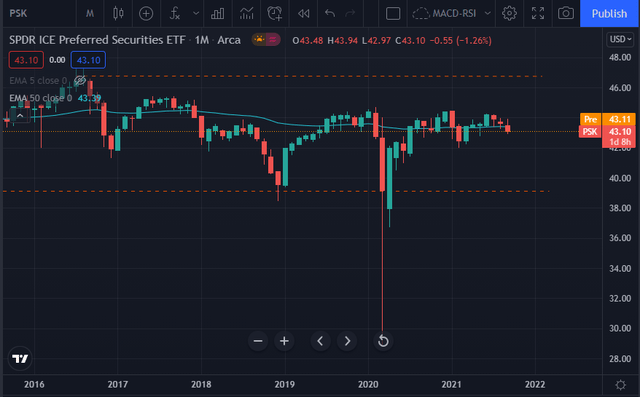 Image Source: TradingView
As per PSK's monthly price chart, without taking the extraordinary COVID flash crash into account, the ETF has always moved in a narrow band between about $39 and $47 since 2015. In normal times, it has always gyrated back towards its 50-month EMA, which is currently at $43.30. The inference is that the ETF moves in a narrow price band and seems reasonably priced at $43.10 as of September 28, 2021. So, ex-COVID-crash data suggests that PSK is a buy on dips if it falls to its double bottom of about $39 – or an ETF to avoid if it shoots up beyond $47.
Forward Dividend Yield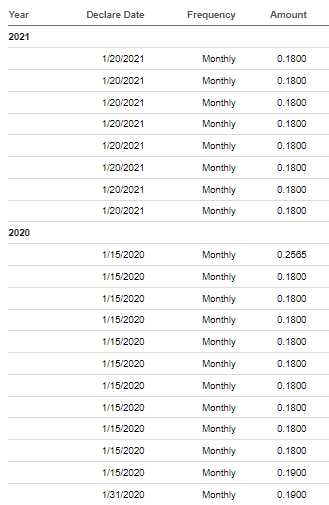 Image Source: Seeking Alpha
PSK has been a consistent dividend payer since its inception in 2009. Based on its 2021 monthly payouts (see the image above), I believe the ETF will end up distributing a minimum of $2 as dividend this year. The payout earns it a forward dividend yield of 4.85% based on its current market price.
Given that the ETF parks its funds in investment-grade preferred securities and its price momentum has been rock-steady in the long run (ex-COVID), the forward dividend of 4.85% looks attractive when benchmarked against the current 10-year Treasury yield of 1.53%.
Portfolio and Risk Management
As of September 27, 2021, PSK's total assets are invested in 154 preferred securities. The fund's managers have allocated about 15% of the total assets to its top 10 holdings.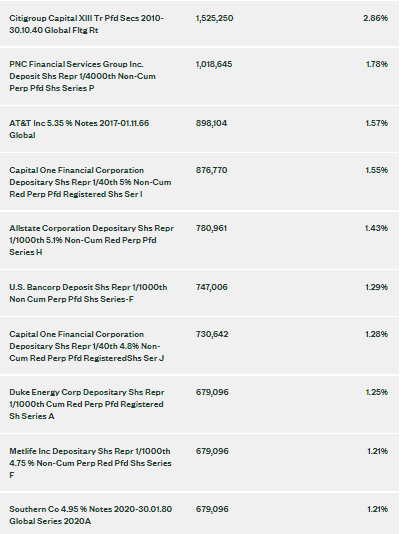 Image Source: PSK's Website
Given that the ETF's assets are spread over 154 preferred securities that are rated as investment grade, I would say that the ETF's portfolio is adequately de-risked. However, investors should note that PSK's managers flip 45% of its holdings every year – and that is quite a high annual portfolio turnover ratio (sector median: 38%).
Peer Comparison

Image Source: Custom Comparison at Seeking Alpha
A comparison of PSK's income-generating potential with its peers like the Invesco Preferred Portfolio ETF (PGX) and iShares Preferred and Income Securities ETF (PFF) reveals that:
PSK's TTM dividend yield of 5.19% is higher than that of its peers.
However, the 4-year average dividend yield of all the peers is more or less the same.
In the last 5 years, PSK's dividend CAGR has fallen by 1.82%, which is much lower than the fall reported by its peers for the same period. However, in the last 3 years, PSK's dividend CAGR has fallen by 8.12%, which is much higher than the fall reported by its peers.
Summing Up
PSK is a quality ETF that parks its funds in investment-grade preferred securities, its price is rock steady, the ETF is adequately de-risked, is available at a healthy forward dividend yield of 4.85%, and is a peer outperformer based on the TTM dividend yield shootout.
Economic conditions suggest that the interest rates will remain muted at least in the medium term. Market conditions and PSK's track record suggest that the ETF will continue to deliver a rock-steady price performance and a healthy dividend yield in the long run.

Anticipate Crashes, Corrections, and Bear Markets
Sometimes, you might not realize your biggest portfolio risks until it's too late.
That's why it's important to pay attention to the right market data, analysis, and insights on a daily basis. Being a passive investor puts you at unnecessary risk. When you stay informed on key signals and indicators, you'll take control of your financial future.
My award-winning market research gives you everything you need to know each day, so you can be ready to act when it matters most.
Click here to gain access and try the Lead-Lag Report FREE for 14 days.