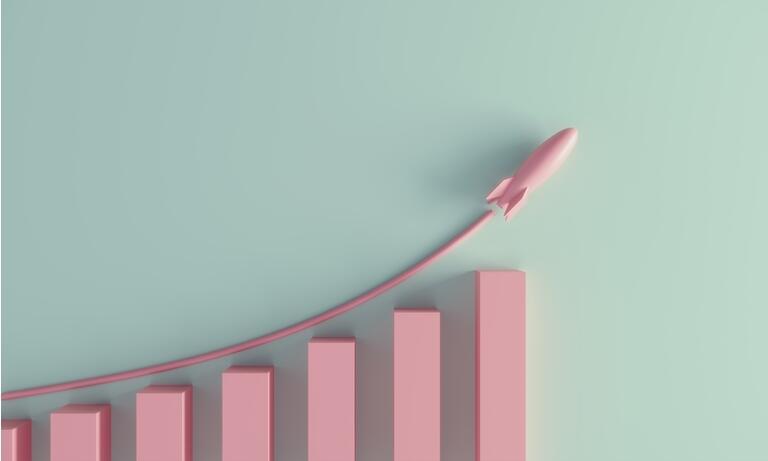 Written by Nick Ackerman, co-produced by Stanford Chemist
Nuveen Core Equity Alpha's (NYSE:JCE) share price has been on quite the upward move this year. So much so that the fund has now lost its discount completely, and shares trade at a premium to its NAV. This is a rare occurrence in the closed-end fund space. CEFs often trade at discounts and premiums to their actual underlying values. That is one of the big differences between CEFs and ETFs. ETFs have a mechanism to keep their discount/premium in check.
This discount reduction was just a continuation of what the fund has been going through most of 2021. That is, a share price outperforming its NAV returns; thus, the discount is reduced to the point of elimination. The fund started at an 8%+ discount earlier this year too. We see this across the board as CEFs trade at historically high valuations. Though if you are expecting higher volatility ahead, that could reverse these higher valuations.
JCE's investment objective is "to provide an attractive level of total return, primarily through long-term capital appreciation and secondarily through income and gains."
To achieve this, the fund will invest "in a portfolio of actively managed large-capitalization common stocks, using a proprietary quantitative process designed to provide the potential for long-term outperformance." They will additionally; "sell call options with a notional value of up to 50% of the Fund's equity portfolio in seeking to enhance risk-adjusted performance relative to an all-equity portfolio."
They write calls against indices; this includes the S&P 500 and the Russell 2000 Indices. Previously, it was mostly against the Russell 2000 Index. As of the latest report, however, it appears that the S&P 500 is the flavor of choice.
The last update as of August 31st, 2021, shows that it is overwritten by 28%. This was the same that they reported the last time we looked at the fund. As we noted then, a lower overwritten portion of their portfolio would generally mean they are more bullish. That is because they target a 50% overwritten notional value against their portfolio. If it is below that target, it would indicate that they believe the indexes should rise.
The fund is a bit small, with just $273.46 million in total managed assets. That can make trading a bit more difficult with lower average daily trading volume. The fund's expense ratio comes to 1.23%. That is higher than some of the other Eaton Vance option-based index writing funds.

(Source)
Performance - Still A Strong Performer
When we last visited the fund, we compared it to three peers. Those included; Eaton Vance Tax-Managed Buy-Write Opportunities Fund (ETV), Eaton Vance Tax-Managed Buy-Write Strategy Fund (EXD) and Eaton Vance Tax-Managed Diversified Equity Income Fund (ETY). ETV and EXD write options against nearly 100% of their portfolio and ETY. That fund targets roughly a 50% overwritten allocation. Though that is similar to JCE, as we've noticed, JCE doesn't usually come close to that target.
The chart will be looking at performance since October 26th, 2020. That may seem a rather arbitrary starting date to track performance between these funds. However, it is because JCE had changed their sub-advisor and managers at that time. It makes performance before that a little less relevant.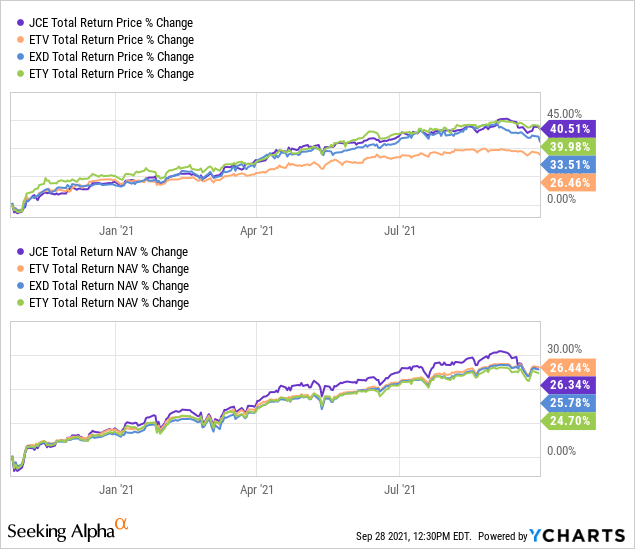 When we did this previously, JCE was the outperformer. However, it seems as though that has slipped now as ETV has taken the lead. That is certainly surprising since they write against nearly 100% of their portfolio. All else being equal, the market has rallied quite significantly since that time. In theory, it should have been the underperformer, and JCE and ETY should have been the leaders. That being said, ETV holds significantly more tech exposure than ETY, which is typically more diversified. With JCE, you are also getting quite a hefty exposure to tech.
While the fund's NAV performance has slipped a bit, I would still say it is a strong performer, all else being considered. We also see that its share price has outperformed as it would be expected to. The EV funds we looked at are currently at some higher valuations themselves relative to their own historical trading ranges. The chart below shows the last 3-year average discounts of the funds and the current level they are trading at now.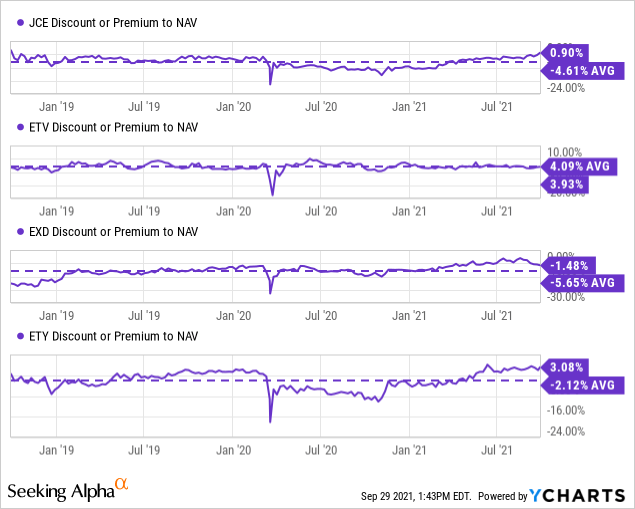 If we go back further for JCE, we can see that the fund has only touched a premium level for a slight period of time. That could indicate even further that the fund is overvalued at this time.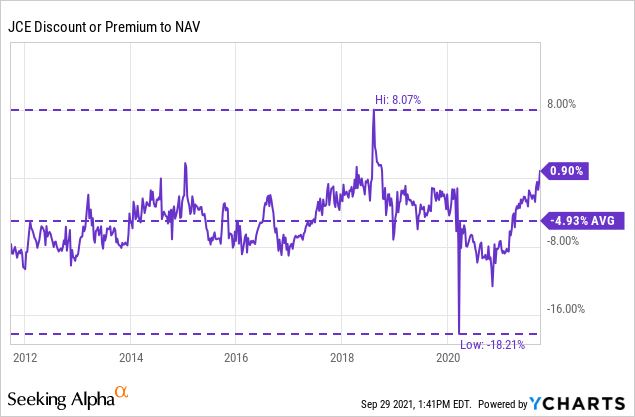 Distribution: 7.20% Distribution Yield
At this time, the fund is paying investors a distribution yield of 7.20%. That is quite attractive. Since the fund is at almost par with its NAV price, we also know it's roughly the same NAV yield.
They pay quarterly, and the current distribution was raised earlier this year. However, it doesn't take them to the high water market set in 2007 when the fund first launched.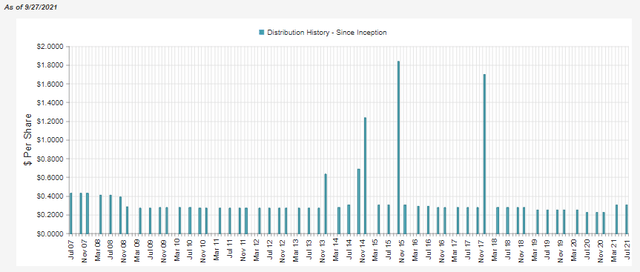 (Source - CEFConnect)
Though we know that was a tough time for the market overall. That also brings up the important point that JCE launched at one of the worst times for an equity-focused fund to launch. With the inception of March 27th, 2007, it was just in time to ride the market down.
Despite that, JCE isn't too far from its NAV at the time of launch of $19.10. Of course, the actual NAV now versus then has little meaning on total returns for most CEFs. Lots of CEFs decline in NAV but provide attractive total returns due to their high distributions.
One interesting metric Nuveen shares for their CEFs is a simple "total distributions per share" figure. For JCE, that comes to $21.4605. Essentially, JCE has more than earned its NAV back completely - paid it out to shareholders - and still has a considerable portion of its original assets left over.
To fund these distributions, JCE will rely significantly on capital gains to cover them. In fact, this fund is one that reported a negative net investment income [NII]. Meaning that the fund had no income left for investors after its expenses. This frequently happens in growth funds that generally hold a lot of tech investments, which is exactly the situation of JCE. That being said, it doesn't always produce a negative NII. For their full year last year, NII came to over $2.2 million. Some NII can help fund the distribution, but it isn't always necessary.

(Source - Semi-Annual Report)
Despite what a fund has for earnings, it's important to realize that the classifications of the distributions don't always line up. In this case, it is close, but you'll note that ordinary income last year was higher than the fund's net investment income [NII].
With the chance for return of capital in the distribution and considerable amounts of long-term capital gains, that could make JCE appropriate for a taxable account.

(Source - Annual Report)
Holdings - Mega-Cap Tech
JCE still remains heavily invested in the FAANG names. Though with the standard exclusion of Netflix (NFLX), that is frequently missing from most CEFs. Instead, typically being replaced with Microsoft (MSFT) instead. That is exactly the case here, making it more like the FAAMG that doesn't quite have the same ring to it.
This fund has some significant portfolio turnover. That makes it interesting that most of the top names haven't moved much at all. With the latest report, turnover was reported at 52%. Though in 2020, it was a high of 169%. In 2019, it was relatively calm, with just a 35% reported turnover. Previous to that, it was once again quite active with 121%, 159%, and 110% for the preceding years of 2018, 2017 and 2016.

(Source - Fund Website)
Since the last update at the end of May 2021, the top names have remained unchanged. Though some smaller positions now are showing up. We have Adobe (ADBE) and Berkshire Hathaway (BRK.A)(BRK.B) that have replaced the positions of iShares Core S&P 500 ETF (IVV) and Home Depot (HD). However, when pulling up the full list of holdings at the end of August, we still see HD and IVV as positions. They have just been reduced.
Not only have the top positions remained the same with Apple (AAPL), MSFT, Alphabet (GOOG), Amazon (AMZN), Facebook (FB) and Johnson & Johnson (JNJ) - but these positions have almost all increased in their allocations of the portfolio. JNJ being the only one to have slipped a bit from 1.8% to the 1.7%. On the other hand, AAPL and MSFT have increased their allocations quite considerably.
Rather than a conscious effort of adding to their positions or reducing their positions. These changes seem to primarily reflect the simple gyrations of normal price changes amongst these names. AAPL and MSFT, over that time, have delivered superior returns. JNJ, on the other hand, has underperformed. However, it is worth noting that JNJ is the only position outside of the tech sector of these top six. For a brief period, it was topping AMZN's performance. With AMZN rebounding a bit off of its lows for the year, it has outperformed.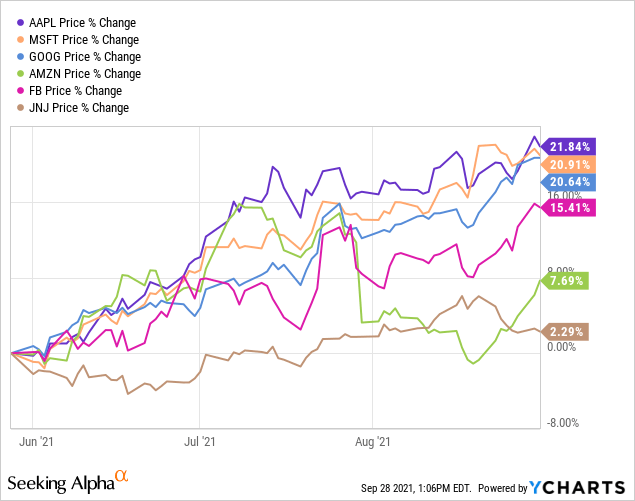 Conclusion
JCE has become quite expensive relative to its own historical trading range. That could mean it is a good time to consider taking profits. At least, it would indicate that now isn't the time to be buying this fund. Although, for those holding on to the position, it can be a difficult call. At this time, it isn't exactly clear where one could take those profits to remain invested.
EXD could be one potential option as the fund has slipped back down to a narrow discount. With such a move, the chance there is that an investor would be buying into a fund that writes calls against indexes at nearly 100% of its portfolio's notional value. That could be considered a more bearish fund relative to JCE. Since the market has been outperforming over the last year, JCE has been a slight outperformer.
The market has been on such a strong run anyway. Considering taking some profits and reducing some risk - even slightly reducing risk - doesn't sound like a bad idea. The volatility of the market has been picking up lately with some wild swings.