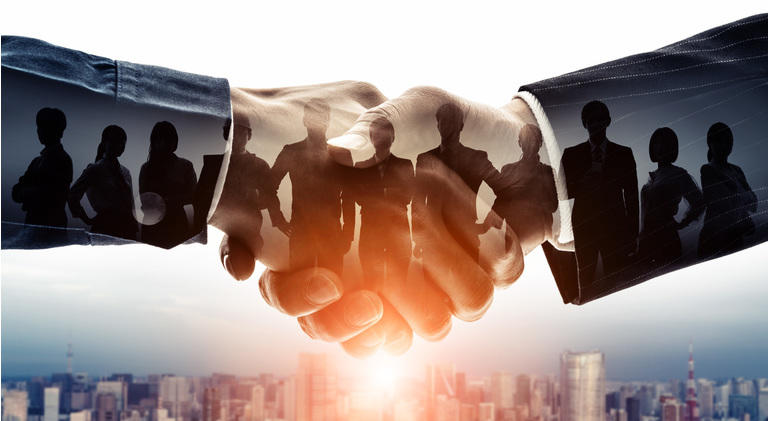 Main Thesis / Background
The purpose of this article is to evaluate the iShares iBoxx $ Investment Grade Corporate Bond ETF (NYSEARCA:LQD) as an investment option at its current market price. This fund has a stated objective "to track the investment results of an index composed of U.S. dollar-denominated, investment grade corporate bonds". This is a fund I review regularly, and actually came on my radar because I had looked at it a year ago, almost to the day. At that time, I suggested a modest outlook for the fund, heading in to the final stages of 2020. In hindsight, this outlook was vindicated, with LQD seeing a slight gain while the broader equity market rallied: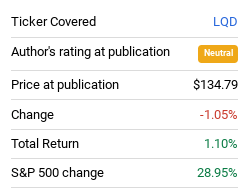 Source: Seeking Alpha
Given this performance, I thought taking another look at LQD as we approach Q4 in 2021 made sense. After some research, I came away with the conclusion that a modest, neutral rating remains appropriate.
This is due to a few reasons. To begin, LQD's income stream continues to decline, and its absolute yield is not very high. In fairness, the investment grade corporate bond sector is yielding more than similarly rated munis and treasuries, so that helps make an argument for buying it. Yet, with duration at an elevated level, it won't take much of an upward move by interest rates to wipe out the benefit of that income stream. Finally, issuance for corporate debt remains robust, which is being easily absorbed by the market at present. Yet, if the Fed begins to taper, we have no guarantee private investors will make up the demand gap. If supply remains high and demand wanes, lower underlying prices are inevitable.
Why Consider LQD? Relative Yield
To begin, I want to reiterate that investment grade corporate bonds remain a fairly solid hedge against equities. So, for those with a cautious or bearish outlook on stocks heading in to the final stretch of the year, LQD could have some merit. Further, this remains a safe income play, albeit a low yielding one. For perspective, readers should note that the average yield for an investment grade corporate remains near historic lows, and has dropped consistently as 2021 has progressed:

Source: St. Louis Fed
This reality has absolutely impacted LQD. As you will see in the fund's distribution history, the distribution has been on a downward trend for the majority of this calendar year: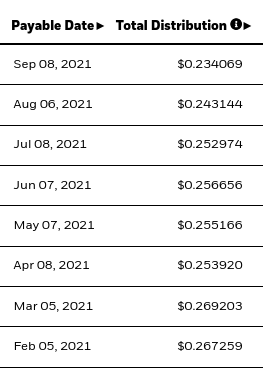 Source: iShares
With these facts in mind, readers may be asking, why would one want to buy LQD for income? Is there any positive takeaway from this?
In fact, there actually is. While I would hesitate to call LQD's income story a "positive", there is one attribute that helps to balance out the negative factors. This is the relative yield, when considered against comparable munis and treasuries. While investment grade corporates have seen their yields decline this year, this is due to macro-factors that have also impacted the rest of the fixed-income market. And, where we sit today, corporate yields actually have a positive spread against those other two options: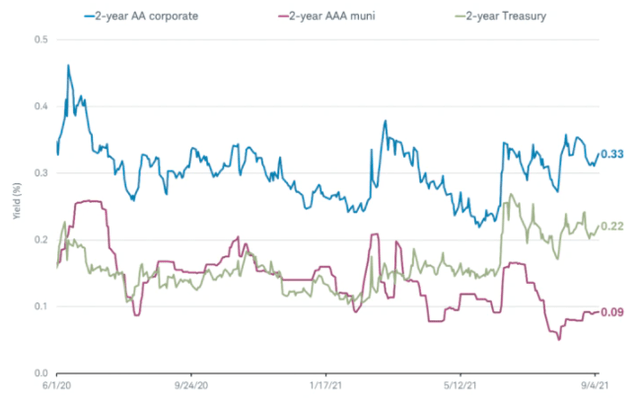 Source: Charles Schwab
My takeaway here is not that LQD is a great income play, far from it. But, as I noted at the onset, for those who are risk averse right now - whether to protect gains or because they anticipate an equity correction, they will want to put their money somewhere. Investors can still earn a positive yield with LQD, and it is one that exceeds what investors will find in other comparable categories. Therefore, I believe these factors help to offset each other, and support my modest take on this fund going forward.
Credit Risk Is Minimal - Corporate Earnings Strong
My next point has a generally positive connotation, and helps to support interest in the U.S. investment grade corporate bond space. While I am concerned about duration risk and historically low yields, the good news is there is very little credit risk in this sector. Aside from the fact that the Fed is actively supporting the market by buying the bonds directly, investors have strong earnings from U.S. corporations to put their mind at ease. Generally speaking, 2021 has been a boom year from large-cap corporations, and this is absolutely reflected in recent earnings.
For perspective, consider that earnings have been up sharply across the board in the S&P, with earnings growth in Q2 that likely even some of the most bullish of forecasts when the year started: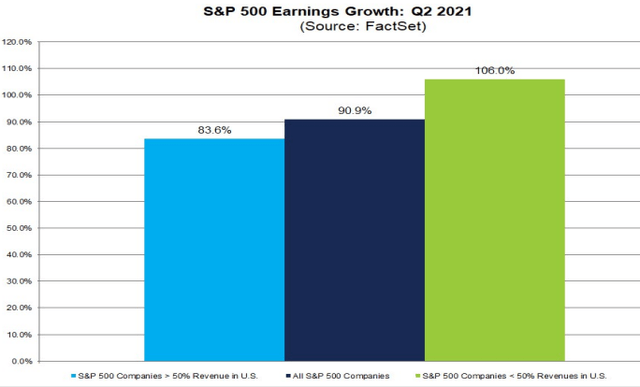 Source: FactSet
The conclusion I draw here is that debt backed by this sector is definitely on the safer side. The historic default rate is fairly low for investment grade corporates to begin with. When we throw in ongoing Fed support and very impressive earnings growth, there is minimal credit risk in this sector. This is a key reason why I am not "bearish" on this fund. Downside risk seems minimal.
Supply Has Been High - What If Fed Tapers?
I now want to touch on a couple of headwinds. One in particular is supply, which has been very robust over the past year and a half. While 2020 was a record year for issuance, 2021 has seen a tremendous amount of new debt being issued as well. Fortunately, issuance has slowed since the surge in Q1, but it did tick up in August compared to July, as shown below: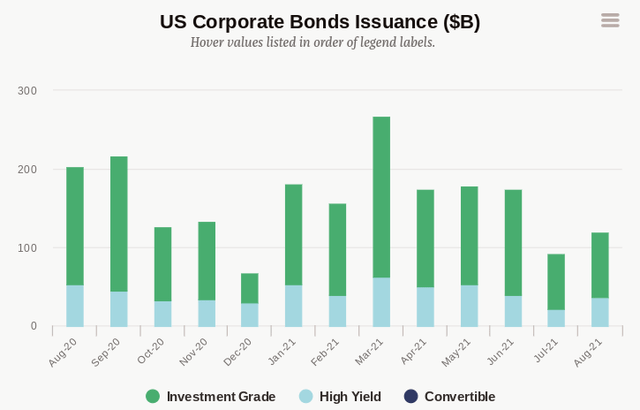 Source: Securities Industry and Financial Markets Association
Of course, higher issuance is not really a problem for the immediate moment. There are plenty of buyers abound and, if there weren't the Fed has been stepping in to buy up any excess bonds and keep yields artificially low. As a result, the high supply story has been hit with a high demand story, so there was a balancing out effect since the onset of the pandemic and the federal support measures that came with it.
However, if we look down the road, this supply story could pose more of a challenge heading in to 2022. For one reason, the Fed may begin to slow its bond purchases, in a move called "tapering". This is a reverse of the stimulus measures taken by the Fed, and it will be removing some of the excess liquidity now that economic conditions are normalizing. While some believe this is a long way off, the Fed has hinted that tapering could begin as early as November of this year. If it doesn't, Q1 in 2022 is very much on the table.
So, what would that mean for investors in corporate bonds, or LQD by extension? For right now, not a lot, but it is a very real risk to keep on the table for the longer term. What I mean is, I see LQD as a reasonable hedge and an income play for the short-term. But, as tapering begins and the Fed starts to unwind positions, investors will want to be nimble and likely reduce some of their exposure to this asset class. The Fed will be removing a very large element of the demand equation, and that is going to, at the very least, limit potential gains. The reason I say this is not an immediate risk is that the Fed is likely to begin its tapering by reducing its purchases of treasuries and mortgage-backed securities first. Corporate bonds, which it purchased fewer of, will come later, so that gives investors more time to prepare.
Duration Risk Is High, Watch Yield Movements
My last item for discussion is the elephant in the room that is impacting fixed-income products across the board. This is duration risk, which is historically very elevated, as debt issuers locked in low rates for longer time periods over the course of the past eighteen months. The end result has been passive ETFs like LQD that are more interest rate sensitive than ever before. At time of writing, LQD has a duration over 9 years, which means the fund is set up to drop by more than 9% if interest rates move up just one percentage point:

Source: iShares
I can't stress the importance of this metric enough, especially at the current moment. Yields remain at pretty low absolute levels, which tells me there is not much of a chance for another downward move. Macro-conditions will have to get measurably worse for that to happen, which is not something I predict will occur. And, at the same time, momentum is building to the upside. While the 10-year yield is still much lower than where it was in Q1, it is moving higher as we speak. In fact, the upside momentum has been quite clear over the past week, as illustrated below: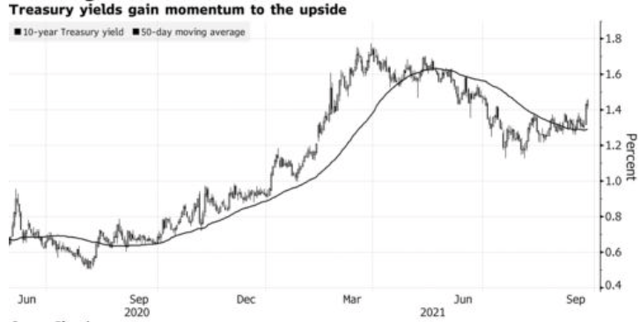 Source: Bloomberg
What I'm seeing here is that yields are finally starting to move back to the range they were in when 2021 got underway. There is plenty of upside left if they want to reclaim 2021 highs, and that could cause a decent amount of pain for LQD. Even though a move of the 10-year from 1.4% to 1.8% does not sound like that big of a deal, when we consider duration levels across the corporate bond space, it turns out it is a fairly big deal. The pain we have seen over the past few trading days should hopefully reiterate to investors the risk they are facing on this front, and provide a wake-up call to not get too overexposed now.
Bottom-line
LQD remains a pretty good option for investors looking for a "safe" play. It is loaded with investment grade credit, and pays a reasonable yield for this environment. Yet, upside appears limited here, due to a number of factors. One, the Fed could start tapering soon, cutting off some demand. Two, supply remains high, which means lower prices if investors do not make up the lost demand from the Fed (when it happens). Three, duration risk is elevated, which is an important point right now considering that yields have begun to push higher. The good news is, default risk is quite low, as credit quality has improved thanks to strong earnings and ample liquidity. As a result, I continue to have a balanced view on LQD, but I am not expecting much in the form of returns. Therefore, I suggest investors approach new positions selectively.