Billionaire Rockefeller's Legacy, And 2 Big Dividends You'll Always Love
Summary
Rockefeller was a big believer in creating wealth and growing his income.
We can learn a lot from his legacy and how to create our own wealth.
These two picks can provide countless opportunities via the dividends paid out.
Looking for a portfolio of ideas like this one? Members of High Dividend Opportunities get exclusive access to our model portfolio. Learn More »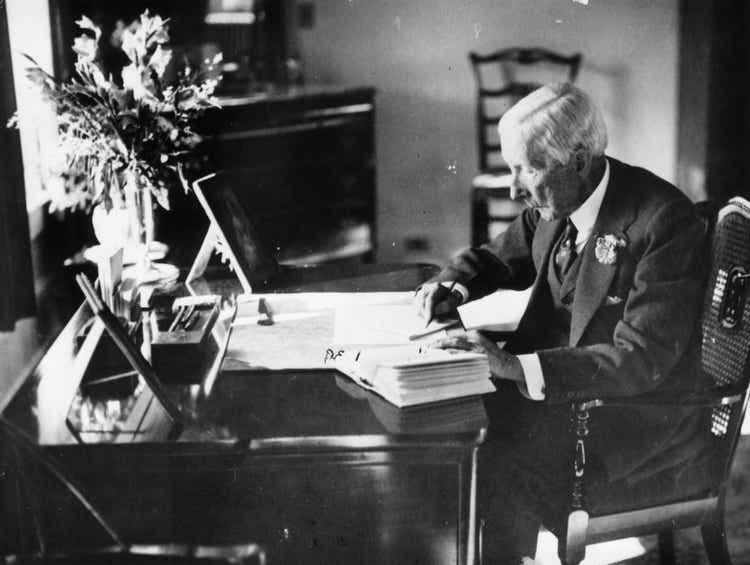 Co-produced with Treading Softly
Humanity has a habit of over-complicating things. We like to assume that simple is ineffective or inefficient. We build complex structures and algorithms when the same issues can be solved with simple logic.
We do this, mostly because we want to feel like we achieved victory on our own. This gives us the feeling that we deserve to carry a sense of pride. Ironically, even if you achieve something using the correct and simple method, you have every right to be proud of your accomplishment since, after all, you did it.
I see investors following complex mathematics, spreadsheets, charts, and computer screens that look like NASA - trying to predict where a stock's price might go tomorrow. Trying to buy the next big thing before everyone else and trying to sell before the price falls. There is an easier way.
When it comes to generating wealth, the simple solution means producing more income than expenses. Yes, it is that simple - make more than you spend, and spend less than you make and you are building wealth. Every excess dollar you make, or save, can be put to work to generate more income, and accelerate your wealth growth. Use your excess cash flow to buy dividend-paying income generators that will help grow your income and speed up your wealth accumulation. Prices will rise, prices will crash, but as long as your income exceeds expenses, your wealth will grow.
Consider John D. Rockefeller, widely viewed as one of the richest men in modern history. His net worth, when adjusted for inflation, was $350 billion. This is almost double the net worth of the current richest man, Jeff Bezos, who has $177 billion.
Both used a keen knack for entrepreneurial acumen and operated companies that generated large profits. Rockefeller was the CEO, Chairman of the Board, and major shareholder of Standard Oil. Bezos founded, was CEO, and is Chairman of the Board of Amazon (AMZN).
Yet, when they stepped away from day-to-day operations, the two took different approaches. Rockefeller maintained his majority shareholder control and was Chairman of the Board of Standard Oil. With this leverage, he required Standard Oil to pay 2/3rds of its profits in dividends. Bezos, as Chairman of AMZN, has not done the same.
This meant that Rockefeller not only benefited from Standard Oil's strong share prices but more importantly its dividends. He famously stated:
Do you know the only thing that gives me pleasure? It's to see my dividends coming in.
Rockefeller knew that share price alone was meaningless. He never intended to sell.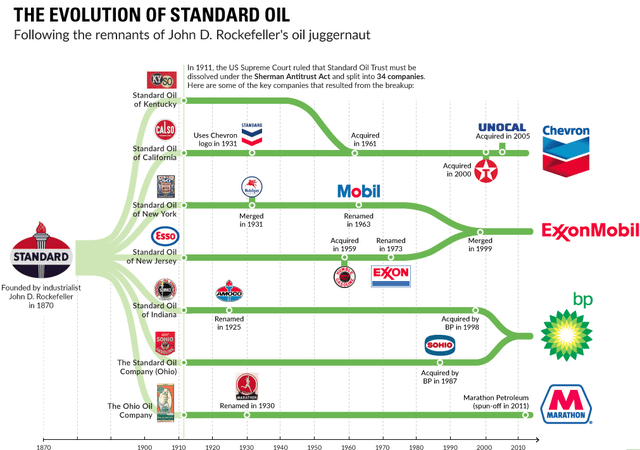 Source: Visual Capitalist
Some years later, Standard Oil was forced by the U.S. Supreme Court to divide into multiple companies. Through mergers and acquisitions, many large oil names to this day are directly tied to Rockefeller. If you are holding Chevron (CVX), Marathon (MRO), Exxon Mobil (XOM), or even BP (BP), you are holding remnants of Rockefeller's Standard Oil.
So how can we learn from Rockefeller and get the pleasure of seeing dividends come in? By following his blueprint as a shareholder and owning firms that pay strong dividends to you. Here are two excellent Rockefeller-style dividend-paying picks for you today.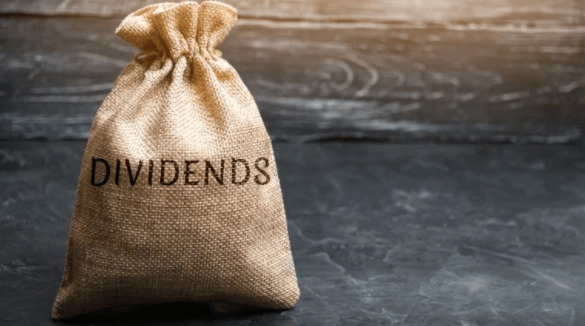 Source: Shutterstock
Pick #1: AM - Yield 8.4%
Antero Midstream (AM) has pulled back from July peaks, along with much of the energy sector, as concerns over the Delta variant and possible impacts on energy demand have been at the forefront of investors' minds.
AM stores and transports natural gas [NG] and natural gas liquids for its parent company, Antero Resources (AR). Despite the fears of the Delta variant impacting the stock market, NG prices remain extremely high. We have seen a dip after peaking recently at $5.66, and now is back up close to $6. Seasonally, summer is usually a slow time for NG demand and often tied to weaker pricing, however, this year is seeing some of the highest prices in a decade. There is usually a fall/winter demand spike, and some estimates are that NG prices could exceed $100 in Europe and over $6 in the U.S. if there is a cold snap this winter.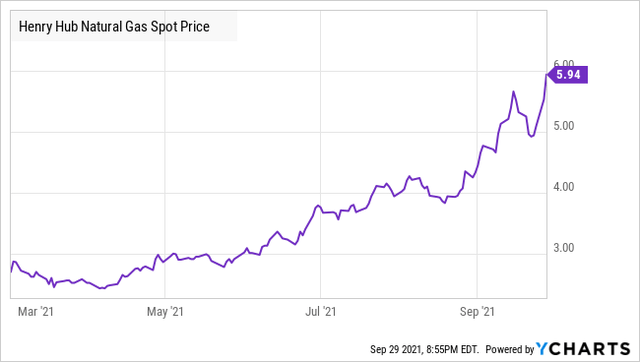 These prices are a very bullish driver for the expansion of AR, which in turn will drive growth for AM. AM is already able to fully fund its cap-ex and dividends from free cash flow, so growth will make its already-secure dividend that much safer.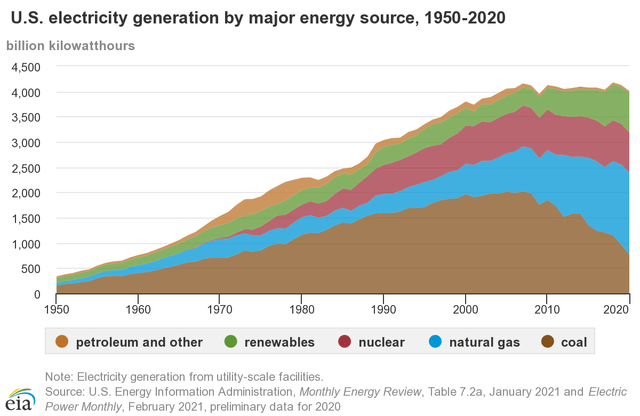 Source: EIA.gov
Natural gas continues to have a lot of tailwinds, as it is becoming an increasingly popular option for "greener" electricity generation. As can be seen above, it has essentially absorbed all of the fallout from reduced coal production.
As we go into fall, storage levels are below average, demand is rising, and supply has failed to keep up. Add in inflation, and you have a recipe for very high NG prices this winter. AM is in prime position to grow with its parent AR in these conditions. The tailwinds in the sector are strong, and we are happy to take advantage of any dips.
AM is an income generator and investors' friend in that it issues a 1099 at tax time and is taxed as a C-corp, offering favorable tax benefits. Rockefeller reaped the benefits of seeing the future with oil. Natural Gas has a bright future and a growing demand curve. I wager he'd love to see these dividends coming in.
Pick #2: HQH - Yield 7.8%
Tekla Healthcare Investors (HQH) is a CEF that focuses on the healthcare sector, investing in health services and medical technology companies. These companies enjoy strong tailwinds due to the aging U.S. population.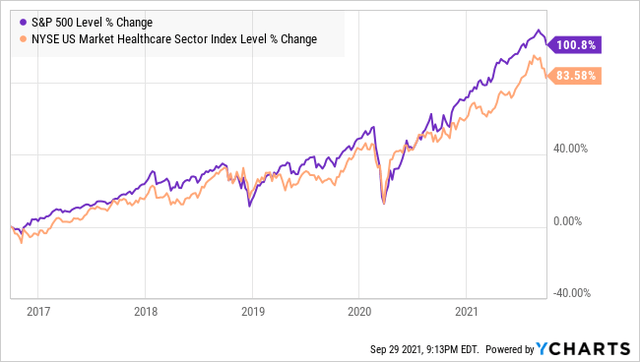 Despite this, healthcare has actually been an underperforming sector over the past five years and is relatively inexpensive today.
COVID was a wake-up call, and healthcare is being taken more seriously by the government, by consumers, and by investors. We can expect to see a lot of investment and a lot of innovation in the coming years and HQH is well-positioned to benefit. HQH holds companies like Moderna (MRNA), Gilead Sciences (GILD), and Abbott Laboratories (ABT).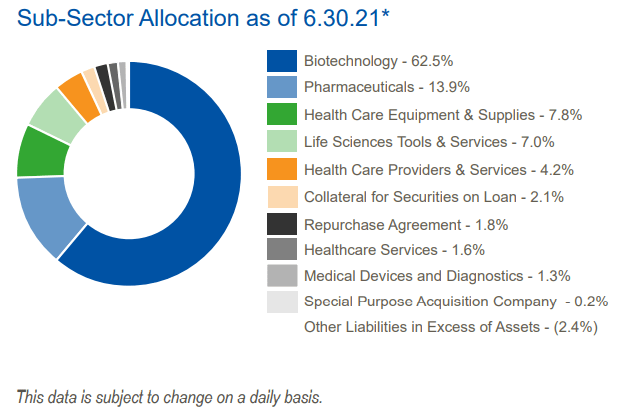 Source: HQH Fact Card
HQH has 62.5% exposure to biotechnology and nearly 14% exposure to pharmaceuticals. It will benefit from the latest innovations, including the expansion of mRNA vaccines. As the third round of COVID-19 vaccine doses is starting to be required in many places, whether you agree with this or not, money is available to be made.
An aging population means demand for healthcare will continue to increase. When you combine this increasing demand with new innovations that cure, alleviate or manage health issues, you have the ingredients for strong tailwinds.
Healthcare is an undervalued sector that will thrive over the next decade, as Baby Boomers age and a larger portion of their wealth is redirected to healthcare.
HQH's distribution policy is to pay out 2% of NAV (net asset value) each quarter. This means that the dividend is variable and will go up or down with NAV. As NAV grows, your income grows too! Currently, HQH is trading at a slight discount to NAV. With the healthcare sector poised to outperform, HQH is a great opportunity to get a growing income.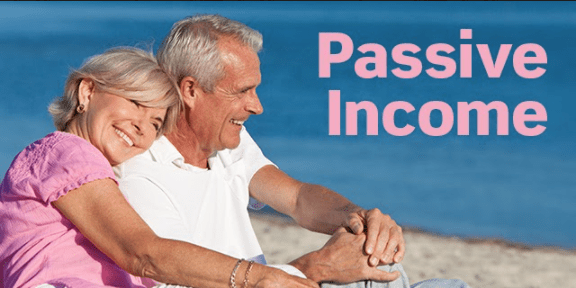 Source: Shutterstock
Conclusion
I get great joy whenever a dividend arrives in my brokerage account. Some come monthly, others quarterly, and I have a few rarities that come annually.
Rockefeller said his only pleasure in life was seeing his dividends come in. He was revealing a timeless truth. The best means to grow wealth in investing is to get paid by the companies you invest in!
More income means more excess income after your expenses. That excess income can be reinvested to generate even more income, creating a virtuous cycle where your income grows your wealth a little bit faster with each dividend paid.
While I don't want you to only enjoy dividends rolling into your account, I do want you to enjoy them. I want them to open doors of possibility for you to enjoy all that life has to offer us.
Income investing is a time-tested means to generate long-term wealth. Rockefeller was a believer in it after he stopped being primarily a businessman. Keep it simple, make your income higher than your expenditures, and then reinvest the difference in more dividend-paying stocks. Your income will grow, and the rate of growth will accelerate over time!
If you want full access to our Model Portfolio and all our current Top Picks, feel free to join us for a 2-week free trial at High Dividend Opportunities.
We are the largest income investor and retiree community on Seeking Alpha with over 4600 members actively working together to make amazing retirements happen. With over 40 individual picks yielding +7%, you can supercharge your retirement portfolio right away.
We currently are holding a limited-time sale with 10% off your first year!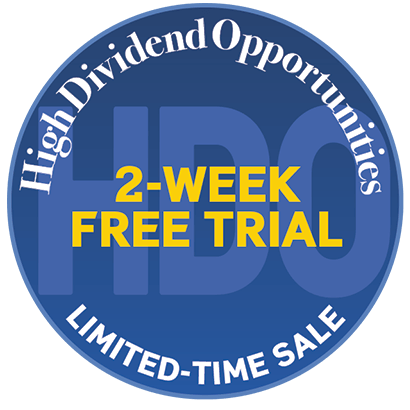 This article was written by
Rida Morwa is a former investment and commercial Banker, with over 35 years of experience. He has been advising individual and institutional clients on high-yield investment strategies since 1991.
Rida Morwa leads the investing group
High Dividend Opportunities
where he teams up with some of Seeking Alpha's top income investing analysts. The service focuses on sustainable income through a variety of high yield investments with a targeted safe +9% yield. Features include: model portfolio with buy/sell alerts, preferred and baby bond portfolios for more conservative investors, vibrant and active chat with access to the service's leaders, dividend and portfolio trackers, and regular market updates. The service philosophy focuses on community, education, and the belief that nobody should invest alone.
Lean More.
Analyst's Disclosure: I/we have a beneficial long position in the shares of AM, HQH either through stock ownership, options, or other derivatives. I wrote this article myself, and it expresses my own opinions. I am not receiving compensation for it (other than from Seeking Alpha). I have no business relationship with any company whose stock is mentioned in this article.

Treading Softly, Beyond Saving, PendragonY, and Preferred Stock Trader all are supporting contributors for High Dividend Opportunities. Any recommendation posted in this article is not indefinite. We closely monitor all of our positions. We issue Buy and Sell alerts on our recommendations, which are exclusive to our members.
Seeking Alpha's Disclosure: Past performance is no guarantee of future results. No recommendation or advice is being given as to whether any investment is suitable for a particular investor. Any views or opinions expressed above may not reflect those of Seeking Alpha as a whole. Seeking Alpha is not a licensed securities dealer, broker or US investment adviser or investment bank. Our analysts are third party authors that include both professional investors and individual investors who may not be licensed or certified by any institute or regulatory body.