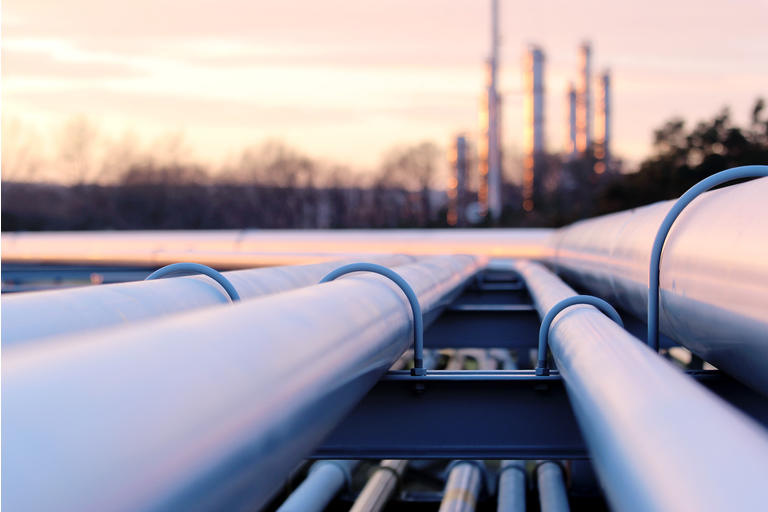 Note to readers: This article was published to HFI Research MLPs subscribers on Sept. 23.
On Monday, September 20, ConocoPhillips (COP) agreed to buy all of Royal Dutch Shell's (RDS.A) Permian assets for $9.5 billion in cash. The transaction is expected to close in the fourth quarter.
In the deal, RDS will sell all its interests in the Permian—covering 225,000—to COP. The acreage involves properties currently producing approximately 175,000 boe/d, according to RDS, roughly half of which is operated. The acreage is on the Texas side of the Delaware Basin, as shown in the map below.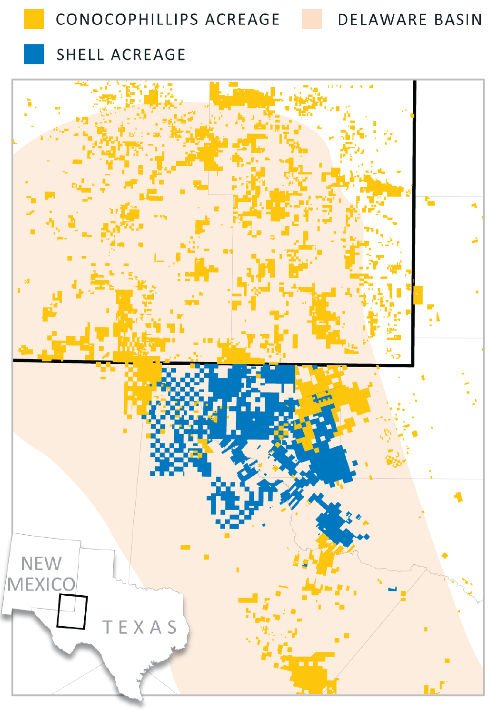 Source: ConocoPhillips – Royal Dutch Shell Transaction Announcement, Sept. 20, 2021.
RDS management has claimed it lacked sufficient scale in the Permian, and rumors of a sale have been circulating among the midstream crowd since July. The deal confirms those rumors.
In 2022, COP plans to spend $700 million to develop the properties being acquired. In addition, COP plans to spend $1 billion on the acquired acreage annually over the next ten years. COP expects to increase production from today's 175,000 boe/d to an average of 200,000 boe/d over that timeframe.
As regards midstream, COP will be acquiring more than 600 miles of oil, gas, and water handling infrastructure that RDS operates in the Delaware. It has built out its midstream system for years to accommodate increased production volumes and is currently in the process of filling its infrastructure with increased production.
COP has not divulged what it plans to do with RDS's Delaware midstream infrastructure, but it could decide to sell it, likely to a larger midstream operator. Enterprise Products Partners (EPD) and Energy Transfer (ET) come to mind as suitors, given their existing Permian gathering presence and their ownership interests in long-haul pipelines that transport liquids and natural gas out of the basin.
How the Deal Impacts Public Midstream G&Ps
Given COP's massive scale in North America and its ability to market its production, it is likely to be steadier in its development. COP as developer is therefore positive because it gives midstream operators line of sight into its longer-term budgeting and production plans.
The acquired acreage is in Ward, Reeves, and Loving counties in Texas. The publicly listed midstream operators that currently service the acreage are Enterprise Products Partners, DCP Midstream (DCP), EnLink Midstream (ENLC), Targa Resources (TRGP), Crestwood Equity Partners (CEQP), and Western Midstream (WES). The private operators on the acreage are Brazos Midstream, Vaquero Midstream, and EagleClaw Midstream.
RDS is running 4 rigs and has operating partners running another 4 rigs. According to East Daley Capital, of RDS's 4 active rigs, one is operating on TRGP's Delaware gathering system and 3 rigs are operating on systems dedicated to RDS's 50/50 Nautilus gathering joint venture with CEQP.
CEQP would benefit if COP increases drilling activity on its Nautilus acreage. Its system is not at full capacity, so the company would benefit from operating leverage that increased production would bring.
Aside from benefiting from increased activity, CEQP may be looking to acquire the 50% of Nautilus it doesn't already own. CEQP's management spoke about its desire to own more of its Delaware gathering joint ventures on its second-quarter earnings call. However, it stated at the time that it wasn't involved in any discussions with its partners.
With COP as its CEQP's new partner, that could change. CEQP recently sold its Stagecoach natural gas gathering assets and applied the proceeds toward paying down debt. The move reduced CEQP's leverage ratio to 3.6-times. Over the company's history, it has tended to operate with a leverage ratio in excess of 4.0-times. Based on CEQP's debt and preferred equity on June 30, as well as its last twelve months of adjusted EBITDA, we estimate it would take the company assuming an additional $400 million of debt to get its leverage ratio back to 4.2-times. It could deploy that capital to purchase Shell's 50% interest in the Nautilus system. Given management's penchant for dealmaking and expansion, we wouldn't be surprised if it bought the remaining 50% interest in Nautilus from COP.
CEQP's management spent the last three years trying to get its leverage ratio below 3.75-times. A purchase of RDS's Nautilus interest would put CEQP back into overleveraged territory. Frankly, we don't think management cares. We think it would do the deal in a heartbeat if it could expand its presence in today's hottest midstream G&P play, the Permian.
What would a Nautilus acquisition mean for CEPQ unitholders? Assuming COP is disciplined about its divestiture program and won't sell on the cheap, it could mean that CEQP overpays for the 50% of Nautilus it doesn't already own. Of course, this would be to its unitholders' detriment, but there are many precedents for CEQP management overpaying for assets.
With regard to TRGP, COP is currently not operating any rigs on TRGP acreage. RDS, however, is operating one rig on TRGP's system, according to East Daley. We think after the purchase, COP is likely to develop acreage that lies to the west of TRGP's gathering system, and that the deal is therefore unlikely to increase activity on TRGP's system.
The same holds for DCP's Delaware gathering system. COP/RDS acreage generally lies to its west, so we don't expect DCP systems to benefit from the deal.
EPD may benefit from the deal. RDS already operates 2 rigs on EPD-dedicated acreage, and since EPD's system lies in the heart of the acquired acreage, COP may increase activity on EPD's gathering system. Given EPD's vast size, however, the pickup in volumes from increased drilling activity isn't likely to move the needle in terms of overall financial results.
ENLC's gathering system is in closer proximity to regions likely to be prioritized for development by COP. Additional Delaware volumes would boost volumes in ENLC's Avenger system in Loving county and could provide a material benefit to ENLC's companywide financial results.
WES benefits from its former parent, Occidental Petroleum (OXY), being RDS's largest operating partner in its Delaware acreage. While COP hasn't detailed its plans for its non-operated acreage, we don't see much changing for WES by virtue of COP's ownership. WES's future will be dictated by OXY's plans. As things currently stand, OXY plans to keep its overall Permian production flat. However, WES's management sees OXY increasing production on acreage dedicated to its own gathering system.
Conclusion
We see ENLC potentially benefitting, and perhaps CEQP as well if it can obtain the 50% of its Nautilus JV for a good price. The main factor that could change our outlook is if COP opts to farm out production to more third-party operators, but no such announcements have been made.
Overall, the deal is positive for Permian midstream operators. COP plans to spend more in the Permian and boost production by 25,000 boe/d. The moves are in line with our bullish take on G&Ps in general, as higher prices are spurring increasing activity. Our outlook remains unchanged. We continue to recommend G&P equity investments for the long term.