Beam Therapeutics: This Technology Should Be Part Of Every Investor's Portfolio
Summary
Gene-editing companies are fighting for their share in a future multi-trillion dollar market.
BEAM has a great management team, the best gene-editing technology, and follows a very smart platform licensing approach and is therefore positioned to dominated that market.
Investing in Beam is very risky due to the company's very early stage, but the 100x potential of the stock makes it a great addition to almost everybody's portfolio.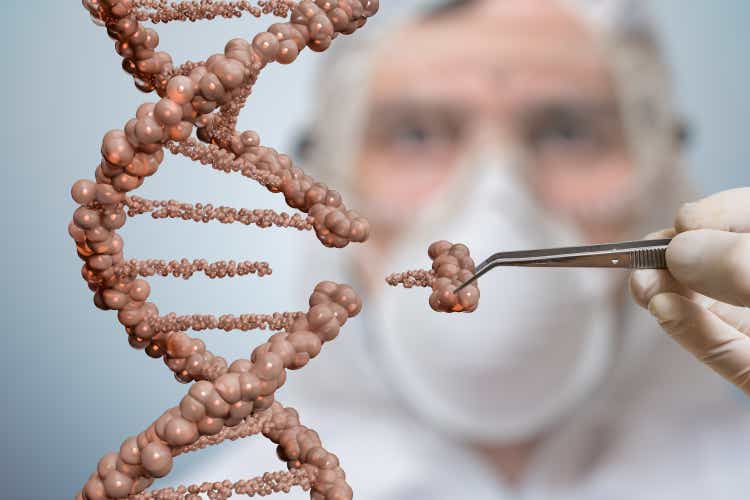 Over the next decades, there will be a multi-trillion-dollar opportunity for gene-editing-based therapies. CRISPR-based technologies, especially base editing, have the best chance to capture a majority of that market. Because of a great management team, the best technology, and its licensing model, Beam Therapeutics (NASDAQ:BEAM) is perfectly positioned to be in the center of this multi-trillion dollar market.
Gene editing's multi-trillion dollar opportunity
Big Pharma, is called "big" for a reason. The top ten companies combined have a market cap of almost $2.5T, with their market caps ranging from $150B to $430B: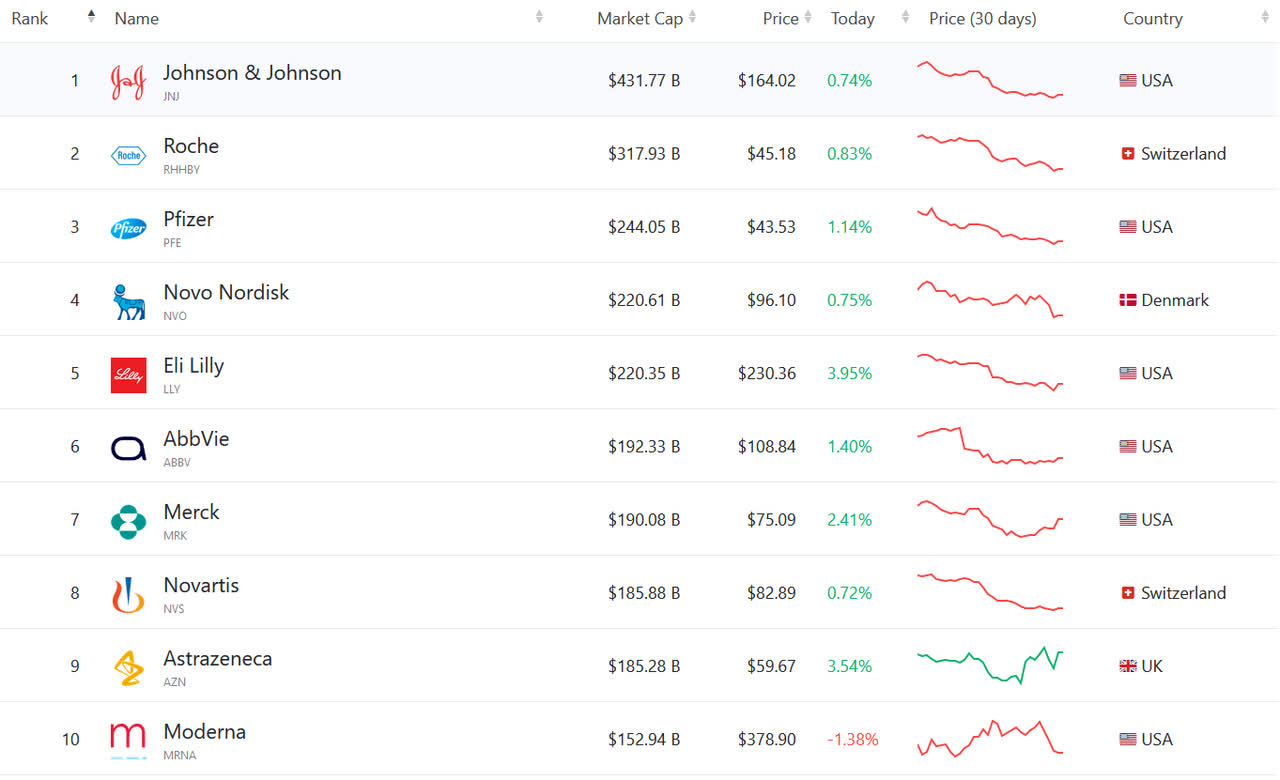 Source: CompaniesMarketCap.com
However in today's world there are still many diseases that can't be cured at all or don't have satisfactory treatment options (e.g. the drug is very painful (chemotherapy), not safe, multiple dosing is necessary, or it can only delay a patient's death by a few months). This is where CRISPR comes into play: CRISPR-based therapies have the potential to solve many of these problems for a large number of diseases.
In 2021 gene editing/gene therapy's share of the total pharmaceutical market is insignificant (a couple of billions of dollars). However going forward with new CRISPR-based therapies, gene editing will likely take a much bigger share. On the one hand, CRISPR-based therapies can replace therapies that use older technologies and on the other hand, they can cure diseases that currently can't be cured. So the whole pharmaceutical market will get bigger with these additional treatments, and gene editing will also take a significant share of the existing market. It is difficult to estimate the exact market size for gene editing, but certainly, it is in the trillions of dollars. The chart below shows the global market size for the treatment of monogenic diseases, which represent only 2% of all genetic diseases: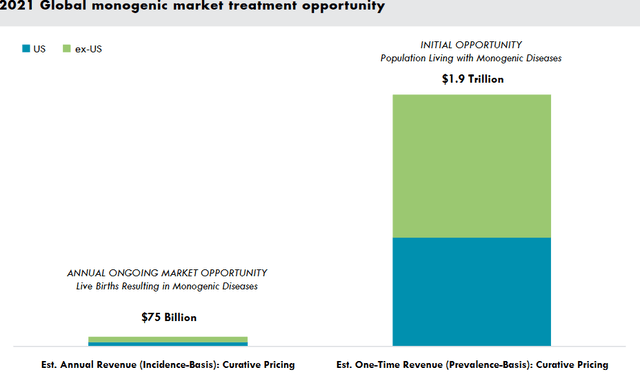 With such a big market opportunity, it seems very likely that successful gene-editing companies can also enter the top-10 Big Pharma companies and get market caps of at least $200B in ten years from now (similar to how Moderna (MRNA) just did it within one year).
There are a few different gene-editing techniques, but by far the hottest topic for researchers has been CRISPR since its discovery in 2012. As so many scientists use CRISPR and further research its applications, it improves much faster than other technologies.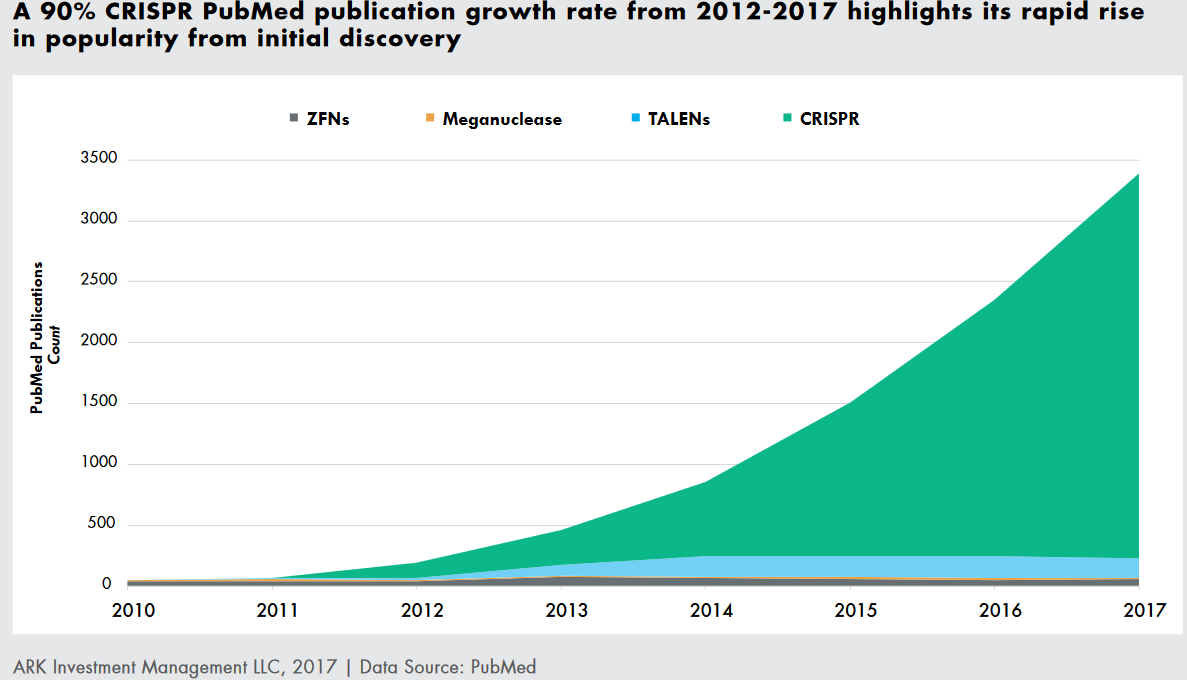 Source: ARK Invest
To sum this up: Years from now there possibly is a multi-trillion dollar market that will be dominated by gene-editing technologies. CRISPR-based technologies are heavily promoted by scientists and seem to be the most promising technology to capture that market opportunity.
Why Beam is the best investment
It is not possible yet to determine which company or which companies will dominate the gene-editing market ten years from now, but for various reasons, I believe that Beam Therapeutics has the best chance to do so.
Technology
Due to its earlier development, most well-known gene-editing companies (Intellia (NTLA), Editas (EDIT), CRISPR (CRSP)) use CRISPR Cas9 technology. Later, companies and research institutes found different ways to use CRISPR technology, for example by using Cas12, Cas13, or CasX instead of the Cas9 protein. Different Cas proteins have different advantages and disadvantages, but the Cas9 protein still stays at the center of research for now, as we know most about it.
However, no matter which Cas protein is being used, for this first-generation CRISPR technology, off-target edits, and low-efficiency editing are still quite common. Based on the first generation CRISPR technology, David Liu invented a superior second generation and called it "base editing".
The biggest advantage compared to the first generation is that in many applications, the editing efficiency is much higher, and accidental off-target edits, which can cause cancer, are significantly lower. This is especially important for human therapeutic applications.
In initial studies, Liu's team showed that CBEs could correct point mutations associated with Alzheimer's disease and cancer1 in mouse and human cell lines with an on-target editing efficiency of 35-75% and a 5% indel rate, compared with CRISPR-Cas9's 0.1-0.3% efficiency and 26-40% rate of indel formation. Using ABEs, Liu's team corrected point mutations responsible for a life-threatening blood-cell disorder called hereditary haemochromatosis, as well as sickle-cell anemia.
The second big advantage is, that instead of cutting both strands of the DNA ("double-stranded break"), base editing, as the name implies, edits single bases, making this approach much safer (you might have recently seen these news pop up, raising concerns over double-stranded gene editing). By editing a single base instead of cutting the DNA, the process is much milder, or in Beam's CEO John Evans words: "almost like the cells didn't notice that they have been edited".
But even with the drawbacks of the CRISPR Cas9 technology, its clinical results look very promising. The first CRISPR drug could get FDA approval already by 2023 (CRISPR Therapeutics' drug for the treatment of sickle cell disease). The fact that even the first generation of CRISPR therapies is working gives even more hope that base editing will be a viable treatment option in the future.
However, it should be mentioned that base editing also has two disadvantages compared to the first generation CRISPR editing, being that the transportation of a base editor in the human body is more difficult as base editors are a bit larger than the first generation tools and that Beam's current base editors can only make certain base changes (C to T & A to G), therefore limiting the base editor in the number of diseases that it can possibly treat. But Beam is still constantly developing new improved base editors, looking for the best base editors for each application.
With new technologies, the gene-editing landscape is certainly getting bigger, but due to patent protections, each technology only has a few companies that can currently use it. It is difficult to list up all the companies and pinpoint who has which technologies, as a lot of information is not public. However, below you can see my best attempt for an overview of the companies and their technologies: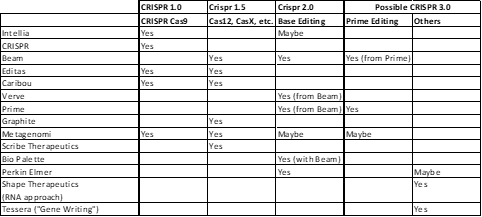 Source: Author of this article
Note two points here: 1) Not many companies outside of Beam's license holders can use base editing and 2) there are even newer technologies that have advantages (but also disadvantages) over base editing and that Beam also has access to a CRISPR 3.0 technology (Prime editing) through an exclusive license from Prime Medicine, as Beam and Prime Medicine have the same co-founder, Dr. David Liu.
Most likely, in the future, a combination of all CRISPR technologies will be used, depending on the disease that needs to be treated and on the tissue in which the disease is located. However, due to its superior safety profile and high editing efficiency, I believe that base editing will likely play the most important role in gene editing ten years from now. Certainly, base editing will capture a big share of the total gene editing market.
People
Beam Therapeutics has the, in my opinion, three best researchers in this field as their co-founders and advisors. David Liu, Feng Zhang, and Keith Joung are in constant contact with Beam Therapeutics. David Liu is the inventor of base editing as well as prime editing and has published and co-published numerous groundbreaking research papers. He has one of the best overall understandings of all gene-editing technologies and is slowly becoming the Elon Musk of gene editing (I highly recommend listening to a recent podcast with ARK Invest). Feng Zhang might be even more known to most people due to him being at the center of the dispute about who discovered the CRISPR Cas9 technology. Whenever either of the three researchers has breakthrough inventions, Beam Therapeutics has the chance to be the first to get their hands on them (e.g. prime editing).
Also compared to some of its peers (especially Editas), the top management has been incredibly stable. CEO John Evans has been with the company since the beginning (2017). This is just my highly personal opinion, but based on all the published interviews of Evans, he seems very smart and extremely well-spoken.
One more point: In almost no other industry it is as important to have the best employees as in biotech, especially in gene editing. Therefore companies are fighting to get the best talent and keep them in their company for as long as possible. Satisfied employees are the main source of success in this industry, and based on its Glassdoor ratings, Beam seems to do a better job at keeping their employees happy:



Licensing of platform
Beam's approach is not the usual one for an early-stage pharmaceutical company. Beam recognizes that there are too many diseases that its base editors can treat, and therefore builds up a base editing platform that they license out to other companies so that these companies can go after many of these diseases.
Beam has already licensed out its base editors to other very promising companies such as Verve Therapeutics (VERV) and Prime Medicine. And the terms in such arrangements are great for Beam. Even though Verve has to bear all the costs and the risks of the development of their drug, it still gives Beam a 50% profit share. This really shows how other companies value Beam's base editors. On a side note: As Verve tries to treat cardiovascular disease (heart), and therefore a possible trillion-dollar market by its own, the company's shareholders probably won't mind sharing 50% of the profits.
Beam Therapeutics also has its own drug candidates, but I like that as an investor of Beam you are not only investing in those specific drugs, you are instead investing in this very promising technology. It seems very likely that in ten years from now Beam will be in the center of the industry, collecting royalties from multiple different companies that use Beam's base editors. And for the most interesting diseases, it can still decide to not license out its base editors and develop the drug by itself.
Relative Valuation
Compared to Intellia Therapeutics and CRISPR Therapeutics, Beam is still valued relatively cheaply. Intellia has a market cap of around $10B and CRISPR Tx of around $8.5B - Beam's market cap of $5.8B is still significantly below their market caps. Therefore there is at least a 50% chance to catch up with the other two.
However, as mentioned, I believe the real potential comes from the overall market opportunity over the next ten years, which should be much more than just 50%. It really only takes one single successful drug with a decent market size to more than warrant the market cap - but of course Beam goes for more than just one drug.
Risks
No investment is without its risks. Especially, an investment in Beam is highly speculative. Therefore, I want to bring attention to the, in my opinion, two biggest risks.
Discovery of even better technology
It is possible that researchers find an even better technology than base editing, rendering base editing obsolete.
On this topic, David Liu says that it is unlikely that going forward every couple of years we will have breakthrough discoveries like Base and Prime Editing. Also, I think, should better technologies emerge, with David Liu as an advisor, BEAM will possibly anyways have access to these better technologies. Also, current technologies obviously have a head-start over those newer technologies.
Base editing is still in its early stages
Beam Therapeutics doesn't have a single drug in clinical trials yet, therefore there is no proof yet that its technology can be used for therapeutics. However, based on the first in-vivo results of Intellia Therapeutics as well as preclinical studies of Beam, it looks very promising that base editing is a save best-in-class technology that can be used in therapeutics.
Bottom line
Gene editing will very likely play a big role in the future of therapeutics and compared to the potential market size, BEAM still has a very low market capitalization. However, an investment in BEAM is very risky as the whole industry is still at a very early stage. Therefore, while Beam is not a stock to "go all-in" for, it can be a great addition to almost anybody's portfolio. BEAM is the perfect stock to buy and forget about, and potentially win big ten years from now.
This article was written by
My Background: Grew up in Germany, working and living in China. MSc in Finance. Years of experience in strategy consulting and finance.Stocks that I cover usually have market caps between $10M and $25B and fall into one of the two categories below:Category A - Asian stocks: I work and live in China, am able to speak Mandarin, and therefore can provide readers with unique insights. I believe especially Chinese stocks are extremely mispriced. Some companies are obvious scams and/or trade for far too high valuations, and some stocks are growing rapidly have P/E ratios of below 3 and are debt-free. Most of my profits I earn in this category. (recent examples are FINV, YRD, VIPS or HUYA)Category B - Growth at a reasonable price: As I do not want my whole portfolio to be exposed to Asia, I also analyze a lot of US stocks. My focus is on, often undercovered, growth companies that are in the best case already profitable and available for a reasonable price. (recent examples are PUBM, GPRO or MED)(Important Note: My articles and comments are not intended to be investment advice. Please do your own due diligence before making investments in any security.)
Analyst's Disclosure: I/we have a beneficial long position in the shares of BEAM, CRSP either through stock ownership, options, or other derivatives. I wrote this article myself, and it expresses my own opinions. I am not receiving compensation for it (other than from Seeking Alpha). I have no business relationship with any company whose stock is mentioned in this article.
Seeking Alpha's Disclosure: Past performance is no guarantee of future results. No recommendation or advice is being given as to whether any investment is suitable for a particular investor. Any views or opinions expressed above may not reflect those of Seeking Alpha as a whole. Seeking Alpha is not a licensed securities dealer, broker or US investment adviser or investment bank. Our analysts are third party authors that include both professional investors and individual investors who may not be licensed or certified by any institute or regulatory body.