Square Stock: Time To Buy Again
Summary
SQ has seen a massive selloff since its peak.
But the fundamental picture continues to improve.
And the valuation is quite reasonable today for long-term holders.
The chart is messy short term, but it is time to leg into a long position.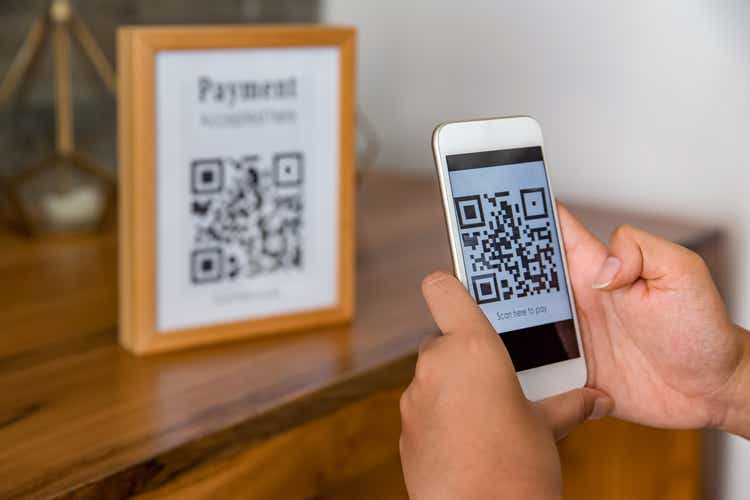 Technology stocks are once again in an interest-rate driven swoon. That means bargains are popping up, however, as former high-flyers have their valuations cut down. One such stock that has certainly experienced this is payments behemoth Square (NYSE:SQ).
The stock rallied hard this summer, adding about $100 to its share price between May and August, but has since given back over half of that. This is a tricky one though, and given the weight of the evidence, I think a bit of patience is warranted, slightly tempering my bullishness. Patience, in this case, might just rule the day.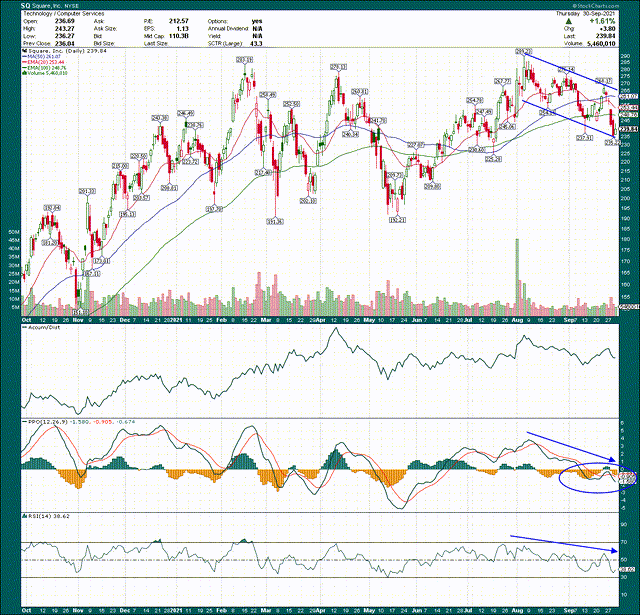 Source: StockCharts
Let's start with a look at the daily chart, and the first thing I've annotated is the choppy downtrend the stock is in right now. There's a pretty clear channel that has formed, which the stock just bounced off the bottom of a couple of days ago. This would suggest that there's a short-term bias to the upside, but until this channel breaks one way or the other, expect more chopping action with the path of least resistance being lower.
All of the moving averages are now pointed lower, and the stock trades below them, so that's not particularly good. And while the accumulation/distribution line is roughly flat during this selling, it isn't rising, which is one of the early signs a stock might be bottoming.
Momentum is decidedly uninspiring as well, with the PPO having continuously made new lows since the August high, and it is also now in bearish territory just below the centerline. That doesn't mean it cannot rally from here, but I'd really have liked to see Square bounce at the centerline.
The bottom line on the chart is that I don't see a lot of reason to rush out and buy this one, because it looks like we at least have some more sideways chopping to do, and potentially a bit more on the downside before we rally.
Given the company's fundamental strength, I still think the long-term future is very bright, but tempered bullishness is the stance for today.
SQ's long-term future is bright
The last time I covered Square, which was about six months ago, I caught very nearly the exact bottom before a sizable run higher. The stock eventually made a new high as well, but has pulled back very sharply since then. I was sure I wanted to be bullish short-term and long-term on Square back then, but today, I think you can leg into a position in Square rather than the all-clear to buy that we had in March.
I explained in the linked article why I like Square's long-term setup, most of which centered around its burgeoning ecosystem of apps that is collecting millions of users globally. Square's ecosystem of apps is extremely appealing for small businesses and consumers alike, and it has made inroads with larger businesses as well. If you're interested in the detailed case you can read it using the link above, but I didn't want to repost the same thing here. In short, Square is a bet on small businesses and digital commerce in the coming years, two areas that have seen strong growth since the worst of the pandemic.
So what has changed since March? The core business case hasn't changed (that's a good thing), but there have been some bullish developments that show Square is never done innovating. First up, Square recently announced a new integration with the wildly popular social media platform TikTok. The integration is intended to help businesses on Square's platform to sell on TikTok for free, which is essentially a way to reach millions of potential customers with videos, ads, and shopping tabs on their profiles. When shoppers interact with the sellers products or services on TikTok, they are pointed to Square's platform to complete the purchase.
This is a big development for Square users in that it is a value-add for what is already a very attractive platform (that being Square's app ecosystem), and that TikTok's user base is huge, sporting over 700 million users worldwide. About a tenth of those users are in the US, so even if Square's users are US-only, there's still a massive amount of potential customers they can reach with the new partnership. This could attract those that already sell on TikTok to Square's platform, or attract those that see this as a value-add for Square.
Second, Square's acquisition of BNPL firm Afterpay is transformational in nature. Big tech companies make small acquisitions all the time to either buy key talent or integrate a feature into its existing ecosystem. Afterpay isn't that; this is a massive acquisition and a big step forward for Square long-term.
The transaction is worth about $25 billion based upon Square's current share price (0.375 Square shares per Afterpay share), so it's huge. But what Square is getting is a leader in BNPL, and one that is helping merchants grow while also allowing consumers to manage their purchases effectively.
Afterpay will be integrated into Square's Seller and Cash apps, and afford Square a massive jump forward in user growth and revenue potential without having to make years of investments to do so.
Afterpay's growth has been nothing short of extraordinary, nearly doubling every year since 2018.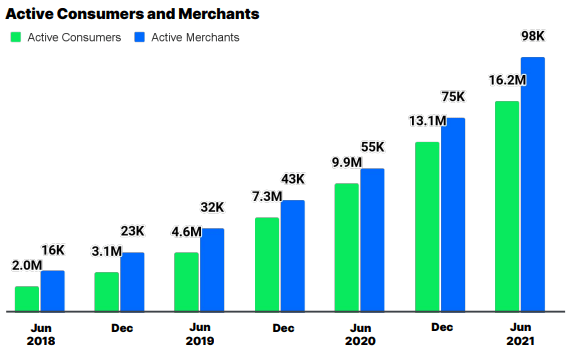 Source: Investor presentation
Square gets immediate access to Afterpay's ~100k merchants and 16+ million consumers, as well as the company's tremendous revenue growth.

Source: Investor presentation
These numbers are in Australian dollars so apply a multiple of 0.72 to them for USD, but the point is more about the growth Afterpay has seen. GMV is up ~4X in just two years, and revenue is up ~3.7X over that same time frame. But that torrid growth isn't all; Afterpay's gross margins are outstanding.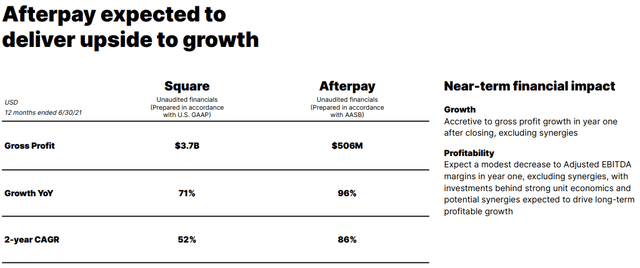 Source: Investor presentation
Gross profit was more than $500 million in the year-ended 6/30/2021, and has grown at an average rate of 86% for the past two years. This makes Afterpay accretive almost immediately, and that doesn't include any synergies. A lot of times we see tech companies go after targets that make sense strategically, but not financially, but Afterpay for Square is both.
Not without its risks
I probably sound very bullish to you, and long-term, I am; Square is an innovative business that is in the right place when it comes to capitalizing on digital payments over time, and I don't think that's going to change. However, there are risks.
The biggest risk is that Square isn't the only one that is trying to win in digital payments. It faces competition from traditional banks, the likes of PayPal (PYPL), other tech companies, etc. Digital payments is one of the biggest markets anywhere in the world, and Square will have to continue to innovate to win.
The BNPL space is very hot as well, so while I get why Square wants to make a splash, it also means it faces stiff competition there. Afterpay competes with numerous other BNPL firms, so while the pie is big, there are a lot of mouths going after it.
Finally, any time we are talking about a tech company with massive reach, we must also consider regulation. I don't see Square as large enough as to attract attention from regulators, but if it is as successful as currently forecast (more on that below), that could eventually become a problem.
While I don't see any of these risks as big enough to warrant caution on their own, competition is something Square is going to be seeing more of in the coming years, not less. That's why continuous innovation is key, and Square is relentless in this pursuit.
Massive growth still coming
I just mentioned the growth Square is expected to have, and we can put it into perspective with the below look at revenue revisions.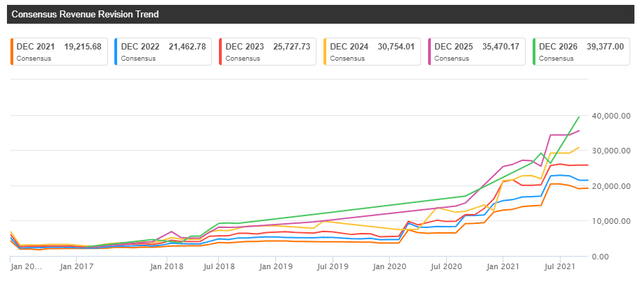 Source: Seeking Alpha
The first thing you notice about this chart is the absolutely bonkers amount of revenue growth Square has achieved. Three years ago, revenue estimates for 2026 were for ~$7 billion. Today, that same estimate is $39 billion. It's the same story with the other years as they all move up and to the right in a stair-step fashion.
The past couple of months have seen a slight decline in revenue estimates, but this has happened before, and then Square reports earnings and blows away estimates, and the estimates rise again. I obviously cannot guarantee that being the case this time around, but if history doesn't repeat, it at least usually rhymes. Betting against a company with revenue revisions like this is not something I want to make a habit of.
On a valuation basis, Square isn't "cheap" in a traditional sense, but it never will be; market leaders tend to be like that. Below we have the stock's price-to-sales for the past three years to put some historical context on the current valuation.

Source: TIKR.com
Shares go for just under 6X forward sales today, which is well below its three-year average of 10X, and a very long way below its peak of 22X set in 2018. I don't see any reasonable scenario where Square goes for 22X sales again, but given it is accelerating its scale gains and continuing to invest in future growth, could we see 10X again? Absolutely; there is no reason why Square should see an ever-declining valuation given how well it is performing today.
So while it takes some faith to say something at 6X sales is cheap, in Square's case, it isn't that far off from its lowest valuation in the past three years, which is something I cannot reconcile with its current fundamental situation.
The bottom line is that I think Square may continue to see a period of selling/digestion before it rallies again, but long-term, I still think this stock is a winner. Tech stock valuations are being hammered right now so I cannot recommend running out and buying a full position. But if you wanted to own Square, it is cheap enough now to begin legging in, because this company is going to do great things in the years to come.
Finally, I'm very excited to announce that I have a Seeking Alpha Marketplace service launching on Monday, October 4th, so if you liked this idea, you may be interested in my new service. I'll sift through the market's sectors to find the best stocks in the best sectors, and those that should be avoided, to maximize your return on capital, such as this idea on Square. More details are coming very soon!
This article was written by
Josh Arnold has been covering financial markets for a decade, utilizing a combination of technical and fundamental analysis to identify potential winners early on in their growth cycles. Josh's focus is mainly on growth stocks. His goal is efficient and profitable use of capital, which overly rigid buy-and-hold strategies do not allow. Josh is the leader of the investing group
Learn more
.
Analyst's Disclosure: I/we have no stock, option or similar derivative position in any of the companies mentioned, and no plans to initiate any such positions within the next 72 hours. I wrote this article myself, and it expresses my own opinions. I am not receiving compensation for it (other than from Seeking Alpha). I have no business relationship with any company whose stock is mentioned in this article.
Seeking Alpha's Disclosure: Past performance is no guarantee of future results. No recommendation or advice is being given as to whether any investment is suitable for a particular investor. Any views or opinions expressed above may not reflect those of Seeking Alpha as a whole. Seeking Alpha is not a licensed securities dealer, broker or US investment adviser or investment bank. Our analysts are third party authors that include both professional investors and individual investors who may not be licensed or certified by any institute or regulatory body.