Rocket Pharmaceuticals Stock Forecast: Can It Rebound To $50 Levels? A Resounding Yes
Summary
Rocket Pharmaceuticals, Inc. is a clinical-stage, multi-platform biotechnology company developing gene therapies with a focus on direct on-target mechanisms of action for rare and devastating orphan diseases.
Rocket Pharmaceuticals currently has five ongoing gene-therapy clinical programs covering both AAV and LVV-mediated gene delivery.
The Company is well-capitalized and in a strong financial position with ~4 years of cash runway and average analyst revenue expectations of $581M by FY 2024.
RCKT has a sizeable catalyst upcoming in 4Q 21 where the company expects to present very critical updates across their five ongoing programs highlighting much anticipated therapeutic risk data.
In summary, the author projects Rocket Pharmaceuticals, Inc. as a strong "buy" at a 2-3 year Wall Street price target of $69.70/share (+152% upside).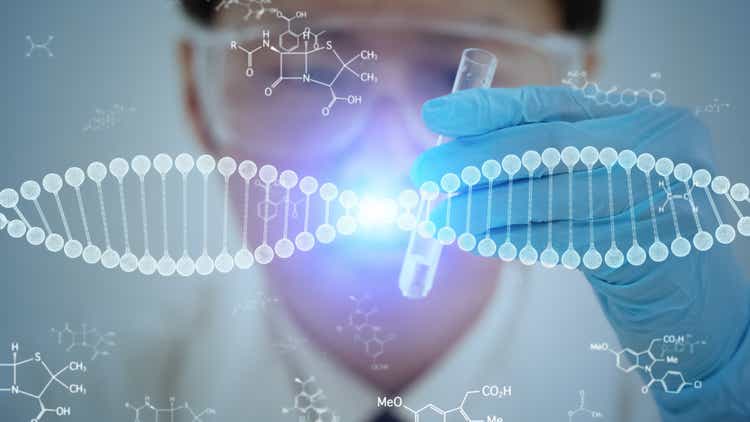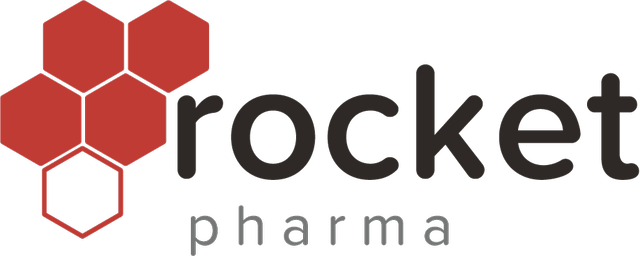 Graphic Source: Rocket Pharmaceuticals, Inc.
Introduction: What is Rocket Pharmaceuticals?
Rocket Pharmaceuticals, Inc. (NASDAQ:RCKT) is a clinical-stage, multi-platform biotechnology company developing gene therapies with a focus on direct on-target mechanisms of action for rare and devastating orphan diseases. The current platform is using ex-vivo lentiviral vectors and in-vivo adeno-associated virus vectors showcasing impressive early efficacy data for the associated target genes driving strong wall-street optimism.
Founded in 1999, Rocket Pharma has grown to 91 employees and a market cap of $2.12B (Sep. 2021). The potential of Rocket Pharma is one of the highest this author has seen. Wall Street has an overwhelmingly bullish sentiment by all 12 following Wall Street analysts with the only debate being on how quickly Rocket can complete their fast-tracked clinical trials. The therapeutic programs underway have already shown promising curative potential, but have increased investor concerns with the safety of Rocket's gene therapies and the FDA's willingness to accept such risk levels. If successful, Rocket Pharmaceuticals could revolutionize the gene therapy market yet again, but the sizeable upside comes with sizeable risk. The following report will aim to present a comprehensive overview of where Rocket Pharmaceuticals is today and the potential/risks upcoming in the 4Q 2021 data announcement.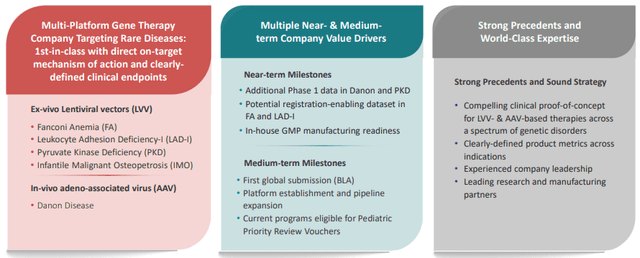 Source: Rocket Pharmaceuticals, Inc. | Corporate Presentation (August 2021)
Pipeline and products: Gene Therapies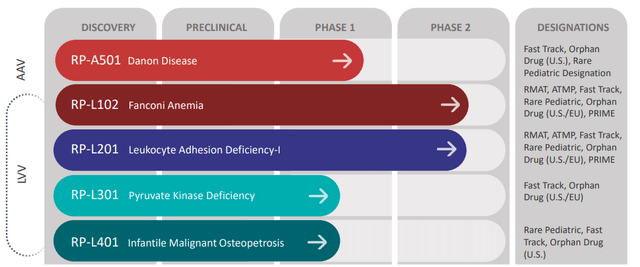 Source: Rocket Pharmaceuticals, Inc. | Corporate Presentation (August 2021)
Rocket Pharmaceuticals currently has five ongoing gene-therapy clinical programs covering both AAV and LVV-mediated gene delivery. Their latest stage programs include RP-L102 and LP201 which both reached Phase 2 alongside three programs operating in Phase 1. All programs to date have orphan drug and fast track designations with varying levels of safety.

Source: Rocket Pharmaceuticals, Inc. | Corporate Presentation (August 2021)
AAV Program: RP-A501 for Danon Disease
RP-A501 is Rocket's sole AAV in-vivo therapy targeting Danon disease in a Phase 1 trial. Danon disease is a multi-organ lyso-disorder leading to heart failure. It's driven by a series of mutations in the gene coding for the LAMP-2 protein, an autophagy mediator. Currently, there are no treatments for this 15-30k patient prevalence disorder in the US/EU.

Source: Rocket Pharmaceuticals, Inc. | Corporate Presentation (August 2021)
As of June '21, Rocket treated five patients with RP-A501 (+immunosuppresive treatments) completing their first cohort (n=3 low dose, n=2 higher dose). Preliminary data announced back in Dec. 2020 showcased that in the low-dose cohort there were some safety concerns, but largely manageable with no "unexpected" or serious drug-related SAE/AEs.
In the higher-dose cohort, there were strong immune responses associated with RP-A501. One patient of the two treated in this dosage had pre-existing anti-AAV9 immunity and experienced a sudden unexpected serious adverse event (thrombotic microangiopathy event), though it did not persist. It was attributed to an immune-mediated complement activation that led to reversible thrombocytopenia and acute kidney injury. It required eculizumab and transient hemodialysis, but then the patient was able to retain normal kidney function within three weeks. This patient continued to have disease progression proven to be unassociated to RP-A501 (trial investigator confirmed + by personal transplant cardiologist confirmed) and later received a heart transplant. This situation, informed by the explanted heart, has led Rocket alongside FDA comments to update the trial protocol excluding enrollment of Danon patients with end-stage disease. Additionally, moving forward, Rocket will focus on only utilizing the low dose standard (Low: 6.7e13 vs Higher dose: 1.1e14 or higher). As of Aug. '21, the FDA has lifted the clinical hold and RP-A501 will move forward.
On a positive note, 2/3 of the low-dose patients showcased key clinical-biomarker improvements consistent with improved cardiac function (improvements in autophagic vacuoles). In terms of gene expression, 3/3 low dose patients showed evidence of cardiac LAMP2B expression. 2/3 low dose patients also showed high levels of cardiac LAMP2B expression alongside clinical biomarker improvements. 2/3 of the low-dose patients also showed improvements in cardiac output (+35% and +62% output) and brain natriuretic peptide (upgrading from Class II to Class I under the heart failure classification system from NYHA). The third low-dose patient demonstrated stabilization of their NYHA class and BNP. This data confirms early efficacy and with an updated trial protocol for low-dosages RP-A501 shows promise.
Rocket expects to present data from the low and high-dose patients in 4Q21.
LLV Program: RP-L102 for FANCA
RP-L102 is one of Rocket Pharmaceuticals' lead therapeutic programs targeting Fanconi Anemia (FA), another rare and life-threatening condition. RP-L102 is in Phase 1/2 trials. RP-L102 is also ODD/FT designated to treat this DNA-repair disorder arising from a mutation in the FA gene. Rocket's target is a subsect of the FA population (60-70% of cases) that arise from mutations in the FANC-A gene. FA untreated leads to bone marrow failure, developmental abnormalities, ML, and other malignancies. These often occur in the early years of life; hence the pediatric designation and focus. The most frequent therapy utilized is HSCT, but this has been associated with acute/LT risks (e.g. GVHD, amongst others). Rocket is countering this therapeutic modality by focusing on minimally toxic hemo-correction with a single IV infusion using the patient's stem cells during the early years of life.

Source: Rocket Pharmaceuticals, Inc. | Corporate Presentation (August 2021)
In Dec. 20', Rocket Pharma presented interim data (n=7/9 patients of the 12 enrolled) in both the US Phase 1 and global Phase 2 studies. 7/9 patients had follow-up data to >2 months and 3/7 for >12 months. Early data has shown that without the use of a conditioning regiment, RP-L102 was well-tolerated with no significant safety issues reported outside of the one SAE (grade 2 transient infusion-related reaction) that was reported. 5/7 patients showed evidence of preliminary engraftment with bone marrow ("BM") copy numbers ranging from 0.16-0.22. 2/3 patients with >12 months follow-up data showed increasing engraftment, MMC resistance, and stable blood counts which evidence a halt in bone marrow failure progression, a critical biomarker for certain FA outcomes. The third patient with >12 months of follow-on data contracted influenza B 9-months after treatment which led to BM failure that required but was successfully treated with a bone marrow transplant. In May 21', additional preliminary results from the Phase 1/2 trials showed 6/9 of the pediatric patients had increasing evidence of engraftment. 2/9 had data up to 15 months follow-up and 4/9 with at least 6-months. RP-L102 is appearing promising with a positive safety profile without conditioning and with no dysplasia signs.
Rocket expects to present more data on these patients in the 4Q'21.
LLV Program: RP-L201 for LAD-I
RP-L201 is another of Rocket's farther along with programs (global Phase 1/2) and was in-licensed from CIEMAT. The trial is partnered with UCLA who leads US clinical development efforts. RP-L201 aims to treat Leukocyte Adhesion Deficiency-I (LAD-I), a rare (patients affected: in the hundreds) autosomal recessive disorder related to white blood cell adhesion/migration. This results in a mortality rate of 60%-75% for severe cases that stem from various mutations in the ITGB2 gene coding for CD18. The resulting mutation leads to the impaired ability for neutrophils to exit blood vessels and enter infected tissues.

Source: Rocket Pharmaceuticals, Inc. | Corporate Presentation (August 2021)
Thus far, the ongoing Phase 1/2 trial has completed enrollment and has treated four severe LAD-I patients focused primarily on safety and tolerability. As of April 21', Rocket showcased positive results from the four pediatric cases with severe LAD-I. RP-L201 was shown to be well-tolerated with no safety issues during treatment or post-treatment. 4/4 patients achieved hematopoietic reconstitution (within five-weeks) and showcased CD18 expression beyond the minimal required 4-10% threshold for survival into adulthood. In May 21', Rocket presented further data from Phase 1/2 that re-affirmed preliminary efficacy in 4/4 patients including 1/4 patients with 18 months of follow-up data and 2/4 patients with at least 9-months of follow-up data. All four patients showed CD18 expression strongly exceeding the same 4-10% threshold. This enabled them to leave the hospital in only weeks after administration. RPL-201 remains well-tolerated with no safety issues during or post-treatment.
Rocket expects to present initial Phase 2 data in 4Q 21'.
LLV Program: RP-L301 for PKD
RP-L301 is another Phase 1 program in-licensed from CIEMAT that Rocket is using for red blood cell Pyruvate Kinase Deficiency (PKD), a rare disorder resulting from a mutation in the PKLR gene. The PKLR gene codes for a component of the RBC glycolytic pathway. Pediatric patients are the most commonly affected with the most severe outcomes leading to early mortality or constant RBC transfusions. The various mutations in the PKLR gene are believed to result in variability of the anemia severity with at least 2.5k cases diagnosed in the U.S. and EU. Rocket's compiled research indicates there to be between ~250 to 500 potential patients annually.

Source: Rocket Pharmaceuticals, Inc. | Corporate Presentation (August 2021)
RP-L301's global Phase 1 clinical trial expects to enroll six adult/pediatric transfusion-dependent PKD patients across the US/EU. The goal of the trial is to compile three cohorts of various ages ranging from 8-years of age to older adults. The focus will be on safety, tolerability, and preliminary activity. Stanford is leading the US site with their other partners covering Europe. The first patient was treated in July 2020.
Preliminary data from the first adult patient (L301-006-1002) treated as of Oct. 20' showed initial tolerability, hemoglobin improvement to a normal range (3-months post-treatment), and a normalization of other hemolysis markers. Hematopoietic reconstitution was observed in <2 weeks following administration. The patient to date has not required any red blood cell transfusions. The patient also had a normalization from a substantial elevation of bilirubin, lactate dehydrogenase, and erythropoietin levels at 3-months post-treatment. The same patient also had an increase in hepcidin and a decrease in reticulocytes reporting that RP-L301 was well-tolerated without any serious safety or infusion issues. There were Grade 2 SAEs including chest pain, dyspnea, and nausea during apheresis collection but resolved with supportive care. Other events include Grade 2 bone pain and Grade 2 leukocytosis.
In March 21', Rocket reported further positive preliminary data from their Phase 1 showing sustained safety and tolerability at 6- and 3-months post-treatment for the two patients. Durable normalization of hemoglobin levels was also seen in patient #1 (6-month mark: from ~7.4 to 13.9 g/dL) and patient #2 (3-month mark: from ~7.0 to 13.8 g/dL). Both showed significant improvements in bilirubin. In May 21', Rocket Pharma's last update was also positive showing sustained safety and tolerability with preliminary efficacy evident at 9- and 3-months post-treatment mark with durable normalization of hemoglobin levels. The next cohort will enroll older pediatric patients in 2H 21'.
Rocket expects to present longer-term Phase 1 data in 4Q 21'.
LLV Program: RP-L401 for IMO
RP-L401 is the last therapeutic program Rocket is conducting and was in-licensed from Lund University. The target of RP-L401's Phase 1 is Infantile Malignant Osteopetrotsis (IMO), a genetic disorder due in approximately 50% of cases to mutations in the TCIRG1 gene. The result is increased bone density and bone mass. In this disorder, osteoclasts do not function properly leading to thicker and unhealthy bones. The result is bone marrow failure, anemia, and increased infection risk due to limited white blood cells. There is also a suite of other problems including neurologic deficits. IMO typically occurs within the first year of life leading to mortality within the first decade of life. Typical treatment is allogeneic HSCT, but GVHD amongst other complications arise. The affected population rate is one in 250k-300k.

Source: Rocket Pharmaceuticals, Inc. | Corporate Presentation (August 2021)
Rocket is targeting IMO in a non-randomized Phase 1 program led in the US by UCLA. The enrollment will be two pediatric patients and will assess safety and tolerability as well as preliminary efficacy. This includes improvements in bone density or abnormalities, hematologic status, and endocrine abnormalities. Pre-clinical data has shown modest level engraftment can correct the disease in vivo with increased long-term survival, tooth eruption, weight gain, and normalized bone resorption.
The first patient treated was in 2Q'21, but had severe IMO. This patient sadly died during the first weeks of therapy due to pulmonary complications most likely attributed to pulmonary hemorrhage related to thrombocytopenia following the condition therapy. There was underlying osteopetrosis. This was not attributed to RPL501 after autopsy findings were conducted by study investigators. Pulmonary hemorrhage is rare but is a complication attributed to HSCT and particularly in osteopetrosis patients. Regardless, enrollment has been paused pending a more comprehensive evaluation.
Rocket expects to report further clinical updates in 4Q21'.
Management
Rocket Pharmaceuticals is being led by CEO and co-founder, Gaurav Shah, MD. Before Rocket, Dr. Shah was Global Program Head in Cell & Gene Therapies at Novartis (NVS). He gained significant applicable experience in this role, not just with gene therapies, but with leading an impressive division of a leading institution. As Global Head, he led several pivotal trials with CART-19 therapies for patients with leukemia and lymphoma. Before that role, he was Global Clinical Program Head for CART-19 and biosimilars gaining critical hands-on experience in clinical trial management. Before that, he was the lead physician for Afinitor focusing on several global oncology submissions. Before that, served as Medical Director at ImClone/Eli Lilly overseeing oncology trials. In terms of education, Dr. Gaurav graduated from Harvard summa cum laude with a degree in Behavioral Neuroscience. He got his MD from Columbia.
Financial position
Rocket Pharmaceuticals is well-capitalized and in a strong financial position. With cash at $427M as of June'21, the higher than average TTM cash burn of -$108M is more than compensated for. This enables Rocket to ~4 years of cash runway. The risk of further dilutions is still present with consistent yearly capital raises, most recently raising $283M in FY 2020. Revenues are non-existent as is typical with clinical-stage biotechnology companies. The firm also had a TTM net loss of -164.7M, but this is still within the cash cushion. No further liabilities stand out other than the $28M in total debt which represents a minimal cash drain.
Wall-street analysts do seem conflicted over the earliest potential commercialization date with some forecasting as early as FY 2023 (Revenue estimate: ~$123M). In the author's perspective, Rocket more realistically will begin commercialization by 2024-2025. Wall-street analysts have an average 2025 revenue estimate of ~$581M. This showcases two important factors, the first being that the earnings potential of the combined pipeline is quite large ranging up to $2.33B by 2030. Profitability isn't expected on average until FY 2025 with an average wall-street EPS target of $1.23/share growing to an average target of ~$4.59/share by 2026. Some optimistic analysts do raise this expectation to $18.66/share by 2027, but this seems rather outlandish and would necessitate an aggressive multi-product global rollout alongside minimal internal cash drains. In summary, the earnings potential of Rocket Pharmaceuticals is quite high, but there is much risk entailed in the forecasted period due to the gene therapy safety concerns.
Risk discussion
Rocket Pharmaceuticals represents a high-risk high-reward investment. This is driven primarily by the ODD designations presented and the higher risk within gene therapies. This is evidenced even within Rocket Pharma's early clinical results which have already highlighted early-risk concerns, particularly as they aim to target a high-risk high-mortality patient population across their various indications. Investors should exercise more caution than normal, particularly when 4Q 2021's data is presented as stock price fluctuations may exceed even the 52W average of $22.79-$67.48/share. All therapeutic programs are expected to present data highlighting the broad risk profile of the gene therapies as a whole and this is a priority concern.

Source: Rocket Pharmaceuticals, Inc. | Corporate Presentation (August 2021)
Can Rocket Stock Rebound? | Wall-Street Expectations
All 12 following Wall Street analysts have presented an overwhelmingly bullish outlook which is quite uncommon for biotechnology companies. Rocket certainly has shown its business and strategic acumen across its ODD/FTD programs and a keen sense of financial stability and attainable near-term milestones. Therapeutic efficacy also has broadly been showcased for RCKT which may play out well with the associated ODD high-risk categories, but gene therapies still present serious risks. These apply not only to the patients but within the timelines set forth by the FDA/EMA.
The near-term price target expected by wall-street analysts for RCKT is $69.70/share (+152% upside). This strong upside potential is well-warranted and stable with minimal target price changes in 2021.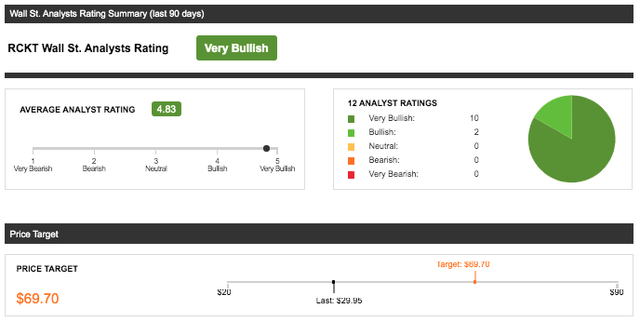 Source: Seeking Alpha | Wall-street Expectations (September 2021)
Is RCKT Stock A Buy, Sell, or Hold? | Valuation
Rocket Pharma is certainly a "buy" in the author's eyes. This is due to very promising therapeutic potential and a strong financial basis to progress through clinical trials. Although risks are present in the safety of RCKT's gene therapies, these seem compensated for by the strong efficacy results in ODD/FT designated indications selected, the underlying reasoning for trial mortality/AEs, and with early risks not being directly attributed to the gene therapies themselves. The FDA's clinical hold release in August 2021 also helped to assuage agency approval concerns. Regardless, informed opinions of the following Wall Street analysts have also presented a picture of price action upside outweighing the majority of downside risk; though the downside is quite difficult to ascertain. None of the following analysts have indicated anything other than a bullish outlook, but the timeframe is what they do debate.
To compensate for this factor, the below rough valuation adjusts analyst expectations to present an average stock price upside expected. It adjusts for the model's weakness in regards to negative EPS; which the author thinks is important to balance the higher-than-average bullish expectations. Investors should use the following model only for rough estimations of the average likelihood of upside once EPS reaches positive figures by 2025. This is contingent on commercialization and the date of likely commercialization occurring in 2024-2025. The below model is unable to reflect RCKT's downside which has shown to be difficult to accurately present, but the therapeutic successes and a TTM price to book value of 3.88x have assuaged a full loss of capital. The model aims to reflect industry standard multiples (PE: 20x-25x) and their effect on a relative EPS target.

Table Source: Developed by Gunner Hardy | Data Source: Seeking Alpha
It showcases succinctly that the share price of RCKT has the potential to reach triple digits or a rough price target of ~$103 by 2026. This figure doesn't represent the most optimistic following analyst but goes to show that the $50 mark is well-within rebound potential. Investors should still focus on the average price target of all 12 following analysts as a more accurate picture of near-term (2-3 years) upside. This figure is still substantial at $69.70/share (+152% upside). Much of this upside may be attained in 4Q'21 based on the sizeable data presentation and their gene therapies' risk that has brought down the share price recently.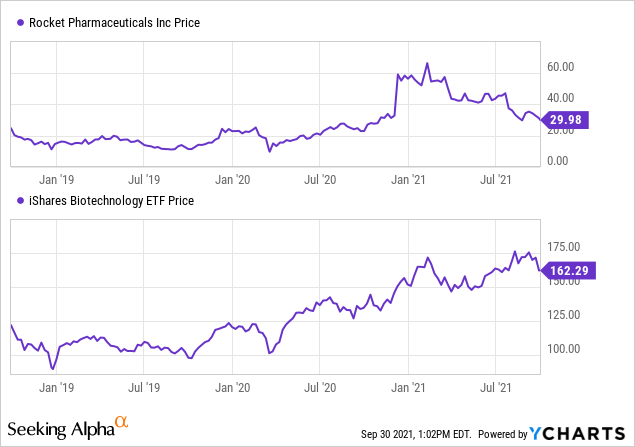 Conclusion/Investment thesis
Rocket Pharmaceuticals, Inc. has truly impressed the markets and recent price fluctuations have not changed the underlying potential. Wall-street analysts seem to confirm this thesis with unwavering support and optimism surrounding the current pipeline. The early efficacy results to date have shown an impressive ability to save patient lives and improve the well-being of struggling patients, but each therapeutic will need to manage the tumultuous clinical stages yet to be overcome. RCKT will need to impress the FDA more so on the safety side, but additionally due to the sentiment on gene therapies; however, it appears Rocket Pharmaceuticals may just drive a new wave of successful gene therapies and early results seem to evidence strong upside. Investors should still exercise caution, particularly as gene therapy risk has not subsided yet and the small patient populations of initial trials may not be predictive of later clinical stage success.
In summary, the author projects Rocket Pharmaceuticals, Inc. as a strong "buy" at a 3-4 year price target of $69.70/share (+152% upside).
This article was written by
Analyst's Disclosure: I/we have no stock, option or similar derivative position in any of the companies mentioned, and no plans to initiate any such positions within the next 72 hours. I wrote this article myself, and it expresses my own opinions. I am not receiving compensation for it (other than from Seeking Alpha). I have no business relationship with any company whose stock is mentioned in this article.
Seeking Alpha's Disclosure: Past performance is no guarantee of future results. No recommendation or advice is being given as to whether any investment is suitable for a particular investor. Any views or opinions expressed above may not reflect those of Seeking Alpha as a whole. Seeking Alpha is not a licensed securities dealer, broker or US investment adviser or investment bank. Our analysts are third party authors that include both professional investors and individual investors who may not be licensed or certified by any institute or regulatory body.