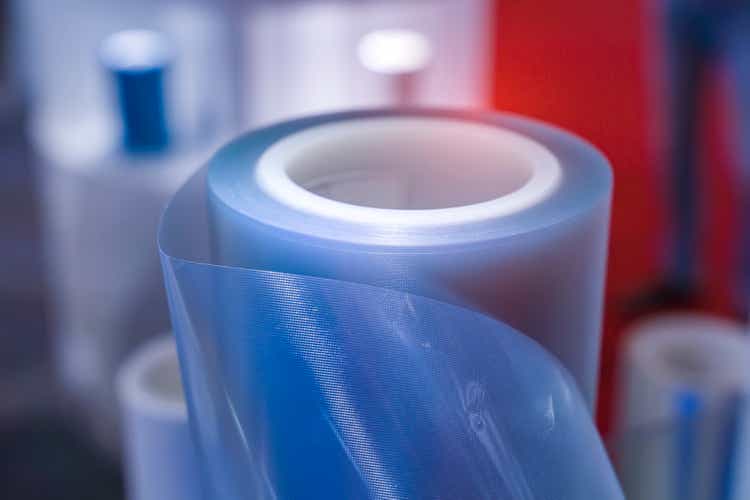 Pactiv Evergreen (NASDAQ:PTVE) recently revised its fiscal 2021 EBITDA guidance by a considerable $80 - $95 million on the back of resin impacts, flooding at its Canton mill from Tropical Storm Fred, and related labor headwinds. While these issues could prove transitory, the magnitude of the cut comes as a negative surprise, as similar inflationary pressures and labor issues were present at the time of its most recent earnings report as well. And though the acquisition of Fabri-Kal is a positive in light of the favorable valuation and the strategic addition of a sustainable product line, the elevated debt levels are a risk, especially with PTVE yet to deliver on its self-help initiatives amid lingering operational issues at its mills. As such, I remain on the sidelines at current valuations.
Reviewing the Disappointing Guidance Update
PTVE has recently lowered its full-year EBITDA guidance to $550 million (down from the previous $630-$645 million range). The majority of the $80mn-$95mn downward revision was a result of higher raw material costs, specifically resin, where management's prior guidance range had assumed a less gradual normalization in resin costs following the industry-wide shortages earlier this year. The remaining impact is largely due to continued labor shortages and flooding caused by Tropical Storm Fred, both of which are guided to contribute a c. $30 million EBITDA headwind. The balance of the downward revision comes from open market incremental pricing actions of $15-$20 million.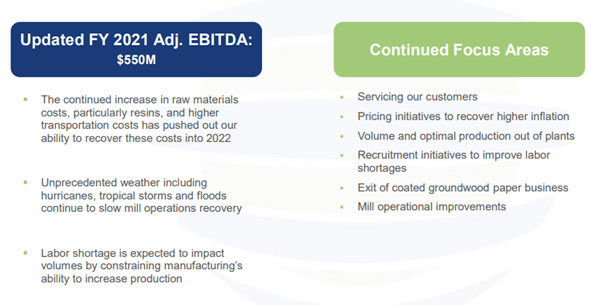 Source: Pactiv Evergreen Investor Presentation Slides
While disappointing, this should perhaps not have come as a surprise – the Homebuilders & Building Products space has seen similar guidance cuts from the likes of Sherwin-Williams (SHW) and PulteGroup (PHM) amid difficulties sourcing petrochemical-based raw materials due to the impact of winter storms in February and more recently, Hurricane Ida. Nonetheless, I view much of the negative impact as transitory, with the company still on track for meaningful Y/Y growth in fiscal 2022. In particular, the lapping of the resin impacts next year should provide a considerable c. $60 million tailwind to Y/Y comps (assuming constant resin prices), while in combination, the headwinds this year should provide for a c. $700 million tailwind in 2022. This also equates to growth of sub-30% relative to fiscal 2021 guidance numbers without incorporating any additional volumes or benefits from productivity initiatives and the Fabri-Kal acquisition, which should support a strong guidance ahead.
Acquisition of Fabri-Kal is a Net Positive
Alongside the guidance update, PTVE also announced a definitive agreement to acquire Fabri-Kal for c. $380 million using cash on hand and additional financing. For context, Fabri-Kal is a leading thermoform packager in North America, operating four plants in the region. Approximately 15% of its sales are generated by the key Greenware brand, while 34% comes from its Recycleware brand (post-consumer rPET products), c. 23% from stock foodservice products, and the remaining 28% from larger CPG brands. Notably, the Greenware brand is the leading player in the PLA ("polylactic acid") resin foodservice space (note PLA resin is biodegradable plastics derived from plant sugars), while Pactiv's EarthChoice brand is the number two player.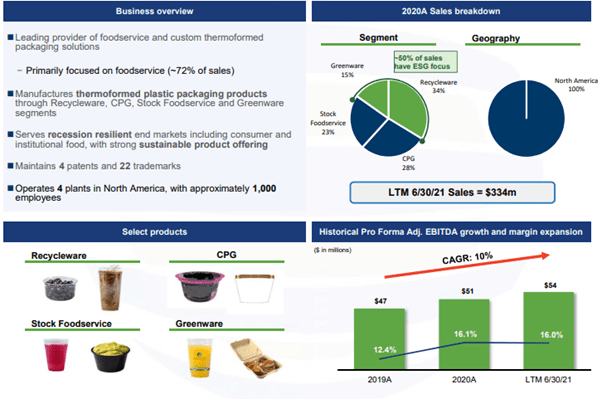 Source: Pactiv Evergreen Investor Presentation Slides
As of its latest quarter, the company generated c. $334 million in trailing sales and c, $54 million in EBITDA, which is equivalent to a 16% margin (well above PTVE's c. 11% margin during the corresponding period). With synergies from the deal guided to reach c. $28 million over the next 36 months, this implies a c. 7x pre-synergy multiple and a very reasonable c. 5x post-synergy transaction multiple on an EV/EBITDA basis. Furthermore, the c. 72% of sales from higher-margin foodservice customers and the limited customer overlap supports the strategic rationale for the proposed acquisition, highlighting the clear fit for the Fabri-Kal product offering within the PTVE portfolio. As things stand, the transaction is expected to close in late FQ3 '21 or early FQ4 '21, after which the deal will be included in the updated full-year guidance.
Elevated Debt Level Limits Balance Sheet Flexibility
In conjunction with PTVE's lowered fiscal 2021 earnings outlook, I would note that leverage levels remain a concern at the current 6.5x LTM net debt/EBITDA. With another acquisition closed, the deleveraging progress will likely remain a key focus for investors in the near term as PTVE seeks to move beyond recent operational challenges. While the Fabri-Kal transaction is a net positive considering the favorable valuation and the synergy potential from integrating the Greenware sustainable product line with the EarthChoice brand, the deal economics are heavily dependent on management extracting the projected synergies. As things stand, the deal is guided to be net deleveraging on a post-synergy basis and be immediately accretive to cash flow, so successful execution will be key. For now, I see a clear path to leverage levels reaching c. 5x by end-2022 on a pro forma basis in a best-case scenario, which still leaves limited balance sheet flexibility for future M&A or capital return.
Final Take
While the downside to PTVE's full-year guidance was well signaled, the magnitude of the c. 20% EBITDA reduction came as a negative surprise considering similar inflationary pressures and labor issues were present at the time of the FQ2 '21 earnings as well. And with the latest acquisition adding strategic positives but straining the balance sheet, I see fundamental challenges to the PTVE story. Coupled with the limited visibility into the financial impact of ongoing self-help opportunities, as well as the modest valuation premium to peers Graphic Packaging (GPK) and Berry Global (BERY), I believe caution is warranted on the shares at the current levels.