ClearPoint Neuro: Becoming The Neurosurgical Platform Of Choice
Summary
ClearPoint provides a complete navigation system that enables neurosurgeons to perform minimally invasive procedures under a real-time guidance.
Once the full portfolio of products is released, the company is poised to grow even faster as their platform is aimed to solve a range of neurosurgical needs and penetrate into the OR market, where >90% of procedures take place.
With 35 existing partners, the chances for multiple successful commercialization is high.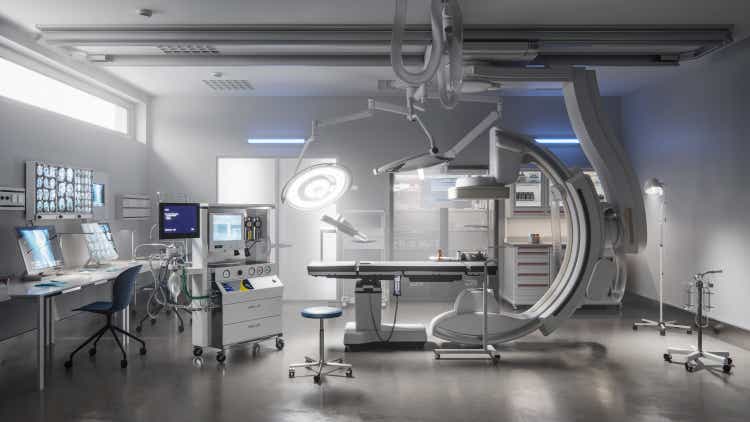 Editor's note: Seeking Alpha is proud to welcome Tan Jun Hao as a new contributor. It's easy to become a Seeking Alpha contributor and earn money for your best investment ideas. Active contributors also get free access to SA Premium. Click here to find out more »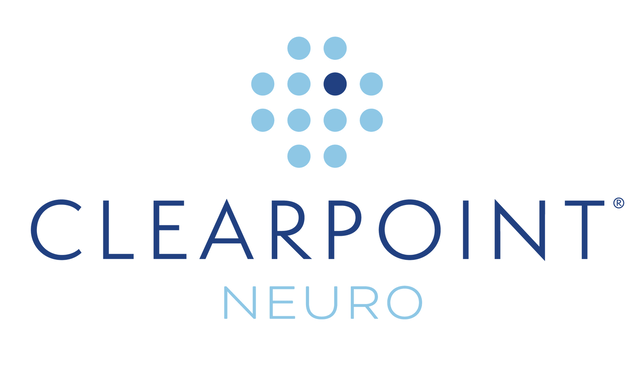 Investment thesis
ClearPoint Neuro (NASDAQ:CLPT) has developed the first navigation system that allows neurosurgeons to perform minimally invasive procedures under a real-time MRI guidance. The bigger potential lies in ClearPoint being the go-to-neurosurgical platform that provides the tools needed to solve some of the most devastating neurological disorders. With 35 partners and growing, the chance for multiple commercialization is huge, which is an upside for the company in the next 5 years.
What problems are they solving?
More than 90% of neurological diseases today are treated in the Operating Room (OR). It involves performing surgery on the brain, one of the most vital and complex organs as it contains a lot of soft tissues. To do that, neurosurgeons need to be able to deliver therapies to the brain with 100% accuracy and a safe manner. Hence, ClearPoint Neuro has developed a complete navigation system that is designed to help neurosurgeons to perform minimally invasive procedures under real-time MRI guidance.
Solution
The ClearPoint Navigation System consists of three components - software, hardware and disposables. It is also FDA approved.
1) Software: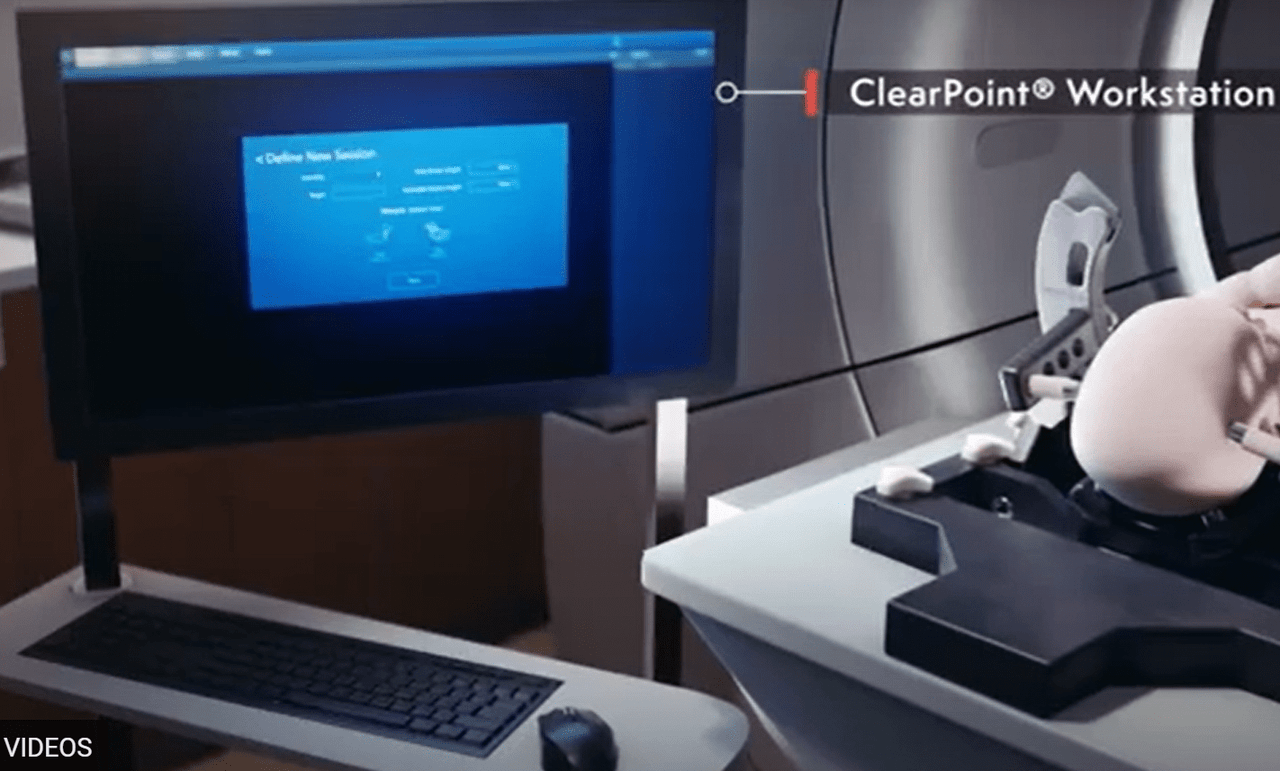 (Figure 1 - Workstation, Source: YouTube)
The software is the Computer Workstation that allows surgeons to plan, target and deliver the drugs. This is where surgeons can view live MRI scans of the patient's brain.
2) Disposables: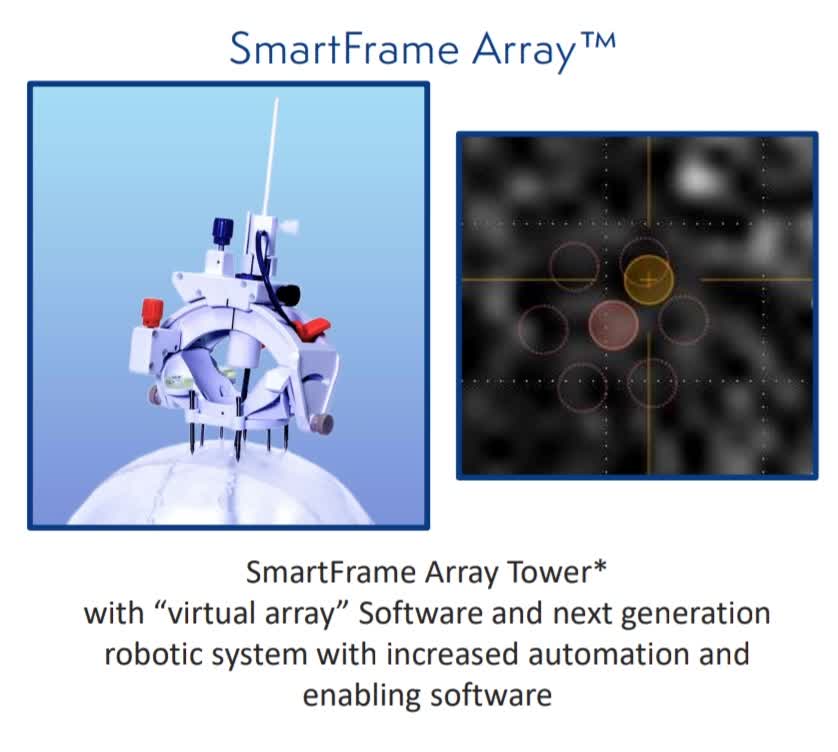 (Figure 2 - SmartFrame Array, Source: Investor Presentation)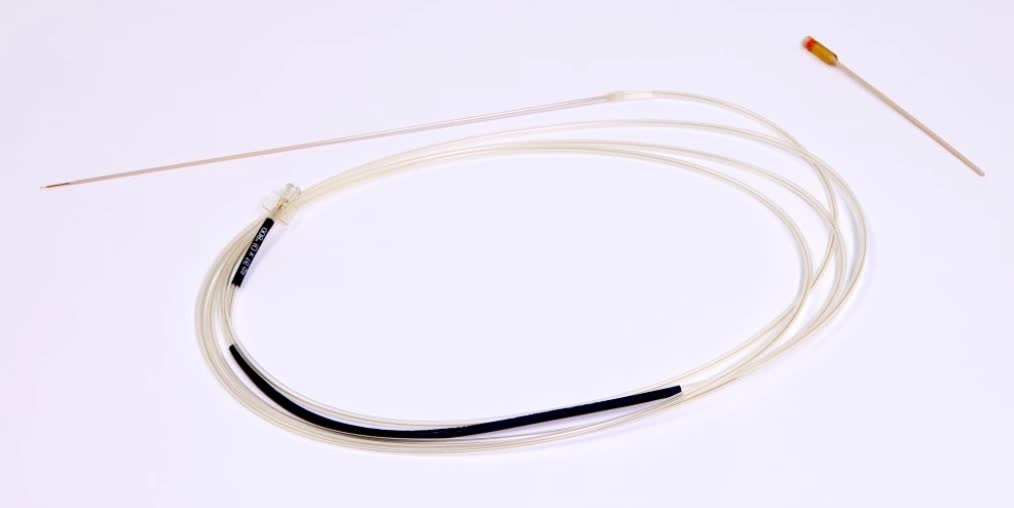 (Figure 3 - SmartFlow Cannula, Source: ClearPoint Neuro's Website)
The disposables consist of the SmartFlow Cannula and SmartFrame Array. The SmartFrame array works together with the Computer Workstation to identify the target in the brain for extreme accuracy. The SmartFlow Cannula which is visible on the MRI will be inserted into the brain by putting it in the centre of the Array and deliver the therapy to the target. Importantly, both can be used in the MRI suite and OR, where >90% of neurosurgical procedures are done in. The Array is to be in limited market release throughout 2021 and expected to be in full release in early 2022.
Disposables are one-time use but they are "recurring" in nature as pharma partners need to purchase them regularly to perform their procedure. It has a high margin of 80%+
3) Hardware: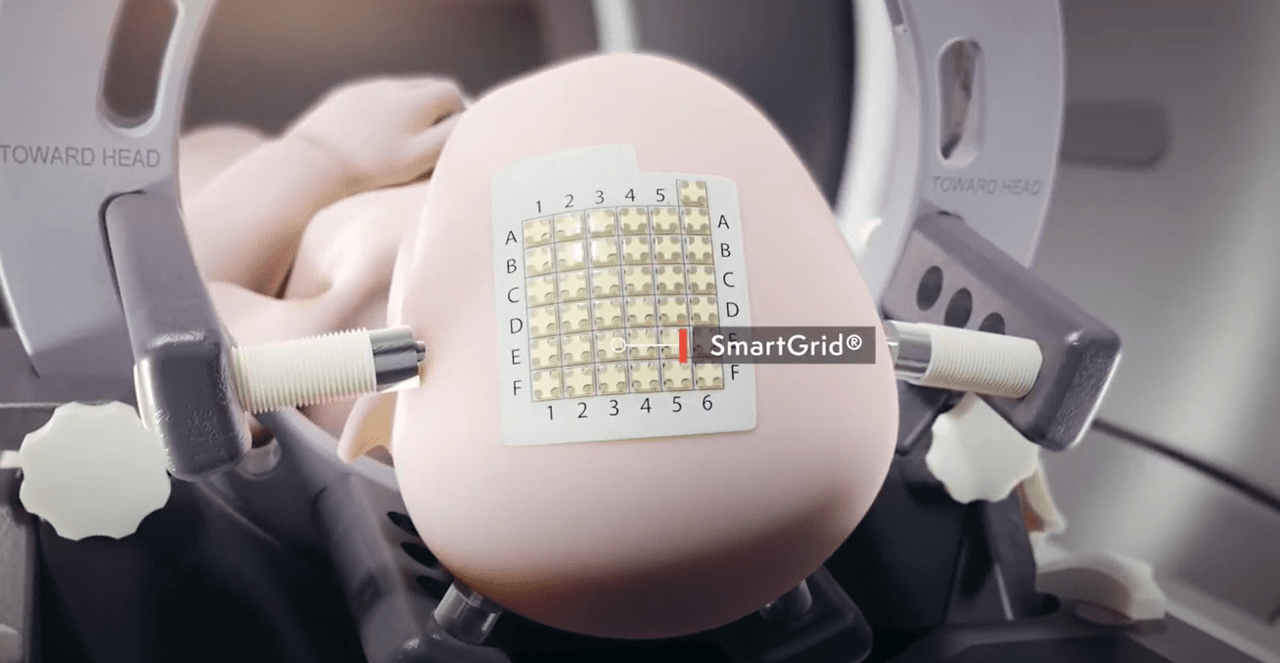 (Figure 4 - SmartGrid Patch, Source: YouTube)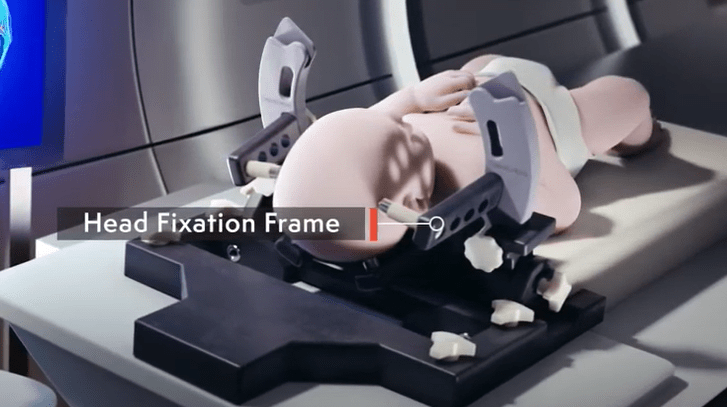 (Figure 5 - Head Fixation Frame, Source: Youtube)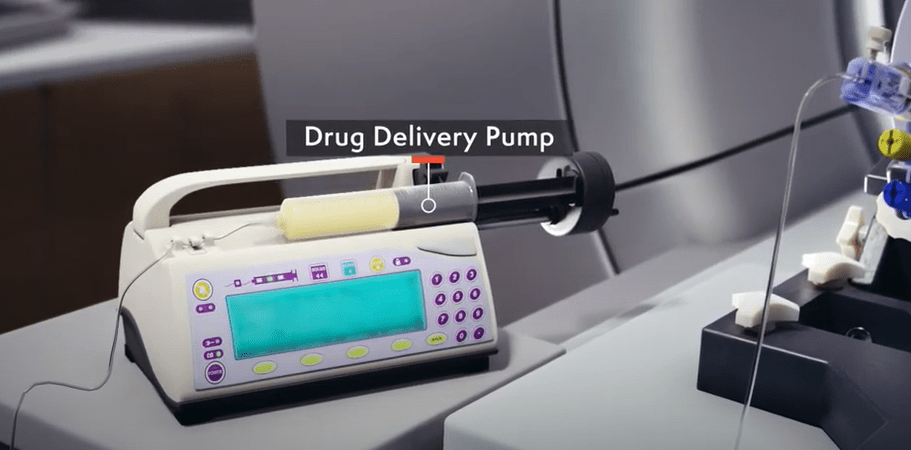 (Figure 6 - Drug Delivery Pump, Source: YouTube)
The hardware consists of the Head Fixation Frame, SmartGrid and Drug Delivery Pump. The head fixation frame is to keep the patient's head in place and the SmartGrid provides the entry points to identify the trajectory to the target region.
Applications - What therapies are ClearPoint involved in?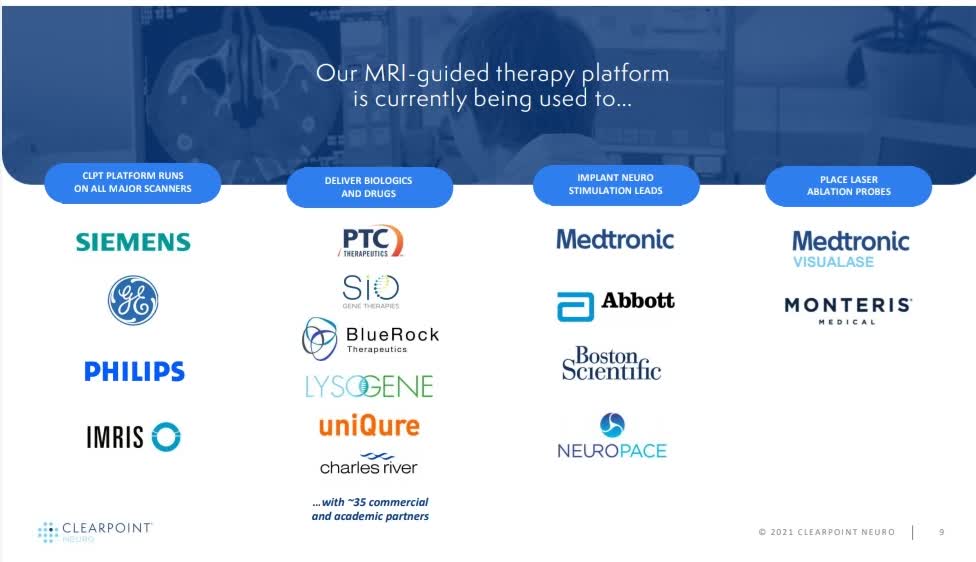 (Figure 7, Source: Investor Presentation)
1) Deliver Biologics and Drugs: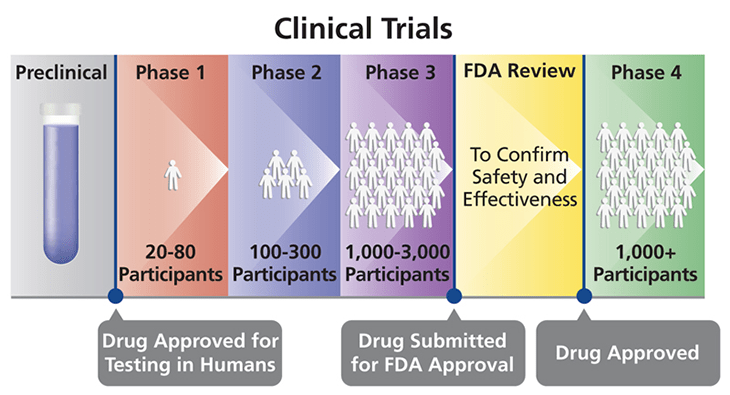 (Figure 8 - How a Clinical Trial Process looks like, Source: Link)
There are 35 partners using ClearPoint's navigation system in their clinical trials. As each partner advance through the trials (Phase 1 -> Phase 2), more patients have to be enrolled and thus more potential revenue for ClearPoint as more disposables have to be purchased for the procedures. The commercialization, or phase 4, is where the bulk of revenue comes as therapies are then made available to the public. In addition, one partner can have more than one therapy using ClearPoint. As the first therapy gets approved, subsequent therapies will earn a faster approval as ClearPoint has already been approved by the FDA. In Q2 FY2021, the management said that they add 1-2 partners every month, and 70 potential partners in the pipeline. While most have resumed their clinical trials due to pandemic, there are 5-6 states affected by the new Covid Delta Variant and have warned the company that elective procedures may be stopped.
These are some of the few therapies near to commercialization stage: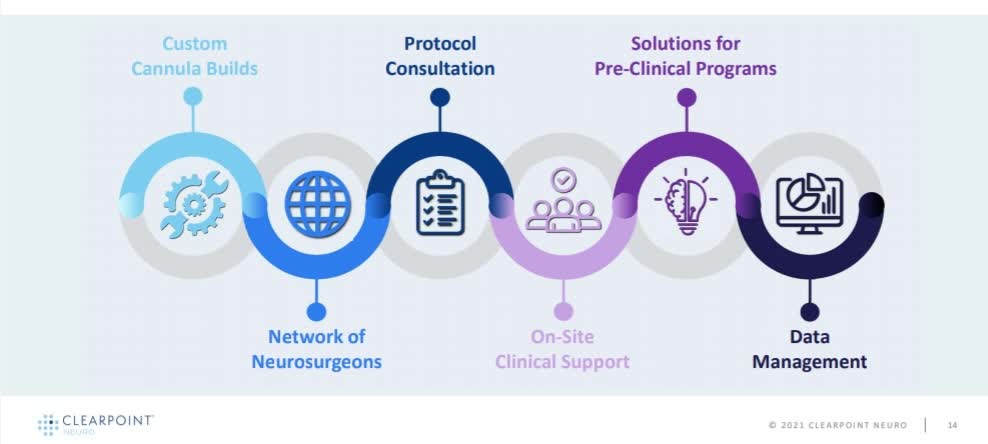 (Figure 9 - Services, Source: Investor Presentation)
ClearPoint also provides clinical and development services to the partners. Instead of relying on their ability to replicate these services, they are able to tap into the expertise of the company. This also serves as an opportunity to engage in conversation with potential customers.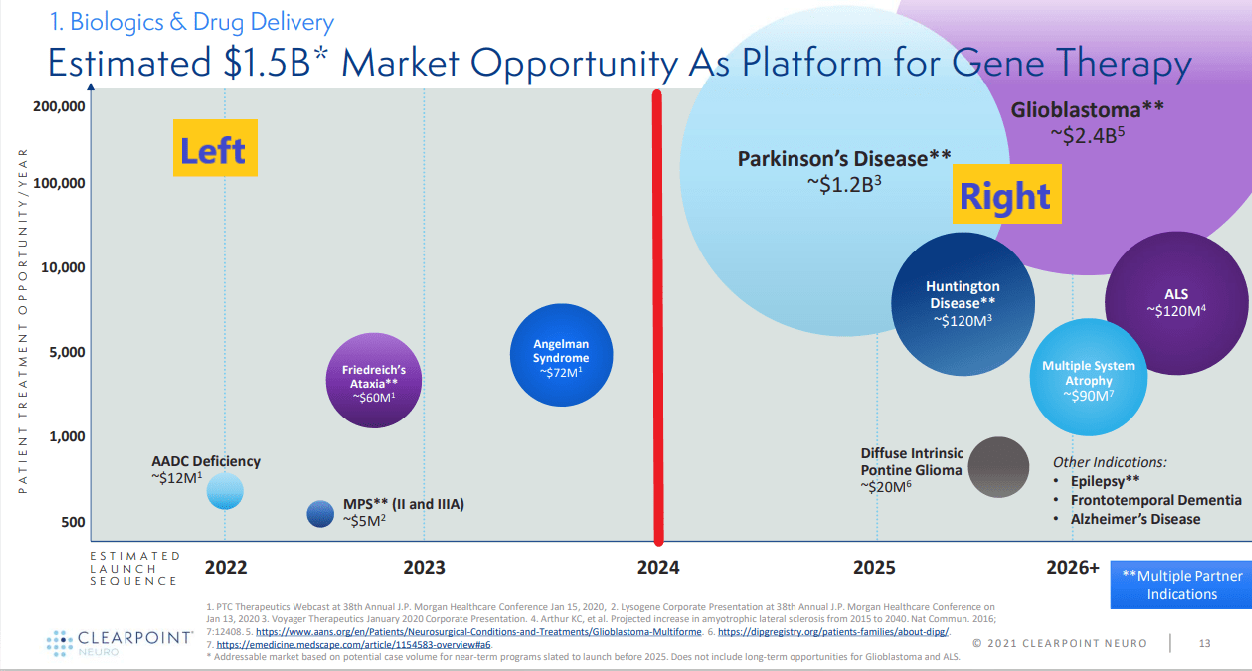 (Figure 10 - B&DD Market, Source: Investor Presentation)
The left side represents the small indication and short-to-medium term opportunities for ClearPoint. These are the rare childhood genetic disorders such as AADC Deficiency with no treatment today. On the right side, these are the bigger indication, and the longer-term opportunities, such as Parkinson's Disease. However, these indications already have existing treatments so the FDA is going to demand a stricter requirements for new therapies. In total, these represent $1.5B Total Addressable Market (TAM) for the company.
2) Implant Neuro Stimulation Leads (Deep Brain Stimulation or DBS):
DBS has always been done with patients being awake during the procedure, also known as awake DBS, for surgeons to ensure electrodes are placed correctly and working. This poses challenges for patients who can't tolerate the procedure fear of being awake may deter patients from pursuing DBS treatment.
With the ClearPoint navigation system, procedure can be done with patients being asleep as surgeons are able to guide the placement of electrodes using live MRI guidance. This is called asleep DBS, and with it, patients will be more open to DBS treatment. However, ClearPoint products cannot be used in the OR, where more than 90% of DBS treatment are done at. Then in Feb 2021, ClearPoint partnered up with BlackRock to develop MER (Microelectric Recording), with other offerings like biopsy needles and electrodes, to expand into the OR. MER is expected to be launched in FY2023.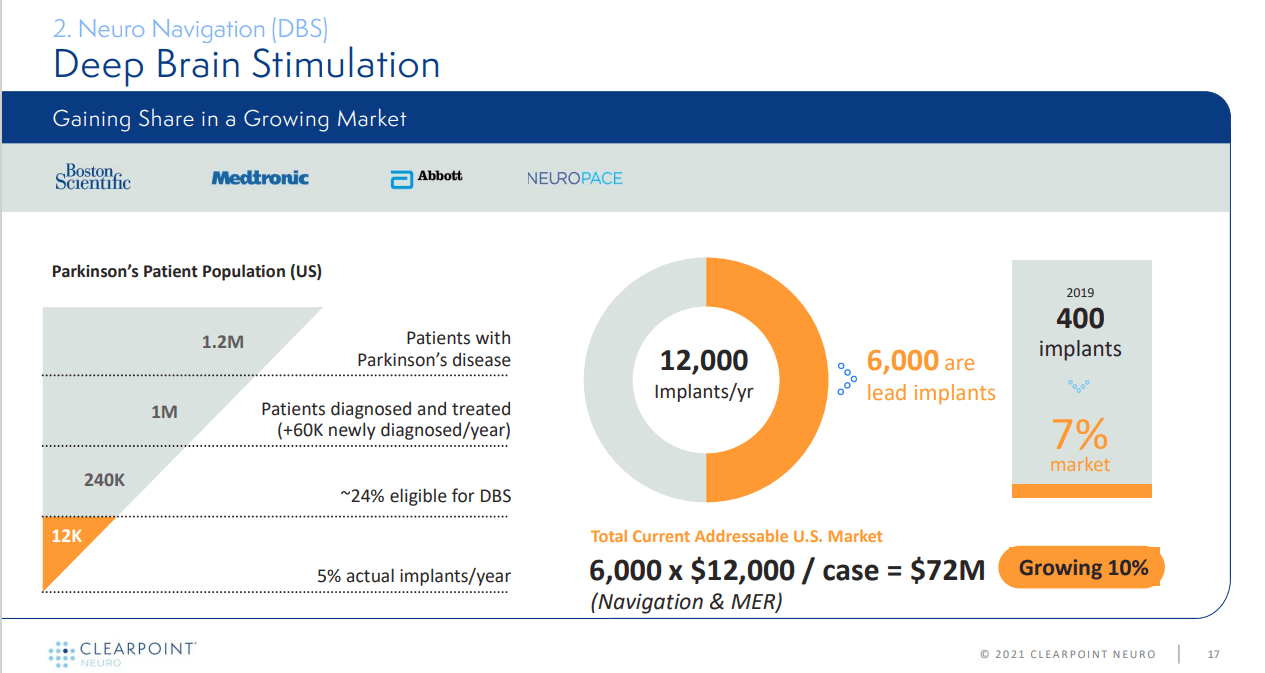 (Figure 11 - DBS Market, Source: Investor Presentation)
There are 6K patients available in the U.S. that are undergoing DBS treatment and with each procedure costing $12K, the TAM is $72M. Once the MER is launched in FY2023 to be used in the OR and as asleep DBS gains more adoption, more patients will be available for the treatment which increases the TAM for DBS.
3) Place Laser ablation Probes (Laser Ablation or LiTT):
Laser ablation is a treatment that uses heat to destroy tumors and lesions. It is used to treat neurological diseases and brain cancers such as Epilepsy and Glioblastoma. The laser probes are provided by Medtronic and Monteris, while partners will use ClearPoint's real-time MRI guidance to guide the laser probes to the target. Currently, the company is working with CLS to develop their own laser solution, and Joe mentioned in Q3 FY2020 that this laser system will effectively 2 times to 3 times their revenue, from $6K per procedure to up to $18K per procedure.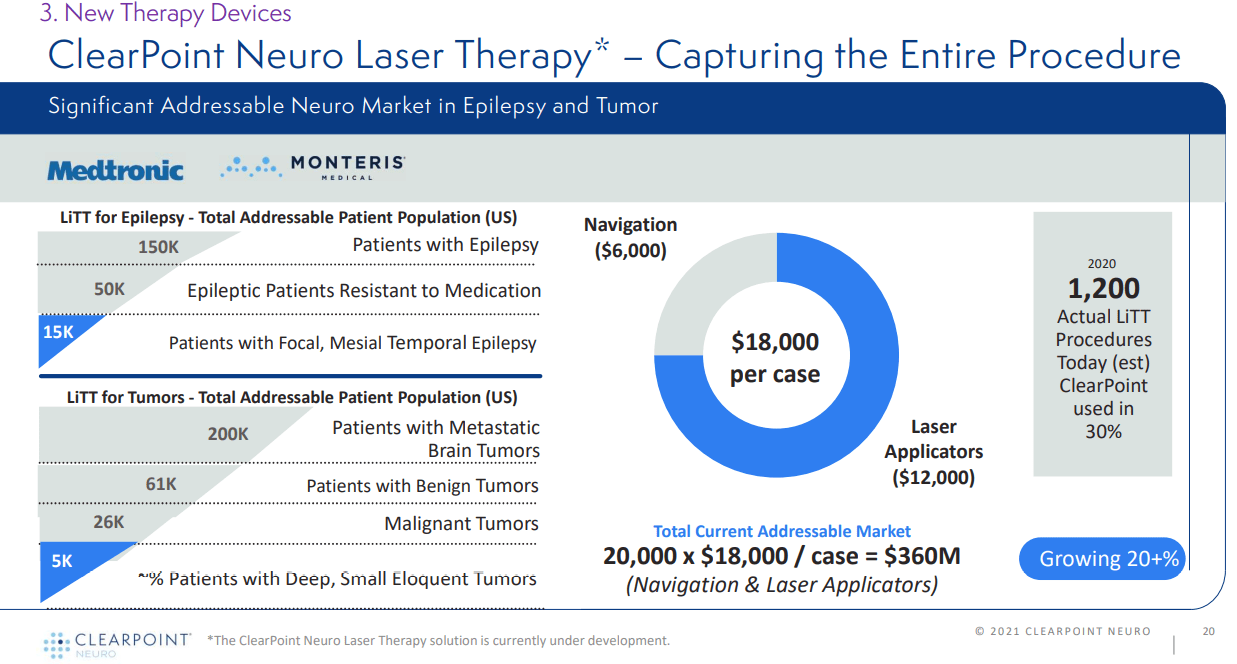 (Figure 12 - Laser Ablation Market, Source: Investor Presentation)
20K patients in the U.S. are eligible for Laser Ablation therapy, specifically for patients with Epilepsy and Tumors. With $18K per procedure, the TAM for LiTT is $360M. As their complete laser system launched in FY2022, ClearPoint gets to command a higher revenue from $6K to up to $18K.
Razor and Blade Business Model
The razor portion refers to the computer workstation that customers have to buy to use the ClearPoint solution. It costs $150K to $200K per system, and the Blade is the disposables which cost $6K to $18K per procedure. The blade is the "recurring" and the high margin portion of the revenue as partners have to purchase disposables to perform the procedures.
Partners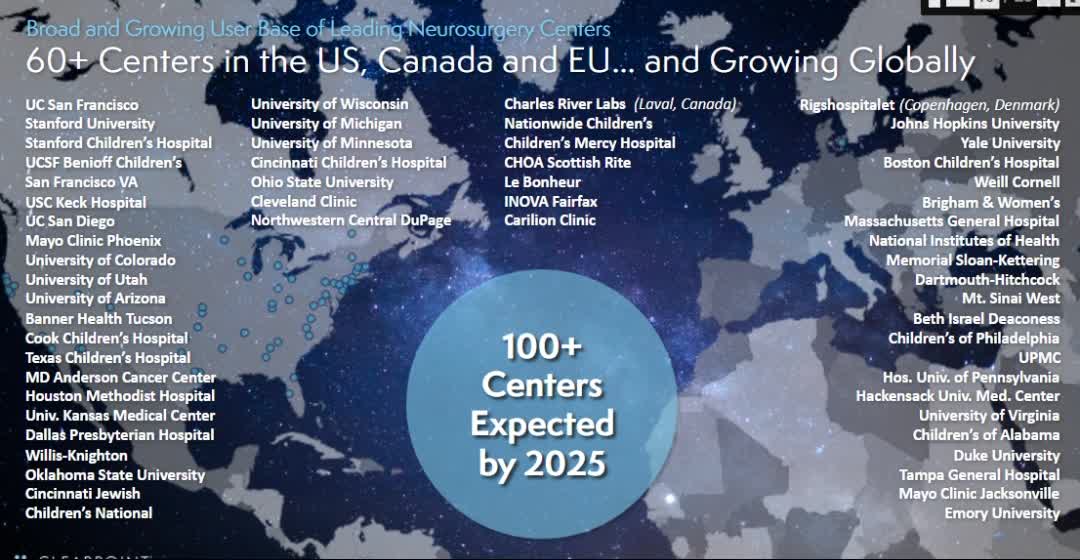 (Figure 13 - No of Sites, Source: Investor Presentation)
There are currently 60+ centers that are using ClearPoint navigation system and they are predominantly in the US and they are in the process of moving to Europe due to demands from customers. They managed to expand to Denmark, Canada, Poland and France. In Q2 FY2021, the management said that they are expected to install another 2 - 3 ClearPoint navigation systems in Europe by end of FY2021, and have also generated interest from Asia. By 2025, they are expected to have 100+ centers. In addition, most of these centers are reputable hospitals such as Mayo Clinic, Johns Hopkins Hospital and many more, which serves as a validation of the management's ability to execute and validation of their platform.
Product Portfolio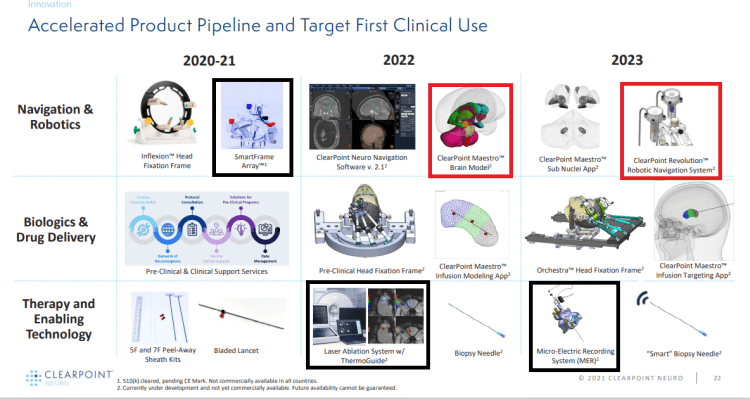 (Figure 14 - Accelerated Product Pipeline and Target First Clinical Use, Source: Investor Presentation)
Other than the MER, SmartFrame Array and complete laser system, there are more ongoing product developments in the pipeline:
adeor Medical's high velocity drill solutions for cranial and spinal surgeries for use in the OR. This is designed to replace the hand-twist drill and to shorten procedure times, especially for therapies that require multiple trajectories. ClearPoint will be the main distributor in U.S. and will be working together to develop an MRI version of it.
ClearPoint's Brain Maestro Model generates very detailed image of the brain, which allows neurosurgeons to see what they are doing in more safer, faster and accurate manner. It is to be launched in FY2022.
Robotic navigation system that is designed to remove mundane tasks related to planning and navigation procedure, and thus, shorten procedure time. It can be used in OR and MRI suite. The first clinical use will be expected in FY2023.
ClearPoint to work with BlackRock NeuroTech to develop a navigation system capable of implanting the BCI arrays. BCIs help patients with severe motor disabilities to move, feel and talk again. This represents a TAM of $1B for the company.)
These products are positioning ClearPoint to be that go-to-neurosurgical platform of choice where they provide the tools needed to treat the most complex neurological disorders in the world. These products can be used in the OR where more than 90% of neurosurgical procedures are done today, as opposed to limiting themselves in the MRI suite. It is also to make the life of a surgeon easier with a much safer, efficient and accurate procedure. We believe that once the portfolio of products is fully launched, ClearPoint will be well-positioned to grow even faster.
Competitors
According to some of the neurosurgeons' reviews on the ClearPoint platform such as Dr. Mark Richardson, we can safely conclude that there aren't any competitors who offer real-time MRI guidance.
Financials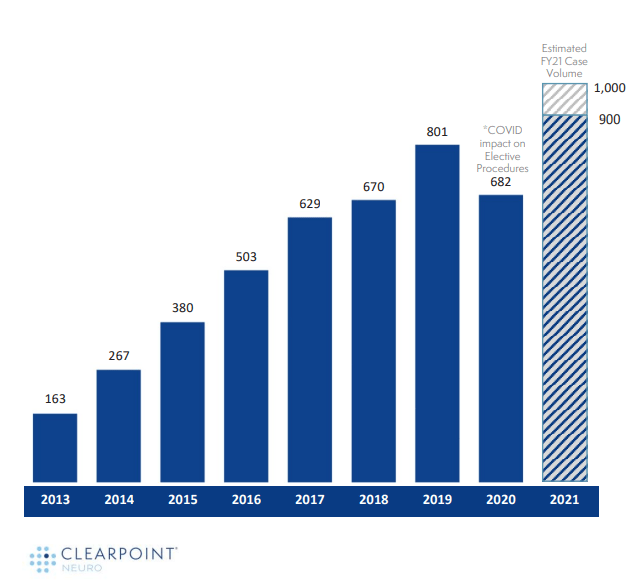 (Figure 15 - Case Volume, Source: Investor Presentation)
From FY2013 to FY2019, the case volume has been growing at a CAGR of ~30%. The case volume consists of the DBS, laser ablation and biopsy procedures. However in FY2020, due to the impact of Covid-19, elective procedures were stalled and case volume declined. In Q2 FY2021, management said that elective procedures are recovering and guided a 900-1000 cases at the end of FY2021. There are also ~6 states affected by the new Covid Delta Variant and partners have warned that elective procedures may stop. In the UBS Conference, Joe Burnett, the CEO, said that once the portfolio of products is completed and the first drug is approved, they are looking to get each center to do 100 cases a year (a total of 10K cases per year), which will produce $100M in revenue. In our view, we think that is achievable. Reasons are, there are 35 partners with 70 potential partners in the pipeline. Each partner may have more than one indication and as each partner progressing through the trials, for e.g. Phase 1 to Phase 2, more procedures will be done. Once the ClearPoint's product portfolio is fully launched, the company will enter the OR market. These products are also designed to shorten procedure time, which means each site can do more than 1 procedure a day. The SmartFrame Array now enables 3 procedures a day. Management is also expecting 100 plus centers by end of FY2025.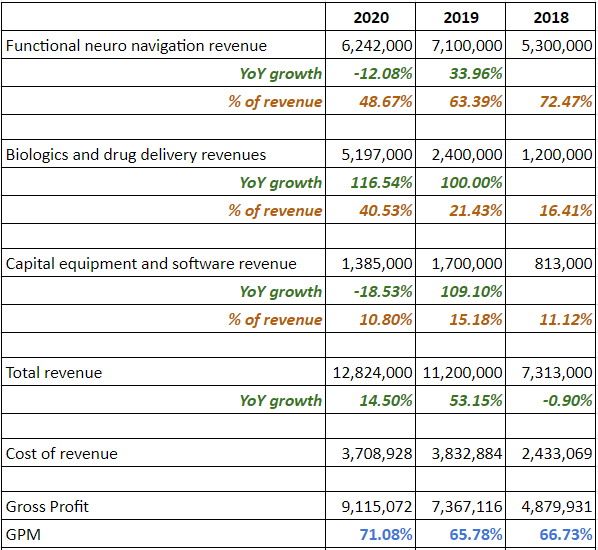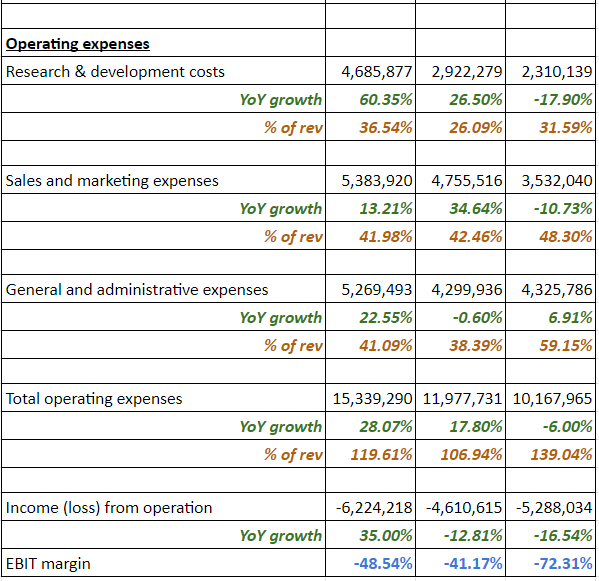 (Figure 16 - Income Statement, Source: Extracted from Company's Annual Reports)
Breakdown of revenue components:
Functional Neuro Navigation (FNN): Consists of disposables and services revenues from customers doing DBS, Laser Ablation and Biopsy procedures. Revenue declined to ~$6.2M in FY2020 as elective procedures are stalled due to the pandemic. As mentioned above, management guided 900-1000 cases by end of FY2021.

Biologics & Drug Delivery (B&DD): Consists of disposables and services revenue from 35 B&DD partners doing gene therapies. B&DD revenue doubled to ~$5.2M in FY2020 due to increased demand for ClearPoint's Clinic and Development services from biologics partners, despite the impact of the pandemic. With 35 existing pharma partners, and growing, there is a huge probability that there can be multiple partners heading to commercialization, as it is where the bulk of revenue will come in.

Capital Equipment & Software: Consists of hardware such as Computer Workstation. Revenue declined to ~$1.39M in FY2020 due as the company was unable to install the system in partner's sites due to the impact of the pandemic.
ClearPoint has a high Gross Profit Margin of ~70% due to high margin disposables and service revenue. While the company is re-investing heavily in R&D and S&M to build out its product portfolio, hire more clinical specialists, pursue potential partners, etc, it continues to be in the operating loss position. With $64M of cash in the balance sheet, it ensures that there is sufficient capital for them to pursue growth.
Valuation

(Figure 17 - Peers, Source: Morningstar)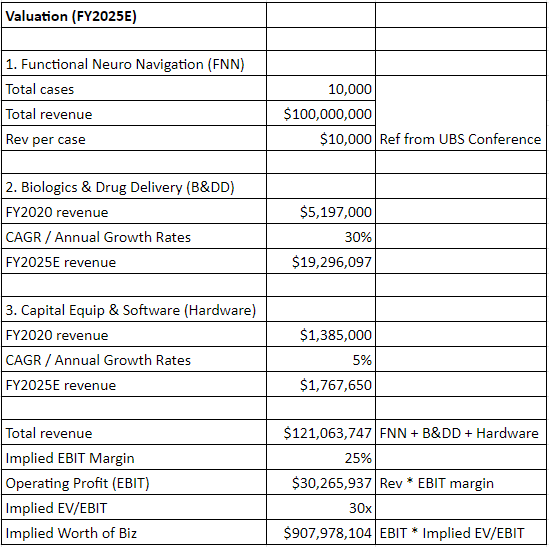 (Figure 18, Source: Own Estimates)
In our valuation model, we will be doing a FY2025 estimate for the company. Using the guidance of doing 10K cases per year by Joe Burnett in the UBS Conference, this means that the FNN component will be worth $100M in revenue. In the previous years, the B&DD component has been growing at double digits. We think that achieving a 30% CAGR is reasonable as the company continues to identify more partners and as product portfolio gets launched. Lastly, we are guiding a 5% CAGR for the hardware component, which is reasonable as ClearPoint continues to install systems in more sites. Summing up all the components, it will give us a total of $121M by FY2025. Referencing from peers with similar business model and gross margins, such as Intuitive Surgical (NASDAQ:ISRG) and Medtronic (NYSE:MDT), we will be assigning a 30x EV/EBIT. With that, the company is worth $907M by FY2025. Do also note that the potential commercialization revenue from 35 partners and growing, are not factored in, which means there is a huge upside to its valuation.
Risks
While there are a lot of positives to take from the company, it is also equally important for investors to consider some of the risks/downsides
Covid Delta Variant. It remains unseen how the virus will affect the company as it may cause elective procedures to stop in the short term, which is unpredictable and not within the control of the management. This is a short-term obstacle.

Execution risk. Management fails to capture the OR market with their product portfolio and failure to get more partners on-board.

Regulatory approval. While the upside for multiple successful commercialization is huge, the FDA approval can take very long, and delays may happen. As that happens, the bulk of revenue will take time to come in.
Conclusion
ClearPoint Neuro's patented navigation system allows neurosurgeons to perform minimally invasive procedures under a real-time MRI guidance. With the full launch of its full product portfolio, the company is positioned to grow even faster as it expands into the OR market and as it solves a range of neurological disorders. With 35 partners and growing, we believe that there is a huge upside to its valuation.
This article was written by
Analyst's Disclosure: I/we have a beneficial long position in the shares of CLPT either through stock ownership, options, or other derivatives. I wrote this article myself, and it expresses my own opinions. I am not receiving compensation for it (other than from Seeking Alpha). I have no business relationship with any company whose stock is mentioned in this article.
Seeking Alpha's Disclosure: Past performance is no guarantee of future results. No recommendation or advice is being given as to whether any investment is suitable for a particular investor. Any views or opinions expressed above may not reflect those of Seeking Alpha as a whole. Seeking Alpha is not a licensed securities dealer, broker or US investment adviser or investment bank. Our analysts are third party authors that include both professional investors and individual investors who may not be licensed or certified by any institute or regulatory body.