AcelRx Pharmaceuticals: Is Wayne Gretzky Right Or The Puck?
Summary
DSUVIA 2q21 revenues were below my and market expectations.
But management provided further details regarding the Europe out-licensing agreement for DSUVIA and the in-licensing agreements.
And Formulary Approvals have picked up substantially also indicating gradually increasing interest in the product.
Management mentioned discussions about a DSUVIA out-licensing to the Asia-Pacific region.
I have covered AcelRx Pharmaceuticals (NASDAQ:ACRX) before, so investors should view this as an update to my previous articles.
This article updates my July 27, 2021 piece that analyzed ACRX' then announced European sales cooperation with French private company Aguettant. It covers additional information shared by ACRX management during the 2q21 Earnings Call (hereafter: EC), and the H.C. Wainwright & Co. 23rd Annual Global Investment Conference (hereafter: HCW, webcast publically available here until about mid-December 2021), and the Cantor Fitzgerald Virtual Global Healthcare Conference (hereafter CFHC, together: the Conferences, webcast publically available here until about mid-December 2021).
At the HCW, ACRX CEO Vincent Agnotti quoted the Great One and I take this quote as the thread to discuss the recent development of ACRX business:
I skate to where the puck is going, not where it has been.

Wayne Gretzky
2q21 Numbers
DSUVIA Revenue Below Expectation
Frankly, when I studied the 2q21 DUSVIA sales (at this very stage, changes in Zalviso sales are essentially just 'noise'), I didn't think about game tactics but initially thought I was sitting at the wrong rink.
The 2q21 10-Q reports DSUVIA sales of USD 0.392 million, see also the recent DSUVIA sales time series:

As I will discuss below in more detail, this time series essentially "tells" the story of how ACRX, or DSUVIA, are affected by the COVID development.
However, what I find hard to understand is how these numbers reconcile with a management comment made during the first quarter 2021 earnings call in May:
In fact, April [2021] was our best commercial month since the launch of DSUVIA.
Some naïve math would suggest that the commercially best month before brought revenue of at least USD 0.312 million (assuming that 3q20 sales were spread evenly over the quarter – any other assumption would lead an even higher estimate). In that case, May and June of 2021 would just have contributed some USD 0.04 million each. Now, "best commercial month" can mean a lot of things (revenue, client discussions, Formulary Approvals etc.), and revenue numbers can be subject to subsequent updates, but overall, this communication triggered quite some disappointment at my end.
At the current EC, management gave some background regarding the composition of revenue from existing and new customers:
So there was a nice balance of getting some depth of use, as well as having new accounts come on to play. And about 78% of our doses shipped to the end-user in the second quarter (…) were repeat doses, 22% being first-time orders. So we're excited about the blend and we're seeing a lot of momentum in plastics right now.
While it is encouraging to see the account basis grow, these data do not allow to derive one key piece of information: What is the re-order percentage by an existing customer – or, in SaaS-business terminology, what is the "churn"? Admittedly, this number may be hard to determine given the short history of DSUVIA in the market and the distortions created by COVID, but it is a key metric. I do expect DSUVIA sales to be rather sticky once an individual healthcare institutions has made itself familiar with the product and done the math of whether it is worth its price (see previous discussion here).
Management provided one more interesting data point regarding the sales composition: during the EC:
(…) hospitals are one of the main sources on a per account basis of utilization of DSUVIA. (…) For instance, whether the minority of accounts, they represent close to 50% of all doses utilized with the end user.
This is not surprising, and it may be seen as adding to the complexity of preparing "churn" related information. The big tickets will come from the large hospital systems – but as I will discuss in more detail below, increasing business from a smaller player will most likely contribute to the overall success in any segment.
And in fact, at the current stage of the business development cycle, assessing a quarter's success must include the progress with Formulary Approvals (hereafter: FA).
US Formulary Approvals Showing Accelerated Growth
The following slide showing the development of DSUVIA FA until July 31, 2021 is taken from the slide deck presented at the HCW: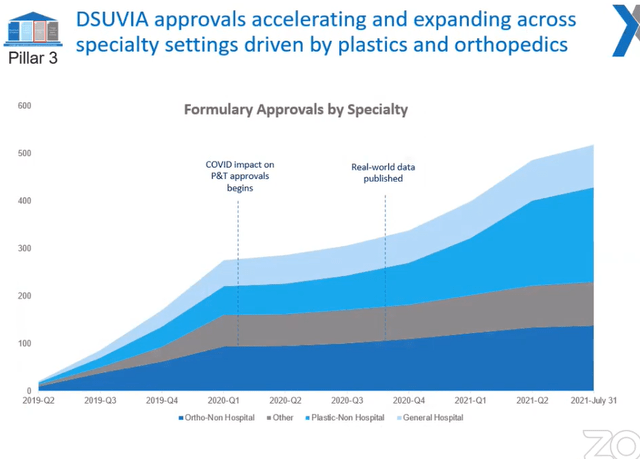 (Source: ACRX)
It shows the quarterly development of FAs over time, split between (bottom to top, different tones of blue and grey): Ortho(pedics) – Non Hospital / Other / Plastic (surgeries) – Non Hospital / General Hospital.
First, readers are advised that the horizontal axis is not fully proportionate, since the last time interval covers 1 month only (as opposed to 3 months for all others). Consequently, the actual final trend towards the end of the total time span covered is likely to be steeper than displayed.
This graph contains a lot of good news:
First of all, new FAs started to pick up around year-end 2020. This is shortly after the publication of the real world data (i.e. no just clinical study data) showing the efficiency of DSUVIA for reducing total opioid usage, reducing side-effects (and medication to deal with them) and to reduce PACU time. Considering that this was during peak COVID incidents and the corresponding measures, one can only conclude that the message started spreading and (certain) healthcare providers decided to test DSUVIA for themselves.
Second, certain specialties are picking up particularly, mostly Orthopedics in a Non-Hospital setting. While apparently the most interesting client group for ACRX are large hospital groups, these do take longer with their approval processes – both generally, but in particular during COVID times, when priorities move to ensure dealing with the high numbers of COVID patients. But as an investor I like to see the interest from specialty providers and I do consider that such interest is a positive forward indicator.
In fact, it doesn't even matter which specialties (such as orthopedics) move first, since we do know from the real world study that the benefits of DSUVIA work for all sorts of surgeries. And in times where conference activity and the immediate expert exchange that comes with them is limited, it is comforting to see that interest seems to pick up anyways. Word of mouth has always been the best marketing any company can wish for.
Also immediately visible from the above graph is the interest from plastic surgery, on which management made the following comment during the EC (emphasis added):
We're getting solid momentum with plastic surgeons given the unique characteristics of DSUVIA and its use during awake surgeries. In fact, several nationally recognized plastic surgeries thought leaders are supporting the education of physicians in this specialty, which has resulted in an increasing number of plastic surgeons trialing DSUVIA. We don't have a large commercial team and the word of mouth about the DSUVIA has been encouraging as plastics is a concentrated community of physicians. For these physicians, patient comfort and satisfaction, coupled with safety, are key measures of success.
But we cannot discuss any business without taking into consideration the actual and potential effects from COVID, in particular given that we are approaching the winter months and the US having a relatively large share of the population without specific protection against the virus (quoted again from the EC):
Now, with the recent resurgence of COVID, we're beginning to see certain areas of the country, again, institute restrictions. Fortunately, we have some insulation, given that plastic surgery is one of our fastest-growing specialties and tends to have fewer COVID limitations since these procedures are often completed in surgical suites, separate from the hospitals or surgery centers.
So, ACRX already benefits from the diverse applications for DSUVIA. And it is promising to see that the interest – in particular from medical practitioners – is not slowing down:
Strong Pipeline of Investigator Initiated Studies (or: IIS)
In a comment during the CFHC, management indicated that there would be "a constant stream of data from IIS for the next 12-18 months". This relates to the following overview that was presented at the HCW: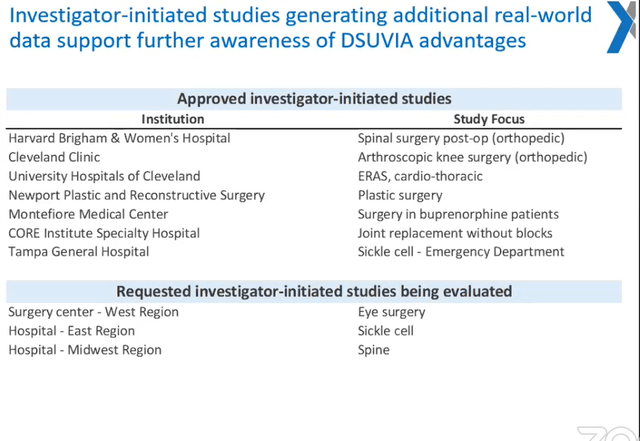 (Source: ACRX)
As discussed in previous articles, these studies are initiated by medical researchers or practitioners who do expect to see a particular benefit from using DSUVIA in a particular situation or for a particular patient group. This kind of ongoing interest clearly is proof of confidence. In addition, such studies typically make the investigators themselves become the drug's "biggest fans" (as per management comment during the CFHC) – and they provide ACRX management and sales team with new data, also suitable for sharing with the Aguettant marketing team in Europe.
As can be seen, some of the approved and requested IIS relate to specialties where DSUVIA appears to have a great standing already (orthopedics again, and plastics), but there are also new applications, like treatment of sickle cell disease, which regularly causes acute severe pain in patients.
And readers should note the University Hospitals of Cleveland study (source) which aims to:
(…) evaluating DSUVIA as part of [the hospitals'] cardiac surgery enhanced recovery program which is aiming to better prepare our enrolled subjects for the stress of heart surgery by using contemporary preoperative adjuncts, educational tools, intraoperative monitoring techniques and, importantly, actively reducing the exposure of these patients to IV opioids and their side effects
The key takeaway here is that DSUVIA is not only considered for certain kinds of outpatient 1 hour surgery, but also for improving patient well-being during and after maximal invasive surgeries.
DSUVIA Out-Licensing to Asia-Pacific Region
During the CFHC, management made a short comment about ACRX currently being in discussions about "out-licensing DSUVIA in the Asia-Pacific region, now that Europe is done".
No further details were provided as to which parts of that region the deal would cover, and as to the approvals needed/time frame/conditions etc.
Thus, we are left to wait before any qualified assessment of this opportunity can be made. In any case, it is the next logical step to make.
Hockey and Iceberg
One better apply strict control to metaphors used, but I find it just too tempting:
While from the perspective of an actual sales number for DSUVIA we are still waiting for the magic pass to come, the underground we are waiting on may just be the tip of the iceberg. Things are moving, and while slow, they move into the right direction, and if they play out as desired, DSUVIA sales will gradually follow DSUVIA interest.
Department of Defense Initial Order
On the other hand, there is one area where ACRX management and those following the company have been waiting long for some quite immediate revenue impact: The SKO deployment for the US Army.
To date, we are left to wait given that no order has been made and management sticks to their very cautious communication on the matter. That said, there was relevant news recently:
The US Army Medical Materiel Development Activity (or: USAMMDA) published this statement regarding battlefield pain management on its homepage on June 17, 2021 (and by the way "Materiel" is no typo):
Battlefield pain management focuses on safely and effectively treating pain at, or very close to the point-of-injury. Pain treatments must work quickly, be safe, easy-to-use and lightweight to allow medics to carry sufficient doses for the planned operation. Our new products meet these requirements and add to the pain-treatment options available to care providers.
This introduction is followed by a brief discussion of the nature and basic features of DSUVIA. Here is a selection of the most relevant statements, all of them music to the ears of ACRX investors, I believe (emphasis added):
The relief of severe pain associated with traumatic injury is a key element of treatment far forward on the battlefield, as well as at every level in the continuum of care. In addition to the obvious humanitarian need to spare patients unnecessary suffering, pain is also associated with disruptions of physiology, difficulties with patient management, and even with the incidence of Post-Traumatic Stress Disorder (PTSD).
One cannot say it often enough that the often found mere focus on sublingual sufentanil tablets (or: SST) just being 'yet another opioid' misses the key point: Pain, and pain medication, do not have their effect ending after the acute pain is taken care of.
Further, the USAMMDA states (emphasis added again):
The currently fielded material solution, intramuscular morphine sulfate delivered by an auto-injector, has significant drawbacks regarding both effectiveness and safety. The commonly used alternative, Oral Transmucosal Fentanyl Citrate, presents significant risks of overuse and diversion, and is licensed only for use in chronic pain syndromes found in cancer patients. It is specifically labeled not to be used for acute pain management, which is how it is being used in theater.
In other words, the US Army is aware of one area where it is currently supplying its troops with medication for off-label use.
Regarding the actual timing of delivery, the USAMMDA statement remains unclear:
Current efforts by the Product Development Team revolve around ensuring that AcelRx post-marketing commitments for the drug are achieved and that the product is manufactured and available to the Warfighter.
This is similar to any statement that DSUVIA management is making, see e.g. this comment from the most recent EC:
The U.S. Army continues to work through its administrative and logistics process to distribute DSUVIA in all their sets, kits, and outfits for deploying troops. The resolution of the process has taken longer than we had hoped.
So, in terms of the Hockey motif, the DoD seems to have taken a time-out even before the first face-off.
Aguettant Agreements
In my previous article I had discussed the Aguettant Agreements (i.e. both the in- and out-licensing agreement) with the publicly available information back then. Here are the key points identified:
France-based private company Aguettant is a well-connected, though somewhat small, producer and distributor of pharmaceuticals in Europe and other parts of the world.
Aguettant has 100 years of established relationships with "Medicines for Emergency Use", as used in Anaesthesia, Recovery and ICU, A&E (i.e. Emergency Departments)
The products in-licensed by ACRX are predominantly used in the same context as DSUVIA is (further elaborated below), which makes for a very sensible overlap, especially from the perspective of ACRX' own sales team focussing on hospitals
Meanwhile, ACRX management added some quite relevant color to the above points which I will discuss in the remainder of this section.
Benefits of Pre-Filled Syringes (the Puck Thing)
The in-licensing agreement covers pre-filled syringes (or: PFS) with ephedrine and phenylephrine (hereafter: the Substances). Both Substances deal with certain side effects of anesthesia, see the following management comment during the EC (emphasis added):
Ephedrine is used when both heart rate and blood pressure need to be increased, such as after anesthetic induction. (…)

Phenylephrine is used when the peripheral vascular resistance has dropped, often due to spinal anesthesia, and only the blood pressures needed to be increased by vasoconstricting the peripheral vasculature.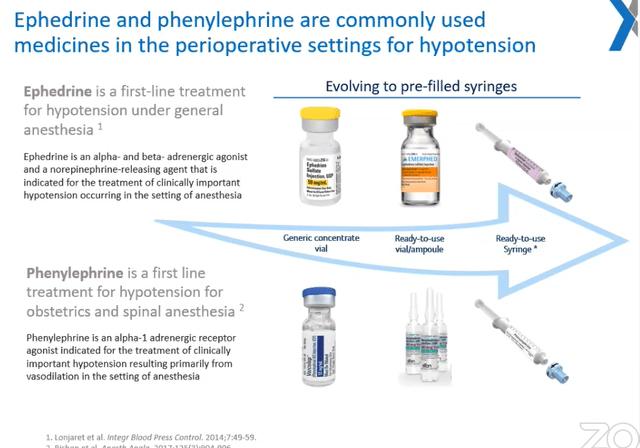 (Source: ACRX)
Thus, the benefits of the Substances (and the match within the perioperative setting of DSUVIA) is obvious.
In the meantime, management also made public statements explaining the benefits of the pre-filled syringe form of delivery. In essence, they are the latest development step for providing ephedrine and phenylephrine to the healthcare professional:
It is obvious from the above brief description of the Substances that they are typically needed urgently. Historically, the Substances have been available in generic concentrate vials. Accordingly, pre-operatively the Substances had to be dosed and made available in syringes to be available in an emergency setting, i.e. if the patient condition is deteriorating rapidly.
Such process requires two steps: dosing and preparing of syringes.
It is thus prone to dosing errors.
As a result, the next product development step lead to ready-to-use vials containing the Substances in the correct dose. This eliminates the dosing issues.
But it does not eliminate the second step of preparing the syringes, which still takes up time and resources at the hospital / ASC / procedural suite. Plus, there were additional issues (quote from EC):
Sterility issues at compounding pharmacies are also a concern and have been widely publicized.
Finally, according to management, the shelf-life of such ready-to-use Substances is limited.
All of the above shows the benefits of having the Substances available as PFS. Or, in the word of ACRX management:
In general, FDA-approved prefilled medication syringes are ready-to-use and also benefit from extended shelf lives compared to compounding pharmacy syringes. Therefore, you would expect less waste of drugs, and the pre-labeled, pre-filled, ready-to-use nature of these syringes should also mitigate dosing errors and drug mix-ups.
These are all great news from the perspective of patient safety – but also in terms of efficiency. And efficiency is becoming ever more relevant, as many procedures are transferred from the hospitals to ASCs and similar institutions.
And this is the context for the Gretzky quote this article starts off with: Hospitals and other medical institutions will need to increase efficiency – for general reasons but even to catch up with the time lost during COVID – and both DSUVIA and the Substances position ACRX well with regard to that development.
Time to Market for the PFS
Management is expecting the time to market to be some 21 months from now (i.e. end of September 2021), as per the following August 2021 EC comment:
In evaluating the FDA approval of "Emerphed", which is a first pre-diluted vial of ephedrine that was approved in 2020, and the subsequent approval of another pre-diluted vial of ephedrine, reserpine, which occurred earlier this year. There is a precedent for a straightforward filing of a 505 B2 NDA with no additional clinic trial -- clinical trials being required. We expect to submit NDA s for our prefilled syringes within the next 12 months, and we believe approval will follow within 10 months of these submissions.
It is important to note that the PFS with the Substances are approved in the EU already, and that the Substances per se are approved and long-used in the US as well. As a result, ACRX management is not expecting any clinical studies to be needed for FDA approvals.
In addition, ACRX aims to be the first with PFS for ephedrine and phenylephrine in the US market.
PFS Market Opportunity
During the HCW management presented the following slide suggesting an annual US revenue potential for the Substances of USD 100+ million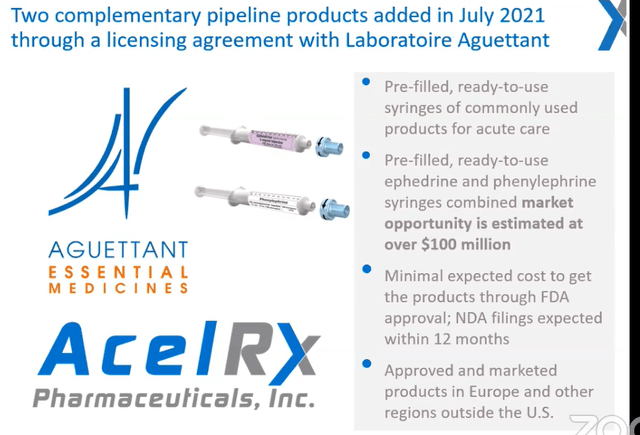 (Source: ACRX)
During the EC, when asked for further details supporting these future revenue estimates, management indicated that this was a rough estimate, and that further details could only be provided once the FDA submission was made.
Time Line and Conclusion
Time Line
We don't know where the puck will be going to, but for some key developments we do know how long we will have to wait until we know more:

Conclusion
DSUVIA is great – and I am speaking here as both an actual investor and a potential beneficiary – and the recent steps by management with the licensing agreements are strategically smart. But most importantly, interest in DSUVIA is continuously increasing.
Only patience makes for a good centre – and trust in the team members that they will play the puck to where you want it to go.
Patience is also required as an equity investor. Despite my personal disappointment with the 2q21 revenue numbers reported by ACRX, I remain within the group of the Bulls (or Oilers, for that matter).
This article was written by
20 years of professional experience in audit, investing and consulting. Mathematician, private investor with a long-term view, based on fundamentals, long only.
Analyst's Disclosure: I/we have a beneficial long position in the shares of ACRX either through stock ownership, options, or other derivatives. I wrote this article myself, and it expresses my own opinions. I am not receiving compensation for it (other than from Seeking Alpha). I have no business relationship with any company whose stock is mentioned in this article.
Seeking Alpha's Disclosure: Past performance is no guarantee of future results. No recommendation or advice is being given as to whether any investment is suitable for a particular investor. Any views or opinions expressed above may not reflect those of Seeking Alpha as a whole. Seeking Alpha is not a licensed securities dealer, broker or US investment adviser or investment bank. Our analysts are third party authors that include both professional investors and individual investors who may not be licensed or certified by any institute or regulatory body.