Invested In Shopify? Consider The Younger VTEX
Summary
Shopify is not the only option in e-commerce tech, several challengers present attractive alternatives.
VTEX originated in Brazil but has global ambitions and is considered a better platform for bigger customers.
VTEX is at an earlier growth stage, with a comparable valuation to Shopify. They have different strategies, with VTEX focused on large brands and LatAm.
Shopify investors should consider diversifying by adding VTEX shares, since both companies operate in the same space but with different strategies and geographical regions.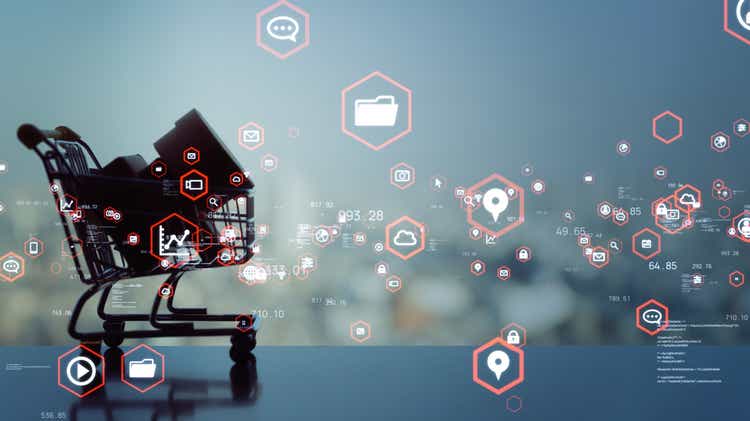 Shopify (NYSE:SHOP) is widely considered the e-commerce tech leader for small and medium size enterprises that wish to operate a web storefront. It has been growing in a spectacular fashion, but it has now become significantly overvalued with a market cap of ~$169 billion, which is about 40x its trailing twelve months revenue.
A number of competitors are also growing quickly and could present a better point of entry to be invested in the sector. We particularly like VTEX (NYSE:VTEX) which is at an earlier growth stage compared to Shopify, and sports a much less demanding market cap of ~$3.9 billion.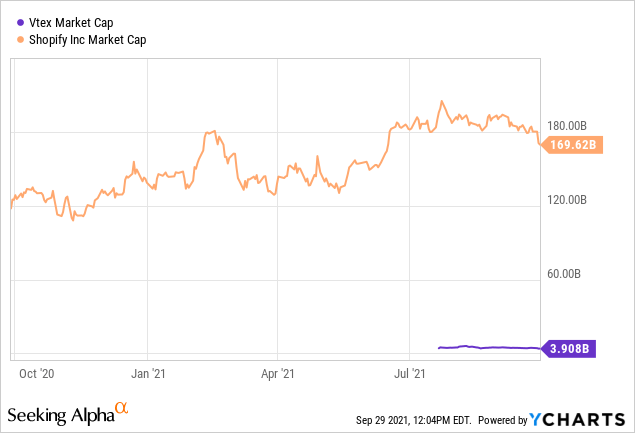 Both companies are trading with similar EV/Revenue multiples, but we believe VTEX is the better option since it is at an earlier growth phase whereas Shopify is a more mature company, though admittedly still growing at an accelerated pace.
We also like the focus on bigger clients that VTEX has, which require much more robust software and are therefore less likely to switch to a competitor or close the online store.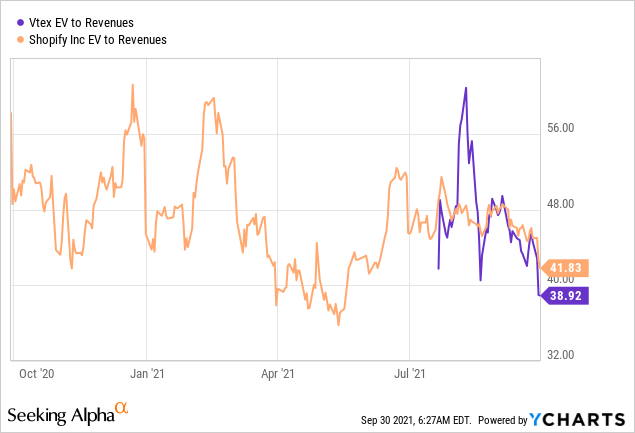 Overview
Shopify is mostly focused on SMB e-commerce tech, with other offerings for larger brands, an area where either custom-made software or focused competitors like VTEX are often more attractive. For Shopify this focus makes sense given the large SMB TAM, but VTEX has become successful optimizing its solution for the large brands TAM.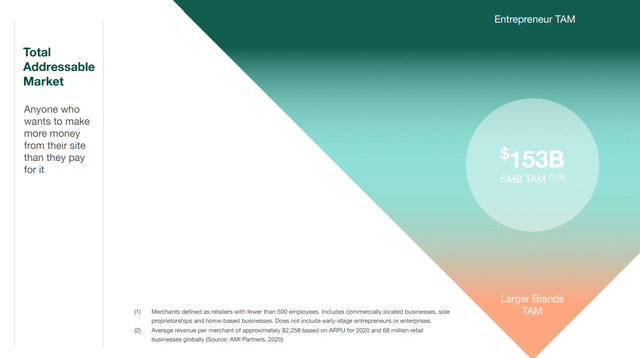 Source: Shopify Investor Relations
The slide below shows some of the brands that use VTEX's SaaS commerce platform, among them very recognizable large global brands. In fact, about 84% of VTEX's ARR comes from enterprise customers.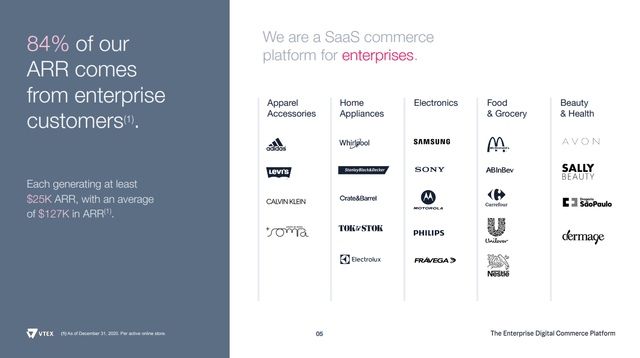 Source: VTEX Investor Relations
Companies like Shopify that were born to service SMBs have high speed to market but lack feature depth and customization. Software born on-premise tends to be highly-scalable but takes a long time to implement, and is difficult to keep updating as the ecosystem evolves. VTEX's solution was born as SaaS for enterprise, so it is highly scalable but also has significant customization options and feature depth. In fact, VTEX software allows companies to operate complex omni-channel strategies.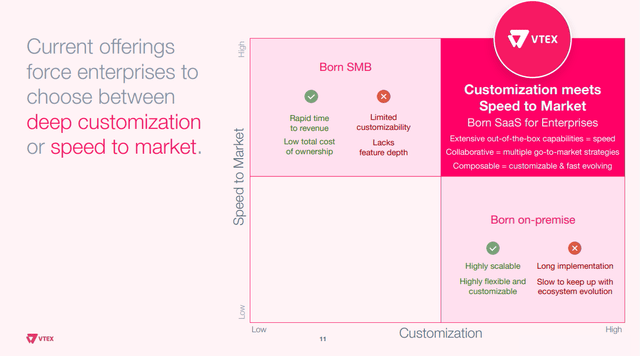 Source: VTEX Investor Relations
Business Model
VTEX has an interesting business model in that they charge most of their revenue from transaction-based fees. This aligns VTEX's interests with the customer and motivates the company to continuously improve the operation of the e-commerce platform. As the customers grow and succeed VTEX does better as well.
Currently VTEX's platform has trailing twelve months revenue of $114 million, $9.1 billion GMV, more than two thousand customers, and operations in 32 countries.
The company has come a long way from since being launched by two recently graduated engineers in Brazil. Their first big customer was Walmart in Brazil and since then the company has expanded to provide many additional features.
Being based out of Brazil the company has an enormous advantage since LatAm is the region with the fastest e-commerce growth in the world, with a 37% growth rate and only 6% e-commerce penetration. Around 57% of revenue for VTEX comes from Brazil, 37% from other LatAm countries, and only 6% from the rest of the world. Of course there is still some volatility in Latin America which could present a risk. Brazil in particular is known to been greatly impacted by the pandemic; Argentina, once stable, is again under threat of an economic crisis it seems. This does not seem to have yet impacted e-commerce growth in the region however.
VTEX's software also deals with the complexity of operating with a large ensemble of ecosystem partners, from different payment processors all the way to marketing automation software.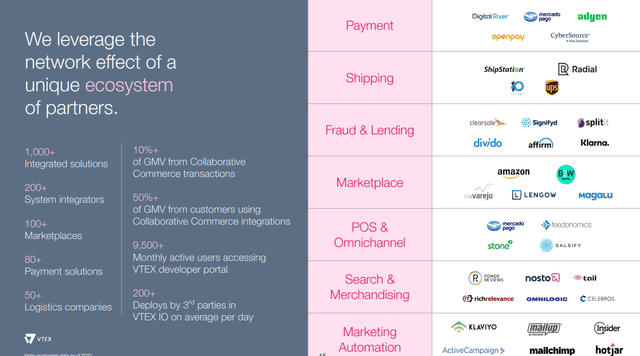 Source: VTEX Investor Relations
Financials
Both companies are growing at breathtaking speed, with Shopify growing GMV at ~96% from 2019 to 2020. Meanwhile VTEX went from a GMV of $3.8 billion in 2019 to $7.5 billion in 2020 for growth of ~97%.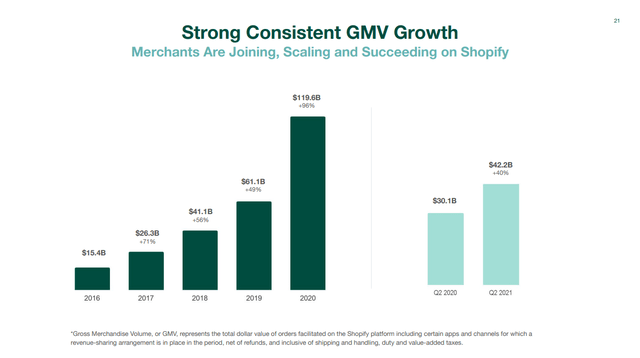 Source: Shopify Investor Relations
Both companies are therefore growing their ecosystem at roughly the same speed. Intuitively one could argue that VTEX has a longer runway given that it is at an earlier phase of development, but both companies have proven to have very reliable growth as e-commerce penetration increases. Another reason to be very optimistic about VTEX's growth is that LatAm where it is based has one of the fastest e-commerce growth rates currently.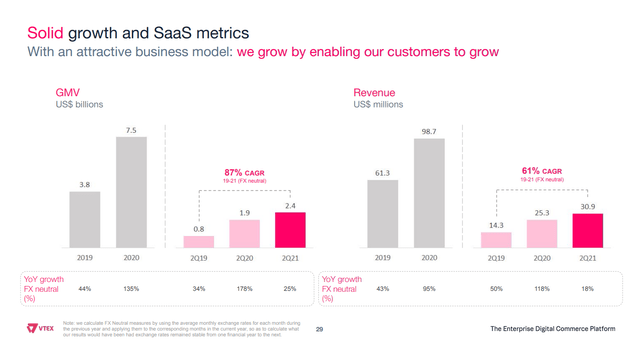 Source: VTEX Investor Relations
Both companies have multiple growth vectors, which are a growing number of customers, and higher revenues per customer. They are following the SaaS model of land and expand, offering additional services and features to existing customers while increasing the number of clients they serve. For example, in 2017 VTEX was operating in 13 countries and customers had on average 2.2 stores, by 2020 VTEX was operating in 26 countries with 3.7 stores per customer.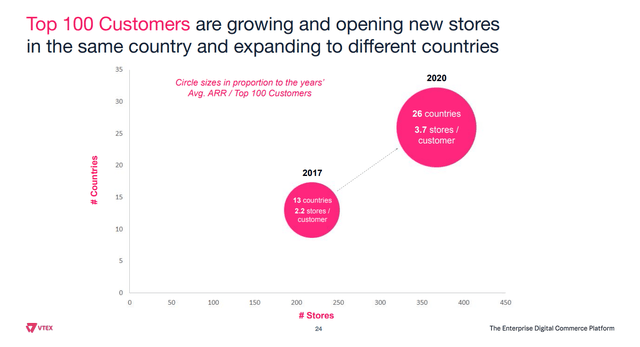 Source: VTEX Investor Relations
Conclusion
Both Shopify and VTEX are growing at an accelerated pace in an industry with massive TAM. VTEX has leadership position with large brands in LatAm, but has global ambitions. It has a who's who list of blue-chip customers. Its technology is robust with fast speed to market and significant customization options. It integrates well with many ecosystem players, from payments all the way to marketing automation. It has a powerful business model that increases revenue from customers based mostly on transactions, aligning its interest with the customer and mutually benefiting from customer's growth.
We believe that investors in Shopify should consider diversifying by buying shares of VTEX as well, given that the two are very similar firms, with different strategies. Both companies are impressive, and they're both on our watch list to buy during a market correction.
This article was written by
Fin-tech startup leveraging machine learning technology to discover investing opportunities and to generate growth-optimal portfolios. Publisher of the WideAlpha AI-Selected Index, which has markedly outperformed its benchmark.
Analyst's Disclosure: I/we have no stock, option or similar derivative position in any of the companies mentioned, and no plans to initiate any such positions within the next 72 hours. I wrote this article myself, and it expresses my own opinions. I am not receiving compensation for it (other than from Seeking Alpha). I have no business relationship with any company whose stock is mentioned in this article.

The information contained herein is for informational purposes only. Nothing in this article should be taken as a solicitation to purchase or sell securities. Before buying or selling shares, you should do your own research and reach your own conclusion, or consult a financial advisor. Investing includes risks, including loss of principal.
Seeking Alpha's Disclosure: Past performance is no guarantee of future results. No recommendation or advice is being given as to whether any investment is suitable for a particular investor. Any views or opinions expressed above may not reflect those of Seeking Alpha as a whole. Seeking Alpha is not a licensed securities dealer, broker or US investment adviser or investment bank. Our analysts are third party authors that include both professional investors and individual investors who may not be licensed or certified by any institute or regulatory body.