Summary
On Oct. 1, Merck announced their oral COVID pill reduces hospitalization or death by 50% and the company will seek EUA as soon as possible.
Merck's good news seemed to cause a double-digit % stock price drop in COVID vaccine developers, including VXRT.
VXRT's COVID program is still on, but with an incredibly slow speed and an apparent lack of focus.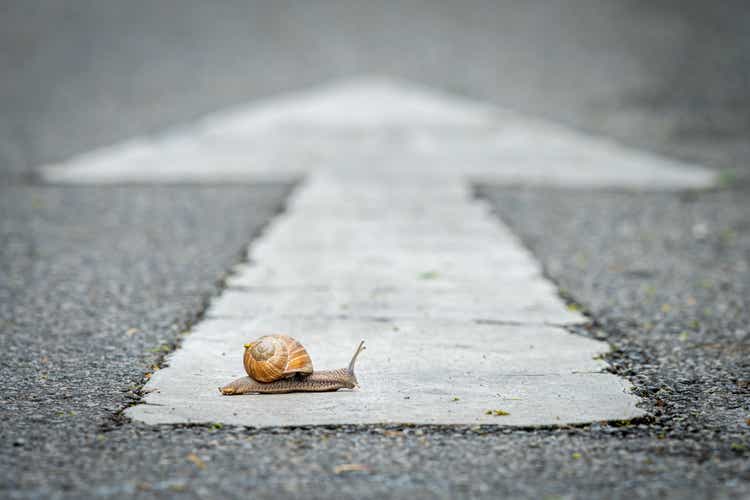 Introduction
On Friday Oct. 1, Merck announced positive p3 interim data of their antiviral COVID treatment.
Molnupiravir, an oral antiviral pill, is said to reduce by "approximately 50%" the risk of hospitalization or death, compared to the placebo, in patients with mild or moderate COVID-19.
At the interim analysis, 7.3% (28/385) patients who received Molnupiravir were hospitalized through Day 29, compared to 14.1% (53/377) in placebo group who were hospitalized or died; p=0.0012
"Through Day 29, no deaths were reported in patients who received Molnupiravir, as compared to 8 deaths in patients who received placebo".
According to Merck, they plan to apply for the EUA with the FDA in the US and market applications to regulators globally as soon as possible.
Needless to say, this is a great news in the fight against the pandemic, that has resulted in too many deaths, and has had other negative impacts in health, and the economy worldwide.
For the stock market though, Merck's good news seems to have adversely impacted the stocks of COVID vaccine producers/developers, big and small.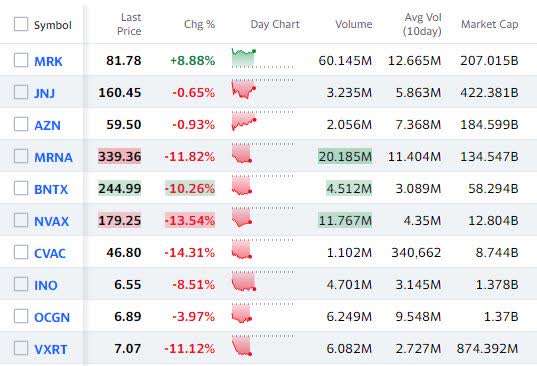 While JNJ and AZN (both mega cap) suffered only a small dip, players like MRNA, BNTX, NVAX, CVAC and VXRT all have had a >10% decline.
This market reaction reminds me of a similarly significant drop shared by the COVID vaccine developers on Nov 9, 2020, when PFE/BNTX reported their positive p3 interim data from their COVID vaccine trial (the first to do so for COVID vaccines), e.g. on Nov 9, VXRT dropped >30% to $3.5 from the previous close of $5.12.
Since then, much positive progress has been made in terms of COVID vaccine development and global vaccination.
To date, >6.27B doses of COVID vaccines have been administered worldwide. However, according to this Bloomberg article:
"More than 55 Nations Have Yet to Hit 10% Vaccine Target"
An oral COVID vaccine: big potential but little progress
I have covered Vaxart (NASDAQ:VXRT), an US oral vaccine developer previously (1,2,3,4,5).
Currently, VXRT has two active oral vaccine programs, in COVID-19 and norovirus and several other candidates in the pipeline, e.g. seasonal & universal influenza, RSV, HPV.
For COVID-19, VXRT has completed a phase 1 trial (n=35) in May 2021 and is said to be starting a phase 2 trial or phase 2 trials soon*.
*Note: the timeline of VXRT's COVID p2 trial has been changed numerous times in the past year, with delays mostly unexplained.
In the table below, I list examples of VXRT's changing COVID p2 timeline (not a complete list).
VXRT's COVID p2 trials timeline guidance
Source
'Q4, 2020--Start of phase 2 trials expected'
Sept 23, 2020 presentation, slide 19

'A Phase II trial of VXA-CoV2-1, our vaccine encoding both the S and the N proteins, is expected to start mid-year 2021 instead of 2Q...'

'Phase I/II studies of two S-only vaccine constructs targeting different variants are planned to begin in 3Q 2021.'

'Boosting studies with previously vaccinated or infected subjects are also planned for 2H 2021.'

'Trials in India and Latin America are expected to initiate in 2021.'

May 3, 2021 8K Form

'The Phase II clinical trial with the S-only construct is expected to start in 2H21.'

'Development of this and other S-only constructs will proceed in parallel with that of S+N construct, as previously announced'

Aug 2, 2021 PR
'...start the Phase 2 clinical study of its S-Wuhan construct and expects to begin this study shortly'.
Aug 5, 2021 8K Form
(Bold added for emphasis)
Another example: in a recent slide entitled "Phase 1 Results and Next Steps", it's impossible to see what the actual next steps are, as the company lists nothing specific regarding these "Next Steps", besides previously disclosed p1 results.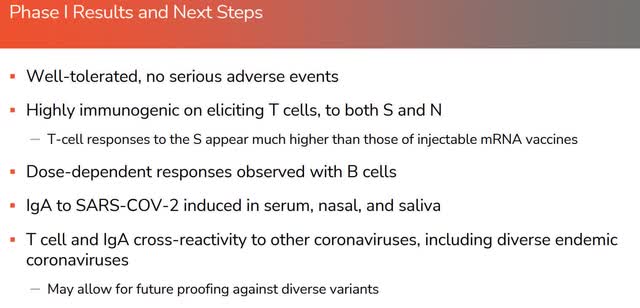 In contrast, VXRT describes their norovirus program in concrete and specific terms, i.e. specific timelines for enrollment and topline results.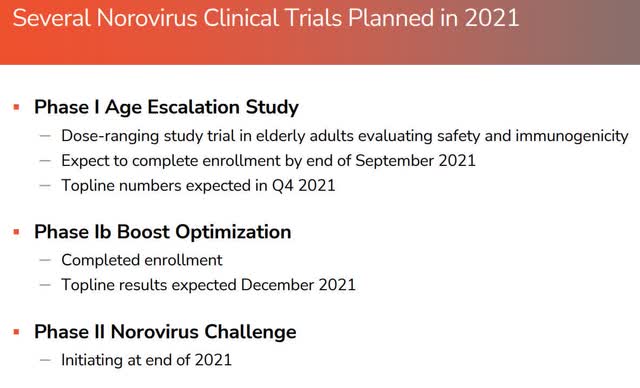 Discussion
Merck's oral COVID therapeutic pills, if successfully approved, would be a tremendous help in reducing COVID-related hospitalization or death.
An oral COVID treatment is much easier to distribute and administer than the currently available options, e.g. GILD's Remdesivir or EUA-approved monoclonal antibody treatments that are administered by IV infusions or injection.
Merck's p3 trial studied only unvaccinated people, so it is not clear for whom the FDA may authorize the drug, if it does grant an EUA for use.
In terms of negative impact on vaccine developers' stocks, I suspect it will be short-lived and temporary.
Vaccination, in my opinion, remains the most important preventative measure for COVID-19 and therefore the work and prospect of COVID vaccine producers and developers are nowhere near done.
In fact, perhaps the opposite is true.
A significant need exists for the first generation vaccines to supply countries under-supplied/under-vaccinated, as well as for the next generation of vaccine candidates, e.g. mucosal vaccines that are administered orally or nasally, to press on with their R&D.
VXRT's oral COVID vaccine candidate fits the bill, and will no doubt contribute meaningfully, if/when successfully developed/approved.
Final Thoughts
I have been an investor in VXRT since June 2020, just before my first SA article in July 2020.
I want to give a special shout out to the longs on StockTwit VXRT forum. They are a group of dedicated retail investors whom I have the honor of knowing and interacting with, in our shared interest in VXRT's prospect and progress over this past year.
I'm no longer invested as I find Vaxart's apparent lack of progress, focus and transparency regarding delays in their COVID program a deal-breaker for me.
From now on, I will watch and root for VXRT's success from the sideline, but as an investor, I've moved on to other opportunities.
Thank you for reading. All the best!
This article was written by
Both my spouse and I have a DPhil from Oxford University. Mine is in Cell Physiology and his is in Bio-organic Chemistry. Our investment focus is on small/micro cap biotech. My SA articles are not stock tips/predictions, financial advice or substitutes for your own due diligence. I'm not a financial adviser. I wrote SA articles for myself and for anyone who find reading & considering SA articles helpful in their investment research. Wishing you the best in seeking & finding alpha through biotech investing!
Analyst's Disclosure: I/we have no stock, option or similar derivative position in any of the companies mentioned, and no plans to initiate any such positions within the next 72 hours. I wrote this article myself, and it expresses my own opinions. I am not receiving compensation for it (other than from Seeking Alpha). I have no business relationship with any company whose stock is mentioned in this article.

I am long-only biotech investor. I am long in AVRO, AVXL, EDSA, FRLN, KRYS, LOGC, LRMR, SIOX I am not a financial advisor and my SA articles are not financial recommendation. Conduct your own research before any decision or action, as each person is responsible for their own decision/action.
Seeking Alpha's Disclosure: Past performance is no guarantee of future results. No recommendation or advice is being given as to whether any investment is suitable for a particular investor. Any views or opinions expressed above may not reflect those of Seeking Alpha as a whole. Seeking Alpha is not a licensed securities dealer, broker or US investment adviser or investment bank. Our analysts are third party authors that include both professional investors and individual investors who may not be licensed or certified by any institute or regulatory body.