The Walt Disney Company: A 50-Year Milestone
Summary
The Walt Disney Company is now celebrating the 50-year anniversary of the opening of Walt Disney World.
Now makes for a good opportunity to look back at the company's successes.
The company is experiencing some pain now, but the future for it should be bright.
Looking for a helping hand in the market? Members of Crude Value Insights get exclusive ideas and guidance to navigate any climate. Learn More »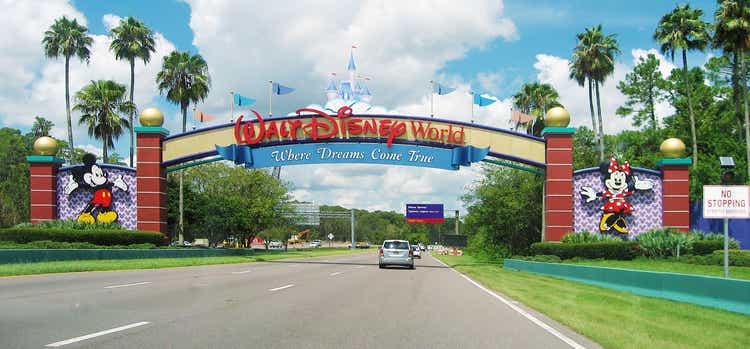 October 1st of 2021 proved to be a big day for The Walt Disney Company (NYSE:DIS) and its shareholders. This is because that day marked the 50th anniversary of the opening of Walt Disney World, particularly Magic Kingdom. It is difficult to know what the individuals involved in the creation of the park, as well as those who visited it and benefited from its environment, had any idea just how large the entertainment conglomerate would grow. Truly, the picture for shareholders has been positive. But not everything has been smooth. With the delta variant of the coronavirus that started the COVID-19 pandemic still raging, uncertainty exists as to the future of the parks in the near term. But ultimately, investors can take solace in the fact that the broader enterprise is healthy and thriving. And it is only a matter of time before the parks return to their former glory.
A look back in time
50 years ago, on October 1st of 1971, The Walt Disney Company opened the doors of Walt Disney World to historic amounts of fanfare. At that time, Walt Disney World consisted mostly of just the Magic Kingdom, with some other properties set in place. It wouldn't be until 1982 that we would see the opening of the next large park at the resort, what ultimately became known as EPCOT Center. The opening of the resort marked a milestone for the business as it represented the first significant build outside of Disneyland. And sitting on an estimated 27,500 acres of land, there would be plenty of opportunity for it to expand.
On its opening day, Walt Disney World saw attendance of 10,422 people. By the end of 1971, it had seen over 400,000 people walk through its gates. This was just the beginning. In the first full year of his opening, the park attracted attendance of 10.71 million people. That made it the 6th largest tourist visitation that year behind only Spain, Italy, France, Canada, and the US. Surprisingly, it made it a more popular destination than either Germany or the UK.
Obviously, this data resulted in the park being recognized as a global success. Total revenue generated in the company's 1972 fiscal year that was associated with Walt Disney World came out to $139 million. Its two resort themed hotels, the Contemporary and Polynesian Village, operated at nearly 100% capacity throughout the entire year. And the two hotels plus Fort Wilderness Campgrounds, saw a combined 1.75 million guests. Though shocking it may seem, there are even some employees at The Walt Disney Company today who were employed and present on that first magical day. Their number has shrunk over time, but they still total an impressive two dozen individuals.
Dark times with light on the horizon
Just as the people behind the success of Walt Disney World may not have been able to imagine the behemoth the company turned into, they likewise probably would not have imagined some of the dark days the company would face. In particular, I am talking about the pain associated with the COVID-19 pandemic. According to one source, the traffic at Magic Kingdom totaled 20.26 million people in 2019. That made it the most visited theme park on the planet. In 2020, however, the pandemic resulted in significant shutdowns, pushing attendance down to just 6.94 million individuals. Still, the park remained the most visited across the planet, thanks to the unfortunate fact the total global theme park attendance dropped from 253.7 million people in 2019 to 83.3 million people last year. For all of the parks inside Walt Disney World, attendance declined from 63.01 million people to 19.14 million people.
Naturally, this resulted in a significant amount of pain for the enterprise. After all, the theme parks business for the conglomerate is rather large. In 2019, the Parks, Experiences, and Products segment for the company accounted for 36.6% of its revenue. It also accounted for 44.8% of profit, though this figure does decline to 39.9% if we exclude the losses associated with the company's Direct-to-Consumer and International segment. Park-level data is not provided by management, but they reported that domestic revenue for the company's Parks, Experiences, and Products segment declined from $17.37 billion in 2019 to $10.23 billion last year. This particular niche of the business generated an operating loss of $623 million in 2020, compared to a profit a year earlier of $4.41 billion. Though for the broader segment, the loss narrowed some to $81 million compared to the profit a year earlier of $6.76 billion.

*Taken from The Walt Disney Company
If we focus solely on the parts of the enterprise that are dedicated to theme parks and resort activities, revenue in 2020 came in at $10.88 billion. That compares to $19.77 billion a year earlier. A lot of this was driven by park attendants plummeting 47% domestically and 53% internationally. The occupancy rate of its domestic hotels totaled only 43%. That compares to 90% seen in 2019. Internationally, occupancy declined from 81% to 35%.
One positive thing for investors is that The Walt Disney Company is not a one trick pony. Though the company relies heavily on its theme park operations, it does not need them in order to survive. Even as revenue at the segment plummeted in 2020, revenue at the even larger Media Networks segment for the conglomerate came in at $28.39 billion. This represents a 14.4% increase over the $24.83 billion the segment generated a year earlier. Operating profits of $9.02 billion were 20.6% higher than the profits a year earlier of $7.48 billion. Though also hit hard, the Studio Entertainment segment fared better than the parts of the company dedicated to the theme parks and resorts operations. Revenue declined by 13.4% from $11.13 billion to $9.37 billion. Profits still came in positive, dropping just 6.9% from $2.69 billion to $2.50 billion. We also cannot deny the tremendous success the company has seen in streaming with Disney+, Hulu, and ESPN+.

At the end of the day, it is clear that The Walt Disney Company can survive even the toughest of times. The diversity of the enterprise is surprising and its resilience is impressive. What this also means is that additional value should be given to shareholders as this large and important segment recovers. And that appears to be taking place as we speak. Although the figures year to date show that the operations tied to theme parks and resorts are still weaker than they were a year ago, data from the latest quarter alone is very encouraging. Revenue associated with Theme Park Admissions totaled $1.15 billion. This compares to a paltry $34 million achieved the third quarter of its 2020 fiscal year. Parks & Experiences revenue increased from $63 million to $914 million. And revenue for its resorts and vacations operations jumped from $80 million to $776 million. For the entire segment, revenue of $4.34 billion is significantly higher than the $1.07 billion achieved in the third quarter of 2020. And in the quarter, the company generated a profit of $356 million. That compares to the $1.88 billion loss achieved a year earlier. This suggests that brighter days are ahead for the enterprise. And that should bring with it significantly greater shareholder value.

*Taken from The Walt Disney Company
Takeaway
It is fascinating to see just how much The Walt Disney Company has grown over the decades. What started as a vision turned into an empire and investors who appreciate history should marvel at what the company has achieved. In the long run, it is highly probable that additional value will be created by management. And now, at a time when the recovery for the business has only just begun, with Walt Disney World having only opened up its gates again in the middle of July of this year and visitation still restricted to only about 35% of capacity, it may be a great opportunity to buy into the firm.
Crude Value Insights offers you an investing service and community focused on oil and natural gas. We focus on cash flow and the companies that generate it, leading to value and growth prospects with real potential.
Subscribers get to use a 50+ stock model account, in-depth cash flow analyses of E&P firms, and live chat discussion of the sector.
Sign up today for your two-week free trial and get a new lease on oil & gas!
This article was written by
Robust cash flow analyses of oil and gas companies
Daniel is an avid and active professional investor. He runs Crude Value Insights, a value-oriented newsletter aimed at analyzing the cash flows and assessing the value of companies in the oil and gas space. His primary focus is on finding businesses that are trading at a significant discount to their intrinsic value by employing a combination of Benjamin Graham's investment philosophy and a contrarian approach to the market and the securities therein.
Analyst's Disclosure: I/we have no stock, option or similar derivative position in any of the companies mentioned, and no plans to initiate any such positions within the next 72 hours. I wrote this article myself, and it expresses my own opinions. I am not receiving compensation for it (other than from Seeking Alpha). I have no business relationship with any company whose stock is mentioned in this article.
Seeking Alpha's Disclosure: Past performance is no guarantee of future results. No recommendation or advice is being given as to whether any investment is suitable for a particular investor. Any views or opinions expressed above may not reflect those of Seeking Alpha as a whole. Seeking Alpha is not a licensed securities dealer, broker or US investment adviser or investment bank. Our analysts are third party authors that include both professional investors and individual investors who may not be licensed or certified by any institute or regulatory body.