Novavax: Fantastic Window Of Opportunity
Summary
The bear raid on vaccine shares after the Merck announcement of another antiviral COVID treatment similar to Remdesivir was a huge success but uncalled for.
This is a great opportunity to buy any of the vaccine manufacturer's shares at a fantastic discount and the best offer certainly is on Novavax.
The WHO EUL has been filed already on 23 September and approval is imminent.
An updated share pricing model is provided indicating a target price of $650 to $700 for end of 2021 even at the discounted benchmarks.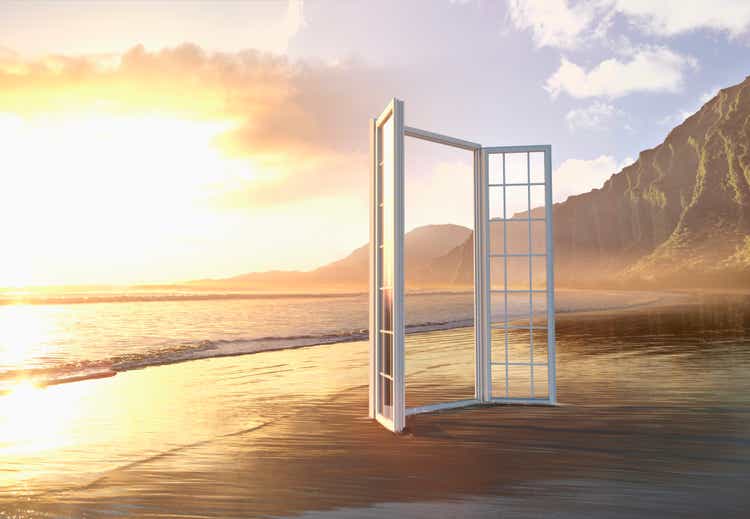 I have done an article on Novavax (NASDAQ:NVAX) only a few weeks ago and yet, a lot have happened since then. The Novavax executives have been explaining their progress at a number of Conferences and Fireside Chats. The WHO EUL application was filed which will be followed by more imminent filings across the globe for further approvals.
All of that was negated by an unrelated big news item for treatment of COVID-19 which landed on 1 October 2021. So, before progressing the Novavax specific items, let's first deal with the Merck (MRK) treatment news.
This was the specific achievement: "At the Interim Analysis, 7.3 Percent of Patients Who Received Molnupiravir Were Hospitalized Through Day 29, Compared With 14.1 Percent of Placebo-Treated Patients Who were Hospitalized or Died." Comment: Patients were divided into two groups, placebo group and treatment group. Treatment group was dosed with Molnupiravir. 14.1% of the Placebo

group were hospitalized or died. 7.3% of the treatment group were hospitalized and none died. Note, however, how very small percentages of both groups were hospitalized. Based on this Merck claims a 50% success rate.

Size: "The planned interim analysis evaluated data from 775 patients". The statement does not say if the ratio between placebo and treatment group was 50:50 but let's work with that. In that case, each group would have been around 387 patients.
Contrary to market reaction on 1 October 2021, Molnupiravir does not compete against COVID-19 vaccines. Vaccines are a totally different universe. Molnupiravir competes against other COVID-19 treatments, for instance Remdesivir.
How does Molnupiravir compare to Remdesivir? "The Kaplan-Meier estimates of mortality were 6.7% with Remdesivir and 11.9% with placebo by day 15 and 11.4% with Remdesivir and 15.2% with placebo by day 29 (hazard ratio, 0.73; 95% CI, 0.52 to 1.03)." It is very difficult to make hard comparisons, as is always the case with these studies. The Remdesivir study was conducted with hospitalized COVID-19 patients which was a substantially higher bar than the mild to moderate infection base for Molnupiravir. Molnupiravir, from a commercial point of view, looks like it may be more-or-less the same as Remdesivir, though Remdesivir has seemingly more side effects and is even more expensive. That analysis has nothing to do with vaccines or vaccine manufacturers.
The WHO does not consider the Remdesivir outcomes as sufficiently robust to recommend Remdesivir for treatment against COVID-19.
Treatment cost with Molnupiravir will be a minimum of $705.88 at the USA government pre-purchase price. "Merck will receive approximately $1.2 billion to supply approximately 1.7 million courses of Molnupiravir to the United States government."
Manufacturing. Merck "expects to have more than 10 million courses of therapy available by the end of 2021."
Molnupiravir is in the treatment against COVID-19 universe not in the vaccines against COVID-19 universe. It will not have any more impact on vaccine manufacturers than Remdesivir has, or had. It clearly also would not address the needs of the developing world and at 10 million treatments would not even go very far in the developed world market. Why then would the share prices of vaccine manufacturers drop on this news? Shareholders and manufacturers of vaccines must all be scratching their heads.
The basic logic is, do you wait until you have COVID-19 which will do this to you?
The clinical manifestations of Covid-19 include fever, cough, myalgia or fatigue, dyspnea and radiographic evidence of pneumonia.13, 14 The diffuse alveolar damage and acute respiratory failure are the main features of Covid-19.13, 15 Studies suggest that previous comorbidities such as hypertension, diabetes, chronic obstructive pulmonary disease (COPD) and other cardiovascular diseases are associated with severe cases of the disease.16-19 The fatal cases present complications as acute respiratory distress syndrome (ARDS), acute cardiac injury, acute kidney injury, and shock, eventually followed by multiple organ failure.
Then, you can take Molnupiravir once you are infected with this virus and hope that the virus does not cause you any long-term harm and have a 50% improved chance of not being hospitalized. You will probably pay close to $1,000 for the privilege.
Alternatively, you can get vaccinated for free and have a 90% or better chance of not being infected by the virus at all. Avoid all those nasty virus consequences. You will still have a better chance of avoiding hospitalization, even if you are in the 10% or less group unlucky to get infected after vaccination, than by taking Molnupiravir.
This is really a no-brainer, as teenagers will say.
The Molnupiravir bear raid on vaccine shares created a unique opportunity to buy Novavax at a market cap of $13.53bn. Compare that minute market cap against advance purchase agreements for over 1.6bn doses of vaccines sales which even at an average dose price of $10 would represent $16bn in Revenue for a less than 1 time visible Revenue valuation.
I will provide an updated share pricing model with all the latest available information and benchmarked as at 1 October 2021, further down. The spreadsheet model will also be available for download at the end of the article.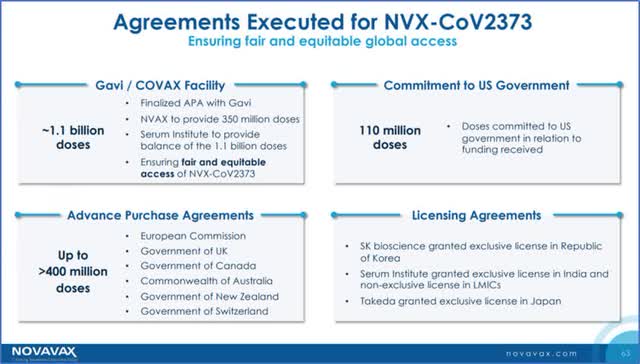 Source: Novavax Presentation
With the Molnupiravir panic out the way let's return to the latest relevant information on Novavax.
Some really startling information emerged from these interviews. Here is a summary of the most important latest observations.
The Novavax vaccine is preventing COVID illness.
The SARS-CoV-2 virus is here to stay. It is particularly infectious, virulent, and is expected to continue to evolve.
Vaccination rates globally are still very low, and it is still a pandemic. There is also a clear ongoing need for revaccination.
Novavax executives often mention the importance of the unique Novavax adjuvant Matrix M which gives Novavax a commercial edge and is underappreciated. "And then Matrix-M; our adjuvant is really, I would say, uniquely able to induce responses that are much higher to those parts that don't vary." The commercial value of Novavax supplying the adjuvant to its manufacturing partners is also often overlooked.
The Novavax platform goes beyond just COVID but on COVID, it has unique advantages. Glen," We don't have a dose limiting toxicity", we could increase dose until we could no longer increase immune response and still had no safety issues, while achieving the maximum efficacy. We can operate in this maximum efficacy/maximum immune response space but the "mRNA can't do this" as pushing up the mRNA dose has safety issues.
Release assays caused the delays but have been resolved and validated. Novavax is in the process of testing those assays against final product in preparation for final CMC packages. Interactive conversations are taking place with regulators across the globe and Novavax has alignment with the requirements of regulators which should facilitate speedy approvals.
The constant quality and successful scaling of manufacturing were demonstrated. The UK trial was done with 50L scale material, while the US trial was done with 2000L scale material with highly consistent vaccine performance and data across both trials.
Novavax executives are confident that they can boost on top of someone else's vaccine and get a better immunogenicity profile. They also expect a lower reactogenicity (better safety profile).
Novavax expects data on children aged 12-18s by end of year while in India, SII is doing p2 and p3 trials in steps for children aged 2-17. The 1st group aged 12-17 were enrolled on 29 August 2021 and the next group aged 7-11 started enrolling on 28 September 2021. It is important to observe that safety data must be reported to the Indian government which was done for the 12-17 group before the 7-11 group was allowed to enroll. There clearly were no safety issues with the 12-17 group in India.
I have already discussed the Novavax variant specific vaccine candidates (including Beta & Delta), monovalent and bivalents as well as the Novavax Combo, COVID/Influenza vaccine candidate in my article, Novavax: Full Steam Ahead. Also discussed are boosting, manufacturing, filings, Mix-&-Match boosting and dosage advantages of Novavax.
The World Health Organization (WHO) Filing for EUL approval
The filing for EUL on 23 September 2021 with the WHO was the most significant development. "Novavax and Serum Institute of India Announce Submission to World Health Organization for Emergency Use Listing of Novavax' COVID-19 Vaccine."
Novavax and SII have been in discussions with the WHO in advance and the WHO has already approved the SII manufacturing facilities generally. The need for the Novavax vaccine is particularly pressing for the developing world whom the WHO has been championing for vaccine distribution. The efficacy, safety, lower cost, and easy logistics make it the ideal candidate for the developing world distribution. It is expected that the WHO will expedite the approval of the Novavax and SII, EUL applications which approval may literally happen any day. More advance purchase agreements will surely follow the EUL approval and the Novavax competitive advantages of efficacy, safety, affordability and stability will see it sell everything that it can manufacture.
Updated Novavax Pricing Model

Please do refer to the table above for input variables. The vaccines sales for 2021 are capped at 653.7mil doses, made up from 303.7mil doses in stockpile as at the end of Sept 2021 (see my previous article on Novavax) and 350mil doses manufactured in Q4 2021. The Mass Market (Developing World) price for 2021 is averaged at $6 per dose and the Niche Market (Developed World) is averaged at $17 per dose for 2021. Pricing in the model is deliberately kept low to provide scope for profit share arrangements when manufacturing is done by Novavax manufacturing partners (i.e. the pricing already accommodated profit share arrangements). The weighted average price for all periods is around $12 per dose to remain very conservative with estimates. Novavax is guiding a minimum manufacturing of 2bn doses from 2022 onwards and the model uses that number for 2022, with very small escalations thereafter, again to remain conservative. The model assumes an annual booster environment from 2023 onwards.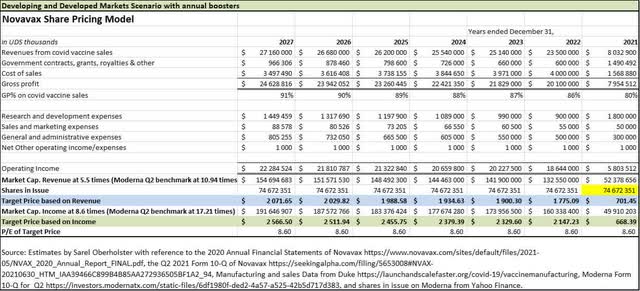 Please refer to the Novavax share pricing table above for the annual estimates. The pricing of the Novavax shares is benchmarked against the Moderna (MRNA) H1 financial results and the Moderna share price, market capitalization and shares in issue as at 1 October 2021. Again, to remain conservative, the Novavax valuations are done at around only half of the Moderna benchmarks.
The 2021 target share price is calculated at between $650 and $700 while the 2022 onwards price targets are substantially higher. The price targets seem controversial even though conservative input numbers were used so please do download the model, test the assumptions, and verify the outcomes.
Conclusion
The announcement by Merck on an antiviral COVID-19 treatment, Molnupiravir, which is similar to Remdesivir, was misinterpreted by the market. Both of which belong in the treatment space and has no particular impact on vaccine shares. These antivirals are no substitute for vaccines and vaccination hence no reason for the sell-off in vaccine manufacturers' shares.
The Novavax vaccine platform and adjuvant advantages are becoming more apparent and will serve then well in a competitive COVID vaccine environment.
The WHO approval will open the door to urgent vaccine shipments to the developing world and the EUL approval is imminent.
The Novavax shares are substantially undervalued and can be bought at a market capitalization of less than the value of the advance purchase agreements already entered into by Novavax.
This article was written by
My retail trader book series, The Paranoid Trader and The BIG FISH Trader, is now available on Amazon. It is a strategy guide for Retail Traders/Investors to motivate them to become profitable Traders/Investors and then remain profitable. Equally important to experienced Retail Traders/Investors, as it reinforces winning trading strategies. I seek understanding in everything but economics, markets and investing are where my mind is most at ease. In this I am forever doing research in my quest for answers. I do view the world from many different angles. Understanding economic behavioral patterns are important to me. Strategic investing over the medium to longer term is predominantly my focus when I contemplate my research or philosophies. I have a compulsion to express my thoughts in ordered form and my essays are the result of such expressions. I'm an economist by training, a financial engineer by talent, a banker by profession, a trader by interest and a father by chance.
Analyst's Disclosure: I/we have a beneficial long position in the shares of NVAX either through stock ownership, options, or other derivatives. I wrote this article myself, and it expresses my own opinions. I am not receiving compensation for it (other than from Seeking Alpha). I have no business relationship with any company whose stock is mentioned in this article.
Seeking Alpha's Disclosure: Past performance is no guarantee of future results. No recommendation or advice is being given as to whether any investment is suitable for a particular investor. Any views or opinions expressed above may not reflect those of Seeking Alpha as a whole. Seeking Alpha is not a licensed securities dealer, broker or US investment adviser or investment bank. Our analysts are third party authors that include both professional investors and individual investors who may not be licensed or certified by any institute or regulatory body.