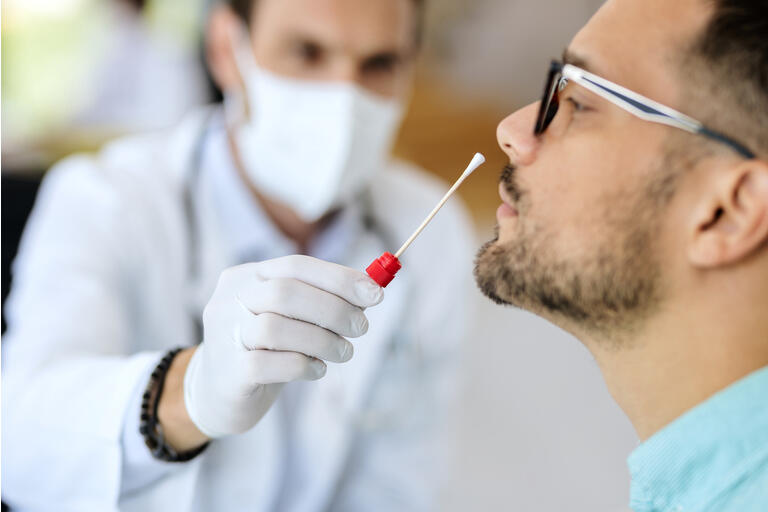 "When dealing with people, remember you are not dealing with creatures of logic, but creatures of emotion."― Dale Carnegie
In this article, we take a look at a fast-growing genomic diagnostics company whose shares have fallen significantly from highs earlier this year but have gotten a bounce as of late. Can the rally continue? We take a look at the firm's business fundamentals and analyst outlooks around the shares below.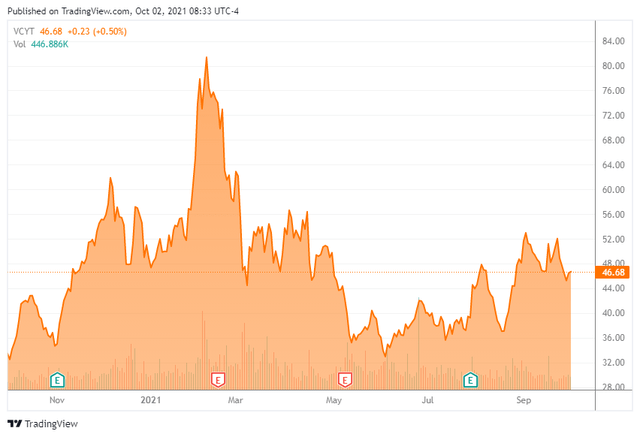 Company Overview:
Veracyte (NASDAQ:VCYT) is a San Francisco-based genomic diagnostics company. The company offers a variety of tests across different disease areas. The company is aiming to be a leader in global cancer diagnostics. It is moving to that goal by a combination of home-grown tests as well as acquisitions. The stock currently trades for just under $47.00 a share and sports an approximate market cap of $3.3 billion.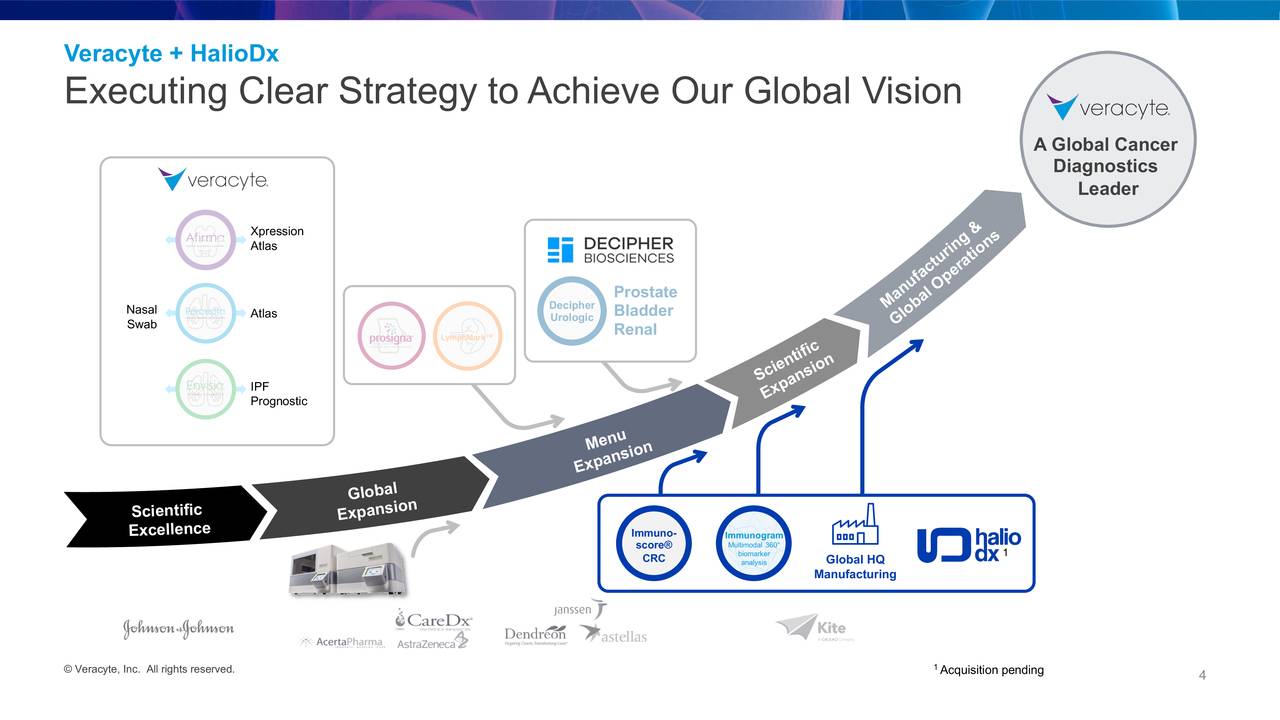 Source: July Company Presentation
Product Portfolio & Pipeline:
The company has several home-grown products on the market including Prosigna (a breast cancer assay), Percepta and Afirma (two genomic sequencing classifiers), and Envisa (a genomic sequencer that increases the confidence in an idiopathic pulmonary fibrosis diagnosis). The company has partnered with Bayer (OTCPK:BAYZF) to advance its Afirma Xpression Atlas for targeted therapies in patients with advanced or metastatic thyroid cancer and with Johnson & Johnson (JNJ) to accelerate the development of its non-invasive nasal swab test for early lung cancer detection.
The latter is aiming to enable doctors to tell their patients with suspicious nodules that they are low risk for cancer and can likely avoid further workup with very high certainty that they have not missed a cancer. Management believes this product could be a 'game changer' in lung cancer early detection. The company plans to make this test available to a limited number of sites in this quarter. This will enable Veracyte to assemble the data needed to secure Medicare and private payer coverage, which leadership believes will be granted 12 to 24 months post-launch.
Recent Events:
On the first day of June, the company announced that it had acquired immuno-oncology diagnostics company HalioDx for ~€260M in total consideration to former's holders which consists of ~€147M in cash and up to ~€113M in stock. This purchase will nicely expand Veracyte's global footprint in cancer diagnostics.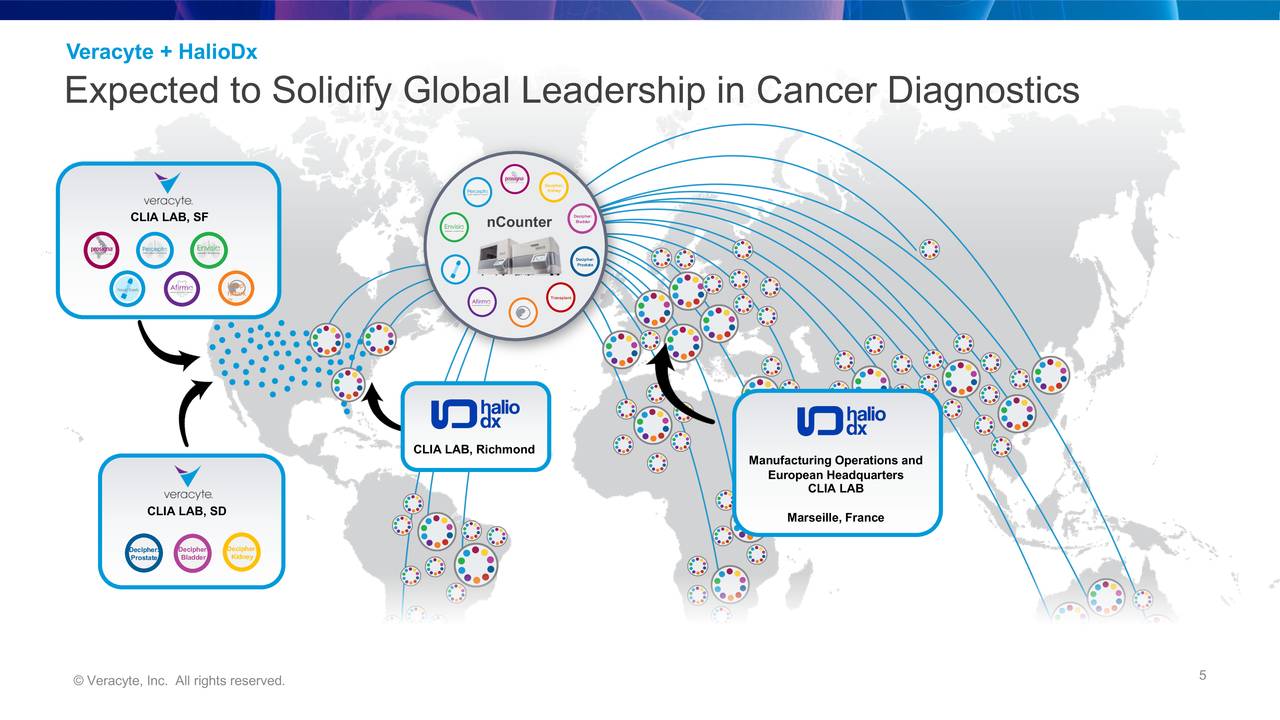 Source: July Company Presentation
Prior to that, Veracyte in early February of this year acquired a commercial-stage precision oncology company focused on urologic cancers named Decipher Biosciences (DECI) for $600 million in total consideration to Decipher security holders, consisting of $250 million in cash and up to $350 million in stock consideration. To help pay for this acquisition, the company raised some $550 million via a secondary offering. Enthusiasm around the purchase very briefly put the stock above $80.00 a share.
At the end of July, the company posted second quarter results. Veracyte posted a loss of 13 cents a share, under the consensus calling for the company to break even. Revenues rose some 166% on a year-over-year basis to $55 million, helped significantly by the Decipher acquisition. This beat expectations by over $6 million. Although Afirma, Envisia, and Percepta GSC combined did nearly 12,000 tests in total, an increase of over 120% compared 2Q 2020 and up 12% from the volume of the first quarter.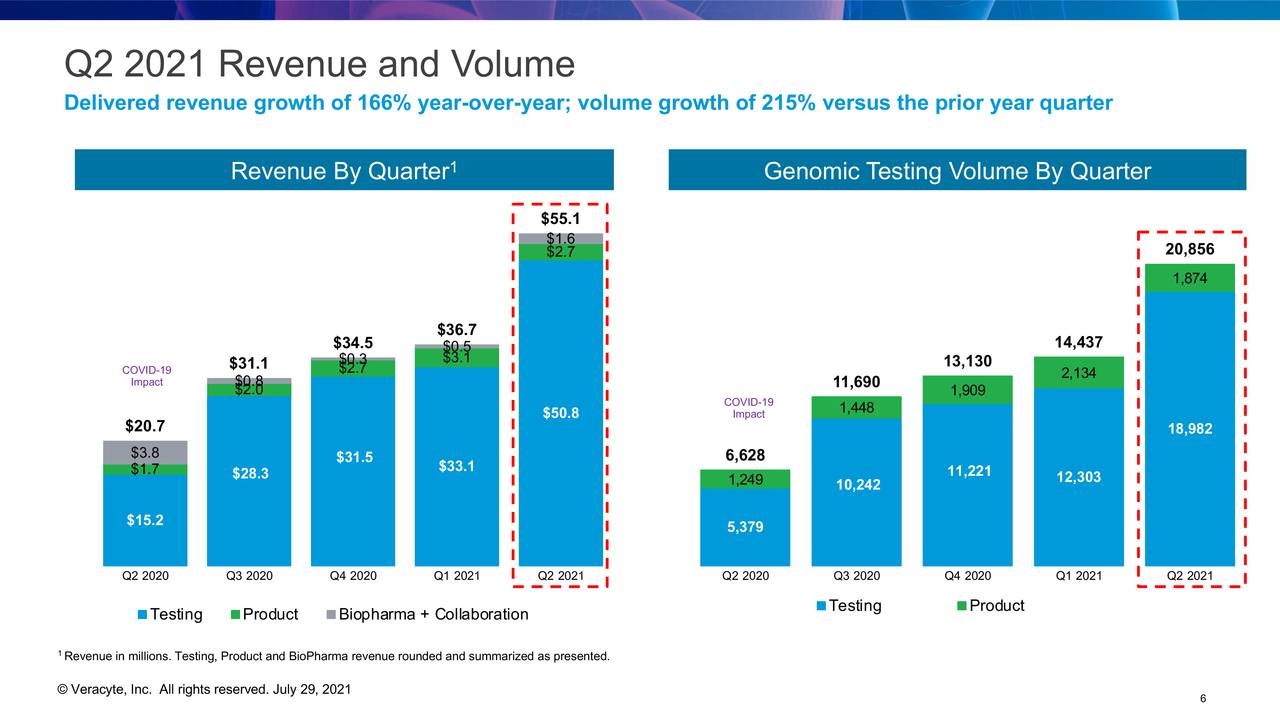 Source: July Company Presentation
Genomic volume grew 215% to 20,856 tests from the same period a year ago. The prostate test acquired in the Decipher purchase contributed just over $18 million in revenues in the second quarter. In June, Veracyte signed a new contract with a major national health plan to make this test in network covered benefits to eligible patients among the plans approximately 20 million members nationwide, which was a nice win. The company just recently launched the Decipher Bladder test, which is a covered benefit for the nation's more than 60 million Medicare beneficiaries.
Analyst Commentary & Balance Sheet:
Since mid-May, six analyst firms including BTIG and Needham have reissued Buy ratings on Veracyte. Two of these contained slight upward price target revisions, two contained downward price target revisions. Price targets from these six analyst firms now range between $50 and $77 a share. Morgan Stanley seems the lone pessimist on the stock with a Hold rating and $42 price target, last issued on July 30th.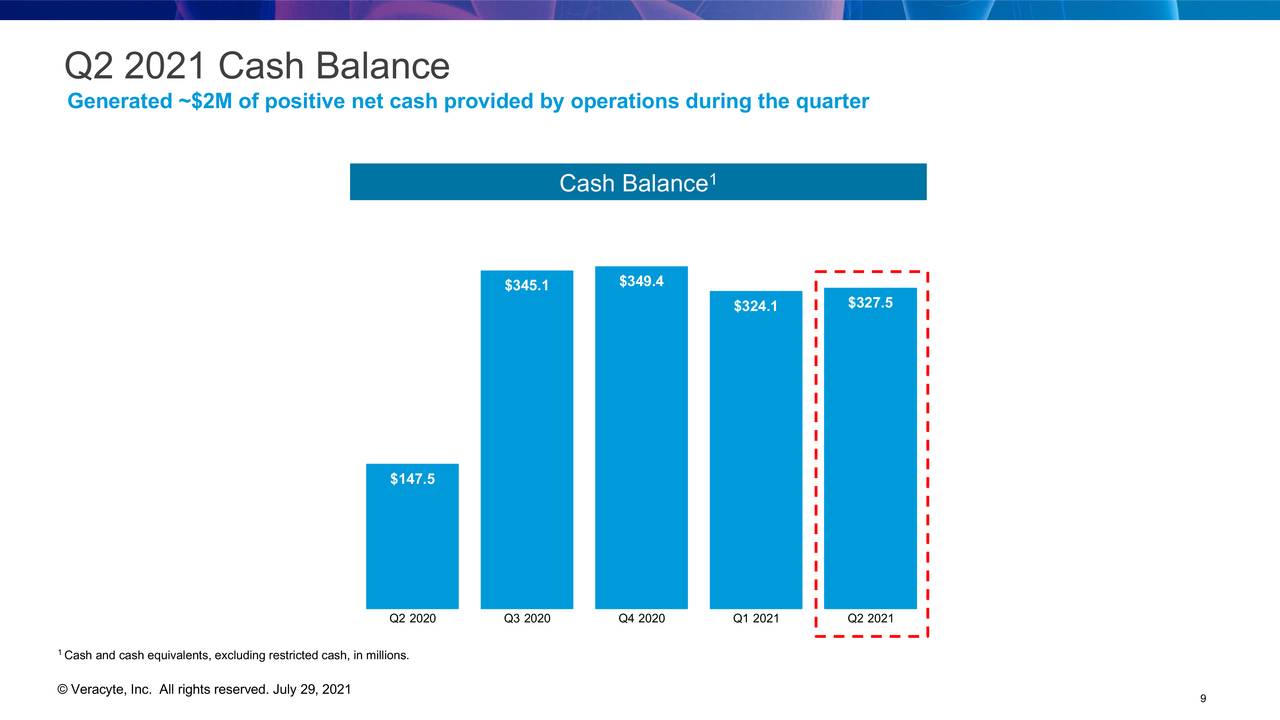 Source: July Company Presentation
The company closed the first half of 2021 with just over $325 million in cash and marketable securities on the balance sheet after posting a net loss of 78 cents a share. The company used just under $40 million of cash in the second quarter for all activities including developing, although leadership stated that it derived $2 million in operating cash flow during the quarter. Net loss for the quarter was $9 million.
Verdict: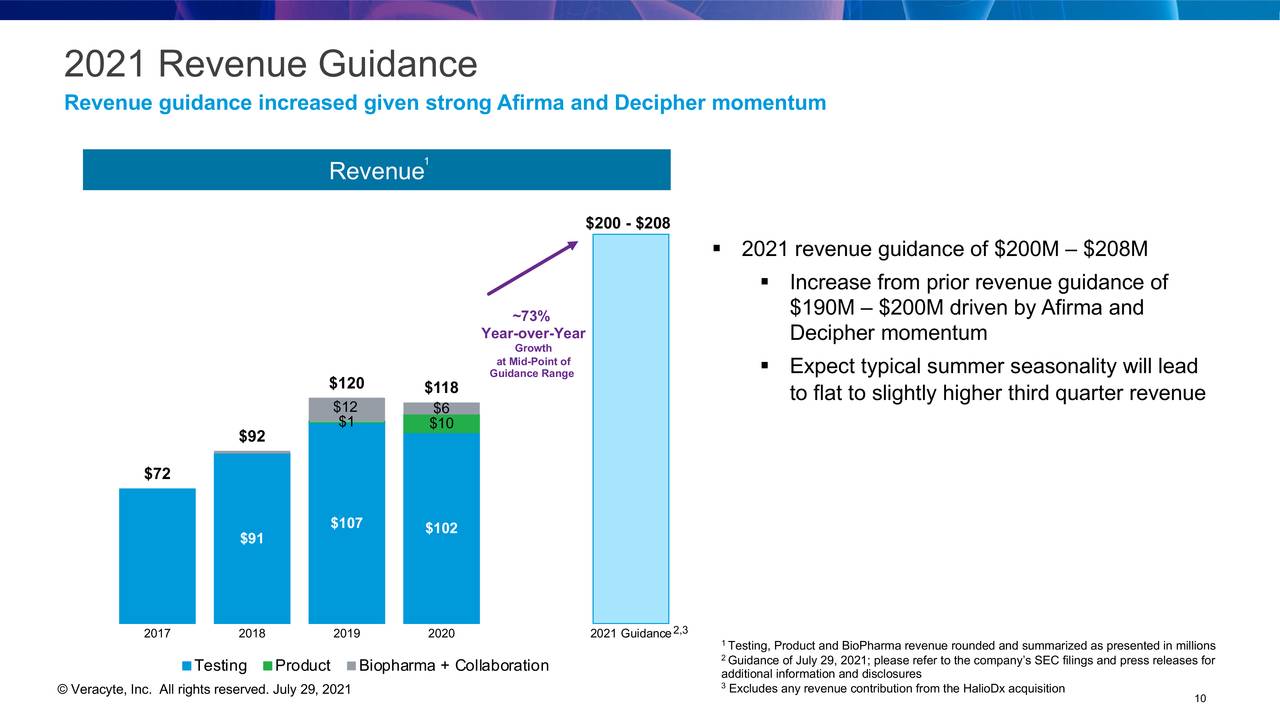 Source: July Company Presentation
The company is expanding its offerings and expects to deliver at least $200 million in revenues in 2021. The analysis consensus on Yahoo Finance has the company delivering roughly between $245 million to $265 million in sales in FY2022. That would represent approximately 20% to 30% revenue growth next year san additional acquisitions, down from this year's projected 70% to 75% growth.
The company should have its hands fully integrating its two recent acquisitions and advancing its pipeline over the next few quarters. Veracyte is a nice growth story but analysts still expect it to post a loss in FY2022, and at over 15 times this year's sales, the shares for the moment seem fully valued.
"The past is behind us unless we fail to learn from it."― L.M. Fields
Bret Jensen is the Founder of and authors articles for the Biotech Forum, Busted IPO Forum, and Insiders Forum