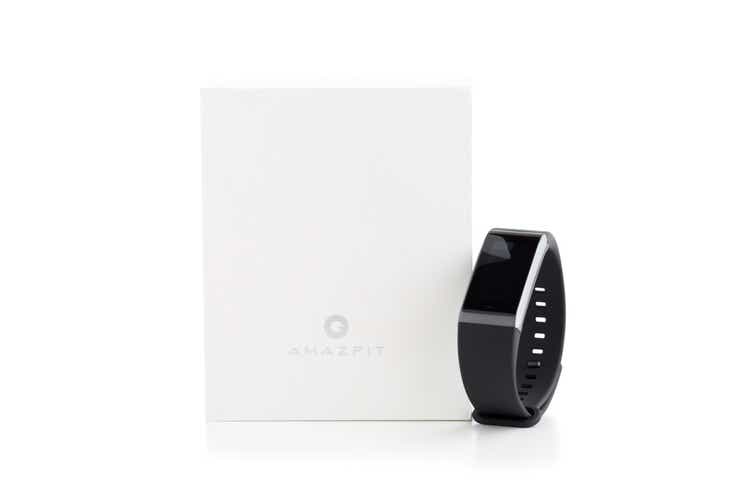 If there's anything we've learned during the September correction, it's that many investors seem to agree the U.S. stock market is overheated and in need of a come-down to reality. But what about international stocks? As U.S. stocks begin to recede, I increasingly see more and more underappreciated opportunities overseas.
In particular, I've been slowly increasing my allocation to China recently. Admittedly, I bought in too early (some of my China plays include the general China ETF (MCHI) and Alibaba (BABA), both of which continued to drop from when I bought them earlier this year). But there's no doubt that the relative parity between U.S. and Chinese stocks has been shaken up: while the S&P 500 still remains up a healthy 15% year-to-date even after the September correction, the Hang Seng is down -11%. Many individual Chinese stocks are down much more than that.
One small-cap Chinese stock I particularly favor is Zepp Health (NYSE:ZEPP), formerly known as Huami. Zepp is a consumer-devices maker, best known for its line of cheap smartwatches and fitness trackers called Mi Bands. While certainly not a flashy stock, Zepp has been consistent in its track record of product rollouts and revenue growth. Still, the stock is down ~40% year-to-date, in spite of very strong results.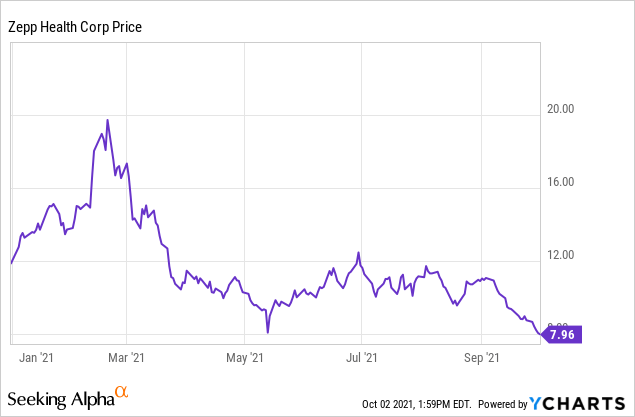 In my view, it's times like these that investors have to be more open-minded about the stocks they include in their portfolio. A little-known, small-cap international play like Zepp merits a small position that can help diversify against continued losses in U.S. large caps. Beyond the basic diversification opportunity, I think Zepp offers plenty of individual merits to drive its bullish thesis:
Proven product popularity. While Zepp will never win on quality and flashiness, it will win on price. Zepp's Mi Bands have taken over the "cheap smartwatch" space from U.S. competitors like Fitbit, and these products have grown so popular that each iteration of the Mi Band generates tremendous revenue growth for the company.
Diversifying product lineup. Zepp anchors on its Mi Band products, but that's far from the only thing the company makes. The company also makes a line of Amazfit-branded earbuds, while the Airrun smart treadmill, available to purchase through Alibaba, positions Zepp as a low-cost alternative to Peloton Tread (PTON).
Profitable. Mi Band and Amazfit products are low-priced, and with gross margins in the low ~20s Zepp's margin profile isn't exactly one to be envied, but it's consistent. Zepp has continued to churn out positive net income, and that's a real enticement that value investors can anchor to.
Wall Street analysts are expecting $1.19 in net income per ADS, per Seeking Alpha, in FY22. That makes Zepp's current ~$8 price handle quite enticing. To me, I think Zepp is a "sleeper" success story that merits inclusion in your portfolio: offering both the chance to buy into China while the whole market is down, as well as possessing growth merits of its own.
Q2 download
Let's now discuss Zepp's most recent Q2 results to illustrate that the company has been on a strong upward trajectory recently. The company's Q2 earnings release is shown below: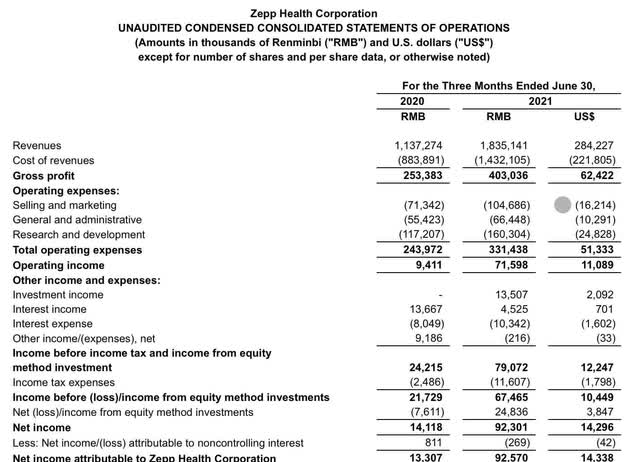 In Q2, Zepp generated RMB 1.84 billion in revenue, growing at a stunning 61% y/y pace and translating to $284.2 million in revenue, beating Wall Street's $280.0 million expectations. The company also reported shipping 11.5 million units, up 29% y/y.
The Mi Band 6 may not be pricey, but it's a major revenue driver for the company. A quick rundown on the product: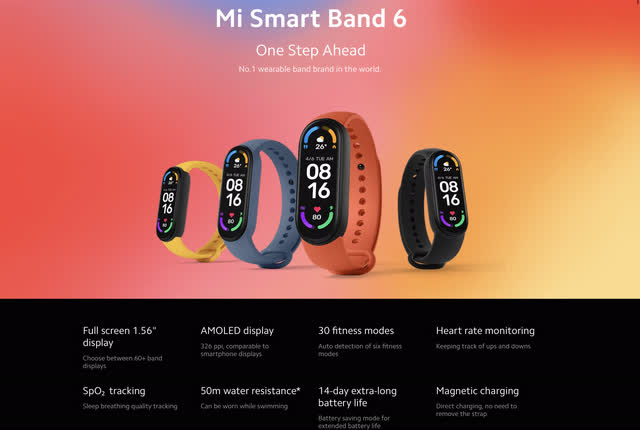 Launched earlier this year in March, IDC named the Mi Band lineup one of the highest-volume smartwatch/fitness trackers in the industry. Sold through a variety of channels including Amazon.com (AMZN), where it retails for $46, Mi Band packs a lot of features into a small form factor and a very friendly price. Made in six colors, the Mi Band 6 has a small 1.56" display (a 50% increase over the prior generation) and offers a variety of capabilities, from sleep tracking to heart rate monitoring. Users can choose from a variety of display customizations as well. Popular both in its home market in China as well as in the U.S. and Europe, the Mi Band 6 has garnered highly positive reviews from tech blogs for its abundance of features against a relatively low price.
Granted, part of the revenue growth that Zepp was able to generate in Q2 was due to an uneven comp versus last year's product cycle. The Mi Band 5 was launched in Q3 of last year, whereas the bulk of shipments hit Q2 of this year. Due largely to that tough comp, Zepp is guiding to revenue of RMB 1.6-1.8 billion for Q3, down from RMB 2.2 billion in the year-ago Q3. Still, when looking at the first half actuals plus Q3 midpoint guidance (RMB 4.7 billion), the result is that this is a growth business - up from roughly RMB 4.4 billion in the first nine months of last year. We note that other fitness product categories, like the emergent treadmill line, should be able to propel more growth for Zepp going forward.
Here's some more color commentary from Zepp CEO Huang Wang on the company's recent launches and what is coming down the pipe, made during his prepared remarks on the Q2 earnings call:
Recent announcements reinforce our progress on these fronts also. In July 2021, we launched Amazfit PowerBuds Pro, ear buds featuring true wireless stereo with powerful multi-scenario, active noise cancellation and advanced health monitoring functions, including cervical vertebrae and hearing protection.

We recently launched our brand-new children's smartwatch product line, which allows us to enter a niche market we have not addressed before. Beyond providing basic children's smartwatch functionalities, our products focus on motivating children to go outdoors and participate in both activities, which will also help prevent myopia for the next generation […]

We do not preannounce products, but I do want to say that we have many exciting things in store for later this year and everyone at the company looks forward to surprising and delighting our users."
We note as well that Zepp managed to keep up very robust profits. Gross margins remained flat at 22%, and the company also drove RMB 92.3 million ($14.3 million) in net income for the quarter, many multiples higher than the corresponding Q2 of last year (again due partly to launch timing). The company noted in its guidance commentary that it intends to keep strict "cost controls" in the second half of FY21 and expects to be profitable in both Q3 and Q4.
Key takeaways
Like its flagship Mi Band products, Zepp Health's stock is packed with many merits into a very reasonable price. Revenue growth, product diversification, continued innovation and a consistent history on the bottom line make Zepp for a very appealing stock, especially when it's 40% down from the year after producing strong results. Stay long here and use the recent dips as a buying opportunity.
For a live pulse of how tech stock valuations are moving, as well as exclusive in-depth ideas and direct access to Gary Alexander, subscribe to the Daily Tech Download. Highly curated focus list has consistently netted winning trades of 40%+.