GeoVax: Expands Immuno-Oncology Pipeline With Clinical-Stage Program
Summary
GeoVax is developing vaccines and immunotherapies for multiple oncology and infectious disease indications.
The Company has a decent cash runway for the current development pipeline.
The addition of the Gedeptin program has advanced the Company's pipeline to pivotal clinical stage.
Looking for more investing ideas like this one? Get them exclusively at The Total Pharma Tracker. Learn More »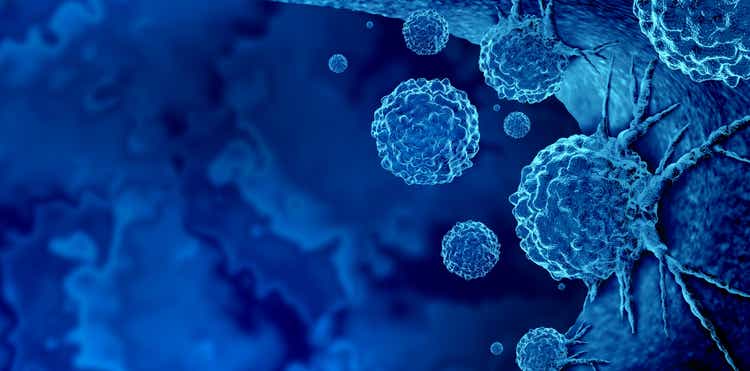 About

GeoVax Labs, Inc. (NASDAQ:GOVX) is a biotechnology company specializing in developing human vaccines and immunotherapies for unmet needs in cancer and infectious diseases. The Company recently caught the attention of investors and its stock surged nearly 36% on 9/28/2021 on the news of its exclusive rights deal with PNP Therapeutics, Inc., for Gedeptin, a novel patented product for the treatment of solid tumors. The deal includes a combination of upfront payments, milestone fees, and royalties on net sales, for the patent portfolio covering Gedeptin, which was originally licensed by PNP from the University of Alabama at Birmingham ('UAB) and Southern Research Institute ('SRI), with GeoVax becoming PNP's successor. The deal provides a pivotal clinical stage status to the Company's development pipeline.
Technology & Pipeline

(Image: pipeline; source: company website)
Immuno-Oncology programs
GeoVax is developing vaccines with an immunotherapy approach for treating cancer. These vaccines have the potential to clear solid tumors as well as control tumor recurrence by establishing immunological memory. Cancer vaccines based on the expression of tumor-associated antigens like Mucin 1 ('MUC1), Cyclin B1 or others, can provide convenience, safety and lower toxicity, compared to conventional therapies such as, radiation, chemotherapy, antibody, etc. The Company uses its MVA-VLP (modified vaccinia Ankara - virus-like particle) vaccine platform to express abnormal, aberrantly glycosylated forms of MUC1 protein associated with the cell surface in cancers of the breast, colon, ovarian, prostate, pancreatic, lung, and others. The VLPs are produced in the person being vaccinated, using recombinant DNA or recombinant viruses. In human clinical trials of the Company's HIV vaccine candidates, the VLPs produced in-vivo demonstrated high safety, and strong and durable humoral and cellular immune response.
The Company is collaborating with the University of Pittsburgh ('UoP) for selection and testing of vaccine candidates for cancer immunotherapy. A trial of the Company's MVA-VLP-MUC1 candidate in combination with ViaMune, Inc's synthetic MUC1 vaccine showed significant reduction of tumor burden in a transgenic human MUC1 therapeutic mouse model. GeoVax is also collaborating with Leidos, Inc., to identify multiple candidates for multiple types of cancers in combination with their novel peptide checkpoint inhibitors ('CPIs). The Company is also collaborating with Emory University ('Emory) for the development of a therapeutic vaccine for human papillomavirus ('HPV) associated head and neck cancer ('HNC). There are currently no medical treatments for chronic HPV infections that can lead to HNC.
Infectious disease programs
The Company's lead program is a preventive vaccine for the Clade B HIV, the HIV subtype prevalent in the Americas, Western Europe, Australia, and Japan. The program has completed Phase 1 and Phase 2a human clinical trials, and is currently advancing to pivotal human clinical trials with support from the National Institute of Allergy and Infectious Diseases ('NIAID). The Company is also collaborating with the University of California, San Francisco ('UCSF) to develop a combo-therapy to cure HIV infection. Patient enrollment commenced in August 2020 for the combo-therapy trial with funding from amfAR, The Foundation for AIDS Research.
Preclinical studies of the Company's vaccine for Ebola virus demonstrated 100% single-dose protection in lethal challenge models. The candidate has completed efficacy testing in non-human primates and is ready for phase 1 human trials. The Company is also developing vaccines for Sudan, and Marburg virus, which along with Ebola are the most virulent species of the Filoviridae family.
Preclinical studies in rodents for the Company's vaccine candidate for Lassa fever, at the Institute of Human Virology at the University of Maryland School of Medicine in Baltimore, showed 100% single-dose protection in a lethal challenge composed of multiple strains of Lassa delivered directly into the brain. The program is currently preparing for human clinical trials, in collaboration with USAMRIID, the Geneva Foundation, and IDT Biologika, with a grant from the U.S. Department of Defense.
The Company's vaccine candidate for Zika virus is based on the NS1 protein, not associated with antibody dependent enhancement ('ADE) of infection. ADE is a safety concern in other vaccine candidates under development. The Company's candidate has completed efficacy testing in non-primates and is ready for Phase 1 trial. The candidate achieved 100% single-dose protection in mice in a lethal challenge injected directly into the brain. The NS1-based vaccine also potentially blocks transmission of the virus from humans to mosquito vectors.
GeoVax is collaborating with the Burnet Institute, Australia, as well as with Leidos, Inc., under a contract from USAID Malaria Vaccine Development Program, to develop a vaccine for prevention of malaria infection and transmission, by targeting antigens derived from multiple stages of the malarial parasite's life cycle. The MVA-VLP multi-antigen malaria vaccine candidates currently being evaluated in small animal models, are designed to induce a Th1 biased immune response with durable functional antibodies (IgG1 and IgG3) and CD4+ and CD8+ T cell responses.
The Company initiated development of a vaccine for the SARS-CoV-2 coronavirus in January 2020. The initial vaccine candidate GEO-CM02 encodes the Spike ('S), Membrane ('M) and Envelope ('E) proteins of the coronavirus. GeoVax is currently designing a universal SARS-CoV-2 vaccine with the use of its MVA-VLP platform, encoding multiple coronavirus proteins, using the S protein as the antibody target and the M and E proteins as T-cell targets, which mediate protection from infection and pathogenesis.
PNP Collaboration
Gedeptin is a "non-replicating adenoviral vector expressing an optimized E. coli purine nucleoside phosphorylase" ('PNP) injected intratumorally, followed by intravenous or intratumoral administration of a prodrug. Gedeptin has been evaluated with various prodrugs with the prodrug fludarabine phosphate (Fludara) showing promising results. Gedeptin followed by fludarabine administration results in localized production of fluoroadenine ('F-Ade), a potent cytotoxic compound with pronounced antitumor activity. Fludarabine has shown excellent in vivo antitumor activity in murine models when only 2-3% of tumor cells express E. coli PNP. The prodrug is currently approved by the U.S. Food and Drug Administration ('FDA) to treat chronic lymphocytic leukemia, but is not known to be effective against other solid tumors.
Gedeptin overcomes previous GDEPT (Gene-Directed Enzyme Prodrug Therapy) limitations, and has potential as a robust platform for addressing multiple indications. A Phase 1/2 clinical trial of 10 patients is being conducted at Stanford University in collaboration with Emory to gather additional information prior to an expanded trial. This initial 10-patient study is being funded by the Orphan Products Grants Program of the FDA. The FDA granted orphan drug status to Gedeptin, for the intra-tumoral treatment of anatomically accessible oral and pharyngeal cancers, including cancers of the lip, tongue, gum, floor of mouth, salivary gland and other oral cavities.
Financials
GeoVax had approximately $19.5 million in cash and cash equivalents as of 6/30/2021, and believes it has a cash runway through mid-2023. The operating expenses in 1H-2021 were approximately $3.2 million. A year ago in September 2020, the Company raised gross proceeds of approximately $12.8 million in a public offering along with uplisting to Nasdaq and a reverse stock split of its issued and outstanding common stock at a ratio of 1-for-20.
Most of the Company's owned and/or in-licensed patents relevant to its development candidates have expiries ranging between 2036 and 2041, except those relating to Emory or NIH, which expire between 2022 and 2028.
Risks
GeoVax is a "non-accelerated filer" and a "smaller reporting company," hence may take advantage of reduced reporting requirements.
As of 6/30/2021, the Company had an accumulated deficit of approximately $48.7 million.
It will be several years before the Company can generate revenue and attain positive cash flow.
The Company's in-licensed patents from Emory and the U.S. NIH, relevant to its HIV-vaccine program have expiries between 2022 and 2028.
Bottomline
GeoVax's proprietary technology offers significant advantages versus competitive technologies, with a well-validated platform suited for developing vaccines against a wide range of cancers and infectious diseases. The Company has a decent cash runway for the current development pipeline through mid-2023.
About the TPT service
Thanks for reading. At the Total Pharma Tracker, we offer the following:-


Our Android app and website features a set of tools for DIY investors, including a work-in-progress software where you can enter any ticker and get extensive curated research material. 
For investors requiring hands-on support, our in-house experts go through our tools and find the best investible stocks, complete with buy/sell strategies and alerts.
Sign up now for our free trial, request access to our tools, and find out, at no cost to you, what we can do for you. 
This article was written by
Cautious, low key, disciplined investing in biopharma stocks
Avisol Capital Partners runs the Total Pharma Tracker Seeking Alpha Marketplace service. This is managed by Dr Asok Dutta, BVScAH and Dr Udaya Kumar Maiya, MD Oncologist. The service offers end-to-end research on both investing and trading ideas everyday, and includes a 150-stock watchlist and two 40-stock model portfolios that are continuously tracked.

Dr Dutta is a retired veterinary surgeon. He has over 40 years experience in the industry. Dr Maiya is a well-known oncologist who has 30 years in the medical field, including as Medical Director of various healthcare institutions. Both doctors are also avid private investors. They are assisted by a number of finance professionals in developing this service.

If you want to check out our service, go here - https://seekingalpha.com/author/avisol-capital-partners/research

Disclaimer - we are not investment advisors.

Analyst's Disclosure: I/we have no stock, option or similar derivative position in any of the companies mentioned, and no plans to initiate any such positions within the next 72 hours. I wrote this article myself, and it expresses my own opinions. I am not receiving compensation for it (other than from Seeking Alpha). I have no business relationship with any company whose stock is mentioned in this article.
Seeking Alpha's Disclosure: Past performance is no guarantee of future results. No recommendation or advice is being given as to whether any investment is suitable for a particular investor. Any views or opinions expressed above may not reflect those of Seeking Alpha as a whole. Seeking Alpha is not a licensed securities dealer, broker or US investment adviser or investment bank. Our analysts are third party authors that include both professional investors and individual investors who may not be licensed or certified by any institute or regulatory body.