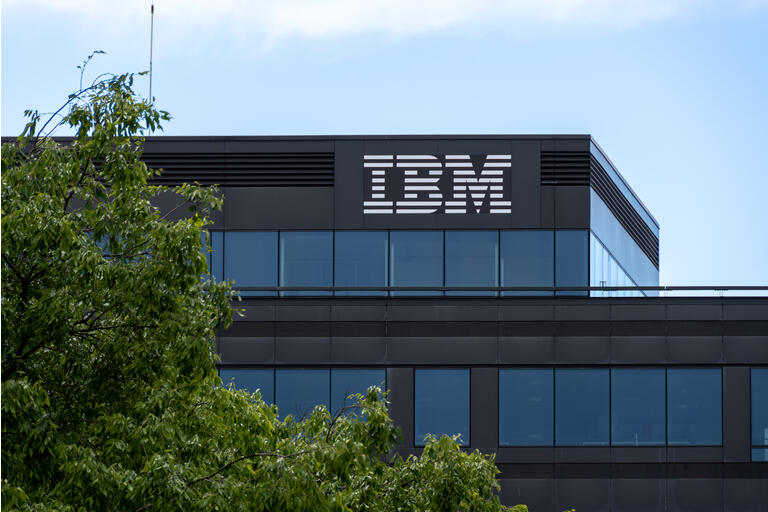 Thesis
IBM's (NYSE:IBM) revenue has declined over the last decade in spite of strong industry tailwinds as it lost share to best-in-class competitors across its segments. The company's stock price has dropped, its valuation is cheap, and the 4.7% dividend yield is attractive for income-oriented investors. However, unless there are clear signs of a turnaround, the stock price could continue to deteriorate.
Outline of this Article
I begin by comparing IBM's overall consolidated financials to its big tech competitors, followed by the revenue growth in each of IBM's segments to the closest direct comparables. I then shift on valuations and the level of sponsorship from smart money investors and end with concluding observations.
Consolidated Financials
Revenues
Over the last decade, the tech industry has grown significantly and most big tech companies have benefited handsomely from the strong tailwinds of digitization. In stark contrast, IBM's revenues actually contracted by 25% over the same period. (figure 1, green line)
Figure 1: IBM's trailing twelve-month revenues vs its big tech competitors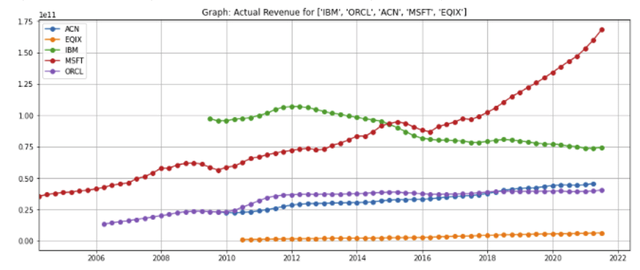 Note: I included Equinix as it operates in a similar space as IBM's soon-to-be spun-out Global Technology Services division, which will be renamed Kyndryl.
Source: Created by author using publicly available financials
Per Share Financials
The revenue decline over the last decade can be partially attributed to the sale of a number of non-core units. Former Chairman and CEO Ginni Rometty called these units "empty calories … producing revenue but not profits" (figure 2).
Figure 2: What's new and what's gone at IBM between 2005 and 2015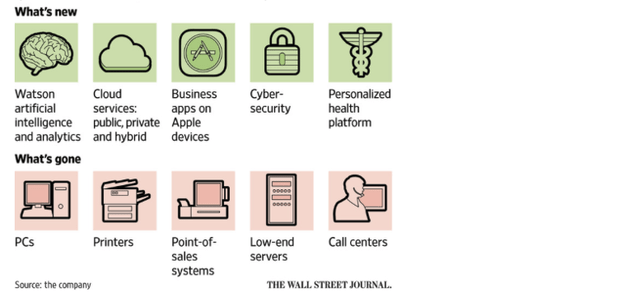 One would have expected the company to deploy proceeds from these divestments to create shareholder value through re-investments, acquisitions, or share buybacks. However, per share revenues have remained flat over the last decade (figure 3, green line), and IBM's per share earnings have declined steadily since 2014 (figure 4, green line). This is all the more disappointing as competitors have experienced significant growth over the same period.
Figure 3: IBM's trailing twelve-month per share revenues vs competitors
Source: Created by author using publicly available financials
Figure 4: IBM's trailing twelve-month earnings per share growth vs competitors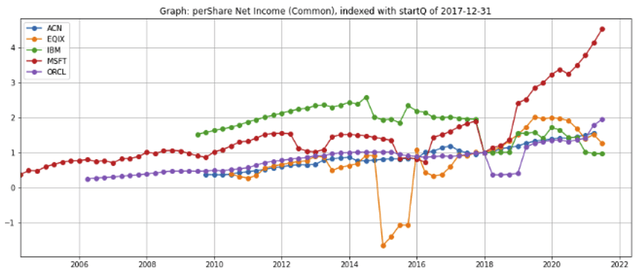 Source: Created by author using publicly available financials
Stock Price Underperformance
IBM's stock price has similarly been on a slow decline and is down about 15% since 2015 (figure 5, red line), far underperforming the S&P500 which was up 105% over the same period. This is all the more frustrating for shareholders who have seen other big tech companies appreciate significantly over the same time frame. The company pays a dividend, but that barely brings investors to breakeven after taxes.
Figure 5: IBM's stock price vs competitors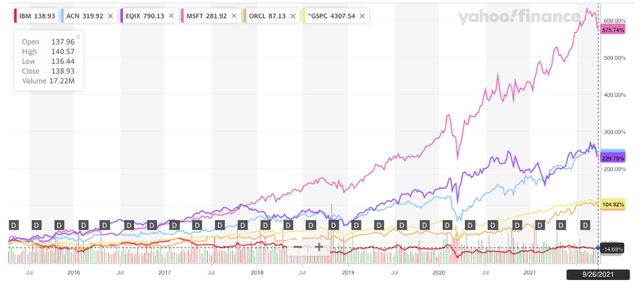 Source: Yahoo Finance
Segment by Segment Comparison
I would be the first to acknowledge that the above is not an "apples to apples" comparison as the big-tech companies participate in very different mixes of business segments. To get a better understanding, I compared the two-year revenue growth rate of each of IBM's major segments against companies or divisions of companies they directly compete against. (While I would have preferred to use a longer comparison period, the fact that some companies re-categorize their segments makes this difficult)
(1) Cloud and cognitive software:
According to IBM's 2020 Form 10-K, this segment brings together the company's software platforms and solutions to deliver digital transformation for clients across all their processes, applications and data. It includes cognitive applications enabled by IBM's Watson AI technology; cloud, middleware and data platform software; and mission-critical on-premise transaction processing software.
From 2018 to 2020, IBM's cloud and cognitive software segment delivered a disappointing 2.9% p.a. growth rate (figure 6, in red), as the contribution from the Red Hat acquisition was barely sufficient to offset the decline in legacy revenues. The heavily marketed Watson Artificial Intelligence software has not generated as much momentum as initially expected, and IBM's personalized health platform was reportedly been put up for sale earlier this year.
In contrast, direct competitors like Amazon Web Services, Google Cloud, Microsoft Cloud, and Salesforce have all delivered annual growth of 20-40% over the last 2 years.
Figure 6: Revenue growth of Cloud and Cognitive Software competitors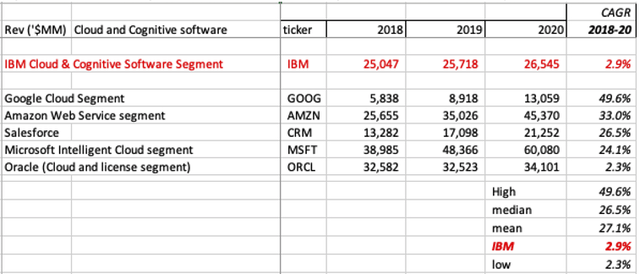 Source: Company 10-K filings with the SEC
(2) Global Business Services:
The Global Business Services segment provides professional services including consulting, systems integration, application management and business process outsourcing services. It is focused on implementing AI-enabled intelligent workflows and modernize applications suites that are optimized for hybrid cloud environments.
IBM's GBS revenues shrunk by 2.3% p.a. over the last 2 years (figure 7, in red), compared with the low- to mid-single digit growth of competitors, Accenture and Cognizant.
Figure 7: Revenue growth of Global Business Services competitors

Source: Company 10-K filings with the SEC
(3) Global Technology Services:
The Global Technology Services segment provides clients with mission-critical IT infrastructure, consisting of data centers, digital workplace solutions, and hybrid cloud systems, as well as cloud, enterprise, data, security, and resiliency services.
IBM's GTS revenues shrunk by 5.1% p.a. (figure 8, in red) over the last 2 years while most competitors I identified have delivered annual growth in the mid-single digit to low-teens range. (the exception being CenturyLink/Cyxtera, a small data center subsidiary within communications provider Lumen (LUMN))
Figure 8: Revenue growth of Global Technology Services competitors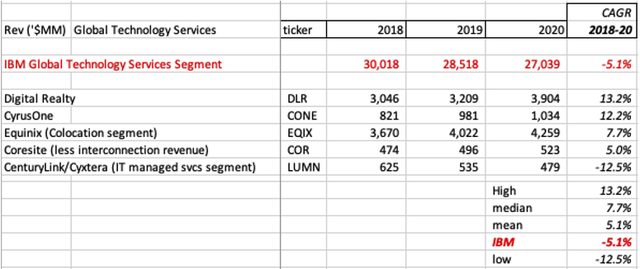 Source: Company 10-K filings with the SEC
On October 8, 2020, IBM announced plans for a spinoff of GTS into a separate publicly listed company named Kyndryl. As an independent company, Kyndryl expects to be able to work with a broader ecosystem of partners, including some who may have previously viewed IBM as a competitor. The transaction is expected to be completed before the end of 2021, and IBM will distribute Kyndryl stock to existing shareholders.
(4) Systems:
IBM's Systems segment provides mainframes, servers, storage platforms, and operating systems to support enterprise workloads. While IBM's mainframe systems continue to be a staple of enterprise IT systems running mission-critical production workloads, competition from low-cost distributed commodity servers has exerted price pressure on this segment.
Many hardware providers have struggled to grow revenues over the last 2 years, but IBM's revenue growth rate (figure 9, in red) has again fallen short of most of its competitors.
Figure 9: Revenue growth of IBM Systems competitors

Source: Company 10-K filings with the SEC
(5) Other sources of revenue
Revenues of IBM's Global Financing segment have shrunk as well, but that is likely a function of both lower interest rates as well as the decline in IBM's other segments which it finances.
IBM is known for its research and development operations and has received the most US patents of any company every year for the past quarter of a century. IBM's patents cover groundbreaking research in areas including artificial intelligence, cognitive health, cloud, cybersecurity and quantum computing. However, its intellectual property income has declined from $1 billion in 2018 to $626 million in 2020 and represents less than 1% of 2020 revenues.
Valuation
IBM's valuation has declined steadily over the last decade, and its free cash flow yield (defined as cash flow from operations less capital expenditures to market capitalization) has consequently risen to about 12% (figure 10, orange line), up from ~7% between 2012 and 2014. This high free cash flow yield and 4.7% dividend yield provides a margin of safety for patient investors, provided IBM's earnings do not continue to deteriorate.
Figure 10: Valuation of IBM

Source: Created by author using publicly available financial data
IBM's valuation is far lower (figure 11, blue line) compared to its big tech competitors, and deservedly so given its declining revenues (figure 1 above) and flat per share revenue growth rate (figure 3)
Figure 11: Free cash flow yield of IBM vs its competitors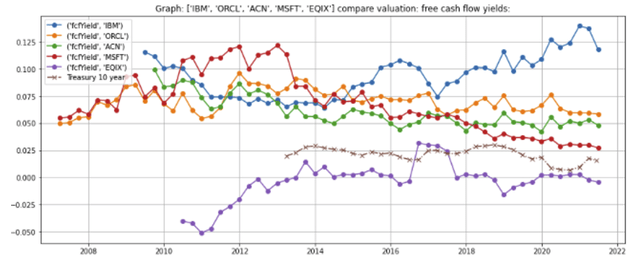 Source: Created by author using publicly available financials
Recent Results and Outlook
Quarterly revenue and earnings have continued to be flat showing no signs of turning around (figure 12, blue and orange lines), even after the acquisition of Red Hat. Current CEO Arvind Krishna has a tall task ahead of him to turn around a full decade of underperformance.
Figure 12: IBM's quarterly revenue and earnings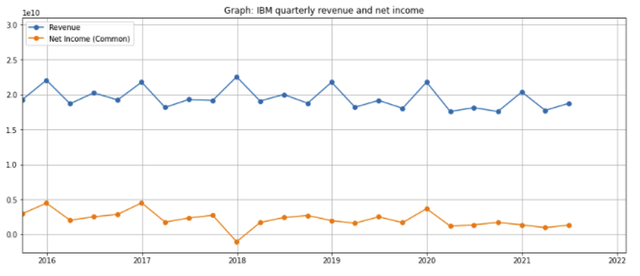 What the Smart Money is Doing
In 2011, Warren Buffett surprised the investment community by purchasing 8.4% of IBM for $13.8 billion. He abruptly exited in 2017, later conceding in a CNBC interview that he made a mistake when he bought IBM.
According to Insider Monkey, there are only two hedge fund managers with IBM positions in excess of $200 million: Arrowstreet Capital, which held $508 million in shares, and Masters Capital which owned $293 million through call options. This is an unusually thin hedge fund sponsorship for a large $100+ billion public company. Perhaps more telling is Millennium Management's bet on a stock price decline through put positions on $216 million in IBM shares (figure 13).
Figure 13: Hedge fund positions in IBM greater than $200 million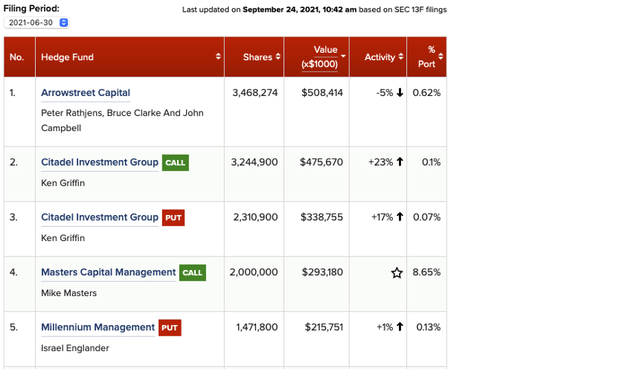 Summary
Over the last decade, IBM missed out on the strong industry tailwinds and lost share across all segments as it failed to keep up with its best-in-class competitors while the industry innovated and executed relentlessly. The company's stock price has declined, valuation is cheap at a free cash flow yield of 12%, and patient income-oriented investors are paid to wait for a turnaround. However, if clear signs of a turnaround do not emerge soon, shareholder value will continue to erode.