PepsiCo: Upside Potential Smaller Than Downside Risk
Summary
PepsiCo stock, like the broader market, has been in an impressive bull market since the financial crisis.
But the truth is also that the S&P 500 has clearly outperformed Pepsi since 2007. Even compared to its own peer group, Pepsi does not necessarily cut the best figure.
Furthermore, the downside risk clearly outweighs the upside potential in the medium term.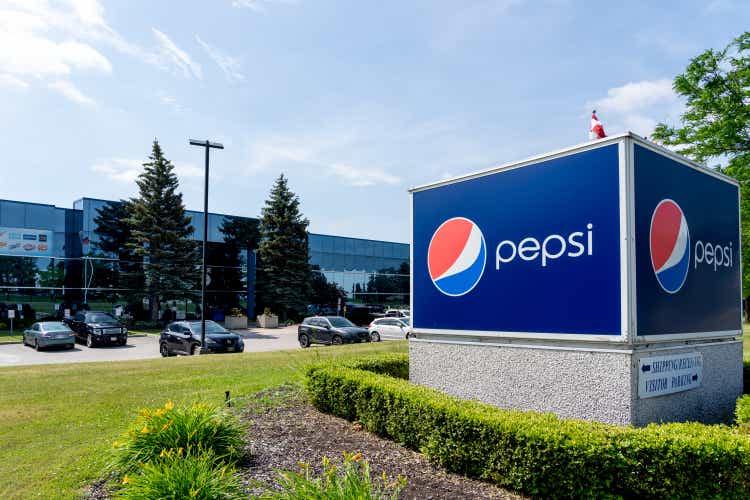 The PepsiCo (NASDAQ:PEP) stock, like the broader market, has been in an impressive bull market since the financial crisis (if we exclude the temporary COVID-19 crash). However, the truth is that the S&P 500 has outperformed Pepsi. And even compared to its peer group, Pepsi does not necessarily cut the best figure.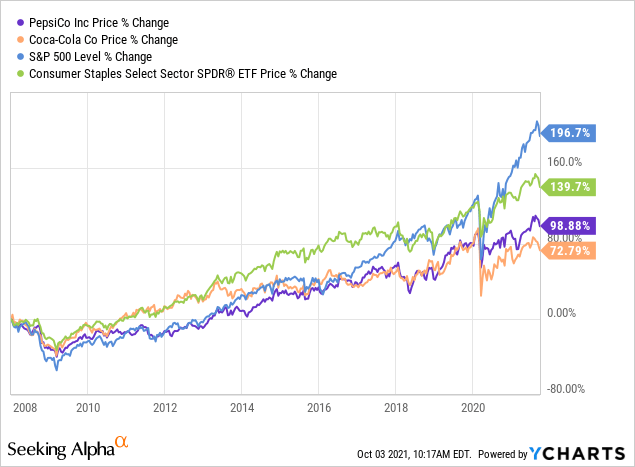 The above comparison already draws the investment thesis for PEP. The healthy business and strong brands support a buy rating. Conversely, however, these are the only reasons to buy Pepsi at present. Beyond that, however, it currently offers investors little.
Pepsi provides stability in times of crisis
Companies like Pepsi are an excellent investment for risk-averse investors who are terrified of price drops of 50 percent and more. In this regard, Pepsi has been more stable against the broader market in recent crashes. This kind of performance calms investors' nerves. Less downside looks like outperformance, and investors are more likely to keep their cool. In the best case, this slightly better performance prevents investors from selling their shares in the crash as nothing is worse than buying high and selling low.
Even in the COVID-19 crash, Pepsi outperformed the S&P 500. And a few percentage points difference can be enough to give investors the necessary level of calm. And a few percentage points difference can be enough to provide investors peace of mind and comfort.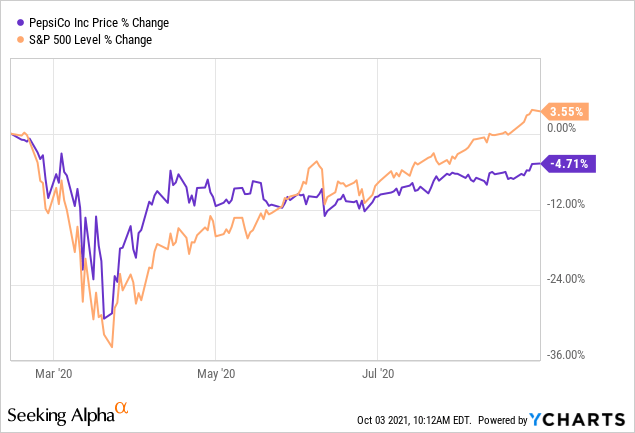 Also, in the challenging phases of the financial crisis, we see that Pepsi has always been able to keep the upper hand.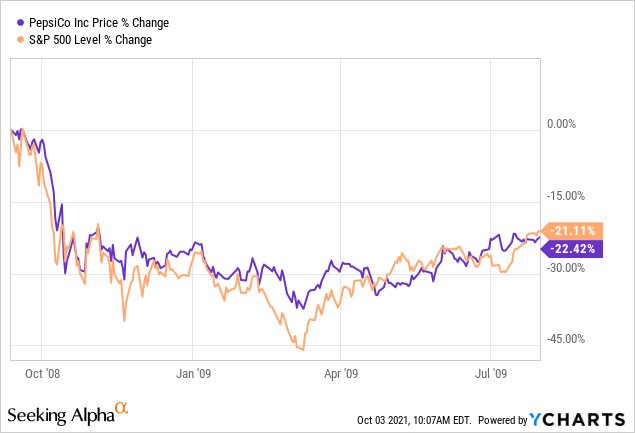 But even when looking at it this way, it is also true that Pepsi was not necessarily the icing on the cake in times of crisis. It performed better than the S&P 500, but the somewhat more broadly-based consumer staples sector provided even more stability.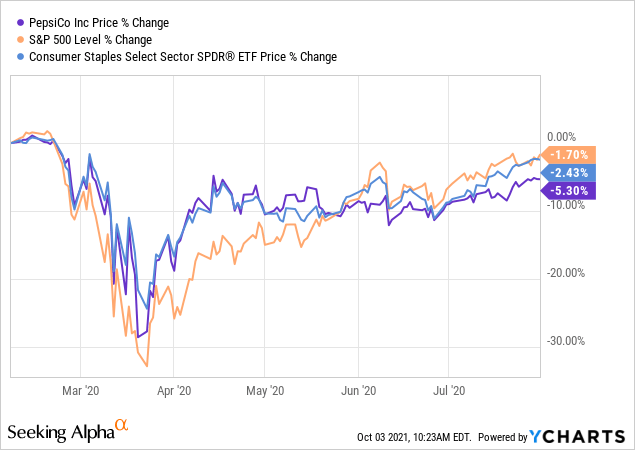 To be fair, though, we are more concerned here with only small time windows and low amplitudes. Accordingly, investors should not attach too much importance to such considerations. What they can take away, however, is that consumer goods like Pepsi provide stability in times of crisis.
A strong portfolio will enable further growth
Pepsi is very likely to remain a stable factor in our portfolio, which can be seen from the company's substantial portfolio. Pepsi is number 1 in the snack business and number 2 in the beverage business after Coca-Cola (KO). More than 20 brands achieve sales of more than $1 billion. In total, Pepsi is active in more than 200 countries.
Of course, Pepsi also has to face challenges because consumer demands are changing, which is about healthier food with less sugar and additives and fundamentally about sustainability. But the good thing about companies like Pepsi is their structure. Pepsi (like Coca-Cola, Church & Dwight (CHD), or Procter & Gamble (PG)) is an excellent example of why the big consumer goods companies are somehow always in vogue. Consumer goods companies operate like large holding companies that can sell off individual brands and replace them with new ones. The 13 most successful brands of Church & Dwight, founded in 1846, are brands that the company acquired after 2001. In this respect, Pepsi will also succeed in buying new and profitable brands through acquisitions. Examples are SodaStream ($3.2 billion in 2018) or Rockstar Energy ($3.9 billion in 2020).
Pepsi has done very well with this strategy. Since 1990, turnover has risen from $17.8 billion to $70 billion last year. Earnings per share increased from $0.68 to $5.11 over the same period. In addition, Pepsi is operating on an excellent financial footing. The debt ratio based on interest-bearing debt has been around 30 percent since 2010. Such a ratio is somewhat high (at Coca-Cola, the ratio has been at the same levels over the past years), but it has remained stable over the years. In addition, Pepsi has repurchased a lot of its shares over the years. Their current value alone of almost $40 billion is nearly enough to pay off all interest-bearing debt (about $42 billion).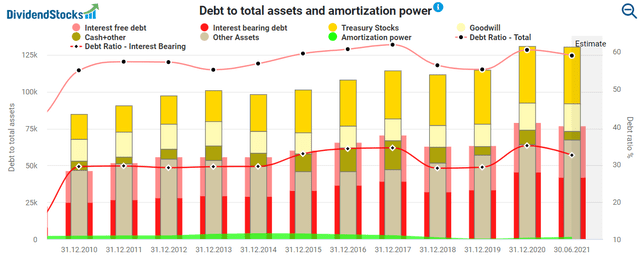 Source: www.dividendstocks.cash
Outlook and fundamental valuation
Analysts expect the growth to continue. Revenues are expected to rise to over $86 billion by 2024. Earnings per share are even likely to increase to $7.56. Let's discuss that a bit. I base my forecasts on analysts interviewed by FactSet Research. The estimates for the coming years are as follows:
| | | |
| --- | --- | --- |
| Year | Number of analysts | Range |
| 2021 | 9 | $5.94 - $6.31 |
| 2022 | 9 | $6.36 - $6.82 |
| 2023 | 7 | $6.73 - $7.38 |
| 2024 | 1 | $7.56 |
Source: Analysts, asked by FactSet Research, raw data are taken from dividendstocks.cash
We see here that the number of forecasts decreases the further away the period is. The difference between the individual forecasts also increases. The further away an event is, the less meaningful any forecast is. In addition, uncertainties in the valuation of future earnings per share lie mainly in cost price inflation. The third-quarter results could provide helpful insights into how much Pepsi's profitability is suffering. Conversely, it is also possible that Pepsi (like General Mills (GIS) or Campbell Soup (CPB)) will manage to pass on inflation through price increases. Nevertheless, in the case of Pepsi, all forecasts point to profitability growth.
Based on the fundamental historical valuation, we can then look at how the share will develop in the coming years in terms of expected earnings per share. So let's take EPS for the following years, which is approximately in the middle of the respective ranks mentioned above.
| | |
| --- | --- |
| Year | EPS |
| 2021 | $6.19 |
| 2022 | $6.64 |
| 2023 | $7.14 |
| 2024 | $7.56 |
Over the last 20 years, Pepsi's P/E ratio has been just under 22, which is quite a lot. Today, the valuation is even more expensive at over 25. The same applies to the P/C ratio and the current dividend yield.
| | | |
| --- | --- | --- |
| Multiple | Average | Today |
| P/E ratio | 21.7 | 25.5 |
| P/E ratio adj. | 20.2 | 24.9 |
| P/C | 15.7 | 18.2 |
| avg. Dividend Yield | 2.4% | 2.8% |
So Pepsi is overvalued at the moment. So if we now combine one (the historical valuations) with the other (the expected figures), we can check whether the share price can adjust to the current high valuation over the next few years. The result is rather disappointing. On the one hand, the upside potential measured against the expected earnings for 2021 is 16 percent, but even in the next few years, it will take until 2024 for the share price to reach fair value territory.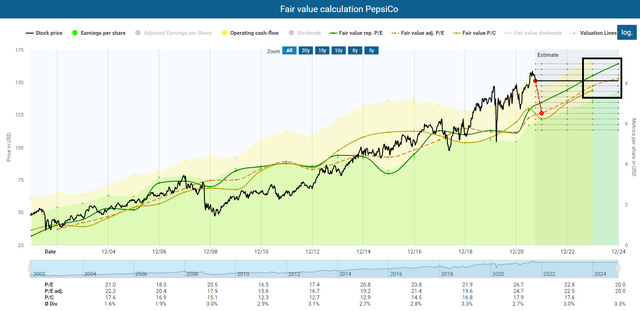 Fair value calculation, source: www.dividendstocks.cash
Of course, this does not rule out the possibility that the share price will continue to go up, stretching the expensive valuation further. Conversely, the downside risk would increase from an already elevated level (those who fly upwards should think of Isaac Newton).
Discounted cash flow analysis
The DCF analysis also shows that the downside potential predominates at present. Pepsi expects organic sales growth of 6 percent for the full year 2021. That would not be bad at all because historically, sales growth has averaged around 5 percent over the last three years. So let's assume that Pepsi can not only maintain growth in the coming years but also increase momentum. Let's also assume that Pepsi can absorb the problems around cost price inflation and even slightly increase net margin over the years.
The discussion about the discount rate is also somewhat more sensitive. Currently, the cost of equity at Pepsi is 6.2 percent, and the average cost of capital is 5.6 percent. For the DCF analysis, I use a discount rate of 8 percent. This rate may seem a bit high, but investors should remember that such figures were normal just a few years ago.

Source: Discount rate for Pepsi
So overall, I based my calculation on the following values: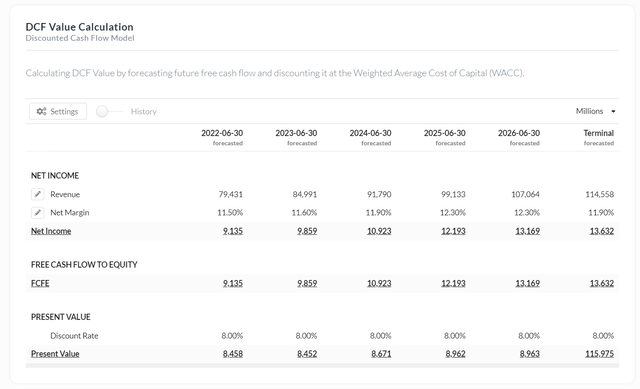 Source: alphaspread.com/estimates by author and FactSet
As usual, the individual figures remain open to discussion in detail. More robust, but also weaker revenue growth is quite possible. One can also question the margin and the current discount rate. However, if one sets more or less realistic values, as I have done, the results are as follows: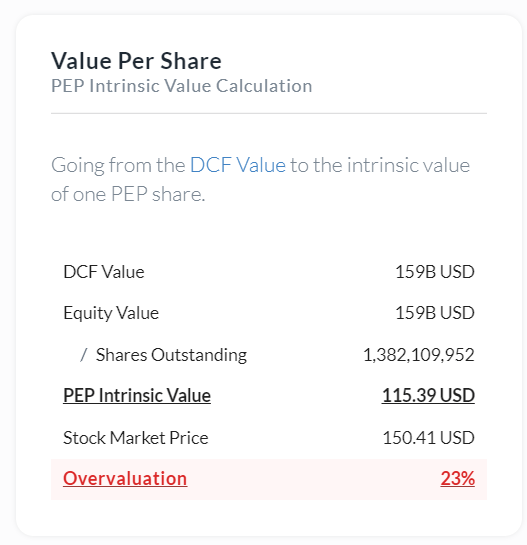 Source: alphaspread.com/estimates by author and FactSet
According to the DCF analysis, Pepsi is overvalued, resulting in more than 20 percent downside potential. Accordingly, the DCF analysis and a look at the fundamental multiples show that Pepsi is currently overvalued, and the downside potential outweighs the upside in the medium term.
Conclusion
Pepsi is a solid investment with a great portfolio and a great track record. Moreover, the share provides decent stability in our portfolio when times get a little rougher. But again, Pepsi is not alone in having this characteristic. In the past, an investment in a consumer staples ETF would not only have brought more return but also a little more stability.
In addition, we currently see an overvaluation that has already priced in growth for the coming years. The unclear impact of inflation on profitability and a possible interest rate turnaround (and thus higher discounting of future cash flows) are additional factors that increase the medium-term downside risk. It may work for long-term shareholders (like me) who don't care much about volatility. But in my view, PEP stock is currently not a buy for investors who want to go bargain hunting.
This article was written by
Runner of the TEV Blog | Private InvestorI am a long-term oriented investor and in my early thirties. I hold a law degree and a doctorate in law and love investing and talking about my and others' investments. I regularly write about my research and investments on various investor platforms and the TEV Blog. **My articles represent my opinion only and in no way constitute professional investment advice. It is the responsibility of the reader to conduct their due diligence and seek investment advice from a licensed professional before making any investment decisions.**
Analyst's Disclosure: I/we have a beneficial long position in the shares of PEP either through stock ownership, options, or other derivatives. I wrote this article myself, and it expresses my own opinions. I am not receiving compensation for it (other than from Seeking Alpha). I have no business relationship with any company whose stock is mentioned in this article.
Seeking Alpha's Disclosure: Past performance is no guarantee of future results. No recommendation or advice is being given as to whether any investment is suitable for a particular investor. Any views or opinions expressed above may not reflect those of Seeking Alpha as a whole. Seeking Alpha is not a licensed securities dealer, broker or US investment adviser or investment bank. Our analysts are third party authors that include both professional investors and individual investors who may not be licensed or certified by any institute or regulatory body.