Merck's Molnupiravir: If Peer Reviews Confirm Results, The Implications Would Be Massive
Summary
Merck published astonishing preliminary trial results for its anti-COVID pill.
If peer reviews confirm the study's findings, I believe the drug's market potential is much bigger than commonly anticipated.
There is one caveat though, which I will explain in this article.
Will the drug's safety profile still not be a concern after the full results are published, I believe MRK's stock could have 100% upside.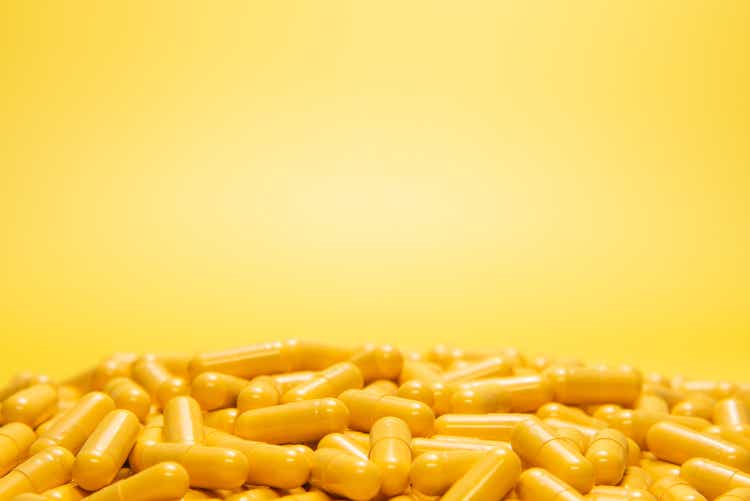 Introduction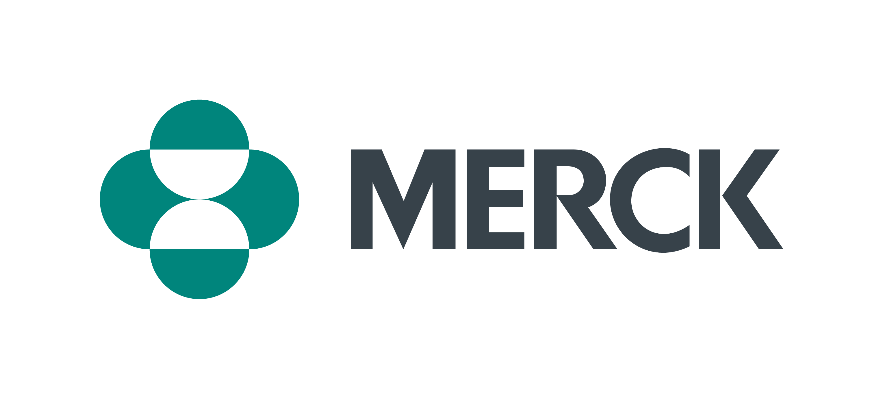 Source: Merck
Until October 1st, 2021, it was an unwritten law among medical professionals that there might never be an antiviral medication for severe diseases such as SARS-Cov-2-infections on the broad market. Not because of lack of efficacy, but because antiviral agents such as remdesivir pose a range of side effects, especially on the hepatological side, that make the decision on whom to treat with these medications a moral dilemma. Then, last Friday, Merck & Co. (NYSE:MRK) published an interim analysis of its investigational oral antiviral medicine for COVID-19, which not only changed the overall market direction from negative to positive on that day, but also left a good part of the medical community jaw-dropping. The results show overwhelming efficacy with minimal side effects, even notably less side effects than the placebo group (35% vs 40%). It has to be mentioned that this interim analysis was only a few sentences in a company's press release, the scientific community still eagerly awaits full trial results and peer reviews. But if these core facts prove sustainable, then demand for molnupiravir in my opinion would prove to be gigantic and I would dare predicting at least 100% upside to MRK's stock. There is one caveat though, and in this article, I will try to shed some light onto it.
Molnupiravir: History and recent events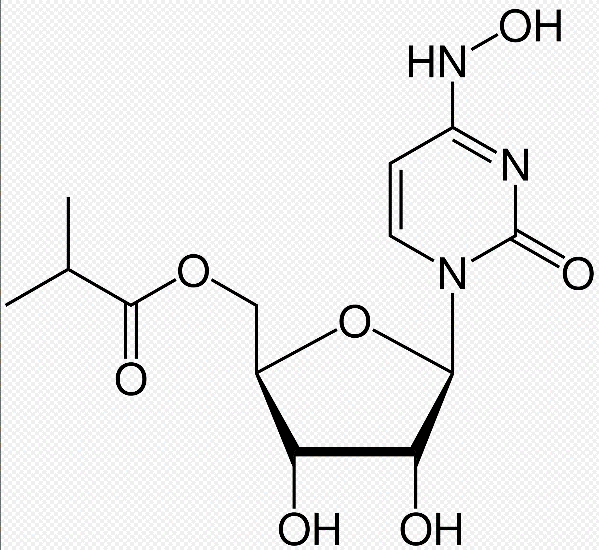 Source: wikipedia
Molnupiravir, or EIDD-2801/MK-4482, is an orally available antiviral agent which increases the frequency of viral RNA mutations and impairs SARS-CoV-2 replication. The drug was originally developed by the Atlanta-based Emory university's drug innovation company, Drug Innovation Ventures at Emory (DRIVE). In 2014, DRIVE began a screening project funded by the Defence Threat Reduction Agency to find an antiviral drug targeting Venezuelan equine encephalitis virus (VEEV). In late 2019, the National Institute of Allergy and Infectious Diseases approved moving EIDD-2801 into Phase I clinical trials for influenza. From then on, the history of molnupiravir became very complicated and controversial.
In November 2019, just a month before the outbreak of the pandemic, immunologist Rick Bright, former head of the Biomedical Advanced Research and Development Authority (BARDA), filed a whistleblower complaint, in which he complained that federal officials illegally retaliated against him for objecting to what he saw as improper and unscientific efforts to steer taxpayer dollars to certain firms run by "cronies" or "for political purposes." In his complaint, he also mentions EIDD-2801. It would not be unusual for BARDA to consider a drug like EIDD-2801, he says, but he also notes that "similar experimental drugs in this class had been shown to cause reproductive toxicity in animals, and offspring from treated animals had been born without teeth and without parts of their skulls", implying the drug's mutagenic effects might pose a danger. (A mutagen is anything that causes a mutation of the cell's DNA, which can lead to diseases, such as cancer.)
Indeed, development of EIDD-2801 had once been abandoned in 2003 already, after the discovery of the compound's mutagenic properties. It is worth mentioning though that after tweaks in the compound, toxicity studies with EIDD-2801 have taken place in mice, rats, dogs, and nonhuman primates, which resulted in the lack of evidence of mutagenic effects.
Fast forward to spring 2020, EIDD-2801 was out-licensed by DRIVE to privately held Miami-based company Ridgeback biotherapeutics for an undisclosed amount. After an unsuccessful attempt to be granted government funding, the company then partnered with Merck, with Merck acquiring exclusive worldwide rights to develop EIDD-2801 and related molecules in collaboration with Ridgeback.
In October 2020, two Phase2/3 studies were launched, one for hospitalized Covid-patients (MOVe-IN), and one for non-hospitalized (MOVe-OUT). While the MOVe-IN study was discontinued in April 2021, the MOVe-OUT study continued and on October 1st, 2021 Merck announced, that it would stop the trial early due to positive results. And positive they were indeed.
The trial results
I really have to reiterate here, the trial results that are publicly known solely originate from the company's press release of the interim analysis. So far, no official trial results have been published, let alone peer reviews. Below is a summary from what we do know:
Hospitalization rate from patients who received molnupiravir was 7.3% (28/385), compared with 14.1% (53/377) of placebo-treated patients. No deaths were reported in the molnupiravir group, compared to 8 deaths in the placebo group. Molnupiravir demonstrated consistent efficacy across viral variants Gamma, Delta, and Mu. Adverse events were 35% in the molnupiravir group, compared to 40% in the placebo group
It is worth mentioning that in a previous safety study which was fully published, there were also virtually no side effects noted.
Summing up, from what we know so far, the results show a 50% reduction in hospitalization rates, a 100% reduction in deaths and, on top of that, no severe side effects. I must say, plain and simple, this reads a little bit like the holy grail of virology. There is one elephant in the room, though. And it is a big elephant called mutagenicity. To show you how much of a difference this word makes, let me try to model 2 scenarios and their implications.
Scenario A
The assumptions for this scenario are:
Molnupiravir reduces

hospitalization rates by 50%.

Molnupiravir reduces death risk by 100%.
The drug has no severe side effects.
The compound is non-mutagenic
This scenario would in my opinion create a demand for the pill that is hard to grasp, followed by severe implications for governments and healthcare providers. Sure, molnupiravir will probably be brought to market for unvaccinated people with high-risk factors such as obesity, high blood pressure and diabetes. But, since a small percentage of vaccinated people without risk factors also ends up in hospitals and ALAS, an ever-smaller percentage also dies from Covid, I predict that in this scenario EVERYONE will want to have this pill at home, in a drawer, ready to be used. Keep in mind, the MOVe-IN study failed, because for it to work one has to take the medication timely, within the first few days of being infected. Now, "everyone" maybe is an exaggerated term, since probably just the people, for whom the therapy is indicated (non-vaccinated people), might shy away from this drug as well. But, if proven non-mutagenic, I still dare to predict that 80% of the world's population will want to have this pill at home. That is roughly 6 billion human beings or written out: 6.000.000.000!
Let's discount this number down to 1 billion, and for the sake of being cautious, to 500 million, respectively. At roughly$700 of treatment costs, this would translate to $700 billion, or $350 billion respectively, for a cautiously estimated market size. I know, this number might sound crazy to you, and I deeply apologize if I am wrong. But I just cannot see it any other way. Imagine there was a pill with no side effects that reduces your death risk to zero, I bet you would want to have it ready, young or old, vaccinated or not. In this scenario, I think it is an equally cautious assumption that the market capitalization of MRK would at least double. I would even go as far as putting a $200 target price on the stock.
Of course, this would all depend on how effective the drug will be marketed, keep in mind, that even if it turns out to be non-mutagenic, because of its complicated and complex history, social networks will nevertheless focus on this topic. It would also depend on the decision of governments and healthcare providers on who gets this pill for free. On a side note, in my home country Austria, and also in Germany, it is a constitutional right that every citizen deserves the best available health treatment - basically for free. So, following this logic, molnupiravir will probably need to be made available for the whole population sooner or later. And while in the USA this constitutional right does not exist, morally it does. (Covid shots, for example, are free as well.)
Granted, in this scenario, there will be a multitude of discussions about pricing and availability, but one thing is guaranteed: demand.
Scenario B
Same assumptions as scenario 1, but molnupiravir turns out to actually be mutagenic.
This little detail would in fact change everything. There would be bad press, and if brought to market, the target population would be minimal, probably reduced to unvaccinated elderly patients with high risk factors. Sure, it again depends on the full study results and the peer reviews, and it is also worth mentioning that mutagens can be found in anything from food (burnt food, overly cooked meat, etc.) to UV-light, X-rays, tobacco - let's just say in a whole lot of instances. But I assume the pill would be very tough to advertise if there were serious mutagenic properties associated with molnupiravir. In this case, the currently circulating assumptions of about $1 billion annual sales in the US might be correct. Still something, but probably not enough to move MRK's stock in a meaningful way. Especially since the drug would probably turn out to be problematic in terms of media reception.
Investor Takeaway
In my opinion, Merck is the poster child of a wonderful company at a fair price. It has a decent dividend at around 3% yield, an attractive payout ratio of only about 47% and a reasonable 5-year dividend CAGR of around 8%. The company has one of the best-in-class oncological medicines, Keytruda, alongside Bristol Myer's (BMY) Opdivo and Yervoy, which will generate strong income streams for the foreseeable future. Without the added impact of molnupiravir I honestly don't have much of value to add, except that I agree with analysts and would see the company's current fair value at around $90.
Regarding molnupiravir though, I feel that its potential is being severely underestimated. Even if my assumptions above would be off by a factor of 10, that would still leave us with a revenue potential of $35-$70 billion or in other words, growth potential of around 100% for MRK. Safe to say in this scenario, that 100% upside for Merck's stock is a realistic possibility. As a kicker in terms of potential I might throw in the fact that according to a TV interview with the founders of Ridgeback, molnupiravir is believed to also be potentially effective against other Viruses, such as Influenza.
Like I wrote in the beginning of this article, there indeed is one caveat. Until the full results are published and confirmed by peer reviews, the issue of mutagenicity plays a crucial role. Below I want to show you a quote from the MOVe-OUT study's inclusion criteria, without further comment:
Males agree to the following during the intervention period and for at least 4 days after the last dose of study intervention: Either abstain from heterosexual intercourse as their preferred and usual lifestyle (abstinent on a long term and persistent basis) and agree to remain abstinent; or must agree to use contraception.
Source: clinicaltrials.gov
Though I am usually the opposite of a believer in the efficient-market hypothesis, megacaps such as MRK usually are priced quite efficiently. So, if my bullish thesis is of merit, I believe it should be seen in the stock's price action in the near future, with $100 being a realistic near/mid-term ceiling, until full results are published. As for my personal position in MRK, I must admit that I regret selling just before the Organon (OGN) spinoff. I will try to get back into a position below $85, anything above might prove difficult for me, as I see the tremendous potential, but at the same time don't want to overpay. If the stock overshoots into the $100 region, one might consider waiting for final results before building a position.
Summing it up, despite side effects in the molnupiravir group were even lower than in the placebo group, it all boils down to them, namely in the danger of the compound's potential mutagenic properties. If they indeed exist, but could be quantified, with one full treatment for example having the mutagenic effect of an X-ray or a sunburn, I see quite the potential for this medication. Unfortunately, I am afraid, it isn't that simple with mutagens, but of course, I am no expert in this field. Will mutagenicity not be an issue, or in simpler terms, will the drug's safety profile be as favorable as the interim trial analysis suggests, I boldly predict that nearly everyone will want to have this pill in her medicine cabinet. And everyone will want MRK in her portfolio, too.
This article was written by
I have been an entrepreneur, futures trader and investor for almost 20 years, and after taking care of a parent who was dying from cancer, I realized that life is just too short and time too precious, so I have decided to "retire" at 40, enjoy life and only focus on my investment portfolio. My role models are Buffett/Greenblatt and I specialize in small-caps with insider buying and DGI - always trying to find hidden gems. based in Austria/ Europe.
Analyst's Disclosure: I/we have a beneficial long position in the shares of MRK either through stock ownership, options, or other derivatives. I wrote this article myself, and it expresses my own opinions. I am not receiving compensation for it (other than from Seeking Alpha). I have no business relationship with any company whose stock is mentioned in this article.
Seeking Alpha's Disclosure: Past performance is no guarantee of future results. No recommendation or advice is being given as to whether any investment is suitable for a particular investor. Any views or opinions expressed above may not reflect those of Seeking Alpha as a whole. Seeking Alpha is not a licensed securities dealer, broker or US investment adviser or investment bank. Our analysts are third party authors that include both professional investors and individual investors who may not be licensed or certified by any institute or regulatory body.