Options Insights: Feeding Frenzy In Evolent Health Inc. Call Options
Summary
Evolent Health Inc. is a small innovative healthcare services outfit bridging the gap between provider and payer.
Sweeping shifts in the healthcare industry are attracting widespread technological innovation.
Recent merger speculation between Walgreens Boots Alliance & Evolent Health may fit nicely in this trend.
If call buying is any indication of a vote of confidence, investors appear to be all in on this idea.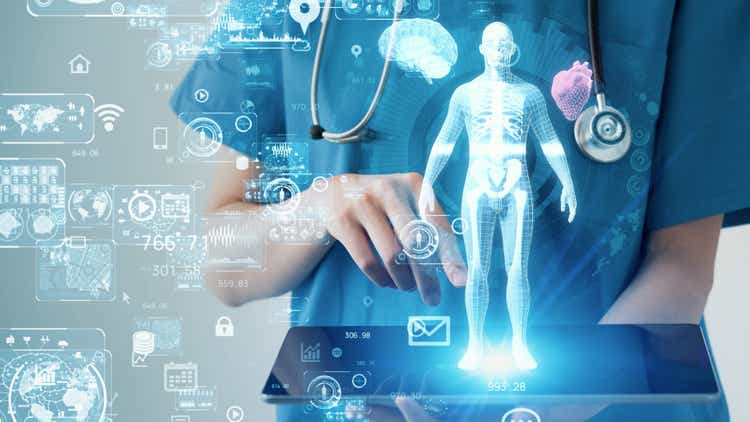 Macro Overview
Recent reports of merger talks between Walgreens Boots Alliance (WBA) and Evolent Health Inc. (NYSE:EVH) have come at an opportune time. With a growing yet aging population facing sweeping shifts in the business world - through the digitization of the economy - organizations such as Evolent Health make for appealing corporate additions.
Healthcare has long been a divisive subject in the United States. Oft embraced by different political factions, each with differing views on government duty of care, public health has become a subject central to any policy maker's political manifesto.
And rightly so, the United States has an expanding population – but that growth is increasingly made up of older generations, specifically the post WW2 cohort of births now entering retirement. Prominent shifts in demographic makeup will continue to make healthcare a pivotal subject well into the future.
The healthcare industry is changing too – we have observed more traditional health-focused ventures upended by large firms like Amazon (AMZN) or Apple Inc. (AAPL) which are expanding beyond their consumer-focused technology realms. Digitization of the industry appears to be a lasting trend too – with firms like GoodRx (GDRX) using the Internet to provide pricing analytics for medication.
This perhaps makes a relatively innovative firm like Evolent Health an interesting prospect for any deal-hungry firm looking to expand its service offering. Judging by the recent unusual activity we have witnessed in both stock and options markets, a move for the Arlington, Virginia-based health care delivery and payment solutions outfit may be on the cards.
My near-term outlook for Evolent Health Inc. remains bullish.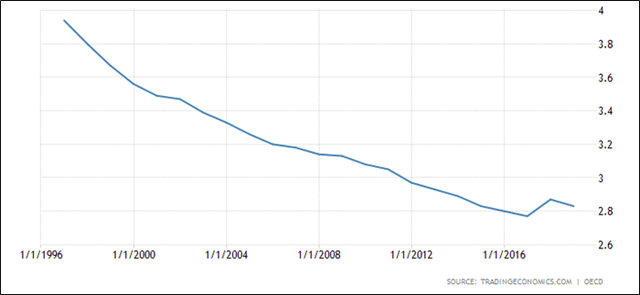 Hospital capacity in beds per 1,000 people over past 20 years – the past 20 years has seen hospital capacity – as defined by beds per 1,000 population – continue to regress. Multiple factors have contributed to this, including increases in population and medical technology preventing hospitalization for illnesses which would have previously caused admission.
Source: Trading Economics

Source: Market Chameleon
Company Introduction
Evolent Health Inc. is a $2.74B health care & payments specialist operating two segments – services and True Health. The firm supports private health infrastructure by partnering with payers and health care providers to dramatically reduce the total cost of care, improve clinical quality and simplify administration.
The company derives the lion's share of revenues from its services division. The enterprise provides a bridge between payers and providers while helping patients receive cost-effective, high-quality care. Strategic levers the Arlington, Virginia based entity include organic growth, margin expansion and efficient capital allocation.
Most recently, the company has performed well – operating margins have expanded while valuation ratios, contrasted against industry peers, remain comparably in check.
Revenue per share has expanded (~$12) while EPS has tracked in negative territory over the past couple of years, predominantly due to substantial goodwill impairments. Sales growth has been remarkable, with the firm posting over $1B in revenues in fiscal 2020, contrasted against sales of only $96M five years earlier.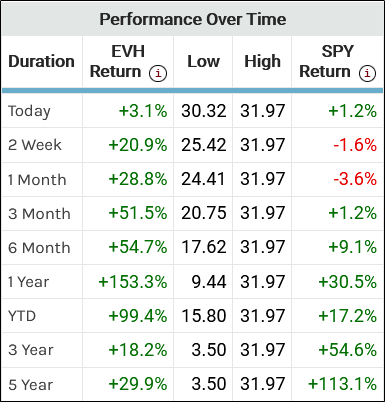 Source: Market Chameleon
Stock price performance has been solid – especially given the recent spate of market jitteriness. Year-to-date, the stock has returned +99.4%, measurably outpacing the S&P 500 (+17.2%).
The stock appears to be on a momentous run, with price action persistently heading North during the year. Recent rumors regarding a potential takeover bid by Walgreens Boots Alliance has only added additional fuel to the booming stock price bonfire.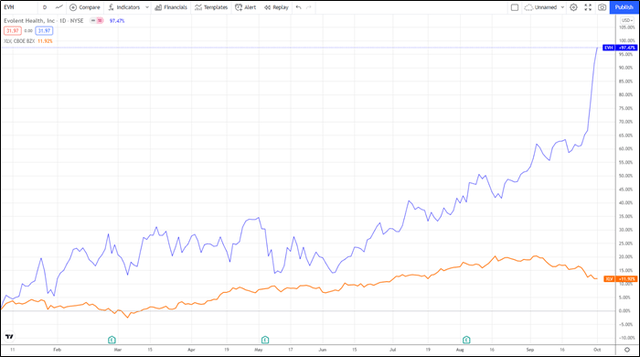 Total returns year-to-date (EVH) v (XLV)
Source: TradingView
Options Activity Synopsis
Market expansion, technological shifts in healthcare, coupled with speculation around a pending merger have created the perfect storm for unusual options activity.
Last week saw 2,752,000 shares trade hands per day on average, compared to a 90-day average of only 615,000. Likewise, option volume spiked, propelling volatility to the upside as traders looked to take speculative positions given the market moving merger news.
September's trading volumes appeared strong too – with approximately 988,000 shares being traded on average per day. Once more, traded volumes outpaced average volumes over the past 3-months.

Source: Market Chameleon
Yet it was the options market which showed telltale signs of renewed investor interest in the healthcare services provider. From Friday 24 September, the ground appeared to be laid for a meaningful run-up in price action.
Multiple trades were executed in Friday's closing stages with 1,252 call options (~$18,780) of $30 strike 15 October call options being positioned over 48 different orders from 15.01 hrs to 15.03 hrs. 1,252 call option contracts were purchased in a flurry of activity highly abnormal for a stock which generally sees only 475 contracts traded daily.

EVH Option Chain on 24 Sept 2021
Source: Market Chameleon
The following Monday 27 September, everything appears to have fallen silent. Gone was the activity traded a few days earlier, with volumes trending more customarily towards their 90-day average. In fact, the contrasts remain sizable – from a Friday call option rush which saw an explosive burst of activity within a relatively restricted time frame to a trading session holistically devoid of activity.

EVH Option Chain on 27 Sept 2021
Source: Market Chameleon
By Tuesday 28 September, the trader interest came back to the fore – with both the $25 and $30 calls heavily targeted. Again, traded volume was sizably skewed towards calls, forcing an even more pronounced increase in implied volatility.
The biggest options position during the session was $13,050 worth of $25 calls (75 contracts) executed around 9.40 hrs. Orders appear to have grown as some of the retail fraternity ultimately caught onto the frenzied call feeding. All these positions are now presently in-the-money.

EVH Option Chain on 28 Sept 2021
Source: Market Chameleon
Wednesday 29 September saw some of the most frenzied call buying yet – the day on which news of a potential takeover by Walgreens Boots Alliance was first showcased on Seeking Alpha.
The $30 strike saw unprecedented activity with 7,283 contracts traded. It saw 737 different orders placed - $963,553 of calls with the biggest hitting around $18,000 per order. By then, the call feeding frenzy was in full swing with bigger players and smaller retail accounts piling into the buying activity.

EVH Option Chain on 29 Sept 2021
Source: Market Chameleon
Since then, activity on both Thursday 30 Sept and Friday 1 October has been comparatively subdued. Traded volumes decreased somewhat but continued to outstrip normal 3-month trading averages. Unlike earlier sessions where puts appeared almost entirely absent, increased insurance buying seems to have played a role into end of week trading. Since the original announcement of merger speculation, little additional material news has come to the fore, perhaps subduing some of the initial feverish activity.

EVH Option Chain on 30 Sept 2021
Source: Market Chameleon
In any case, last week's trading in Evolent Health Inc. has been unprecedented – with an initial drizzle of call buying met by an all-out storm mid-week as traders started building substantial long positions. Increases in volatility also suggest that most of these positions were simply speculative long bullish bets on continued upwards momentum.

EVH Option Chain on 30 Sept 2021
Source: Market Chameleon
Key Takeaways
Evolent Health Inc. is a $2.74B healthcare services venture which bridges the gap between healthcare payers and providers – its recent strategic focus has been organic growth, margin expansion and efficient capital allocation.
The healthcare industry is being turned on its head as demand propelled by aging demographics forces innovation.
Future challenges have attracted giants such as Amazon and Apple Inc. looking to carve out a piece of this growing market.
The digitization of the economy remains a pivotal theme for healthcare services – Evolent Health Inc.'s service offering fits nicely into industry-wide evolution.
Merger speculation has forced renewed investor interest in the healthcare minnow – a young venture, commanding a technologically innovative service with a track record of revenue growth – such traits provide for a compelling takeover target.
Huge trading activity has provided money managers with an entry point into a momentum play, which could ultimately become a M&A set-up.
While volatility has increased, the absence of further news or commentary seem to have appeased the buying pressure.
For active traders, set-ups like Evolent Health Inc. boast lasting appeal. A comparably small outfit showcasing sales growth, and product innovation in a part of the economy likely to see upside provides a strong foundation for any trade.
Momentum looks to be on the company's side too, with the stock significantly outperforming both broad and industry specific indices. With these facts in mind, coupled with an egregious amount of unusual call buying, it is difficult to see anything but imminent upside for the firm.
This article was written by
ZMK Capital is a Southeast Asian based prop trading desk focusing on long/ short macro set ups globally. Additionally, the desk publishes equity specific research, ETF overviews, earnings plays and macro-economic analysis. Current focal points include the global energy market, natural resources, macro-economics, interest rates and Fx. Beyond managing money in these markets, interests include data science linked to securities markets, game theory & professional sports.Feel free to direct message ZMK if you are interested in being part of a community of prop traders, investors & money managers.
Analyst's Disclosure: I/we have a beneficial long position in the shares of EVH either through stock ownership, options, or other derivatives. I wrote this article myself, and it expresses my own opinions. I am not receiving compensation for it (other than from Seeking Alpha). I have no business relationship with any company whose stock is mentioned in this article.
Seeking Alpha's Disclosure: Past performance is no guarantee of future results. No recommendation or advice is being given as to whether any investment is suitable for a particular investor. Any views or opinions expressed above may not reflect those of Seeking Alpha as a whole. Seeking Alpha is not a licensed securities dealer, broker or US investment adviser or investment bank. Our analysts are third party authors that include both professional investors and individual investors who may not be licensed or certified by any institute or regulatory body.