Ventyx: Developing Therapies For Autoimmune And Inflammatory Diseases
Summary
Ventyx is developing immunotherapies based on TYK2 and NLRP3 inhibitors, and S1P1R modulator.
Two lead programs of the company are in the clinical stage.
The company has filed an S-1 for an IPO of $100 million worth shares of common stock.
Looking for more investing ideas like this one? Get them exclusively at The Total Pharma Tracker. Learn More »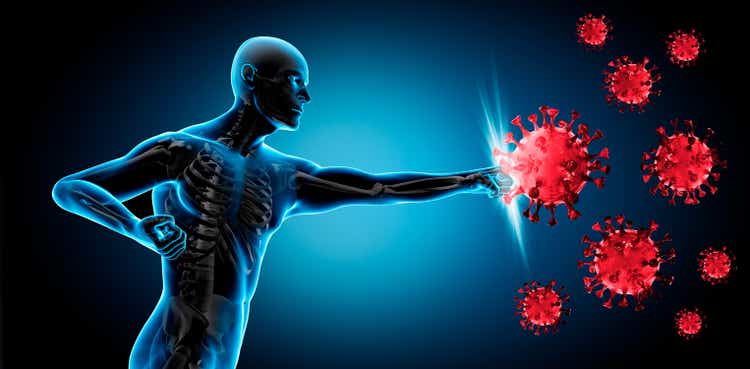 About

Ventyx Biosciences, Inc. (NASDAQ:VTYX), founded in 2018, is a California based clinical stage biopharmaceutical company developing novel and differentiated therapies that target both the innate and adaptive immune system to address immune-mediated and inflammatory diseases. The company has filed a form S-1 registration statement on 9/29/2021, with the U.S. SEC for an initial public offering ('IPO) of shares of its common stock to raise approximately $100 million. Number of shares and pricing is yet to be announced. The company has applied for its common stock to be listed on the Nasdaq Global Market under the symbol "VTYX."
Pipeline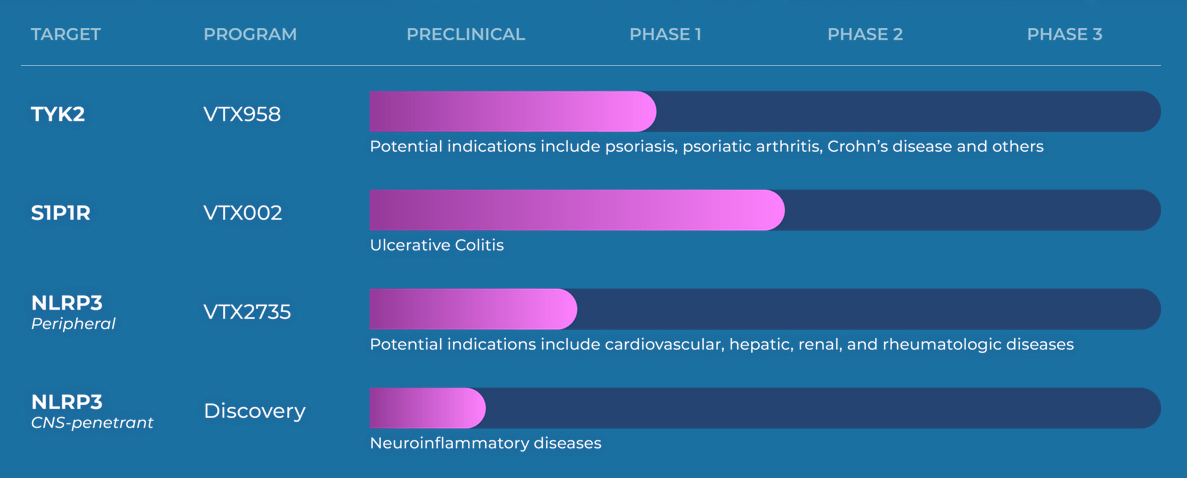 (Image: pipeline; source: company website)
The company's lead candidate VTX958 is an oral, selective allosteric inhibitor of Tyrosine Kinase 2 ('TYK2), an intracellular signaling kinase in the JAK family, that regulates both innate and adaptive immunity by mediating type I interferon ('IFNα/β), IL-12 and IL-23 signaling. "By inhibiting TYK2-mediated signal transduction, VTX958 has the potential to suppress chronic inflammation while avoiding inhibition of other related members of the JAK family, such as JAK1, JAK2 and JAK3, thereby reducing the associated risk of infections and other side effects."

(Image source: company's S-1)
With a well-balanced mechanism to dampen harmful immune responses while preserving protective immunity, and a safety profile differentiated from first-generation JAK inhibitors, VTX958 can potentially address a wide range of autoimmune diseases like psoriasis, psoriatic arthritis, Crohn's disease and lupus. VTX958 was well-tolerated in preclinical safety assessments in multiple species. The company has completed the single-ascending dose ('SAD) portion of a Phase 1 trial for VTX958, and will initiate the multiple-ascending dose ('MAD) part of this trial in 4Q-2021. After completion of Phase 1 trial, the company plans to initiate Phase 2 POC trials in psoriasis, psoriatic arthritis, Crohn's disease and potentially other relevant immune-mediated indications. The company has pending patent applications, which if issued will provide IP protection up to 2040.
VTX002 is an oral, selective sphingosine 1 phosphate receptor ('S1P1R) modulator being developed for ulcerative colitis ('UC). The candidate is also indicated for Crohn's disease ('CD) and as a safer alternative to existing therapies for inflammatory bowel disease ('IBD). S1P1Rs are G-Protein coupled receptors that sequester lymphocytes in the lymph nodes, which results in fewer immune cells in the circulating blood, exacerbating inflammation.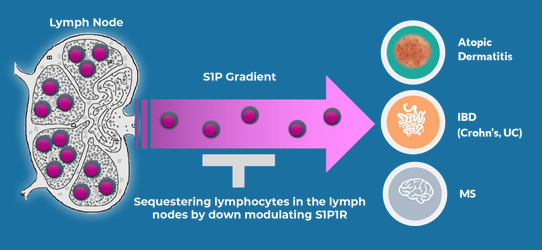 (Image: S1P1R modulation; source: company website)
In a Phase 1 trial in healthy volunteers, VTX002 was well tolerated at all doses tested with no serious adverse events. Reduction in absolute lymphocyte count ('ALC), a well-established biomarker for S1P1-mediated diseases, was also observed. The company plans to initiate a Phase 2 randomized, placebo-controlled clinical trial in 4Q-2021, which may also serve as one of the two pivotal trials required for registration. The company has 1 issued patent, and some pending patent applications, which if issued will provide IP protection up to 2036.
VTX2735 is an oral, peripherally restricted (does not cross the blood-brain barrier), selective inhibitor of NLRP3 (NOD-, LRR- and pyrin domain-containing protein 3) being developed for the treatment of systemic inflammatory diseases. NLRP3 is an aberrant inflammasome, known to be activated by certain non-infectious tissue damage signals linked to aging, obesity, and physical inactivity. NLRP3 activation triggers immune responses that produce inflammatory cytokines (IL-1β and IL-18), as well as stimulate pyroptosis, a type of cell death. Preclinical data shows NLRP3 activated aberrant inflammation in over 20 indications, including Alzheimer's disease ('AD), Parkinson's disease ('PD), multiple sclerosis ('MS), non-alcoholic fatty liver disease ('NAFLD), non-alcoholic steatohepatitis ('NASH), idiopathic pulmonary fibrosis ('IPF), asthma, myocardial ischaemia–reperfusion ('MI/R). The company received IND clearance for VTX2735 in September 2021, and plans to initiate a Phase 1 clinical trial in healthy volunteers in 4Q-2021.
The company is also developing CNS-penetrant NLRP3 inhibitors for the treatment of neurological diseases such as AD, PD, MS, and amyotrophic lateral sclerosis ('ALS), and expects to nominate a lead candidate to enter IND-enabling studies before the end of 2021. The company has 1 issued patent, and some pending patent applications, which if issued will provide IP protection up to 2041.
Financials
As of 6/30/2021, Ventyx had cash and cash equivalent balance of approximately $102.8 million. In September 2021, the company received gross proceeds of $51.0 million in cash from the sale of Series B convertible preferred stock. The company anticipates that its cash balance, together with the proceeds from the IPO will provide a cash runway through clinical development, but will need to raise further financing to carry through the regulatory and commercialization stage.
Risks
Ventyx is an "emerging growth company," and a "non-accelerated filer" and a "smaller reporting company," and has elected to take advantage of reduced reporting requirements.
As of 6/30/2021, the company had an accumulated deficit of approximately $87.3 million. It will be several years before the company can generate revenue and attain positive cash flow.
The company will need at least one more round of financing before the regulatory and commercialization stage.
Bottomline
Ventyx pipeline candidates compete with big pharma like BMS (BMY), Pfizer (PFE), Novartis (NVS), etc., in multi-billion dollar markets, however their approved drugs come with safety warnings. The company seeks to offer differentiated safety profiles that have been demonstrated in preclinical studies. We await further IPO information and will be closely watching this company.
About the TPT service
Thanks for reading. At the Total Pharma Tracker, we offer the following:-


Our Android app and website features a set of tools for DIY investors, including a work-in-progress software where you can enter any ticker and get extensive curated research material. 
For investors requiring hands-on support, our in-house experts go through our tools and find the best investible stocks, complete with buy/sell strategies and alerts.
Sign up now for our free trial, request access to our tools, and find out, at no cost to you, what we can do for you. 
This article was written by
Avisol Capital Partners is made up of a team of medical experts, finance professionals and techies, all of whom invest their own money in the picks they share. They aim to help readers find the middle ground between value and growth investing, as they demystify the biopharma industry.
They lead the investing group
Total Pharma Tracker
where they offer a monthly updated catalyst database, an investability scoring system for quick reference ideas, and direct access in chat for dialogue and questions.
Learn more
.
Analyst's Disclosure: I/we have no stock, option or similar derivative position in any of the companies mentioned, and no plans to initiate any such positions within the next 72 hours. I wrote this article myself, and it expresses my own opinions. I am not receiving compensation for it (other than from Seeking Alpha). I have no business relationship with any company whose stock is mentioned in this article.
Seeking Alpha's Disclosure: Past performance is no guarantee of future results. No recommendation or advice is being given as to whether any investment is suitable for a particular investor. Any views or opinions expressed above may not reflect those of Seeking Alpha as a whole. Seeking Alpha is not a licensed securities dealer, broker or US investment adviser or investment bank. Our analysts are third party authors that include both professional investors and individual investors who may not be licensed or certified by any institute or regulatory body.