Facebook: The Black Swan Event
Summary
Facebook just suffered a "black swan" event, which raises the question: How safe is Facebook?
The tide is turning against Facebook, and the company is facing the pressure of both regulators and consumers.
Ultimately, Facebook must adapt or die. Perhaps blockchain could save Facebook, and the internet, one day.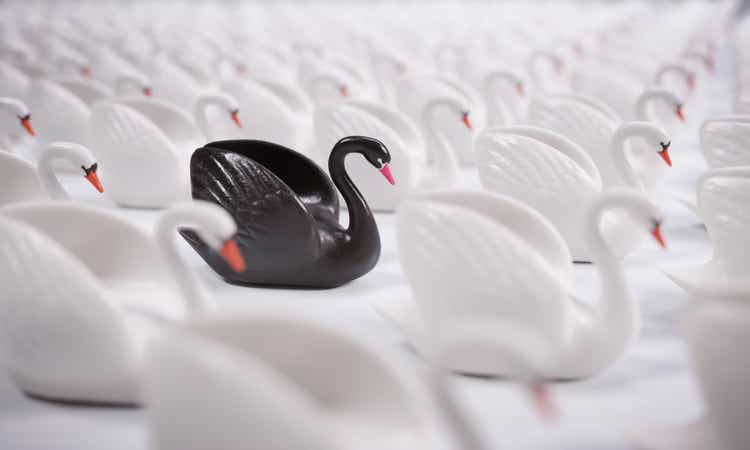 Summary
Yesterday, Facebook Inc.'s (FB) platforms suffered worldwide outages. For 6 hours, the internet stood still, as many pondered what the meaning of life is without Facebook.
This "black swan" event raises some very interesting questions. How "safe" are Instagram, WhatsApp and Facebook, and what alternatives do we have? It's incredible just how much the workings of a company can affect the world around it. How dependent we are on specific companies, structures and systems and how exposed we could be if they failed.
The outage has also been accompanied by the recent actions of a "Facebook whistleblower", which could set the stage for the next Facebook Black Swan event. However, in Blockchain, Facebook might find the solution to all its problems.
The black swan is all too real
The black swan theory was developed by Nassim Taleb. The name is inspired by the old saying that presumed black swans did not exist, which they do in fact. A black swan event is something surprising that seems unlikely.
We can break down Nassim's theory into three key insights that explain:
A black swan event must be unpredictable, have widespread ramifications and be inappropriately rationalized after the fact through hindsight. Examples could include World War I, the Soviet collapse, winning the lottery and the 2008 financial crisis.
Facebook's platforms were out for over 6 hours yesterday. Does this qualify as a black swan event? It was certainly unexpected, and it had quite a huge impact on our lives. This cannot be understated. WhatsApp is a vital communication tool for a lot of people, and Facebook and Instagram are a de facto window dresser for the internet (I'm coining that term). 3.5 billion people use Facebook which also applies to using it to sign into other sites/services.
Lastly, will this event be rationalized? Well, of course. To prove my point, here I am, trying to rationalize it myself. In all seriousness though, it is human nature to underestimate just how big a role unlikely and, therefore, uncontrollable events play in our life. It's hard for us to admit there are things we can't predict and, in the Facebook case, that systems can indeed fail.
How failable is Facebook?
Facebook is out, and the big question is; why? What happened exactly? Not a lot has been offered as an explanation. Anonymous sources from Facebook's security team claim it didn't seem like a cyberattack, based on the fact that all the apps were simultaneously affected. Facebook is claiming this was due to a "faulty configuration change", which took place in the servers. This also explains why the problem took so long to fix since the servers are remote and specialized employees had to be deployed to go and fix the problem. But could someone have tampered with them deliberately? It is too soon to tell, but one thing is sure. This was an unpredictable event, though arguably not that unlikely. Facebook was down back in 2014 and more recently in 2019. This event was different though since it seems to take all platforms down simultaneously, and even locked out Facebook employees from their workspaces.
But how exposed is Facebook, and the world, in the event of a failure? What would happen exactly?
These are very interesting questions. What if tomorrow Facebook stopped existing? Could that even happen? There is definitely a chance. Systems fail for unforeseeable reasons, though I hope it is something Facebook has contemplated.
However, even if Facebook lost all its data, permanently, the company would not cease to exist. Billions in value would be lost, but the company could still rebuild. Code can be written again, and data can be collected again. Facebook would still have Zuckerberg, its employees, and assets, including a healthy hoard of cash. Could it realistically rebuild from scratch? Would people move too quickly to other platforms?
It's hard to answer. What I can say for sure, is that if Facebook was lost in an unforeseen way, it would be a huge blow to its users. This includes businesses and millions of people whose livelihoods are tied to Facebook or Instagram. What happens when you wake up one day and you've lost access to an audience of millions?
If Facebook came down for good, it would destroy billions in value chains. These chains can be rebuilt, but it would take a significant effort, setting economies around the world back significantly. Ultimately, while Facebook could still maintain a good proportion of its users, it would lose out to other platforms. Arguably, this could be a refreshing change of pace.
More likely though, this event will set up the stage for a new Facebook black swan event, a significant overhaul of the platform by the government, or even an abandonment by its users.
The stage is set
In just a matter of days, almost as if it were a planned attack, a rather unfavorable light has been cast on Facebook and its operations. The outages happened not long after the news of the Facebook whistleblower became widespread. A former product manager has come out denouncing Facebook for knowingly putting its interest ahead of the "public good". She is backed up by a trove of stolen data and internal Facebook reports.
As expected, Congress is leveraging the Facebook outage and whistleblower events news to justify its crusade against "big tech." I'm beginning to think they might just win.
If we have learned anything from the situation with the CCP, Chinese companies, and more specifically, Alibaba Group Holding (BABA) it is that anything is possible. In a matter of months, BABA company has gained the perception that the CCP has significant control over the company. with some very real impact on its stock price. Ultimately, the fear is that Alibaba has become a Chinese asset.
Could Facebook suffer a similar fate?
One thing is clear. The Facebook and big tech situation we are facing is unchartered territory and I believe that we will witness a Black swan event related to this.
Facebook is playing defense
All in all, and while the stock hasn't reacted too badly to the news, given Monday's -5% fall was accompanied by a broader market and tech selloff, this is an issue that should gravely concern Facebook investors.
Facebook's existence is being threatened, not by competition, but by the government. Of course, the US is not interested in destroying Facebook. Just like the CCP doesn't want to destroy BABA. But it does seek to control Facebook enough so that it can serve its purposes. The "public good", so to speak.
In any case, Facebook's days of unchecked data collection may be soon behind it. It's not just that Facebook's data could be lost, it could also be stolen, which could be much worse for everyone.
The problem with "big tech" is that we are putting all our eggs in one basket. The government is realizing this, but so are consumers. People are increasingly wary of data protection and just how "twisted" some of Facebook's systems are. (The idea of how harmful algorithms can be, for example). Maybe it's nothing illegal, and maybe it doesn't warrant government intervention, but consumers are ultimately the ones holding the power.
The real problem with the outage, and the whistleblower, is that it is bringing to the surface just how important it is, for our own sake, to find alternatives to Facebook's platforms. In the end, Facebook will be taken down by consumers, unless it changes with the times.
Facebook's power lies in its users, who will be the final judge jury and executioner.
Maybe there is hope
Modern problems require modern solutions. Perhaps it is time that we look at how blockchain could solve most, if not all of the problems associated with Facebook and big tech. Blockchain technology literally empowers us to create free, democratic and decentralized systems and platforms. This solves the ultimate problem of who decides what is good and bad or what constitutes misinformation.
Blockchain technology is already being used on various social media platforms. A good example of this is Civil which is already trying to solve the problem of misinformation in a decentralized way.
Civil is a community-owned network of journalists who use blockchain to establish transparency and trust. On Civil's network, independent journalists create newsrooms where they add and share their content. The company's blockchain technology ensures that every journalist has total ownership over his or her work, and its total transparency lets users unanimously approve the content's truthfulness, effectively eliminating "fake news."
Source: builtin.com
Blockchain could easily fix the problem of misinformation, security and fairness in one fell swoop.
Though companies like Facebook seem like internet monoliths, they could all go the way of MySpace in the bat of an eye. People, through government and consumer choice, are demanding a change, which I believe blockchain could empower.
This article was written by
Macro, crypto, commodities, international equities and so much more.
James Foord is an economist and financial writer with over five years of experience writing about stocks and crypto. His lifelong interest in monetary policy and innovative technologies led him to specialize in macroeconomics, crypto and technology. Given the current macro outlook, he is focused on commodities, real assets, international equities and value stocks.
Analyst's Disclosure: I/we have a beneficial long position in the shares of FB either through stock ownership, options, or other derivatives. I wrote this article myself, and it expresses my own opinions. I am not receiving compensation for it (other than from Seeking Alpha). I have no business relationship with any company whose stock is mentioned in this article.
Seeking Alpha's Disclosure: Past performance is no guarantee of future results. No recommendation or advice is being given as to whether any investment is suitable for a particular investor. Any views or opinions expressed above may not reflect those of Seeking Alpha as a whole. Seeking Alpha is not a licensed securities dealer, broker or US investment adviser or investment bank. Our analysts are third party authors that include both professional investors and individual investors who may not be licensed or certified by any institute or regulatory body.